Sick of slow internet? Yeah, aren't we all. Whether you're stuck with flaky connections and dire speeds in your hotel, your local cafe has great coffee but awful Wi-Fi, or your home network bogs down every night (or all the time, for that matter), crappy internet is often a way of life.
The thing is that in most places, there's more than one way to get online. Maybe there's an Ethernet cable in the corner. Maybe your laptop can see a dozen other Wi-Fi networks. Maybe your phone plan has more data than you'll ever use. Wouldn't it be nice if you could combine them all into a single faster, more reliable connection?
That's the promise of Connectify's Speedify, an app that lets you use several networks at once to speed up your connection in a smart, secure way. I first used the company's products after backing its Kickstarter campaign way back in 2012, and the recent release of Speedify 10 reminded me it had been far too long since I'd taken it for a spin. It was time to fix that.
Faster, More Reliable Internet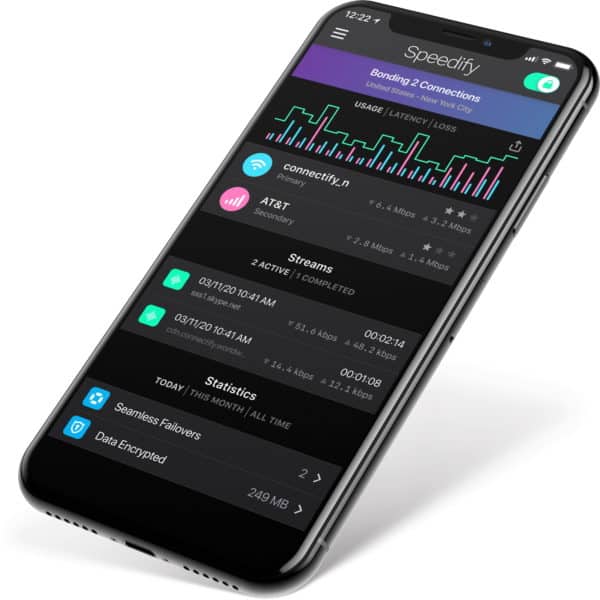 Using a technique known as channel bonding, Speedify lets you combine two or more different ways of connecting to the internet into one seamless connection. The end result? Faster speeds and more reliable service.
In terms of the type of connections it can use, the app is comprehensive to say the least. As well as combining multiple Wi-Fi networks, it can also use physical network cables, a USB 3G/4G dongle that plugs into your computer, or your phone's data in a variety of ways.
Note that while you can easily combine different types of connection without extra hardware, you'll likely need a second wireless card to join two Wi-Fi networks at once. Luckily they're cheap and easy to find, and if you buy the right one, you'll get the bonus of better signal as well.
The end result of all of this, of course, should be faster internet speeds. Speedify monitors the speed of all of your available connections and by default gives preference to the fastest, most reliable one(s). If one drops out entirely, service automatically switches over to the other(s), even in the middle of a download or video call.
You can configure that behaviour, though, useful when one of your connections has limited data. If your cell plan only has a few gigabytes available, for instance, you can set traffic limits per day or month.
Once that limit's hit, you can choose to slow down the speed or stop using the connection entirely. Similarly, you can decide whether to treat all available connections equally or set one or more as "secondary" or "backup" services to reduce how often they're used.
Enhanced Streaming
With so many people working from home and stuck on endless Zoom calls lately, the crappiness of many home internet connections has been very obvious. Realizing this, Connectify threw its previous development plans out the window earlier this year and focused on improving streaming connections instead.
The app now detects a range of streaming traffic automatically, whether it's something like Zoom or Google Meet, person-to-person calls on Skype or WhatsApp, or even live-streaming via Twitch or Instagram Live.
Speedify prioritizes this kind of traffic above others on your computer or device, using all of the connections it can to ensure reliable service. It'll automatically send the same data over multiple networks to ensure it gets through on flaky connections, and if one suddenly dies, another seamlessly takes over.
VPN Security
Because most of the smarts of Speedify are in the cloud and your data is encrypted in transit, it was already a VPN by default. The company built on that to offer servers in 35+ countries, and while the app will automatically choose the fastest option, you can select anywhere from the US and UK to India, Australia, Israel, or even Libya if you want to.
If you don't already have a VPN, using Speedify is an easy way to get one, especially since it costs about the same or less than most dedicated services. It's also one of the faster VPNs out there, even when you're not using multiple connections at once.
Usefully for travelers, one of Speedify's latest features is proper support for "captive portals," those annoying Wi-Fi sign-in screens you often get with hotels, cafes, and public networks. These portals usually don't work with VPN services, but the app detects and displays them automatically without dropping the connection.
Speedify specifically doesn't support streaming services like Netflix, BBC iPlayer, or Amazon Prime that actively block VPNs, however, and logs a little more data about your sessions than we like to see (although not the sites you visit or content you view).
If I was looking solely for a VPN and nothing else, I'd probably still go for ProtonVPN or one of our other travel VPN recommendations. As a decent VPN that comes bundled in with all of the app's other features, however, Speedify is hard to beat.
So How Well Does Speedify Work?
So this all sounds good on paper, but how well does it actually work in practice?
Speedify is available for macOS, Windows, Linux, Android, and iOS, and looks very similar across platforms. I did my testing on a Windows 10 laptop and a phone running Android 10, and the app installed in a few seconds on both.
On the phone, Speedify picked up both the Wi-Fi and cell network automatically, setting the Wi-Fi as the primary connection and the cell network as secondary. I set a daily data limit on the cell connection, and started testing.
After running a couple of speed tests to make sure everything was working as expected, I fired up an HD YouTube video while connected to the Wi-Fi. Thirty seconds in I turned off the Wi-Fi entirely, and… it didn't miss a beat. Speedify switched over to the secondary connection automatically, the video kept streaming, and everything continued as normal.
Half a minute later I turned the Wi-Fi back on, and Speedify started using it within a couple of seconds. I then repeated the tests on a video call, and again there were no dropouts or stuttering: the call just kept going as the app switched back and forward between Wi-Fi and cell connections. Impressive.
Turning to the laptop, I tested several Speedify with a bunch of different networks, both separately and together. Whether I was using a network cable, Wi-Fi via the laptop's built-in card or a USB adapter, or tethering to my phone via Bluetooth or a USB cable, the app picked up every possible combination.
At one point I had four connections on the go: wired, two Wi-Fi, and Bluetooth tethering, with Speedify sharing data between them all. Detailed stats were available for each network, plus a dashboard with current speeds and a star rating showing connection quality at a glance.
Pulling out cables or disabling connections worked as expected, with Speedify automatically switching to the other networks and my YouTube video continuing to play.
How Fast Is Speedify?
Measuring the speed of Speedify is a bit tricky, because it depends entirely on how many connections you're using. Like any VPN, you'll usually get slower speeds on any given network, and that's true with Speedify as well: the download speed on my home Wi-Fi dropped by about a third with the app enabled, although there was no change in upload speed.
When you're using multiple connections, of course, you may well end up with much faster speeds overall. When I connected to a second Wi-Fi network, my combined download speed nearly doubled. Upload speeds, again, stayed about the same.
Adding more networks saw the speed keep going up. As you can see in the screenshot above, downloads hit in excess of 110Mbps at times when I had four connections and was running speed tests to saturate the network.
Those speed test results are impressive, but even then they don't tell the full story. Thanks to the inbuilt quality of service (QoS) prioritization for video and audio calls, you'll get a better streaming experience on congested networks even if normal speed tests don't give you much hope.
Verdict
In short, Speedify is one of those rare products that does exactly what it says it will and does it well. If you're looking for a way of speeding up your internet, whether you're at home, in a cafe, or stuck in a dingy hotel somewhere, there's a good chance this app can help you do it.
Of course it's not magic, and if you simply don't have any other connections available beyond that one bad Wi-Fi network, there's not much Speedify (or anything else) can do. In my experience, however, that's rare, especially as public Wi-Fi, high-speed cell networks, large data allowances, and affordable international roaming all become more common.
Assuming you've got more than one way of getting online, Speedify can make a big difference. That's especially true if you're suffering through low-quality Zoom calls or other video and audio streaming, thanks to that automatic prioritization the app provides.
Having a decent, if fairly basic, VPN built in is just the icing on the cake. Speeding up your internet, making it more reliable, and staying secure on dodgy public networks? It's not a hard sell, especially with the current pricing.
While Speedify's standard monthly fee is a relatively high $9.99, that cost falls through the floor when you sign up for longer. You'll often pay around $2.99/month on a three-year individual plan or $4.50/month for a family plan.
If you want to test it out first, Speedify provides 2GB/month of data for free. There's no need to provide card details or personal information to do so, since it works without creating an account. All versions of the app are available to download here.
---
Main image via Shane Rounce, product shots via Connectify, screenshot via author