There are plenty of amazing things about Germany besides just the beer. I visited in winter, which is definitely the off-season. Luckily, off-season is one of my favorite times to travel.
Besides the obvious of not having to deal with large crowds of tourists, It also means the Christkindl Markets were open and going strong.
There's nothing better on a cold German evening than a hot ceramic shoe full of spiced and spiked Glühwein. Add a bratwurst or schnitzel, and that's my idea of some satisfyingly unhealthy calorie consumption right there.
Expecting hassle and high costs, I was surprised how easy it was to get a SIM card in Germany. There are many options available, based on your data, text, and voice requirements.
Top-ups are easy to do, and readily available at local gas stations, convenience, and grocery stores. Here's what you need to know.
Need travel insurance for your time in Germany? We currently use HeyMondo, thanks to its comprehensive coverage options, competitive pricing, and the ability to buy or renew a policy while outside your home country. Residents of most countries get a discount with this link.
Companies
---
We recommend Vodafone for most travelers
A Germany eSIM is often the best option if your device supports it
---
There are three major network providers in Germany, with many, many companies reselling their services.
Deutsche Telekom (formerly known as T-Mobile) is generally considered to have the best network. It has the best LTE availability and offers the most free Wi-Fi hotspot locations. Resellers include Congstar, ja!mobile, and Lebara Mobile.
Vodafone has a network almost as good as Deutsche Telekom, and includes roaming for all EU/EEA countries (except Switzerland) at the German rates. Resellers include Fyve, Otelo, and Lycamobile.
o2 has the smallest network, but is the only one that covers the entire Berliner U-Bahn system with 3G/HSPA+ and LTE speeds. This includes subways, so it's good if you plan to spend a lot of time on public transit. Resellers include ALDI Talk, NettoKOM, Ortel, mobile, and WhatsApp.
I only listed a few of the reseller options but there are several more available. The resellers are generally cheaper and offer a wide range of incentives and offers. This can make them more attractive than the major players, but there's often a trade-off.
After a long period where both Telekom and Vodafone reserved LTE speeds for their own customers, things finally changed, and you can now access the higher speeds with most resellers as well. o2 has long allowed resellers to provide LTE service, but as mentioned, has the smallest network.
As with most countries, the highest speeds are found in the cities, where service is most likely to be 4G/LTE. You'll drop back to 3G/HSPA+ elsewhere (or if your phone doesn't support German LTE network frequencies), and may only get 2G/EDGE speeds in remote areas.
I bought a Vodafone SIM, as it was available at a store close to where I was staying, and cheaper than the Deutsche Telekom option while providing more data.
While this article is about buying physical SIM cards, if you have a recent iPhone or other supported device, the best way to get connected in Germany may be to buy an eSIM instead.
We've written an explainer of what eSIMs are all about if you're not familiar with them. Because they're software rather than a plastic card, you can buy before you leave home, avoid the hassle of kiosks and phone stores entirely, and get connected as soon as you land.
These days, we use
aloSIM
: easy to buy and set up, it's a simple, low-cost way of staying connected when you travel. You'll get a discount on your first purchase with the code
TMA
.
How to Buy a Prepaid SIM Card in Germany
---
When I arrived at Hamburg airport I was in a rush to catch my train, so didn't check the availability of SIMs there. A quick search on Google suggests SIM cards are available at phone stores in the terminal, however, if you've got more time than me.
Outside the airport, SIM cards are available in grocery and convenience stores as well as specialty "Handy" stores. Yes, Germans call their cell phones "handys."
Websites like Lebara.de (Telekom reseller) offer a SIM you can order for free and have delivered to a valid German address. I ordered one and gave my aunt's address, but ended up leaving before it arrived.
Regardless of where you buy your SIM, it needs to be registered and a data/voice package set up. Registration can be done in official carrier stores and some major electronics stores, or via a video chat-based system called WebID.
Foreign credit cards are generally not accepted for buying data and voice packages, so have a German friend available or just use cash at a store.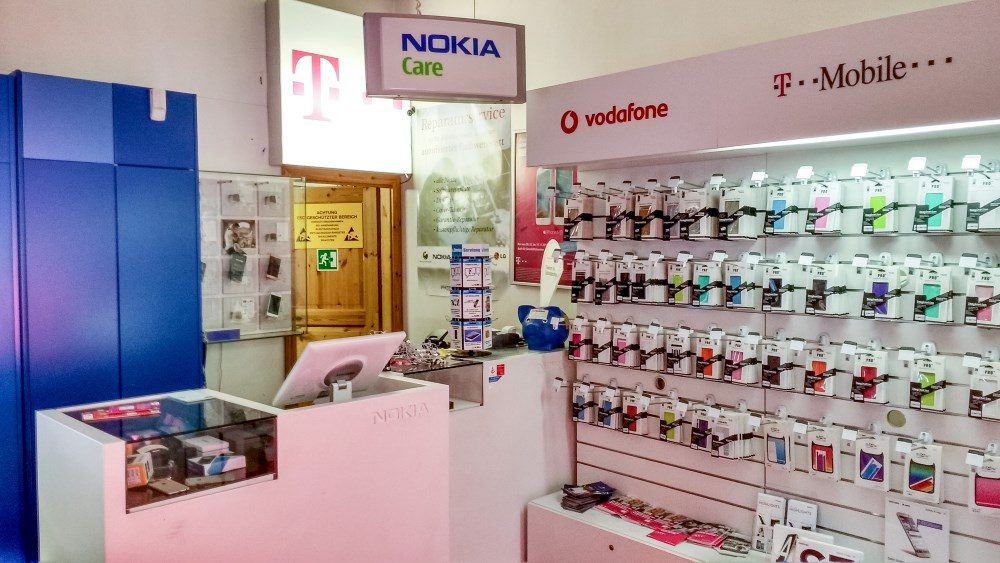 To buy my card I walked to the local Handy store where I was staying in Timmendorfer Strand. I speak absolutely no German. The gentleman at the Handy store spoke only a few words of English, but generous use of hand gestures and grunting got me the available options and costs for each.
You'll need your passport for registration, along with a German address. The easiest option is to use that of your hotel or hostel.
The whole process of buying the card and getting it set up was incredibly easy and painless. I was told it would take 20 minutes for the card to activate but I was already connected within five minutes. Some services claim up to two hours to activate. My entire time spent in the store was about 15 minutes.
Prefer to spend your vacation sightseeing instead of buying SIM cards? Grab one in advance to stay connected in Germany and across Europe.
This Orange SIM includes 20GB of data, 1000 international texts, and two hours of international calls. The price includes US delivery, and it's valid for two weeks in 30 European countries. Use the code SIMOFF20 at checkout to get 20% off!
Other options are available
if you're traveling for longer, need a portable hotspot, or want a different mix of calls, texts, and data. No matter how you do it, you'll be connected with a minimum of fuss before you've left the airport.
Prepaid SIM Costs
---
A SIM card starter package costs €9.95, but includes €10 of credit, making it effectively free. That amount of credit will buy you 2.5GB of data, plus 200 minutes of phone and text credit, valid for 30 days. Other packages with less or more data are also available, including a €20 version that provides 10GB and unlimited domestic calls.
The Telekom SIM package I was offered had less data for more money, and the store didn't offer any o2 or reseller SIM's.
Registration should technically be free, but it's not uncommon for Vodafone stores to charge an unofficial fee of up to €10 to do it. To check the balance on my Vodafone SIM, I dialed *100#
Topping Up
---
Topping up is as simple as going into a grocery or convenience store and finding the cards hanging by the checkout lanes. I found Vodafone top-up cards at REWE and Aldi grocery stores, and most gas stations also have them.
Top-ups can be done at the network's websites, but these often only accept German credit cards. There are third-party top-up services such as prelado.de that may accept some non-German credit cards but also have an option to use Paypal. An alternative payment site is aufladen.de, though it charges a transaction fee.
The most reliable way is going to a physical store, as they accept both cash and foreign credit cards. It's quick and easy, and the top-up cards are available everywhere.
Coverage and Data Speeds
---
As shown below, the speed in Timmendorfer Strand was 12.44Mbps down and 4.66Mbps up. That's fast enough for pretty much anything I'm likely to do on my phone.
I'm writing this article in Neu Wilmstorg, just south of Hamburg. Shockingly there's no Wi-Fi in this cafe, so I've tethered my computer to the phone and am getting speeds of 8.6Mbps down, 1.4Mbps up. That's not screamingly fast, but not bad either.
EU Roaming
---
Germany is part of the European Union, so EU roaming regulations apply. These "roam like at home" rules ended roaming charges across much of Europe in 2017, letting you use a SIM card from any EU country across all the others at no extra charge.
There are some exceptions and limits, however, especially with large data packages. Double-check the exact details at time of purchase.
---
Check out our guides to buying SIM cards in many other countries here.