Guatemala is a country with deep Mayan roots and diverse geographic terrain. There are ancient pyramids, beaches with black volcanic sand, artisan markets, incredible vistas, colonial towns, and two active volcanoes, just for starters.
If you're headed to this incredible country and need to stay accessible, you're in luck. Whether you're exploring the capital city or hiking remote trails in the highland mountains, you can pretty much count on seeing four or five bars of signal on your phone everywhere you go.
Not bad for a developing country, hey?
Companies
---
We recommend Tigo or Claro for most travelers
---
There are three big players for prepaid SIMs in the country. Tigo has the best coverage, with Claro a close second. You can't go wrong choosing either one.
Movistar is said to be the most unreliable (and not surprisingly has the cheapest prices), but it's also in the process of some big upgrades.
Tigo and Claro have comparably priced prepaid voice/text/data bundling options when you buy a SIM, and also commonly run specials to compete with one another.
It's worth spending some time finding the options that work for you, depending on your needs and length of visit.
How to Buy a Prepaid SIM Card in Guatemala
---
You can buy SIM cards at any of the provider's official stores, or at some of the larger convenience stores. Many of the smaller phone resellers don't have SIM cards, just phones.
I bought two Tigo SIM cards at a local convenience store that also doubled as a cell phone store for all three networks. The process was simple — all I needed was the unlocked phones, a passport, and a little cash.
By law, a passport is required to purchase a SIM card. If your Spanish is weak, I'd recommend bringing a friend to help pick a bundle as it can be confusing.
One of my phones was most recently used in the United States with AT&T, and had not completed the unlock process. The store clerk was willing to jailbreak the phone, but I wanted AT&T to complete the process officially. It later did, and I returned to the store with no issues.
Can't be bothered with the hassle of buying a local SIM in Guatemala? OneSIM topped our international SIM card comparison.
It offers phones and SIM cards that work in 200 countries, have free incoming calls, save up to 85% on roaming fees, and can be sent out ahead of time to let you hit the ground running. Find out more here.
If you have a recent iPhone or other supported device, a prepaid eSIM is also a good alternative, often at surprisingly cheap rates.
Prepaid SIM Costs
---
A Tigo SIM will set you back Q50 (a little over $6 USD). It comes with 25 credits of saldo for voice/text, and 200MB of data good for 15 days. Saldo means balance in Spanish.
You'll burn through the initial 25 credits of saldo in about 13 minutes of talk time, so you'll want to buy more. But wait, you may want to buy it on a different day, as below.
Topping Up
---
You can top up a prepaid phone online, but the sites are all in Spanish and not always straightforward. I recommend actually going into a store that sells saldo.
You won't have a problem finding one, since almost any small convenience store sells it. Just look for the signs of the cell providers plastered outside.
Go in and tell them how much saldo you want to buy, if you are wanting to purchase data or voice saldo, and your phone number. Be sure to give them the correct phone number.
It's not a bad idea to ask to see the number they heard you say just to be safe, since if there's a mistake, you'll be paying for someone else's saldo. Sorry, no takebacks.
The store will use a special phone they have from the provider to enter your purchase. You'll receive a text message as a receipt and acknowledgment within seconds.
Purchasing saldo for data is straightforward, with a variety of options to chose from. For instance, 500MB of data good for seven days costs Q30 (about $4 USD). For 1 month/1.5GB, you'll pay Q99. Just tell the store clerk which package you'd like, and they'll activate it.
Tigo has also recently released an Android app (no iOS version yet) that lets you purchase data packages, as well as redirect existing saldo for data use. Just install the app, go through the SMS verification process, and you're set.
Purchasing saldo for phone calls and text can be more tricky. One minute of a talk time will eat two credits of saldo, which means a phone call can cost about 25 cents US per minute.
You can cut this cost by two-thirds or more if you buy saldo when your provider is having a sale. Sales are generally called "triples," because you get three times the amount of saldo when you purchase it on that day.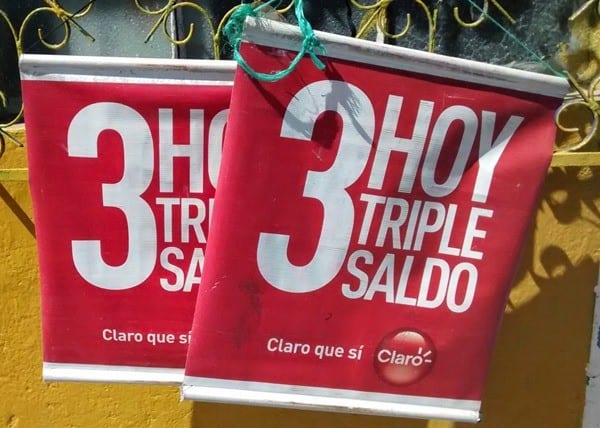 The schedule for triple days is not published, but each provider has one approximately every 5-10 days. You'll know when it's happening, because there will special signage in front of the stores advertising it and encouraging you to buy that day.
You might also get a text message in Spanish telling you it's a triple day. Triple saldo days only apply to phone and text — there are no triples for data.
Coverage and Data Speeds
---
I've been in Guatemala for seven months, and there has only been one time when I did not have a signal. It was in the town of Sumpango during the Day of the Dead celebrations.
No one was able to pick up a signal from any provider for roughly two hours. Based on the density of the crowd in the otherwise small rural town, it's likely the network was just overloaded. Outside of that, it been smooth sailing coverage-wise.
Data speeds vary but any tourist area (Antigua, Lake Atitlan, Guatemala City) will have at least 3G. Movistar has been in the process of upgrading all of Guatemala City to LTE.
The goal was to have the entire city covered by the end of February 2015. I'm unsure if they met their goal, but LTE is up and running in much of the city as of this posting.
---
Check out our guides to buying SIM cards in many other countries here.