Although I wanted to write an article about Belgrade being the only place you should ever consider living in, and how Serbs are the oldest nation in the world, Dave only wants me to explain how to buy a Serbian SIM card. 😥
With that in mind, I had to pretend to be a tourist in my own country for a few days. I researched the best local prepaid SIM cards on offer, which ones had the best coverage and prices, and those that were easiest for tourists to buy.
Even so, I can't let the opportunity pass to tell you about a few of the many good reasons to visit Serbia, at least from a local's perspective. If you like:

History: Belgrade is full of historical monuments and relics of the past, and the rest of Serbia has many medieval fortresses and monasteries to visit, both near larger cities and surrounded by nature. Kalemegdan, Petrovaradin, and Golubac are my pick of the fortresses, while my favorite Orthodox monasteries are Manasija, Mileševa, and Žiča.
Outdoors: Speaking of nature, Serbia has plenty of variety: it's partly mountainous, while the entire northern part is flat and fertile. You should consider visiting Uvac Canyon, Tara Mountain, Fruška Gora, Đerdap, or national parks in the northern (upper) flow of the Danube.
Nightlife: Belgrade is famous for having great nightlife, no matter the time of the year. The river rafts (called splavovi) are its summertime highlight – these are nightclubs floating on the river, which means an incredible view and a pleasant breeze to help cool things off.
Novi Sad is the home of one of the best festivals in Europe, called Exit, which happens every July. Lovefest, another great electronic music festival, happens in Vrnjačka Banja every August. You'll also find plenty of kafanas (restaurants where live bands play traditional music) no matter the time of the year.

Now, let's get back to SIM cards!
Need travel insurance for your time in Serbia? We currently use HeyMondo, thanks to its comprehensive coverage options, competitive pricing, and the ability to buy or renew a policy while outside your home country. Residents of most countries get a discount with this link.
Companies
---
We recommend A1 for most travelers
A Serbia eSIM is often the best option if your device supports it
---
Serbia has three major companies that have been providing mobile phone services for many years, and one newer option.
MTS
MTS is the state-owned provider, Serbian Telecom, and I've use their service for 15 years. However, after doing the research for this article, I don't think they're as competitive as they used to be, and aren't the best for tourists when it comes to prepaid SIM cards.
Their website isn't in English, which is annoying, and while their prepaid SIM cards are affordable enough, other carriers have better deals. The cheapest package starts at 600 RSD (around $6) for 3GB of data.
Yettel (formerly Telenor)
Yettel is privately-owned but has been around in Serbia for a while, and was known as Telenor before they did a rebrand. Their website is available in English, which is helpful if you'd like to explore it yourself.
I decided against getting one of their prepaid SIMs, though, as I couldn't easily find information on the site on how much the actual base package costs: they heavily advertise their "great" addons instead.
My goal was to find a cheap, good-enough option for most tourists that's easy to find and buy, and can be easily upgraded later if it proves to be insufficient.
A1 (formerly VIP)
The third major mobile phone service provider in Serbia is A1, and in the end that's the company I went with. Their website is available in English (click EN in the top right corner), the base price of the SIM itself was only 400 RSD (about $4) with a decent welcome offer, and it's easy to top up, which we'll get to later.
Globaltel
The fourth company, Globaltel, is the newest, and while still small, it's becoming more popular. Their site is only available in Serbian, however, and nobody I know has ever used them. Since they use the A1 network anyway and have similar prices, you may as well just buy from A1 directly.
While this article is about buying physical SIM cards, if you have a recent iPhone or other supported device, the best way to get connected in Serbia may be to buy an eSIM instead.
We've written an explainer of what eSIMs are all about if you're not familiar with them. Because they're software rather than a plastic card, you can buy before you leave home, avoid the hassle of kiosks and phone stores entirely, and get connected as soon as you land.
These days, we use
aloSIM
: easy to buy and set up, it's a simple, low-cost way of staying connected when you travel. You'll get a discount on your first purchase with the code
TMA
.
How to Buy a Prepaid SIM Card in Serbia
---
While I'm talking about A1 here, if you decide to buy a SIM card from another carrier, the process is the same: every (downtown) kiosk sells them.
I went straight to Knez Mihailova Street, the central walking and shopping district of Belgrade, which connects the Kalemegdan fortress with Terazije Square.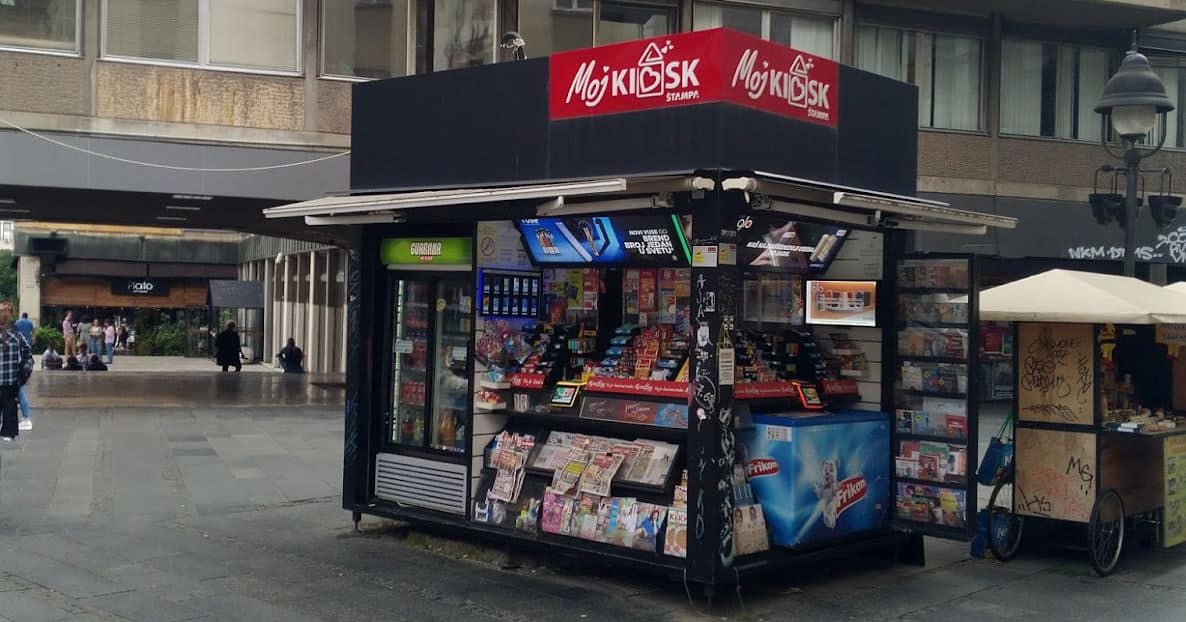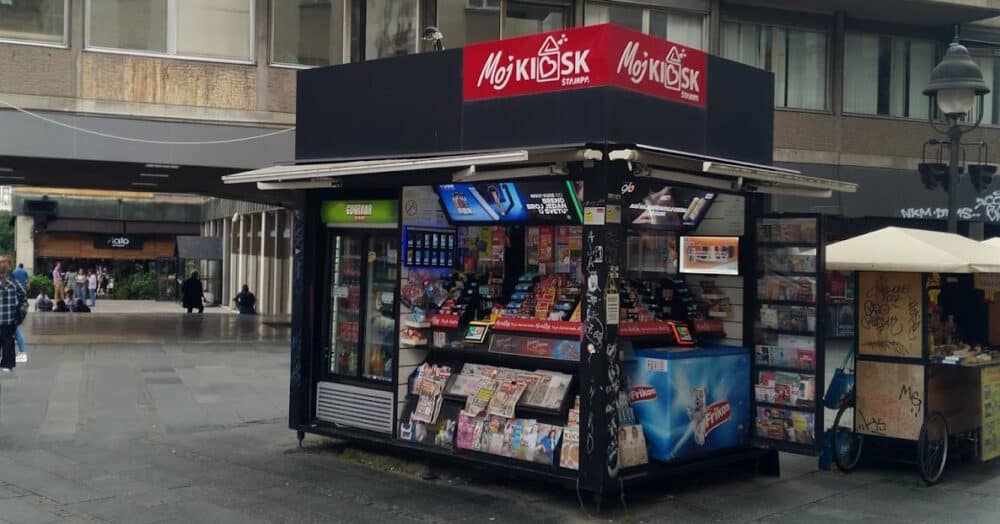 I approached a kiosk in the middle of that street, near the white public fountain, and in English asked the young woman working there for an A1 SIM card. She answered in excellent English (better than mine!) and explained how much the card costs, what I get with it, and that it was possible to top up there as well.
As a general rule (I am not discriminating against my older fellow citizens here, just trying to help), 90% of people under 40 in Serbia speak excellent English. Especially downtown, retail workers are used to serving foreigners every day: if you see a younger person working in a kiosk, they'll very likely be able to help you.
To buy a card, you don't have to show your ID or passport, which is a nice change from many countries and makes things easier.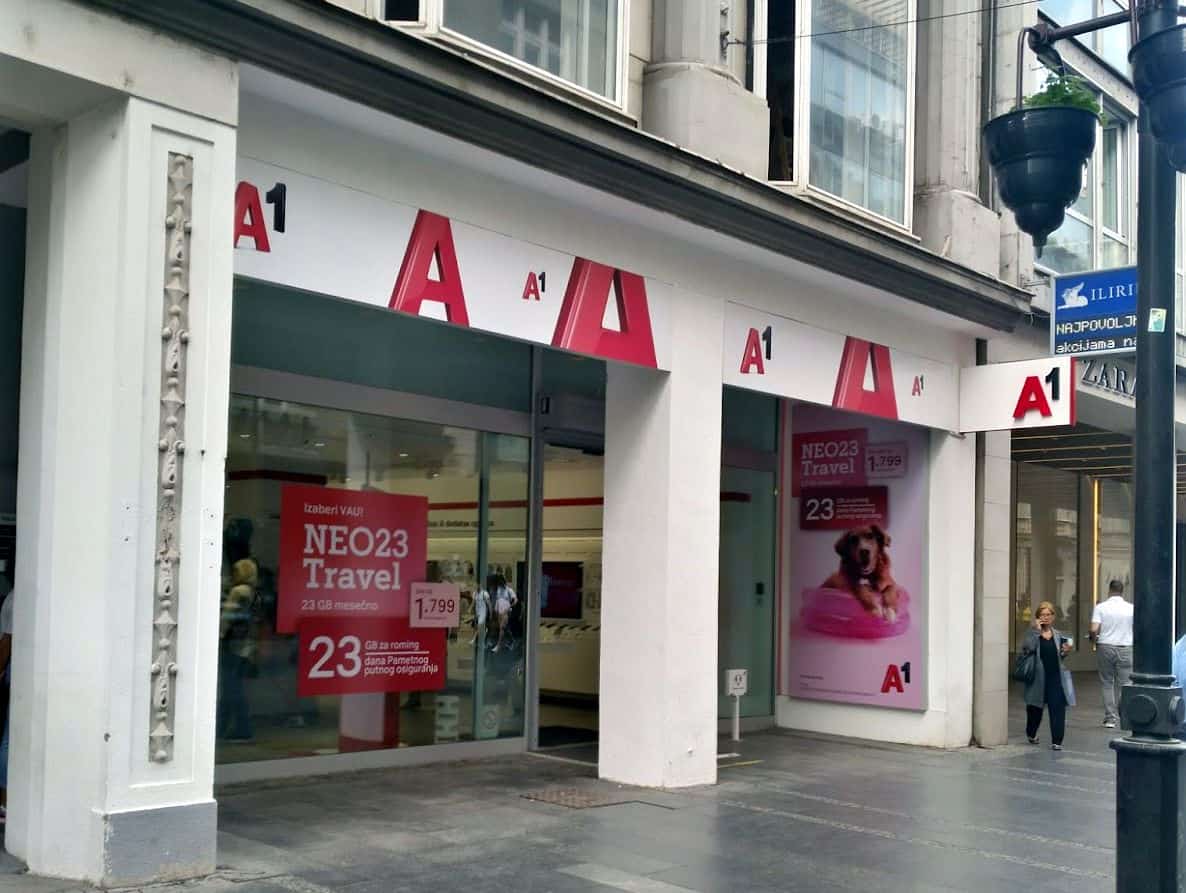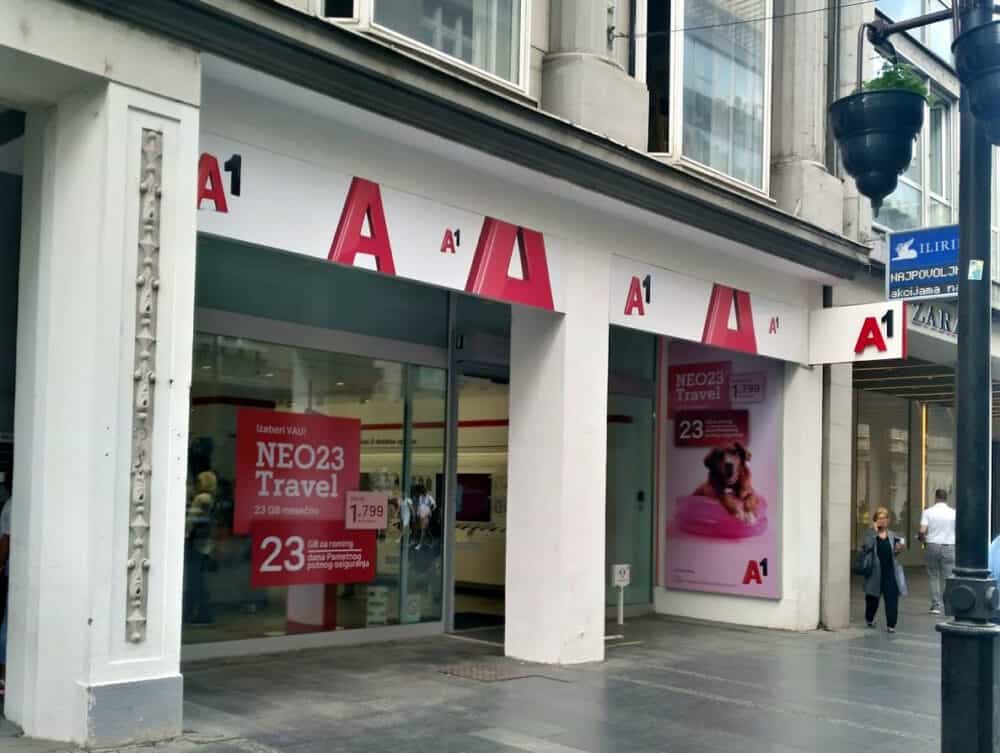 If you don't want to buy from a kiosk, that's fine: you can go straight to one of the A1 stores instead. They're easy enough to find in downtown Belgrade and other larger towns and cities, and you'll likely get more information about the packages that are available if you need it.
Activating the SIM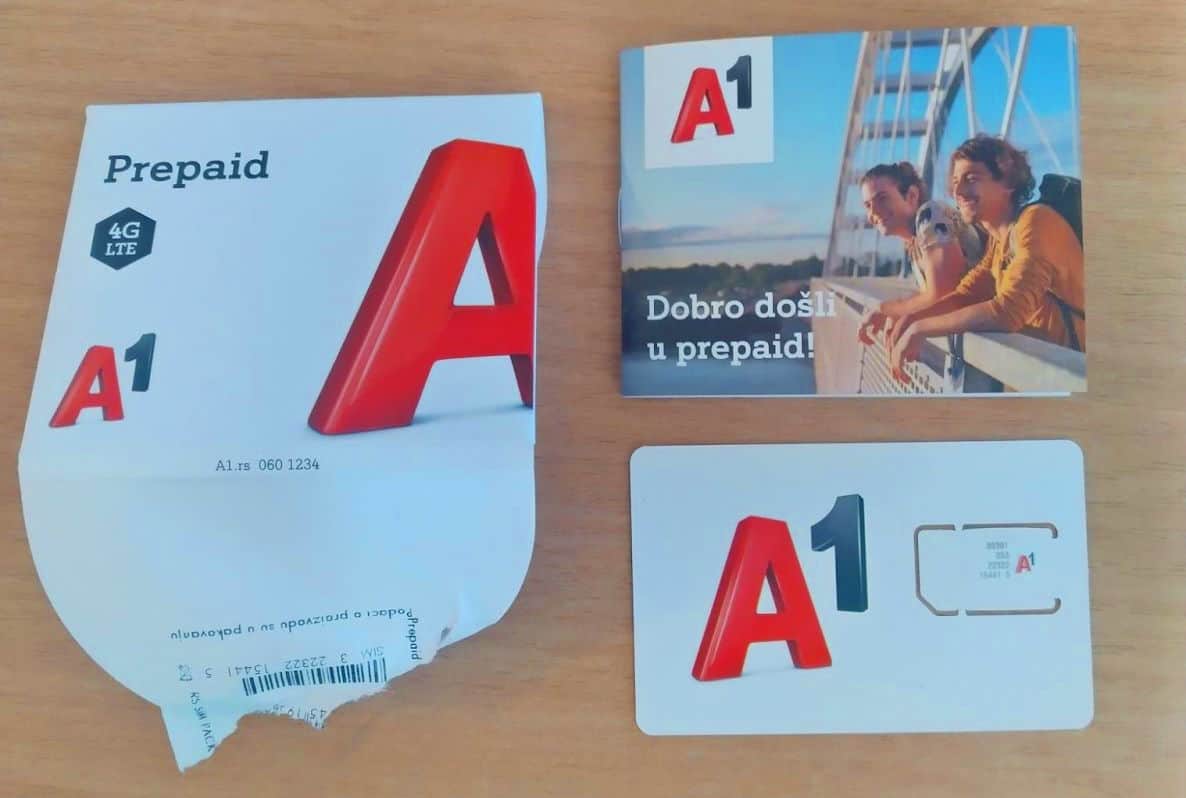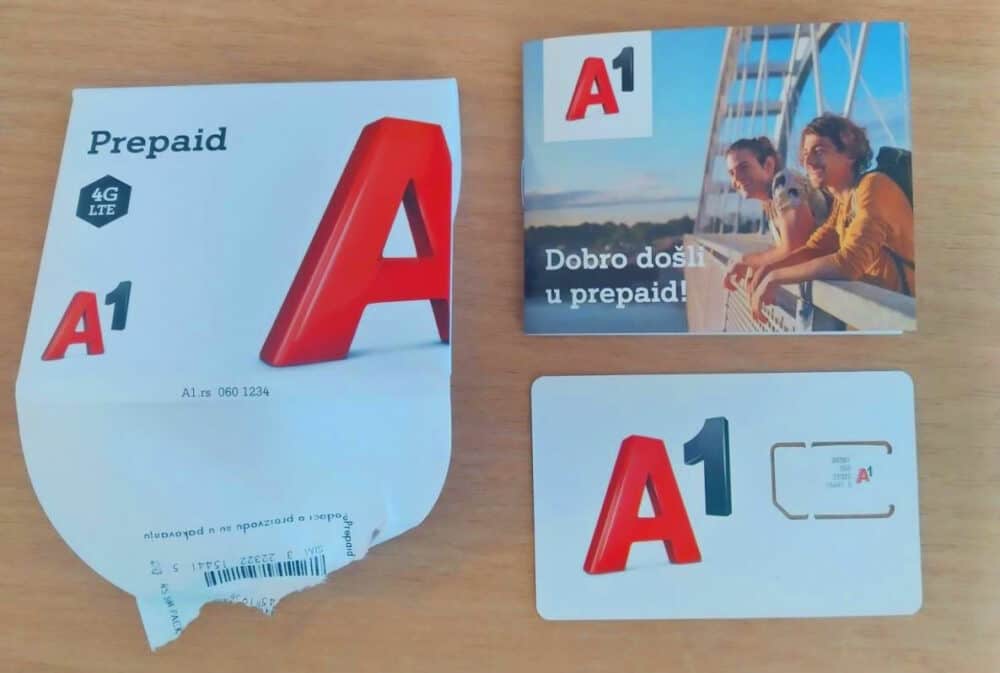 If you buy your SIM from an official store, there's a reasonable chance the staff member will set it up for you as well. If you buy from a kiosk, that's much less likely, but fortunately the activation process is very simple.
There's an instruction booklet in the package, but unless you can read Serbian, it's not going to be much use to you. Instead, just insert the SIM card in your phone and call any phone number: they don't have to answer.
You'll then hear a recorded voice in Serbian, telling you "Welcome to A1!" – you can just hang up. That's it, your card is activated! You'll soon receive confirmation messages from A1 that you're set up.
Can't be bothered with the hassle of buying a local SIM in Serbia? OneSIM topped our international SIM card comparison.
It offers phones and SIM cards that work in 200 countries, have free incoming calls, save up to 85% on roaming fees, and can be sent out ahead of time to let you hit the ground running.
Find out more here.
Prepaid SIM Costs
---
The price for the SIM card by itself is 400 RSD ($4). One of the main reasons I chose A1 was because of its welcome plan, which you can activate yourself for free.
This one-month plan gives you 1GB of general internet data, 10GB for Viber/WhatsApp/Facebook/Messenger, and 100 domestic minutes and texts.
You activate it by dialing *123#, after which you'll get the following message (or something similar, depending on the deal at the time):
And all you have to do is enter the number 1 (for activation) in the field and press SEND.
To check how much credit you have left, again dial *123#, which will give you this: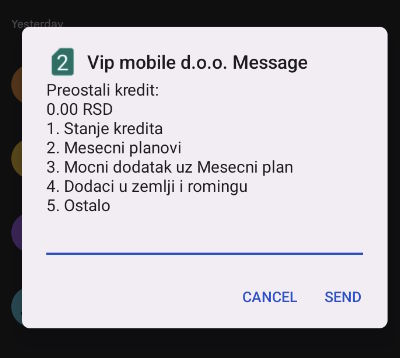 To see details of your current package, enter the number 1 on this screen, tap SEND, and you'll receive an SMS message with all the details.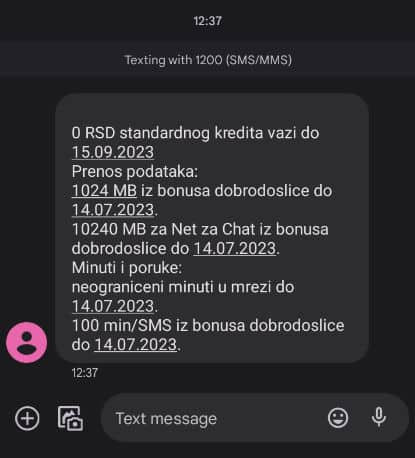 To summarize, you get the following, valid for 30 days (the expiry date in shown in the text message):
1024MB of general data
10240MB of data for social and chat apps
Unlimited minutes and text messages within the A1 network (important if you are traveling with someone else)
100 minutes and text messages to other Serbian numbers
That may be enough for many tourists, especially if you're someone who mostly uses your phone to chat to friends and family on apps like WhatsApp and Messenger. At least on a shorter trip, the remaining 1GB may be enough for using navigation apps and Googling travel information, especially if you download maps in advance to use offline.
Wi-Fi is widely available around Belgrade and the rest of the country, which also helps conserve your data. If you do need more, however, you'll need to top up your SIM: fortunately it's easy and cheap to do.
Topping Up
---
To top up your card, you can just go to any kiosk or A1 store, and tell them the top-up amount and your phone number, and that's it. If you're concerned about being understood, just write down your number and top-up amount on a piece of paper in advance to hand over to the attendant.
After your plan expires, this is how much it will cost you to continue using your card on a pay as you go basis:
Local number calls: 11.9 RSD per minute (about 10 cents)
Local SMS: 5.9 RSD (about 5 cents)
International SMS: 15 RSD (about 15 cents)
If you want to activate additional internet, you can activate one of A1's "mighty" plans:
Or you can visit the prepaid add-on web page for more information and other packages. Don't forget to click EN in the upper right corner! Here's what's currently on offer: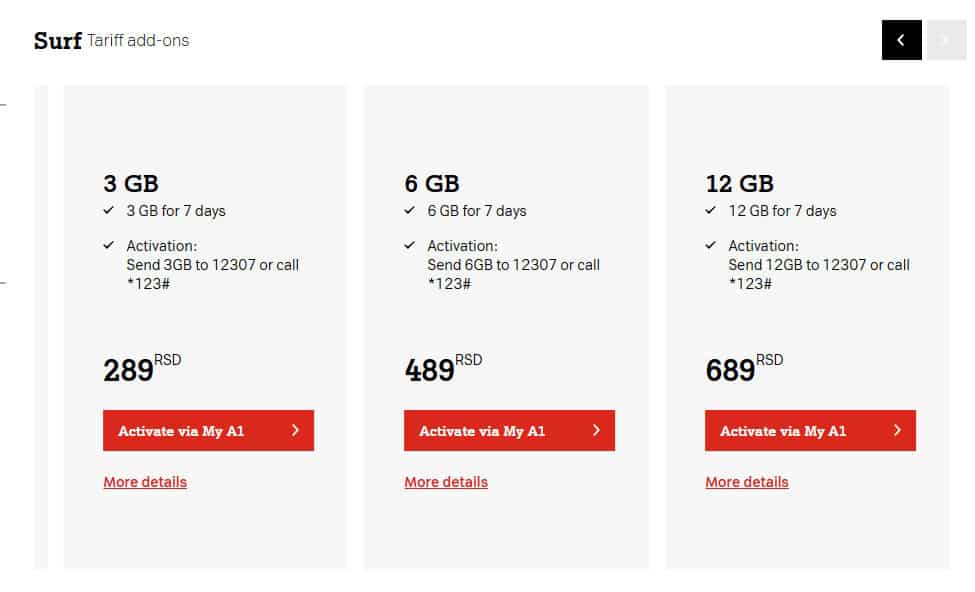 In my case, I chose to top up with 300 RSD and then activate the 3GB Surf package, by sending a text with "3GB" to the number 12307 (option one above). 👆
That gave me a total of 4GB general internet, 10GB extra for Viber/WhatsApp/Facebook/Messenger, 100 minutes/SMS outside the A1 network and unlimited within it. That's the best deal you can get in Serbia at the moment, for a total of 700 RSD ($7).
While online top-up is available, I wouldn't bother with it, as you will need to download the A1 app, register, etc. Given that SIM cards and top-ups are available in every kiosk and that there are points of sale all over the country, you won't have any issues finding someone that can help.
Coverage and Data Speeds
---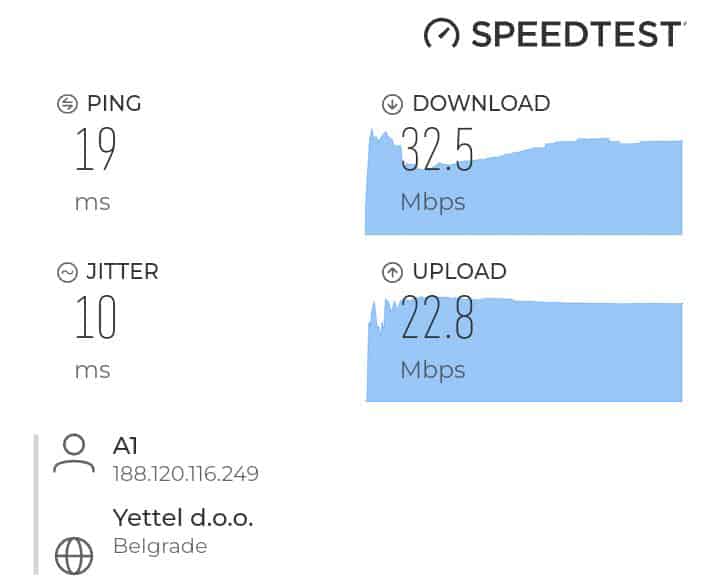 Serbia is a small country, which means you should expect good coverage in most places you're likely to go. 5G hasn't arrived yet, but LTE/4G is widely available in all urban areas. All of the operators have very similar coverage in the towns and cities, so there's no reason to choose based on that.
As for the rural areas and in the mountains, it can vary slightly. That said, I had no coverage issues when visiting Uvac and Rtanj recently, both of which are popular tourist destinations.
Wrapping Up
---
All in all, you won't have many difficulties buying a SIM card in Serbia. You can get one pretty much anywhere, they're exceptionally cheap, you don't need to show your passport, and people speak good English so you won't have issues while buying or topping up.
Whether you start out with just the welcome pack and see how you go, or decide to top up with extra data straight away, you won't spend a fortune. For a small amount of money, you'll be able to enjoy more data/minutes/messages than you can realistically use during your stay.
---
Check out our guides to buying SIM cards in many other countries here.
Main image via poludziber/Shutterstock.com. Screenshots and other photos via author