Every language learner has a different objective. Some people want to learn enough of a language to be polite in another country, while others need it to function in their jobs. Some people are hoping to achieve conversational fluency so they can have a social life, or simply get by in society.
I've tested and written reviews of language-learning apps and software since 2011, but recently enrolled in an intensive, face-to-face language class that meets for five hours a day, five days a week. Being in that course, where we follow a class-based curriculum and use a variety of materials to learn, has seriously refreshed my perspective on what it means to study a language.
There are many excellent language learning apps available, but they all have their limits in both what they teach and how they do it. The good news is many of them are free, which means you aren't limited to choosing just one or two apps due to cost. You can and should use many different apps for the different aspects of language-learning that each one does well.
I've been impressed at how many new apps have come to market even in the last few years. It's not like there's too much competition — developers keep coming up with new approaches to learning.
Take Fluent Forever as an example, an app that was funded on Kickstarter and appeals to visual learners. Other apps are better for aural learners. Some apps are ideal for people who like to learn sequentially, and so forth.
With these considerations in mind, here are five excellent language apps I regularly recommend to people who need to build a whole toolkit of resources.
Duolingo
Many people by now are familiar with Duolingo. It's a crowd favorite. Duolingo is ideal for sequential learners who want to build a base understanding of a language and practice vocabulary. It works especially well for people who like structure, sequential learning, and gamification. It's also excellent for beginners.
The app is relatively new, in the grand scheme of language-learning software, but it rose quickly to popularity for two reasons. First, it's free, albeit ad-supported. You can pay $6.99 per month to go ad-free, get the ability to save lessons offline on mobile, and other extras.
The second reason Duolingo became popular is that it's designed for the mobile era. Lessons are short. You can complete some exercises whenever you have a few minutes to kill.
In addition, the app uses elements of gamification to keep its users engaged. You can set a goal for how many points you want to earn in a day from completing exercises, and Duolingo will prompt you to reach it.
Duolingo isn't good for people who are fairly experienced with a language, as even the highest levels of the program aren't very advanced. The app also doesn't have long-form reading or ways to interact with other speakers.
See Duolingo's course list for more details on which languages are offered.
Memrise
If you've already exhausted Duolingo, try Memrise. It's similar to Duolingo in that it has structure and works extremely well as a mobile app, but the overall feel and experience is totally different.
The hook is that Memrise uses memes to help you remember new words. You can make up your own memes, or you can rely on those made by other users. Some of them are absurd, but the absurd is often what's memorable.
Another way Memrise differs from Duolingo is that you can jump around at will. In Duolingo, you must either pass all the beginner levels or take a placement test to get to the intermediate stuff. With Memrise, you don't have to wait. You can explore whatever lessons you want at any time. If you prefer, you can still choose to follow the prescribed order, but you're not locked into it the way you are with Duolingo.
Don't get discouraged if you don't immediately see the language you need in Memrise. You have to use the search tool to find them all.
---
HelloTalk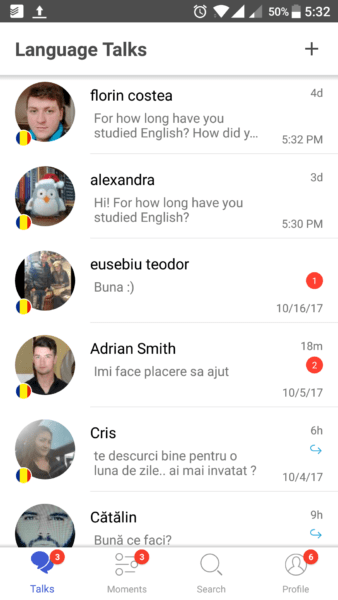 People sometimes tell me that all they really want in their language practice is to converse with other people. If that sounds like you, HelloTalk is the answer. It's ideal for meeting new people and chatting with them by text or on a video call.
When you first sign up for a HelloTalk account (a basic account is free), you enter the language you're most comfortable speaking, and the language you want to learn. The app then suggests some counterparts, i.e., people who have the reverse needs. You can start conversations at will, or you can post updates about your life in a general feed.
HelloTalk is great if you're adventurous, proactive, and outgoing. It's not ideal for people who are shy, or who work better with prompts to get them talking.
---
Pimsleur
Pimsleur is the audiobook of language learning apps. The program is pretty old-school from a technological perspective, but the one thing it does better than other apps is develop listening and speaking skills in more than 50 languages.
Pimsleur, which is now owned by Simon and Schuster, originally started out as a language program on reel-to-reel tapes, and later audio cassettes and CDs. Now you simply download MP3 files. The lessons are expensive, but they're often available for free through public libraries.
Pimsleur is almost 100 percent audio-based, so it's wonderful for auditory learners. It's also great for learning conversational language, because you never get tripped up by how a word looks when written down.
Another advantage is that you can do the lessons while driving, walking your dog, cooking dinner—whatever. Your hands don't need to be free, although you do need to be focused. The instructions are to listen to exactly one lesson per day, and most lessons are about half an hour long. The content is excellent and memorable.
If your goal is to be able to speak and understand spoken language well, Pimsleur is ideal.
Beelinguapp
Very few language-learning apps I've encountered emphasize reading, except Beelinguapp. It has content for 12 languages, plus English.
With Beelinguapp, you enter your native language plus the language you're learning, and Beelinguapp finds articles and short stories for you to read. You can filter the articles by your skill level and topic of interest.
When you find an article to read, Beelinguapp shows you the text in the language you're learning, with an option to also see it in your native language in a split-screen view. There's another option to have the text read to you, as if it were an audiobook. As the narrator reads, the app highlights the active sentence.
Like I said, finding a language-learning app that includes longer texts to read is pretty rare. Beelinguapp is a great resource for strengthening reading skills.
---
Do you have any other favorite apps for learning a language? Let us know about them in the comments!
Images via Matus Laslofi (women talking), Jill Duffy (Duolingo, Memrise, HelloTalk), and Beelinguapp Languages (Beelinguapp).