For most of us, portable jump starters sit firmly in the category of "things we never think about until its too late". After all, it's not like you plan for your car battery to suddenly die in the middle of nowhere, or the supermarket parking lot for that matter. When you need one, though, you really need one.
As a category, these sorts of gadgets didn't really exist for the home market until a few years ago. Improvements in battery technology changed all that, and now there are dozens of companies selling some variation of a jump starter you can fit in your glove box, waiting patiently until it's needed.
Lokithor is one such company, making a small range of multifunction jump starters aimed at the home market. The multifunction part of the name is accurate: all of the models promise to let you jump-start your vehicle, give you a flashlight and emergency strobe, and charge your phone.
Some of them also include an air compressor, including the mid-range JA301, which is the version the company sent out for me to take a look at.
Lokithor JA301 Portable Jump Starter
Weight: 3.7 pounds
Battery Capacity: 74Wh
Peak/Cranking Amps: 2000/1000
Air Compressor: Up to 150 PSI
Flashlight: 300 lumens (three modes)
Ports: USB-A (18W max), USB C (18W max, input-only)
Features and Design
The JA301 is solid piece of equipment, weighing in at a not-insignificant 3.7 pounds. That's quite light by the standards of these sorts of things, but it still feels like something that can bounce around a bit in your trunk or glove compartment without worrying that it'll break.
Chunky bumpers protect either end, with a sturdy handle on the top and rubber flaps covering the various ports. It's rated at IP63, which means it'll keep the dust out but isn't waterproof. The odd splash is probably fine, but don't go submerging the device or spraying it with water.
The long, comparatively-flat design means you've got a few options about where in your vehicle you store it. It fits in my glove compartment, and should be the same for most others if they're not already stuffed full, but you can likely also keep it under a front seat or even inside a spare tire in the trunk.
In terms of features, there's plenty on offer here. To start, you get a jump starter that's rated to put out up to 2000 peak amps, and 1000 cranking amps. That's powerful enough to fire up vehicles with up an eight liter gas engine or six liter diesel, including cars, boats, small RVs, and more.
There's also a built-in air compressor, able to go as high as 150PSI, and with a number of different connectors in the box that let you use it with anything from a car or bike tire to a beachball or inflatable kayak.
The fun doesn't stop there, either: there's a wide 300-lumen flashlight on the front with a few different modes, and a USB-A port on the side that can you can use to charge your phone and other small mobile devices. The device itself charges from a USB C port, but it's input-only.
The battery inside the JA301 has a 74Wh capacity: as a rough guide, that's enough to start most cars 30+ times, or charge your phone from empty to flat two or three times.
An LCD screen provides a bunch of different information, from the charge level to the inflation limit (in bar or PSI) and whether the USB ports are in use. You can also check the voltage of your vehicle's battery, letting you know if it's in good health or will soon need replacing.
Alongside the device itself, there's a small printed manual in the box that explains the basic features, along with a USB-A to USB C charging cable. There's also a drawstring bag to store the various accessories, along with a larger bag for the device itself: a nice touch.
Real-World Testing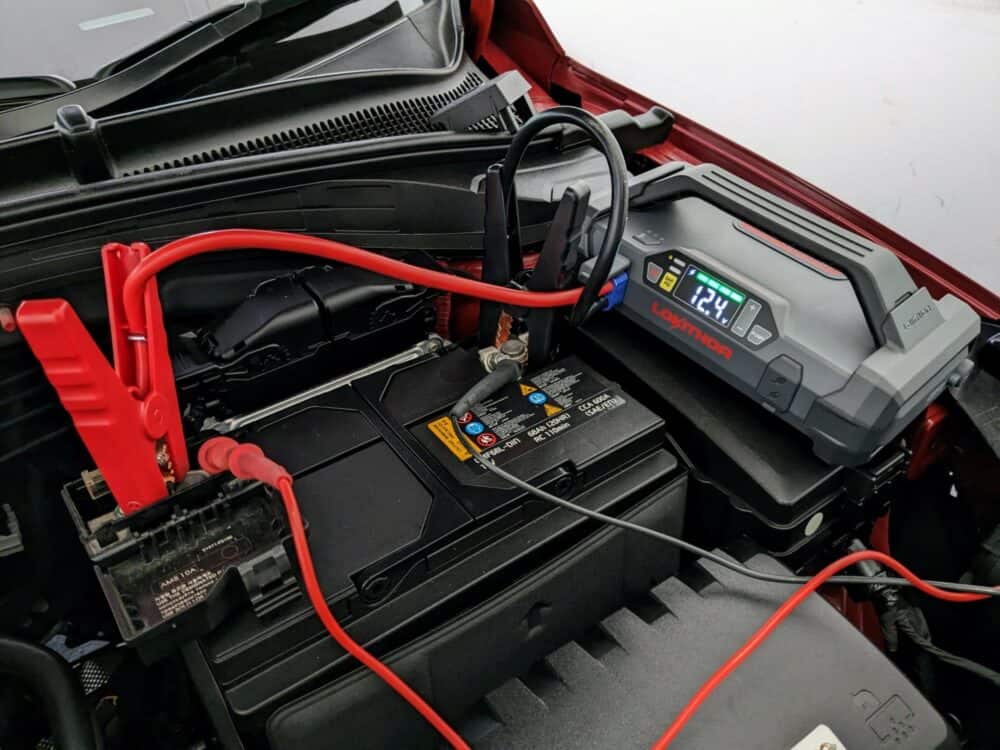 Checking my car's battery voltage was easy enough: I just followed the instructions to connect the clamps to the battery terminals, then tapped the power button to switch modes. The voltage was displayed on the screen: fortunately, at 12.4V, the battery didn't need replacing! I also double-checked with a multimeter, and got the same result.
Inflating my car tires was as straightforward as you'd expect: setting the desired pressure (in PSI or bar), clamping the connector onto the valve with the built-in lever, checking the current pressure on the screen, then hitting the "pump" button and waiting until it hits the target pressure and shuts off.
You don't have to set an intended pressure, but if you don't, the compressor won't shut off by itself. In that case, paying close attention to whatever you're inflating is highly recommended! My car tells me what the current tire pressures are, and it matched the display on the JA301 almost exactly.
While the battery clamps and air hose are sturdy and well made, I wouldn't have minded a little extra length on both of them. They're not difficult to use on a smaller car like mine, but both jump starting and inflating the tires would just be a bit easier with longer cables. That said, the air hose at least uses a standard connector, so it's not hard to find an alternative if you want one.
Because it's so wide, the flashlight does a good job of lighting up a fairly large nearby area, but isn't especially bright as you shine it further away. That's probably by design, intended to give plenty of illumination in an engine bay or around a broken down vehicle rather than off into the distance.
Still, the strobe and SOS modes stand out well at night, and the light is certainly big and bright enough that there's little chance of a passing driver not seeing it.
In terms of charging phones and other devices from the USB-A port, the JA301 works as you'd expect. One thing to note, however, is that while the port is able to fast-charge at up to 18W, it'll only do so if your device supports the QuickCharge (QC) 2.0 standard or higher.
Many don't these days, with Power Delivery (PD) having largely taken over. What does that all mean? Well, for most people, it means you'll only get somewhere around half of the maximum charging speed: I consistently measured 7W. How much that matters depends on the situation, but it's worth knowing.
Charging the JA301 from empty will take anywhere from about 4-8 hours, depending on the power of the wall charger you're using. The maximum is 18W, though, so you won't gain any extra speed by plugging in your laptop charger.
Once it is charged, though, you can leave it unused for a surprisingly long time before needing to plug it in again. Lokithor rates the standby time at around 30 months (2.5 years), which is particularly important for something like this that is likely to sit in your vehicle for ages, mostly ignored, between uses.
Verdict
If you often find yourself driving on empty roads or parked up in isolated areas, where dealing with a flat tire or dead battery can be a big problem, keeping a device like this in the car is a sensible insurance policy.
It's the sort of thing that I could definitely see myself taking car camping as well, whether it was to inflate air mattresses, charge phones, and find my way to the toilet in the middle of the night, or just in case the car wouldn't start when it was time to leave.
Given how many useful features are built into the JA301, it turned out to be a surprisingly useful vehicle "first aid kit". Most people probably wouldn't bother with it if it was just an emergency jump starter, but the air compressor, flashlight, and phone charger changes the value proposition.
It does what it sets out to do, simply and reliably, at a reasonable price and compact size. All in all, I think Lokithor has done well here. Recommended.
Buy on Amazon