It's an unfortunate reality that cameras are at risk of theft when you're traveling. You might never leave yours unguarded, but a camera left alone at a table isn't the only encouragement a thief needs.
They're often stolen right off someone's shoulder, in a technique known as the "slash-and-grab". A thief spots your expensive DSLR on its strap, and maneuvers behind you. They then use a knife to slash the strap, grab your camera, and run. If they brought a friend along, they'll toss your camera to them and be off with it in seconds.
This is more likely to occur in places where pickpocketing is prevalent, such as South America and many parts of Europe. Generally, you're most at risk of theft in larger, more touristy cities: anecdotally, the most pickpocketed cities in the world include Barcelona, Rome, Prague, Madrid, and Paris.
After a theft occurs, there's typically little that can be done to get your camera or other valuables back. Even if you manage to follow the culprit, chances are they passed off your camera to someone else long before you or the police caught up to them. The best way to protect your camera is with preventative measures.
As a result, today we're outlining what to look for in a slash-proof camera strap and sharing several of the most secure camera straps on the market to help keep you and your camera together.
Why You Need a Secure Camera Strap
Cameras are expensive, and since they hold all of our trip memories, their loss can be devastating. A secure camera strap is typically difficult or impossible to cut through in a hurry, especially without the wearer noticing.
Some straps can also deter would-be thieves from attempting to cut them because they look too thick to slash or have a visible metal wire running through them.
What to Look For in a Secure Camera Strap
Steel Reinforcement
For the best protection, look for a camera strap with wire reinforcing. The reinforcement will ensure your camera is protected even if someone does attempt a slash-and-grab theft.
They'll be able to cut through the fabric potion but not the wire, leaving the camera on your shoulder and the thief caught in the act. Ideally, the thickness of your camera strap deters them from even trying.
Weight & Packability
While a camera strap with a steel cable is the best deterrent against theft, that peace of mind comes with a bit of extra weight. Durable camera straps are thicker, which makes them heavier. Pay attention to the total weight of the strap if you like to travel light.
It's also worth keeping in mind that metal cables inside the camera straps make them less packable. The cables won't fold or roll in the same way you're used to, so make sure you have an appropriate place to pack them.
No Brand Markings
Even if you're not sold on secure straps, we highly recommend replacing the strap that came with your camera if it has any brand markings. A big logo advertises that you've got an expensive camera around your neck.
It's a good idea to disguise it with a plain black strap instead, or if you'd prefer, something more colorful: anything as long as the brand name is gone.
Anti-Theft Camera Straps: Neck and Shoulder
Pacsafe Carrysafe 100 GII Secure Camera Strap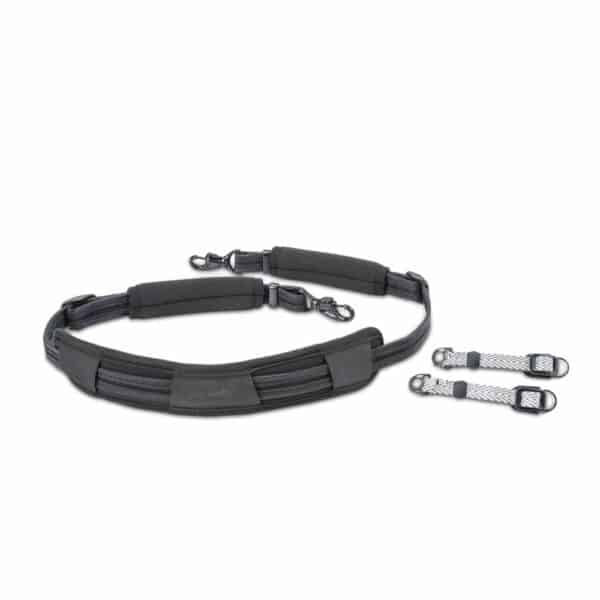 Pacsafe makes the most well-known anti-theft camera strap on the market today, the Carrysafe 100 GII. A fairly plain but comfortable option, it has cut-proof steel cable running inside the strap to prevent slash-and-go theft.
There's a padded neoprene neck pad and handy anti-twisting metal clips to keep the strap nice and tidy. The webbing connector will fit most cameras right out of the box, and the basic black color doesn't attract attention.
This secure camera strap comes with wire loops that allows it to fit most DSLRs with two side attachment points. It also comes with TurnNLock security hooks that let you attach the strap to a secure fixture to prevent your camera from being swiped out from under you in a grab-and-run theft.
You can also use the strap to secure your camera bag to an immovable object if you've set it down prior to shooting.
BlackRapid ProtectR Strap Attachment
Rather than replacing your entire strap, BlackRapid's ProtectR Strap attachment simply wraps around your existing BlackRapid strap. The integrated 1.5mm steel cable protects from slashing or cutting, and since it's visible, would-be thieves will think twice about trying their luck.
It comes in both regular and long, but if you're average height or taller, we'd suggest the latter: many people find the regular size too short.
The attachment is inexpensive and easy to install, but can be difficult to pack. The steel cable is fairly stiff, so you won't be able to fold these attachments like an ordinary camera strap.
Anti-Theft Camera Bag Strap
Pacsafe Carrysafe 200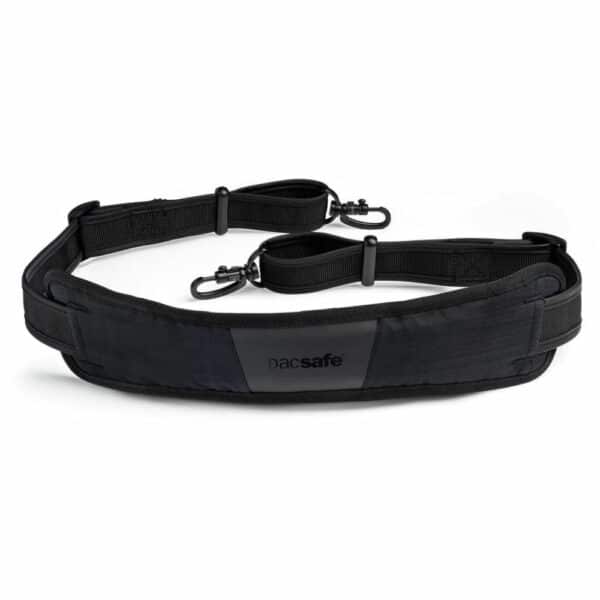 Along with the Carrysafe 100 mentioned earlier, Pacsafe also makes the larger Carrysafe 200 model. Designed primary to secure camera bags, the Carrysafe 200 has a padded non-slip shoulder pad for greater comfort when carrying heavy loads.
The strap has the same TurnNLock security hooks that let you attach it to a fixed object, and slash-proof material to prevent thieves from cutting through the material.
The Carrysafe 200 can replace the existing strap on most camera bags, as long as there are appropriate loops to hook it onto. The length is adjustable between 37 and 51 inches, giving plenty of carrying flexibility.
Like the Travelon model above, you may also be able to attach this strap directly to your camera. It doesn't have the same wire loops as the Carrysafe 100, though, so you may need to fashion your own connection method to do so.
Anti-Theft Camera Hand Strap
Don't want to use a neck or shoulder strap? A hand strap can help prevent theft and accidental damage without the extra bulk, by keeping your camera secured directly to your wrist.
Altura Photo Camera Hand Strap
The Altura Photo hand strap grips your hand and clips securely around your wrist. If the camera is yanked or slips out of your hand, it (and your memories and investment) won't be going anywhere. It's designed to fit any hand, so you don't need to worry about finding the right size.
The outer layer is made from PU leather, and it's lined with a breathable microfiber that keeps your hand comfortable without making it sweat. It's compatible with any mirrorless or DSLR camera with a standard tripod screw mount.
While not as secure as a slash-proof camera strap, it does ensure the camera always stays firmly in your hand. If anyone tries to grab your camera, it'll get caught on your wrist, giving you time to react.
---
Do you have any slash-and-grab camera horror stories? How do you protect your camera while traveling?
Images via Pexels (Canon camera,) Ganossi (camera being taken from bag,) all others via Amazon