Following a special diet has traditionally been a challenge on the road. Celiac travelers need to be wary of bread, noodles, and soy. Lactose-intolerant roamers have to pass up cheese, butter, and yogurt-based sauces. Vegetarians or vegans often end up resorting to wilted salads or bland pasta in much of the world.
Fortunately, while it's still far from easy to travel with dietary restrictions, it's not as hard as it used to be. As specific diets have become more common, whether for health or personal reasons, new apps have sprung up to help the people that follow them.
Many of these apps are just as useful while traveling as they are at home, and some have been created entirely for use on the road. Whatever the target audience, they help all kinds of travelers go out and better explore their destination, letting them safely and confidently try local cuisines around the world.
Whether you'd like to find out whether a specific dish is safe, where to find a meal that won't make you sick in a new city, which airlines are best for you, or how to communicate your dietary requirements, these eight apps will help.
MySymptoms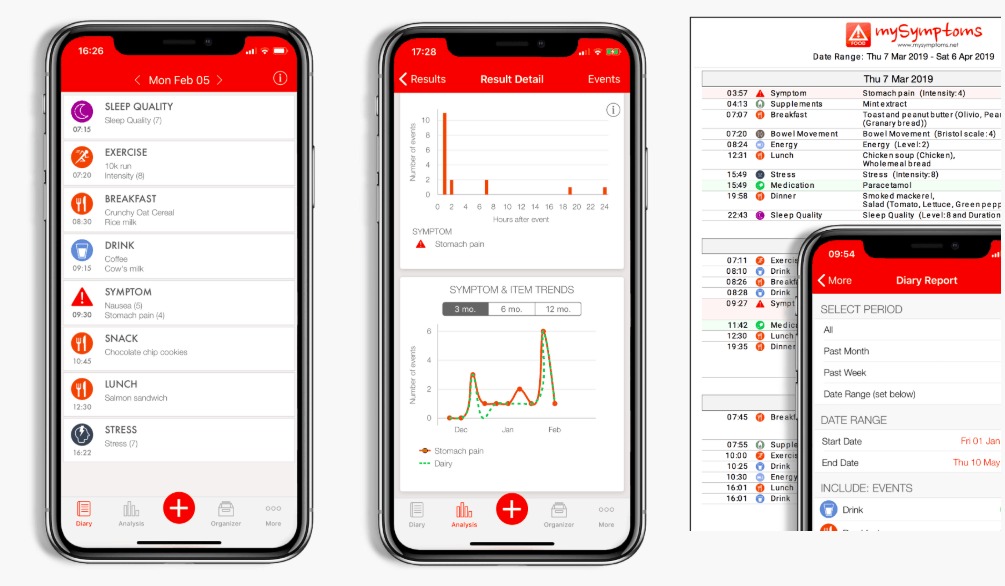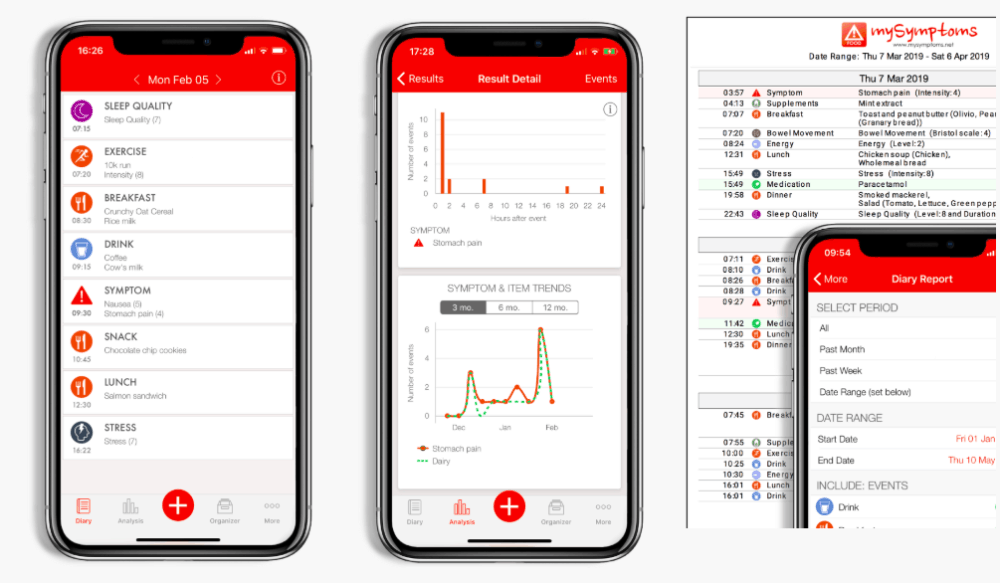 For many travelers (raises hand), food is one of the biggest pleasures when visiting a new place. Trying new dishes and discovering new flavors is an adventure in itself, just as exhilarating as exploring a new city. Most of the time, anyway. Real talk: roasted tarantulas on a stick is one of the few bad memories I have of Cambodia.
The only real downside of that street snack, however, was the (literal) bad taste in my mouth for the rest of the drive to Siem Reap. Out of all the possible negative results of trying new food, this is by far the best. But what if, following a brand-new dish, your body starts reacting in an unexpected way?
This where MySymptoms comes in. By tracking any unusual feeling, sensation, or pain, the app can point out whether you have an allergy you didn't previously know about, or distinguish food poisoning from a more serious bacterial infection (such as dysentery) that needs urgent medical treatment.
Besides its main (very useful) feature, the app also allows you to track sleep patterns, energy levels, and bathroom breaks. Add them all together, and you'll end up with a more complete picture of how unknown foods are affecting your body.
iOS and Android, $2.99
Shopwell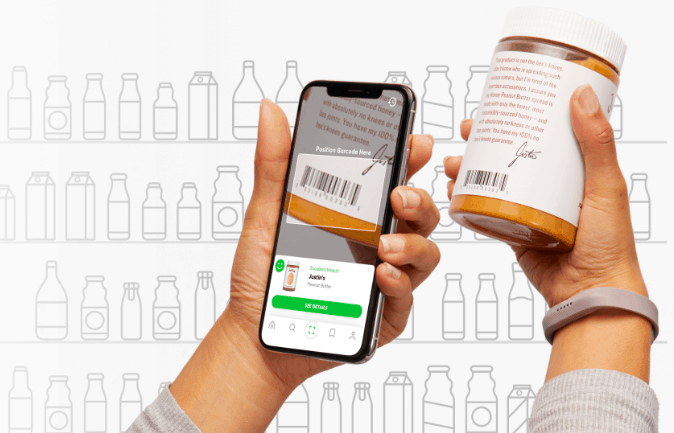 "Like having a dietitian in the palm of your hand." That's how Shopwell promotes itself: the portable, digital equivalent of having a qualified professional help you make the right food choices.
In many cases, this means help picking healthy foods as opposed to convenient, pre-packaged meals laden with sodium and MSG. When it comes to traveling with dietary restrictions, however, Shopwell has another trick up its sleeve for those who like to (or have to) cook in their accommodation.
When signing up, the app asks you to list the ingredients you want to avoid, both those you can't have, and those you'd rather not consume. The profile also lets you mark yourself as lactose-intolerant, celiac, or allergic to anything, which Shopwell will take into account when analyzing your shopping cart.
This is the last step: when shopping, the app will scan the barcode of any products you're considering, and show you whether any of the unwanted ingredients are present.
Biteappy
If eating out is a pleasure at home, the enjoyment is even higher when you're abroad. Whether you visit a Michelin-starred restaurant or a humble eatery your fellow hostel guests can't stop raving about, jumping from neighborhood to neighborhood, table to table, is one of the best ways to get to know a city.
For lucky travelers with no dietary restrictions, at least. Traveling with a food allergy or intolerance means being extra careful when going out to eat, and it can be very frustrating.
Biteappy wants to help, by pointing out safe spots to eat in over 2,000 cities around the world. Say you have an egg intolerance, for example, and would like to go grab dinner while you're in Budapest for a few days.
You fire up the app, where you've previously entered your restrictions or requirements (eg. no eggs.) Find your locale, specify any other desires like wanting a veggie-heavy meal, and Biteappy will show suitable eateries in the area along with their price and location.
What if you have a place in mind, but aren't sure whether it has compliant dishes? You can also check a specific restaurant, and the app will give you the lowdown on whether it's a good option for you.
The app also lets you search specifically for paleo-, halal-, kosher- and raw-compliant restaurants, so if you follow any of these diets, jump on board.
iOS and Android, free (in-app purchases)
Happy Cow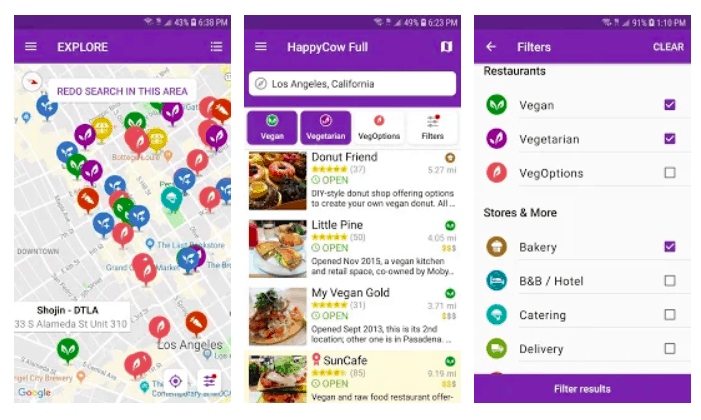 Following a plant-based diet is becoming easier while traveling, and doesn't have to be a limitation on exploring local cuisines. Depending on where you are in the world, though, locating vegetarian or vegan dishes may require extra research before you venture out to eat.
Happy Cow lists appropriate restaurants in 100+ countries, including plant-based, vegetarian, and vegan options. It also includes a filter for organic restaurants.
The app doesn't stop at restaurants, however. Its listings span B&Bs, hotels, farmer's markets, food trucks, juice bars, and stores, making it a truly go-to resource for plant-based travelers. Restaurants can be sorted by type of food and price point to help narrow down the options.
The community of users is also very active. New places are constantly added, reviewed by travelers as they find them. Even if you've already been to a city recently, Happy Cow may just find a new spot for you to try for dinner.
iOS and Android, $3.99
My Food Intolerance List
My Food Intolerance List provides information on possible allergens to help its users choose safe meals. Instead of focusing on restaurants or groceries, however, this app focuses on specific ingredients.
This comes in handy when faced with an unknown dish, at least as long as you can find out the ingredients that make it up. If you ask around and there are any you've never had before (tropical fruits or veggies, for instance, or a new type of seafood), whip out the app and check whether it's safe for you to eat.
The app is especially useful because it features more than the usual culprits like gluten, eggs, lactose, or nuts. Other things that can cause inflammation and intolerances, such as histamines, sorbitol, amines, and some types of acids are also included. These can be hard to spot unless you know the products that include them.
Note that My Food Intolerance is only available for Android users, but iOS users can download the similar Food Intolerance ($4.99) instead.
Android, $3.99
Spokin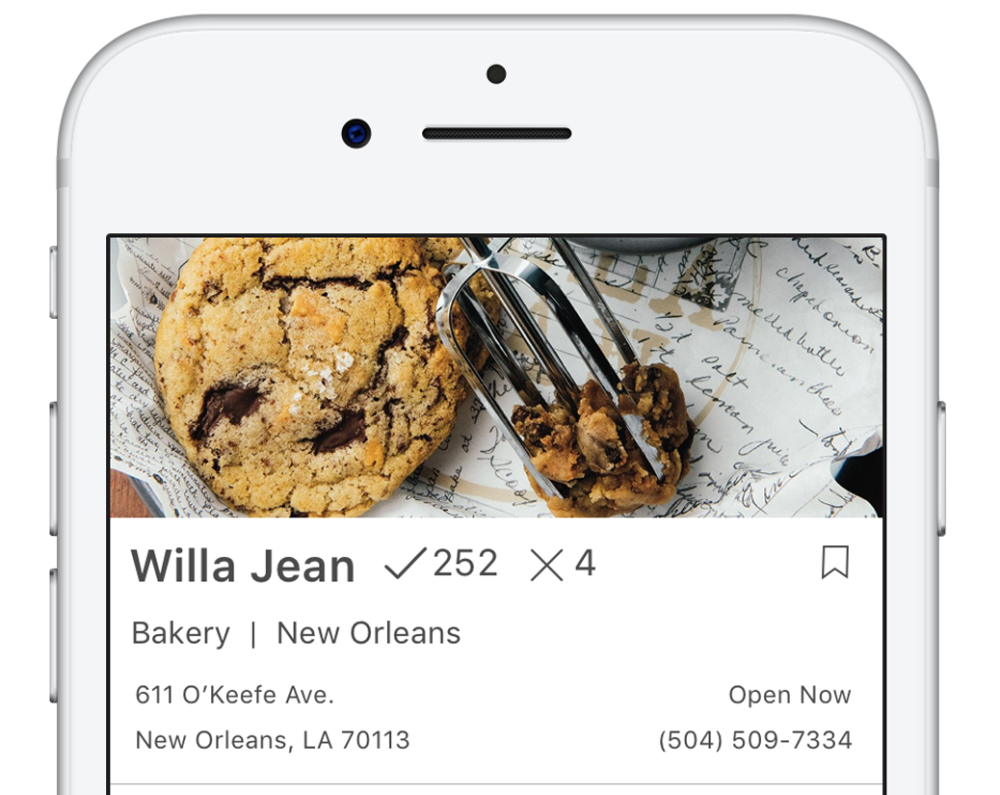 Combining several features from the apps mentioned above, Spokin is a great all-round app for travelers with dietary restrictions. Even better for those on the move? Airlines are among the companies and services analyzed.
If you don't have any intolerances, you've likely never noticed, but airplanes can be ground zero for allergens. This was especially true in the past, when free peanuts seemingly filled the cabin on every flight. It was a massive problem for travelers with nut allergies.
Even though that's no longer the case, being in close proximity to airline-provided food can be a real hazard. That's true even if you're not consuming the allergen yourself, or have requested a specific meal.
With Spokin, you can find out in advance whether the airline you're about to fly with is safe overall, or you need to make specific requests (or even switch companies altogether).
Besides this useful feature, Spokin also has a wealth of information on hotels, restaurants, and recipes adjusted for allergies and intolerances. If you need to pick just one dietary restriction app to download for your travels, this would be it.
iOS, free
Celiac and Gluten Free Apps for Travelers
Gluten Free Restaurant Cards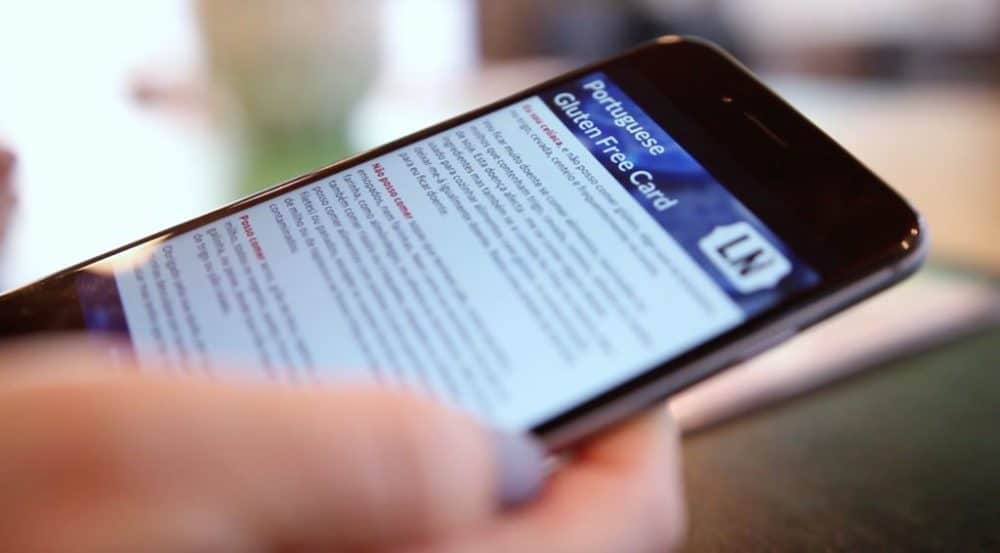 Knowledge of celiac disease and gluten intolerance isn't always high among restaurant staff and street food cooks, no matter where you are in the world.
Even if they do understand it, there's often a lack of knowledge about things like cross-contamination (a huge issue for celiacs) and the ingredients used in sauces and thickeners. If you don't speak the local language, good luck explaining the intricacies… and good luck not getting sick.
That's where these Gluten Free Restaurant Cards come in. Researched and developed by food and travel writer (and celiac) Jodi Ettenberg, the cards are available for a dozen different countries and regions to help you eat out with confidence.
Written in the local language (with an English translation available), each card covers what celiac disease is, and what can and can't be safely eaten. They're the first cards of their type to clearly explain cross-contamination risks, and a list of things that can be safely substituted and used to cook with is also included.
Using the local names for each ingredient or dish, the cards ask for recommendations on what is safe to eat and finish with an apology for the inconvenience. Each card has even gone through two different translators, to ensure they're accurate and safe.
Available as a digital image that lives on your smartphone or tablet for easy access, you can also choose to print out the card at home if you prefer a physical copy.
Any smartphone, tablet, or laptop. Can also be printed out.
Find Me Gluten Free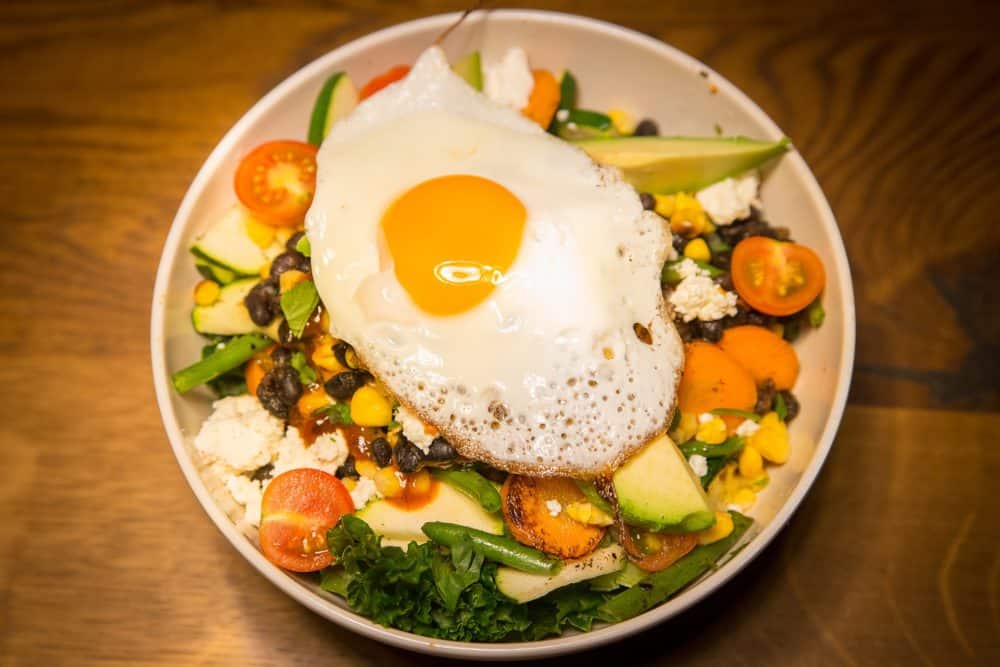 Restaurants that are truly friendly towards gluten-free diners aren't always easy to find on standard review sites and apps. Even if there are gluten-free options on the menu, cross-contamination and ingredient substitution can cause major problems for celiacs in particular.
Find Me Gluten Free is a crowd-sourced list of gluten free-friendly restaurants around the world, with reviews from the people who've eaten at them.
The main listings page shows an average "gluten safety" rating where possible, along with the address, type of cuisine, and rough indication of price. Features like a dedicated fryer to avoid cross-contamination are also shown.
You can search based on your current location, or anywhere else in the world, and by type of food. You can also filter out chain restaurants if you're after something more local.
As you'd expect, some parts of the world have better coverage than others. Regardless of where you're going, however, Find Me Gluten Free is a highly-useful app for celiac and gluten-free travelers.
iOS and Android, free
---
Images via Anja Pietsch (main image), MySymptoms, Shopwell, Biteappy, Happy Cow, My Food Intolerance, Spokin, Legal Nomads, juergen_s