You may already know Mexico City as a world-class travel destination. Mouth-watering food, phenomenal weather, and an endless array of activities, the Mexican capital is a never-ending surprise.
What you mightn't have heard as much about is the city's growing reputation as a business center.  Mexico City's star is rising as an entrepreneurial hub, with new ventures and startups showing up every week.
Combine the two, and what do you get? A prime spot for digital nomads and online business people to set up shop for a while (or forever).
All these new small businesses need a place to operate from, and as a result, Mexico City has seen several co-working spaces pop up in recent years, welcoming residents and visitors with equal enthusiasm.
Before we continue, two things you need to keep in mind.
First, as we always say, don't log into public Wi-Fi anywhere if you don't have a good VPN service. The security of your data isn't worth risking
Something else to take into account: the internet in Mexico is a work in progress. With speeds averaging 10Mbps around the country and drop-outs frequent, don't expect the most reliable of connections.
Mexico City is far better than other areas of the country, but speeds are still notoriously temperamental and vary wildly depending on what neighborhood you're in. Pack your patience along with your laptop.
El 3er Espacio
El 3er Espacio was a co-working pioneer in Mexico City, opening up its first office in 2011.
Located in the fancy neighborhood of Hipódromo, 3er Espacio offers a well-designed, spacious office with big windows and a ton of natural light. The working area is scattered with tables accommodating up to four people, so you'll be rubbing elbows (often quite literally) with other remote workers.
For a breath of fresh air, relocate to the excellent terrace with nice views over Parque México.
Another good point: the neighborhood is one of the few in the city with fiber, so the Internet is faster and more reliable than what you'll find elsewhere.
Want to give it a try? They allow you to come by and work one day for free, no strings attached.
Food
There's free coffee and water on the premises. Being in Hipódromo, a stones-throw from Condesa, there are plenty of phenomenal food options around, from taco stands to healthier fare.
Cost
Annual membership: 500 pesos (needed for all plans)
Daily rate: 250 pesos
Monthly passes: 1,607 pesos for 80 hours; 2,365 pesos full time; 2,842 pesos full time with reserved spot
Hours
Monday through Friday, 8 am to 9 pm
Impact Hub
You may have heard of, or even worked at, Impact Hub before. With 86 locations in five continents, Impact Hub welcomes digital nomads all over the world, from Taiwan to Zimbabwe.
The company's Mexico City space is made up of several different areas, from rooms for 6-13 people, to open spaces with long tables accommodating up to 10 workers. Don't feel you have to grab a seat at one of the tables, though: the rooms are peppered with hammocks and bean chairs, if that's more your style.
Impact Hub makes an effort to build a community, beyond just offering them a place to work. They host an array of events, from guest speakers on a variety of topics, to discounts for classes at a local university, to monthly potlucks for the members of the community. If you're keen on the social aspect of co-working, Impact Hub has a spot for you.
Food
There's free coffee on the premises, and a million food options right at the door on Álvaro Obregón Avenue — fancy tapas at Delirio, fish tacos at Tres Galeones, and countless street food stands selling everything from tamales to tortas.
Cost
Monthly passes: 2,900 pesos
Hours
Monday through Friday, 8:30 am to 8 pm (extended hours available)
Homework
Located in the Plaza de la Revolución, Homework is one of the most central co-working spaces in Mexico City. You can reach both Paseo de la Reforma and Zócalo on foot, which would make for a nice break from working.
When it comes to the actual "getting stuff done" part, Homework makes it easy to stay indoors a little longer. The spacious working area doesn't feel cramped, despite having several long tables, and if it ever does feel a bit stuffy, you can always move to the terrace for a good view of the Monumento a la Revolución.
Homework plays office for a number of Mexican companies and startups, and it's not unusual to see launch parties and events hosted on the premises.
Food
Homework offers free coffee in its kitchen on the premises. For food options, just stepping out onto Plaza de la Revolución gives you the choice of several family-owned restaurants with menús del día for less than 100 pesos.
If you feel energetic and don't mind a short walk, you can easily reach the Alameda Central on foot, and grab a bite at the Sanborns inside the stunning Casa de los Azulejos, or at the nearby Cervecería del Barrio.
Cost
Monthly passes: 2,500 pesos full time, 3,800 pesos for a reserved spot in the common area, 4,200 pesos for a reserved desk in a shared office, 9,200 for your own office
Hours
24/7
The Pool
Sleek and clean-cut, The Pool appeals to the serious side of entrepreneurship and remote working. The space is airy, with high ceilings and lots of windows, the floors are hardwood, and there's enough elbow room for everybody.
The style is the same in both locations — one in the glitzy neighborhood of Polanco, and another in the more modest (and slightly hipstery) Juárez. Passes grant you access to both, so you can take your pick.
There are advantages to both. The one in Juárez is far more central, just south of Paseo de la Reforma, close to the Ángel de la Independencia; the one in Polanco is in a residential, quieter area, close to a nice park and a short walk from Bosque de Chapultépec.
At the same time, there are disadvantages to both. The Internet connection is slower in Juárez, but food options are far more expensive in Polanco.
Food
There's a café on the premises on both locations. Outside food options (and especially prices), vary depending on where you are.
The Polanco office is in a ritzy area with more sit-down, upscale options. These are typically more expensive, but there are still deals to be found: try Taquería el Turix or Tamalli for affordable (and filling!) options.
If you go for Pool Toledo, in the Juárez neighborhood, you'll have more to choose from in the area. Grab a hearty torta at Tortas Toledo, or walk the three blocks to La Bodeguita del Medio for some creative Cuban fare (and a mojito, if you need the pick me up).
Cost
Monthly passes: 1,680 pesos for 80 hours; 3,371 pesos for national pass
Additional services for an extra cost: private offices, meeting rooms, special plans for startups
Hours
24/7
WeWork
Does WeWork sound familiar? Much like Impact Hub, this international co-working network is present in several countries. It's biggest in the US, where it has 23 different locations.
Practice makes perfect, and you can see WeWork has fine-tuned its offering to cater to every digital nomad's potential need: a great kitchen (with beer on tap!), lots of natural light, lounge spaces to put your feet up for a while, and, of course, a sizable shared room with large shared tables that don't feel cramped even with several people using them.
WeWork has close to 20 locations in Mexico City, so there'll almost certainly be an office close to where you're staying.
Food
The kitchen has free coffee, cereal, fruit, and beer on offer. If you need anything more, just as with The Pool, it all depends on which location you've chosen.
As an example, WeWork Varsovia is right in the middle of the Juárez neighborhood, which means lots of options. You can take a stroll and find a Korean BBQ joint (fun fact: this is Mexico City's little-known K-town), or walk to Zona Rosa for some pozole and flautas at Casa de Toño.
By comparison, WeWork Reforma Latino and Montes Urales are both in more isolated, upscale areas, which makes food options more limited, but there are always taco stands around. Alternatively, you can choose a food delivery app like Uber Eats, and have your grub brought right to your door.
Cost
Monthly passes: Prices vary by location, but expect to pay somewhere between 4500-5500 pesos for a fulltime coworking hot desk.
Additional services: private offices, meeting rooms
Hours
24/7
Urban Station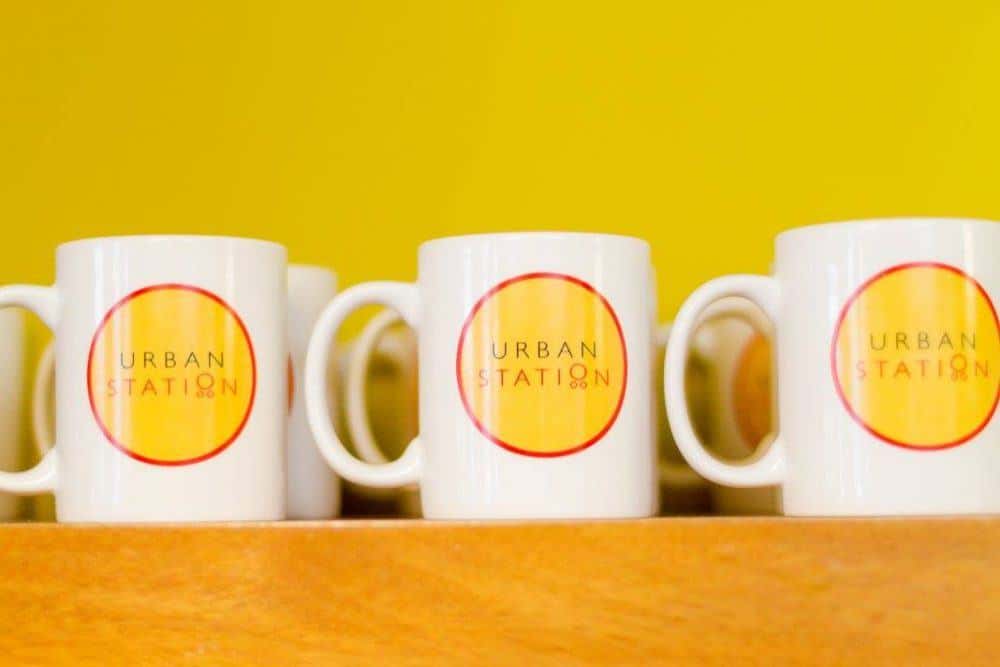 Walking by from outside, Urban Station looks more like a minimalist furniture store than a co-working space, it's that well-designed.
The space is divided into different types of rooms and working spots, from common areas to individual tables and private offices. Good news, too: it has fiber internet, which is the most reliable option you can hope for in Mexico City.
The downside to Urban Station is the noise level. On a busy street (Molière Avenue) in the Polanco neighborhood , traffic is constant. From the odd motorbike to the regular tamales vendors advertising their wares, it's impossible to forget you're in Mexico City.
Food
There's free drinks and no-frills catering on the premises. Otherwise, you run into a similar situation as with The Pool Polanco, since Urban Station is in the same neighborhood.
Cost
Hourly rate: 55 pesos
Monthly pass: 3,380 pesos; 3,700 pesos for a reserved spot
Additional services: private offices, meeting rooms (including the terrace, which can be reserved for a meeting)
Hours
Monday to Friday, 8 am to 8 pm
---
Images via El 3er Espacio, Impact Hub, Homework, The Pool, WeWork, and Urban Station. Feature photo via Urban Station.