Spend any time on Instagram, and you'll start believing that all remote work is done from the beach, a hammock, or at least a trendy cafe. While this might be true for some people, some of the time, it's definitely not the norm.
The first few years I spent working remotely were the exact opposite of this lifestyle. I worked from the idyllic surrounds of my living room, and the highlight of each day was my flatmate coming home so I could have an actual conversation. Looking back, maybe that was a bit extreme…
Back when I started, there were almost no coworking spaces, and productivity tools barely existed. Things have changed dramatically, and so has my situation–I frequently take my laptop on the road, and I've religiously adopted several tools and tricks to help me be more productive whenever I'm away from home.
You don't need to be a digital nomad to profit from them, though. Most of these tips are just as useful for working more effectively from a home office as they are from an Airbnb on the other side of the planet.
Manage Your Workload
Do you get by with your day-to-day work, but struggle with a long-term strategy or when collaborating with others? Project and task management tools make it easier to organize your workload and stay on top of everything you need to do.
Project management systems like Asana and Basecamp are especially useful when working in a team, since they let you see everyone's pending and completed tasks for a given project, all in one place. They're ideal for organizing projects and adding tasks, then sharing them with coworkers. We're also fans of Trello, a simpler, free/lower-cost option ideal for smaller groups and individuals.
I'm obsessed with to-do lists, and am endlessly trying out different apps to help manage them. I hadn't found anything that combined personal and work lists, synced with a calendar, and had a good design until I found Any.do (for Windows, Mac, iOS, and Android). It lets you organize your tasks, lists, and reminders inside one app that syncs across all of your devices.
I'm also a fan of Notion, a great tool that some have called the "future king of productivity apps." It does a lot, including letting you and your team create notes, tasks, and lists, manage projects, and maintain an internal knowledge base so that everything is available in one place. That's super-helpful for teams.
Added bonus: you can use emojis. We all need more emojis. ✅
Speed Up Your Internet
Whether your home internet is glacially slow or you're working from a remote location that's high on great views but low on infrastructure, internet speeds are often the biggest barrier to productivity.
We wrote an entire article about the best ways to speed up your internet connection, but the easiest place to start is with an app called Speedify. It does several things, including:
letting you combine multiple connections (eg. your phone and Wi-Fi, or two Wi-Fi networks) into one faster network
prioritizing voice and video traffic to improve the quality of your conference calls on tools like Zoom, Skype, and Slack
automatically encrypting all of your data for better security
Speedify works on Windows, Mac, Linux, and mobile devices. The company has a free trial to let you try the service out, and offers significant discounts when you sign up for a year or more.
Reduce Your Laptop's Data Usage
Trip Mode does one thing, and does it well: reducing the amount of data your laptop is using. When you're tethering to your phone or using a slow Wi-Fi connection, just fire up the app ($7.99) and select the apps that are allowed to access the internet.
Everything else gets blocked, including updates, syncing tools like Dropbox and iCloud, and anything else that's not important right now. The end result? A faster connection on slow networks, and using up less of your valuable mobile data.
The app will automatically enable itself when you connect to networks where you've used it before, and you can see how much data you've used in a given period. It's also possible to set hard daily/weekly/monthly traffic limits so you never exceed your data cap.
Create a Comfortable Portable Office
The ergonomics of working from home, cafes, and coffee shops are usually pretty awful. Uncomfortable chairs, wobbly desks, and being hunched over a laptop for hours are not a good combination.
Lifting your screen up to eye level is a small but vital way to improve things, since it helps reduce the neck strain associated with working on a laptop for long periods. Amazon sells dozens of laptop stands as the first step in creating your very own portable office, including one that we use and love: the Roost.
Keep Track of Time Zones
I'm usually based in Europe, but have colleagues all over the world. In the past, when I wanted to suggest meeting at a certain hour, I constantly had to Google it: what time will it be there when it's 10 am here?
The process was quite tedious, until I found Clocker (for Mac only). One of the app's best features is a neat slider where you can quickly see how future times line up without having to count forward or backward. That way, next time you need to know what time it'll be in Tokyo when it's 4 pm wherever you are, you'll know in just a few seconds.
Not a Mac user? World Time Buddy has a simple, if not very pretty, web-based version.
Arrange Meetings
Arranging meetings is hard enough in corporate life, when most people you need to meet are on the same calendar system as you. If you're a freelancer, part of a small team, or just need to arrange meetings with people outside your organization, finding a time that suits everyone often takes longer than the meeting itself.
Luckily, there are a few tools out there that can make a big difference. Doodle is ideal for arranging group meetings: you simply propose meeting times, everyone marks the slots they're available for and those that they can make work if they have to, and you pick the winner.
Calendy is another good option, best suited for letting other people and groups book meetings with you. You send them a link, they pick an available slot, and you're good to go.
Both services sync with Google Calendar, Outlook/Office 365, and other calendar systems, as well as Slack and many other workplace tools. Calendy has a free tier, with paid plans starting at $8/month. Doodle has a free two-week trial, with paid plans starting at $4.49/month.
Work Better at Night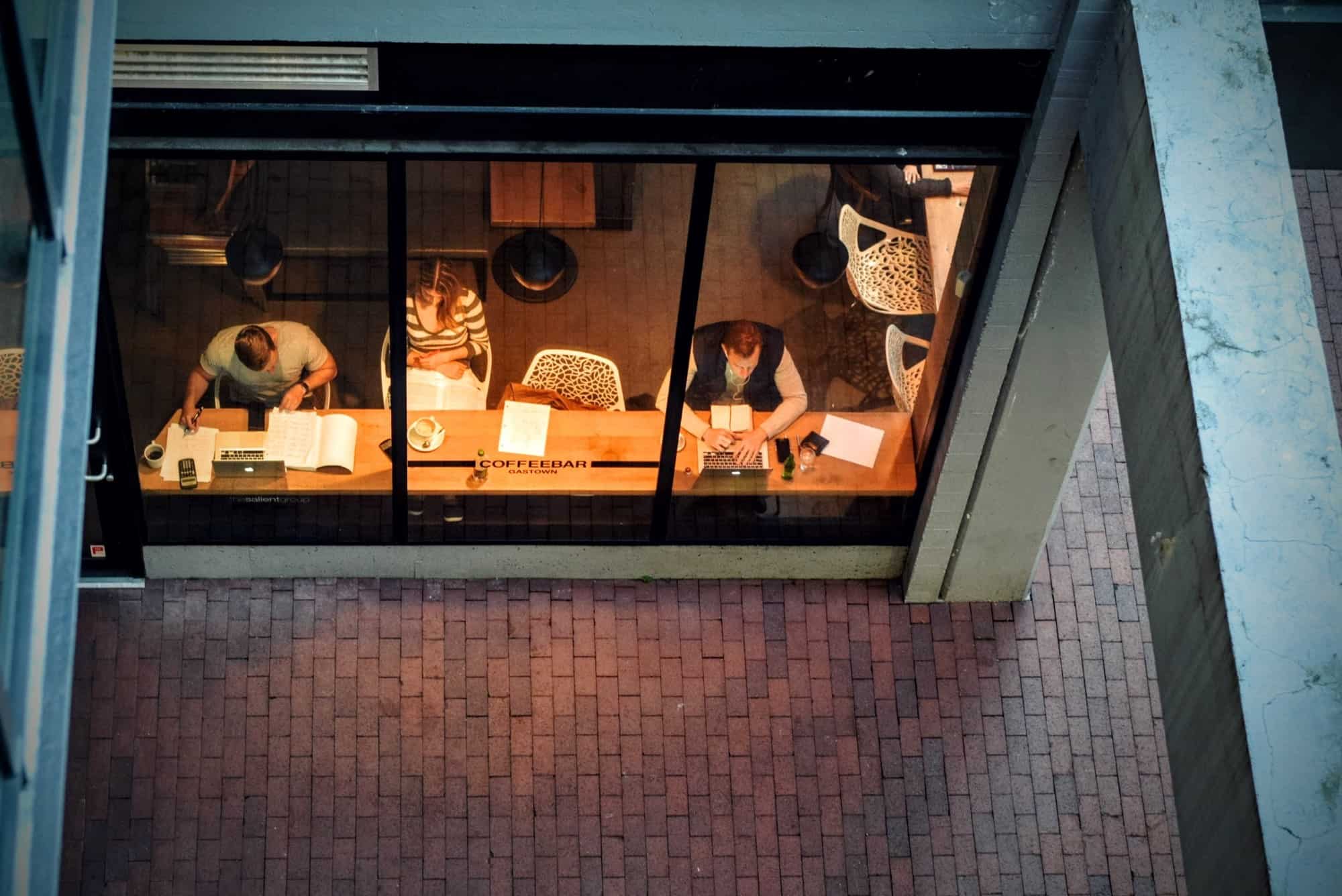 When you're outside a traditional office environment, it's (too) easy to lose track of time and keep working long into the night. Falling asleep right after using your computer (or phone) can be hard, because computer screens mimic the cool blue color temperature of bright sunlight. That's great during the day, less so at other times.
As the sun sets, the color temperature of its light shifts towards pink and orange, which causes us to get sleepier. The f.lux app does the same thing for your phone or laptop, changing the color temperature of this display depending on the time of the day. The darker it gets outside, the warmer the colors used.
Better sleep means better productivity, and we're all a fan of that. The tool is free, and is available for Windows, Mac, and Linux, and mobile devices.
Keep Those Windows Under Control
When working on my Mac, I'm often writing in a Google Doc but need to keep referring to a bunch of different Chrome tabs. At the same time, I'm chatting in Slack, checking my calendar, updating my to-do list, and more. That's a lot of windows to manage!
Clicking backward and forward between them takes time, and I often need to see them simultaneously as I work. With Magnet, I can keep my workspace organized without having to manually adjust a window's size to make it fit in my desktop.
Using the Control, Option, and arrow keys in combination with others, Magnet will easily declutter your screen by snapping windows into organized tiles.
The beauty of this Mac-only app is its simplicity — it only took me a few minutes to memorize most shortcuts, and you can see the benefit right away. It costs $1.99.
Use Better Passwords
Coming up with and remembering strong, unique passwords for every site and app you use is almost impossible. That's why most people use the same password in multiple places, which just means if any one of those sites gets hacked, you're vulnerable everywhere else.
What to do about it? Use a password manager instead. These apps work by generating strong random passwords, saving them, and optionally filling them into sites and apps automatically. All you'll have to do is remember your master password. Make it a good one!
After testing a few different tools, I settled on Bitwarden because of its simplicity. It also happens to be one of the most affordable options (free in most cases, $10 per year to access advanced features.)
Another solid tool is 1Password (30-day trial, $36 per year), which has a particularly useful "Travel Mode." This completely removes sensitive data from 1Password across all your devices, except whatever you mark as safe for travel. Even if you're forced to unlock your phone or laptop at border control, your passwords and other personal information physically aren't available.
We wrote (a lot) more about password managers here.
Use a VPN
Sending an important file via airport Wi-Fi? It can be incredibly easy to steal data as it moves across public Wi-Fi networks, unless you're using a virtual private network. There are many reasons why you should be using a VPN while traveling but think about it like this: free and open Wi-Fi usually comes with a hidden cost—your security and privacy.
As well as encrypting your information as it travels across public networks, VPNs let you connect to a server located in a different country to the one you're in. This is especially handy if you're trying to bypass China's Great Firewall or get around other internet censorship.
They're also good for accessing geographically-restricted content (including streaming services), or even just to get around annoying websites that assume that just because you're in Amsterdam this week, you'd love to read the site in Dutch. Sigh.
We're fans of ProtonVPN (our current top travel VPN pick) or ExpressVPN for their extensive server options, fast speeds, and ability to work around censorship in countries like China and geo-blocking from the likes of Netflix and iPlayer.
Looking for more advice on working from home? Start by checking out our top five tips for those new to remote working, then check out our must-have app suggestions for remote workers.
---
Images via Bench Accounting (man working on a laptop), Kari Shea (laptop on wooden bench), TripMode (app screenshot), Josue Valencia (laptop stand), Tim Gouw (people at a coffee shop), Tanit Parada Tur (Magnet screenshot).