Heading to the Netherlands? Great choice. It's an extremely easy country to visit as a tourist. Most people speak English, and you'll likely find English signage, menus, and museum information in major tourist areas.
Plus, the transportation system across the entire country is spectacular. You can easily jump from one city to the next by train or bus, and it won't take long: you can go from one side of the country to the other in a matter of hours.
Whether you're enjoying the nightlight in Amsterdam, visiting the famous tulip fields at Keukenhof, heading to the historic city of Maastricht or Rotterdam's gritty ports, there are several apps that are worth downloading before you set off.
They'll help you with everything from journey planning to parking, food delivery to navigating Amsterdam's sprawling Schiphol airport, and plenty more. These apps came recommended to me by local friends, and I've included the ones that I found most useful throughout my time in the Netherlands.
They're all free to download for Android or iOS, though some have paid upgrades available as well.
NS Travel Planner
The Netherlands has an impressive public transport system that includes frequent trains between all of its major cities. The NS Travel Planner is the official Dutch railway app, and it's the key to making the most of public transit in the country.
The app is completely free to download and use, and covers all travel types including trains, buses, trams, ferries, shared scooters, and taxis. In the app, you can see journey times, ideal routes, platform information, and updates about any disruptions.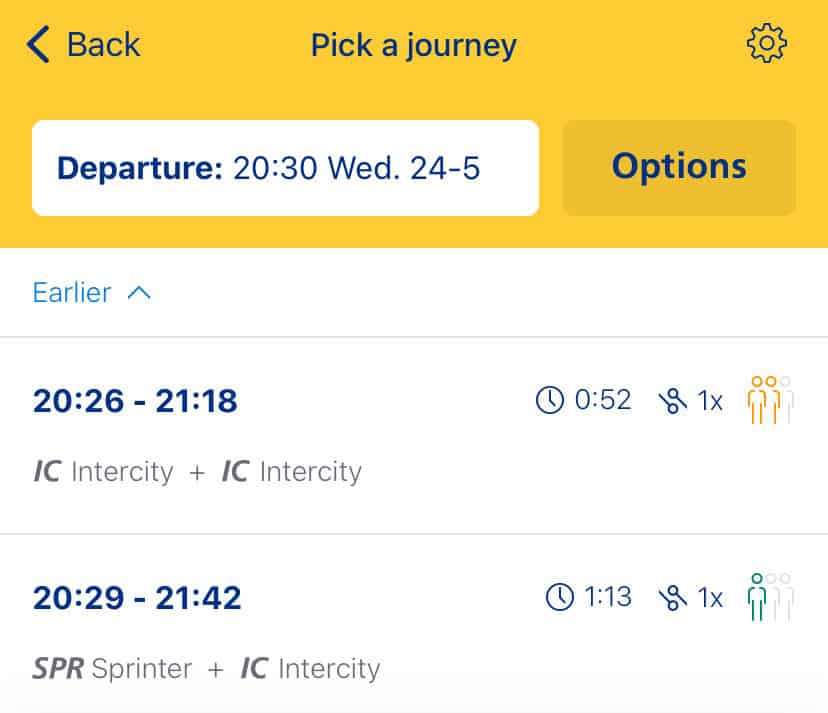 When looking for trains, you can plug in either departure or arrival time, depending on what's more important for that trip.
Other features include locating the nearest train stations, planning a route from wherever you are now, saving frequent trips for quick access, and putting together a multi-stop itinerary. You can also buy tickets or day passes in the app, book taxis, and more.
Want to know more about the train you'll take, including type, capacity, length, and amenities? You can do that as well. You can even report issues you encounter directly through the NS app in real-time, adding how the situation made you feel.
A sister app, NS International, provides information about international travel routes and tickets as well.
9292 Travel Planner
9292 is another popular transportation app used by many Dutch locals. The general outcome is similar to the official NS app, but you're able to plug in many more options along the way.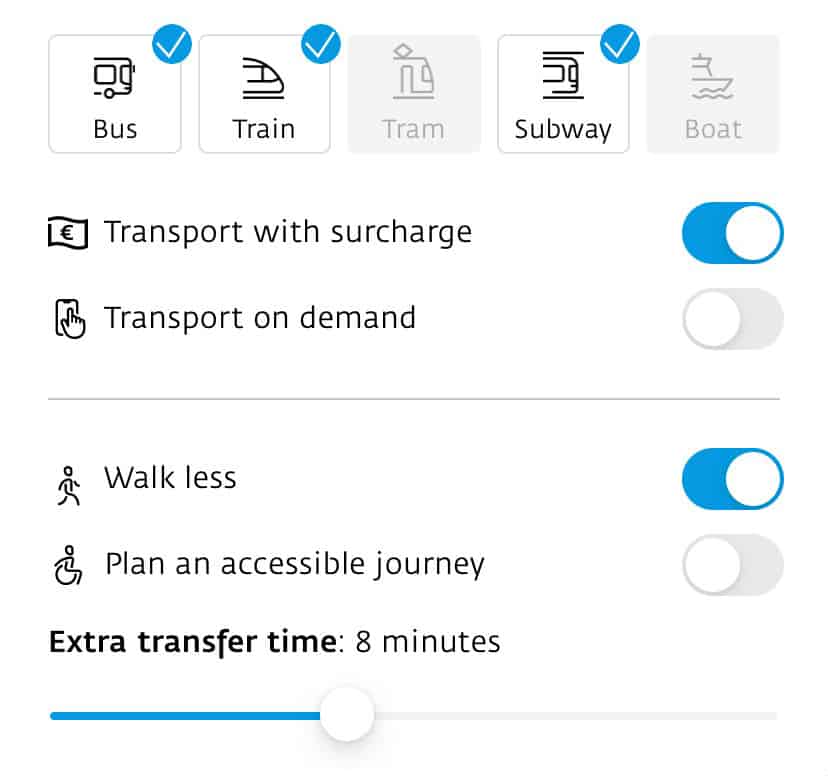 You can choose the type of travel, including bus, train, tram, subway, and boat, and whether you need an accessible route or want to walk less. You can add extra transfer time if you want a bit less stress in your life, and the display is customizable, letting you choose which information you want to see and search.
You can pick between any three displays of:
Total travel time
Number of transfers
Price
Expected crowds
Track/platform boarding stop
The other elements of the app are fairly typical, allowing you to choose either departure or arrival time to plan your route. The only downside is the in-app ads, something you won't find in the official NS app.
Schiphol Amsterdam Airport
Schiphol Airport in Amsterdam is the Netherlands' main international airport. The official app gives real-time flight updates, lets you book a parking spot, and helps you find your way around the airport, including where to find the toilets.
You can ask the app to send notifications about major events that could cause cancellations and other updates, like weather issues or security delays. Find your flight within the app to get the most up-to-date gate information, boarding times, and delay information.
The in-app map helps you navigate the entire airport, with interactive nodes for every shop, restaurant, information area, ATM, baggage locker, bathroom, and more. By clicking on a location, you can view specific details like what food is on offer at a restaurant or its hours of operation. 
EasyPark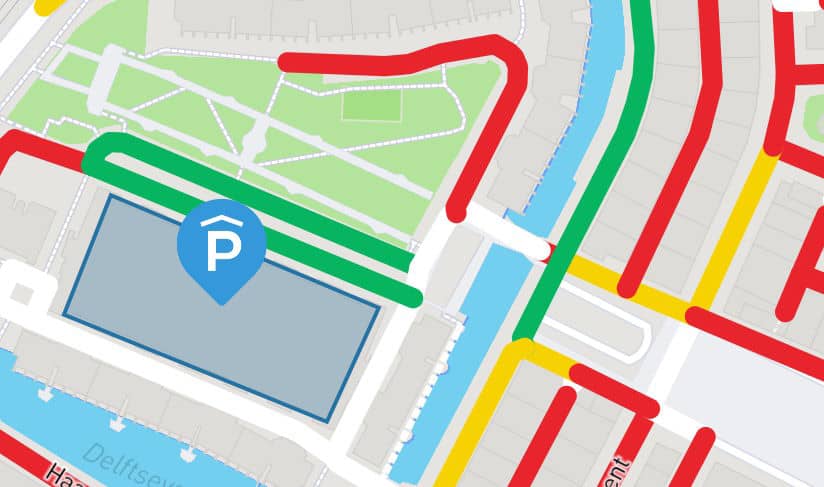 The Netherlands is densely populated and takes a famously bike-centric approach to transportation, which means that parking can be difficult to find in major cities. That's especially true in and around popular tourist areas.
The EasyPark app helps deal with that issue, letting you find whatever parking is available on those busy streets. You can zoom in on areas of the map to see what's available in real-time, and can pay for both street and garage parking directly in the app. 
Currency Converter Calculator
Calculating exchange rates is a core part of international travel, but not always easy to do on the fly. If you're traveling to Europe from the US, for instance, you just need to add roughly10% to the bill to calculate the difference, but exchange rates are always changing and converting other currencies is more challenging.
For example, at time of writing, 100 Euros is around:
150 Canadian dollars
85 British pounds
1900 Mexican pesos
160 Australian dollars
Rather than trying to do the math in your head and risk getting it wrong, just download a currency converter instead. There are many available in the app stores: it doesn't matter which one you choose, so long as it updates regularly and has all the functions and currencies you need
Personally, I landed on the Currency Converter Calculator. I use the free version, which does have some annoying pop-up ads, but there's a premium version if you want to go ad-free.
Set the top currency to EUR and the bottom one to the currency you normally use. The app functions as a calculator, too, so you can input multiple numbers at a time or calculate a tip amount right within the conversion app. 
Thuisbezorgd.nl
Don't want to eat out for every meal? Check out Thuisbezorgd.nl, which provides both delivery and pick-up options for takeout food, groceries, and alcoholic drinks. Despite its very Dutch name, the interface and food descriptions are in English. It looks and feels very similar to other food delivery apps like Uber or Just Eat. 
Payment options include credit card, PayPal, and Apple Pay, but you can also choose to pay in cash upon delivery. This is a useful feature if you have trouble adding your card to the app while you're overseas, although you can also try adding it before you leave home if you remember. 
Time Zone Converter
Like currency conversion, dealing with time zones is a regular part of international travel. There are several apps that help make the conversion easier, not only calculating the time difference but also factoring in whether or not a place is observing daylight savings and when those changes occur.
Time Buddy is a simple way of aligning meeting times across different time zones. It allows you to add up to four time zones at once, and you can move a marker across each of them to pinpoint a time that works for everyone.
GlobeTempus is a more aesthetically pleasing time zone app, with animations that change based on the time of day in each location. For major cities, there are custom graphics of the skyline or other identifiable features—windmills for the Netherlands, for instance—and custom graphics for popular locations.
This app lets you add up to three time zones in the free version.
Google Maps
Lets face it, you probably already have Google Maps on your phone, so this app suggestion is more of a reminder to use it during your travels and to prepare your map in advance.
Use the star, heart, or flag pins to save places you want to go, as well as the location of your accommodation. I like to use the star pin specifically for my accommodation, so I can easily see it on the map no matter where I am. It helps me understand how far I am from popular destinations and restaurants I want to check out. 
I use the flags (which stand for "Want to go") to save places I hope to check out or return to. Since I use it so much and often forget why I saved a certain location, I leave a note for myself in the space provided. I might mention who gave the recommendation, whether or not I've already been there, or the menu items I hope to try.
Your map will quickly fill up with small indicators that help build your travel itinerary. As you visit these locations, you can remove the flags, or leave further notes for yourself if you hope to return. 
Want more Google Maps tips, including how it use it offline when you travel? We've got a post for that!
Amsterdam Travel Guide & Map 
Most people who visit the Netherlands spend at least some of their time in Amsterdam; if that includes you, the Amsterdam Travel Guide & Map app is a handy beginner's companion for exploring the city. 
It gives sightseeing highlights and travel tips for popular locations, such as when and how to buy your tickets, ways of saving money, and tips on avoiding crowds. Highlighted guides include outdoor must-dos, restaurants for traditional dishes, and popular monuments. You can use the inbuilt map to save and locate the things you want to see and do. 
Honestly, the app interface isn't anything special, but if you're traveling to Amsterdam for the first time, it can provide inspiration for the top things to do in the city. As above, I personally prefer Google Maps for saving must-see spots, but you'll get more background information and logistical tips with this app. 
Google Translate
We usually put Google Translate much higher on our list of recommended apps for travel, but in the Netherlands, you won't need it much for communication. As mentioned in the intro, it's very common for people to speak English, especially in larger cities that see a lot of tourism.
That said, you may need a translation app when you're in smaller towns or if staying with older hosts. The app also comes in handy when translating restaurant menu items or products at the grocery store, especially if you have allergies or food restrictions.
Don't worry if you follow a plant-based diet, by the way—the Netherlands is vegan-friendly, with most grocery stores having a wide variety of beyond meat-type products.
While a Dutch eSIM is a cheap and easy way of getting online during your stay, you don't have to be connected to use Google Translate. An offline translation file for Dutch (and many other languages) can be downloaded in advance, letting you perform translations when you don't have internet access.
Holland Tourism
Our last recommendation isn't an app but rather a website dedicated to Netherlands travel information. Holland.com is the official website for Netherlands tourism, with information about Dutch heritage, nature areas, tulips, weather, and more, plus how to get around the country. 
On the Frequently Asked Questions page, you can learn more about what to expect for your visit, including public holidays, drug policies, visa information, and that timeless favorite, the difference between "Holland" and "the Netherlands." 
The website also breaks down each major tourist destination: Amsterdam, Rotterdam, The Hague, Utrecht, Maastricht, and Groningen. Destination guides include top things to do in these cities, the distance between them, and popular restaurants and markets. 
---
Are we missing any travel apps for the Netherlands? Recommend your favorite travel apps, resources, and guides in the comments.
Main image via Preecha Buathong/Shutterstock.com, screenshots via author
We've also put together must-have app lists for many other countries and cities around the world, including London, Paris, Dubai, Japan, and Mexico. If we don't have the travel app guide you're looking for, request it in the comments.