Whether you're heading to Mexico for the first time, passing through for a few months as a remote worker, or going back to one of your favorite vacation destinations, it's worth downloading a few useful apps before you cross the border.
There are a range of Mexico travel apps out there, and the ones we've chosen will help you navigate both cities and language barriers, convert currencies and time zones, learn more about that bottle of tequila you loved, and get the most out of popular tourist destinations.
All of the apps on our list are free to download, but some have paid upgrades available as well.
Google Translate
The Google Translate app is a simple suggestion, but also a must-have if you're traveling to Mexico and aren't fluent in Spanish. Even if you have some basic communication skills, the app still helps translate words you can't figure out on your own, or get your message across when words aren't working at all.
On numerous occasions, I've typed out what I'm trying to say in the app to show someone else when we couldn't understand each other. It's also great for looking up menu items you don't recognize at restaurants when you're unsure of what to order or have allergies to contend with.
Tip: You can download a translation file for Spanish (and several other languages) that lets you use the app even when you don't have internet access. If you're not planning to buy a local SIM card in Mexico, definitely enable offline access instead.
iTranslate
iTranslate is another great option for a translation app. You probably don't need both, so figure out if you'd rather have something basic (Google Translate) or one with more features.
iTranslate gives you the option to choose Mexico Spanish, Spain Spanish, or USA Spanish. By choosing Mexican Spanish, you're able to better account for local nuances. For example, "a little" in Castilian Spanish is "pequeño", yet in Mexican Spanish, it's more commonly "pequito".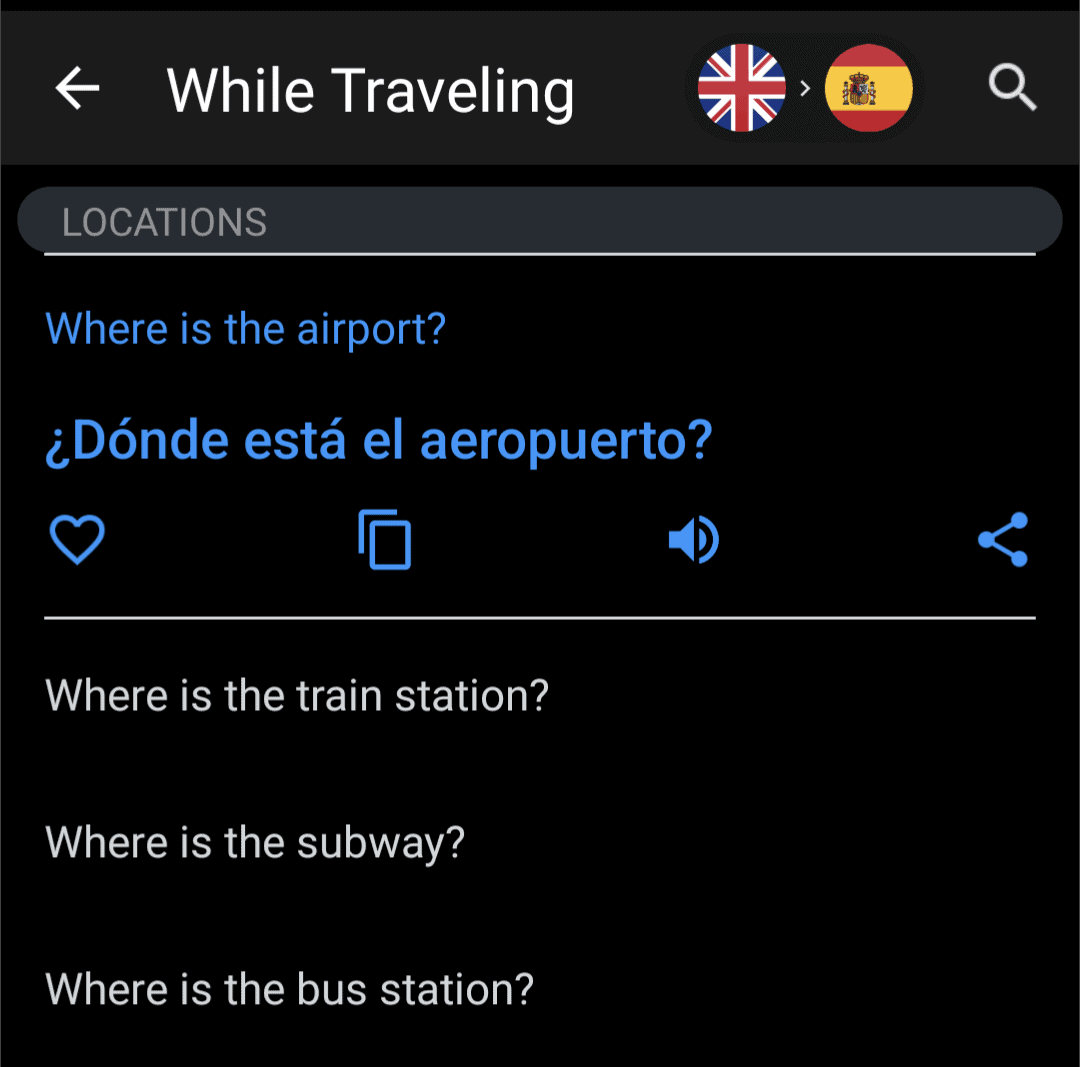 There's also a phrasebook that covers common phrases you might need, including specific categories for when you're traveling, at the restaurant or store, or need help or medical attention. You can favorite phrases to easily find them again, play them out loud, and access flashcards for language practice.
Offline mode is also available, but it's not free: you'll need to purchase a relatively-expensive subscription to use it. The premium version of the app is ad-free and includes voice, camera, and augmented reality (AR) translations.
Note that the Android version doesn't have all of the features of the iOS app, so we'd suggest probably just sticking with Google Translate unless you're toting an Apple device.
iOS and Android, free or $5.99 per month/$49.99 per year for premium
Currency Converter Calculator
The conversion from USD to Mexican pesos isn't that difficult to calculate yourself. It goes up and down a bit, but for a rough idea, simply take off one zero and divide by two.
For example:
$200 MXN is around $10 USD
$1000 MXN is around $50 USD
If you're not converting USD, however, it can be a bit more complicated, My local currency is the Canadian dollar, which doesn't divide so easily. $200 MXN is around $14 CAD, and $1000 MXN is around $70 CAD. Dividing by 14 in my head when I'm standing out the checkout doesn't come naturally!
To get around that issue, there are many different currency converters available in the app stores. It doesn't particularly matter which one you use so long as it works for you; we've tried several, and landed on Currency Converter Calculator as a simple, effective option. There's a premium version if you can't stand ads.
Set the top currency to MXN and the bottom one to your local currency. It can also be used as a calculator. You can input one simple number to convert or use the functions to make calculations directly in the app.
Usefully, there's an offline mode so you can still do a quick conversion even when you don't have internet access. It'll download the latest rates whenever you're back online.
iOS and Android, free or $2.99 for premium
Time Buddy
A time zone conversion app is helpful anytime you travel to a different part of the world. Even if you think you're not switching time zones, it's a good idea to double-check: as I discovered, some places in the same time zone may observe daylight savings while other places don't.
When I flew from Toronto to Mexico at the start of the year, the time zone was the same in both places. I didn't think about it when I returned to Mexico in October later in the year because I already knew there was no time change.
Or at least, I thought there wasn't. It took us a day and a half to figure out why all of our devices and apps were acting up. "Why does Uber Eats say our food is scheduled to arrive 30 minutes ago?" Luckily, we didn't have any meetings before we realized!
Unlike me, time zone converters account for daylight savings as well as time zone differences . I tried a few different free apps based on how many time zones I wanted to check at once, whether or not I was trying to schedule a meeting, or if I simply wanted an appealing interface to confirm the time.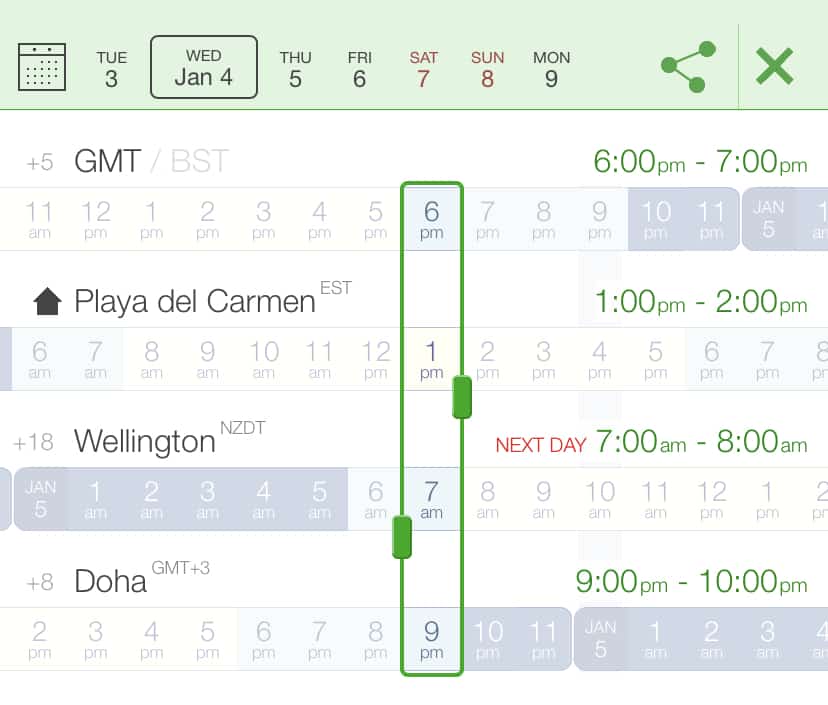 Time Buddy is ideal for setting meetings across multiple time zones. The free version lets you check up to four time zones at once to see what could work for everyone involved. It's quick and easy to use, and not ugly. For an app like this, it's all I ask.
If you're looking for something prettier, I liked GlobeTempus. It's available in the App Store or Google Play, and has a nicer interface with cute custom graphics for popular locations. You only get three time zones in the free version though, and the premium version costs more than Time Buddy.
iOS and Android, free or $2.99 for unlimited time zones and no ads
Uber Eats
Speaking of Uber Eats, the food delivery app is popular in major Mexican cities, especially ones that get a lot of tourist traffic. I've found that food generally gets delivered quickly, with delivery fees that are notably lower than what I'm used to paying in Canada.
Consider the Uber One upgrade if you use the app frequently. It adds discounts and waves delivery fees in return for a set monthly fee, so you'll save money if you're a regular user.
Note that many of the drivers use scooters and bikes, so when it's raining (i.e., when you're most likely to want to use the app!), it's often unavailable. Just like you, the drivers don't want to get soaked, and you'll notice most options disappearing in the app or only available for pick up.
Another popular app for food delivery in Mexico is Rappi, but we've had trouble accessing it with Canadian credit cards. If you're struggling with Uber Eats, though, give Rappi a go: there's no harm in trying, and you may have better luck than we did.
Google Maps
It's likely you already have Google Maps on your phone, so this app suggestion is more of a reminder to fully utilize it while you're traveling in Mexico.
The app is ideal for saving places you want to go and checking the reviews of anywhere you might be interested in. You can use the star, heart, or flag pins to note places you're interested in going, including restaurants, bars, sightseeing, attractions, and your current accommodation.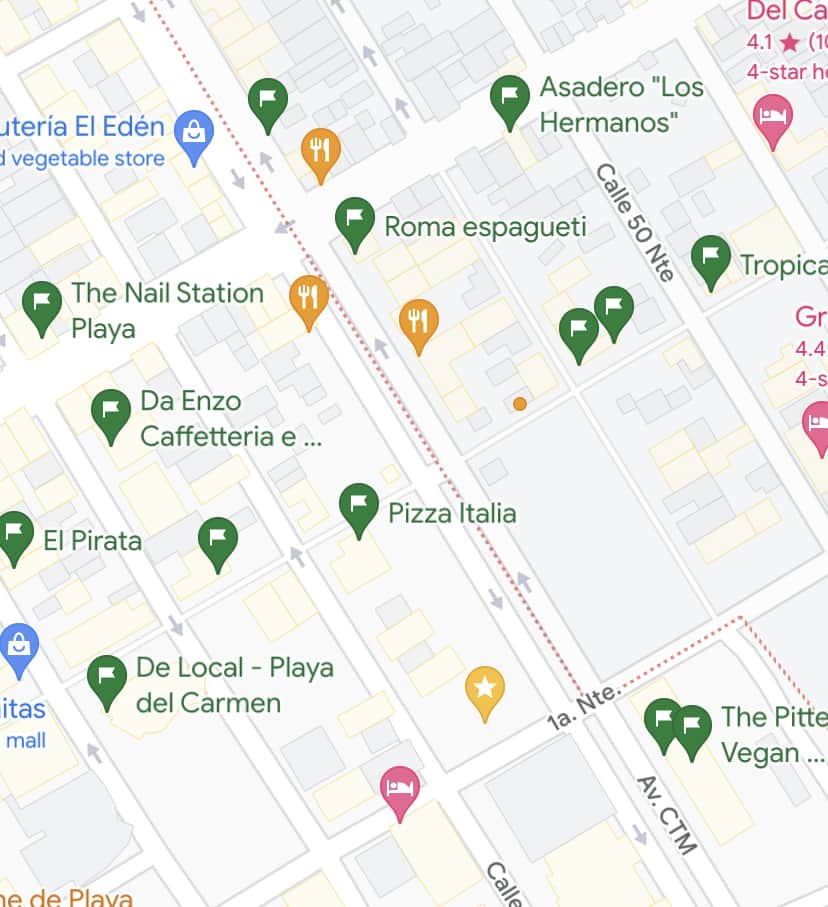 I personally use the "Want to go" flags to save places I want to check out or go back to. I use the star to denote my accommodation, so I can easily spot it on the map and see where I'm staying in relation to the places that interest me.
When you save a location on the map, there's a little space to add a note for extra context, such as who recommended it, whether or not you've been, or why you're interested in going.
If you're not going to have internet access while you're out exploring, never fear: Google Maps has a robust offline mode that lets you do most things (other than getting walking or cycling directions) without a connection. Just remember to download the area you're interested in to the app beforehand.
We've got details on how to do that, and many other Google Maps tips for travel, in a dedicated article.
WhatsApp
Even if you don't use WhatsApp regularly, it's super-popular in Mexico. Restaurants will message you through the app about food delivery, you can order taxis through it, and I even scheduled a manicure and pedicure and received reminders about my appointment this way.
Even that is just the tip of the iceberg when it comes to how much WhatsApp gets used by locals in everyday life. It's a must for anyone traveling independently in Mexico.
This isn't our only app guide. We've also put together lists of our favorite travel apps for New York City, Dubai, London, Paris, Japan, and China.
Distiller
Whether you love it or hate it, tequila is tough to avoid in Mexico. And don't worry—if you find the right type of tequila (100% agave), it won't be like the experience you had in college. You won't find worms in 100% agave tequila, for example; in Mexico, that's strictly a mezcal thing.
If you're interested in trying a range of different tequilas and mezcals, download Distiller, an app for spirits enthusiasts. It's filled with reviews and tasting notes that can guide you in the right direction, and you can scan barcodes to find out more about bottles you're interested in.
If you like a particular tequila or mezcal, ask for the name so that you can look it up in the app and discover more brands like it. It'll also help you discover where to buy more of it, whether that's in Mexico or at home.
Xcaret Park App
Xcaret is the Disney World of Mexico. The company has multiple theme parks spread across the Yucatan coast between Cancun and Playa Del Carmen, where you'll find everything from snorkeling to live shows and extreme sports spread across the differently-themed parks and hotels.
If you plan on visiting any of the parks, it's worth downloading the company's Xcaret Park app. You can buy tickets and access promotions directly in the app, and plan what you hope to do when you get to the park.
The app's biggest benefit is the interactive map that shows where you are in relation to the attractions you want to find. You can also search activities, see the schedule for live shows, and bookmark your favorite attractions.
If you want to purchase photo packages, you can also access these through the app and download the shots directly to your phone.
Mexico City Travel Guide & Map
There are many tour guide and map apps available, but most are outdated and can't compete with Google Maps. The Mexico City Travel Guide and Map app still holds up, though, if you're looking for a guidebook-style app for the big city.
You can click on popular destinations in the interactive map to learn more, and there are also maps for the bus line and metro routes. There's plenty of detail about popular attractions, and you can bookmark places you want to visit and follow premade guides for what to do with a one, two, three, or five day visit.
The entire guide is available offline, so you don't need to worry about having data while exploring. For a couple of bucks, you can also buy in-app guides to other popular Mexican cities, including Cancun, Cozumel, Playa del Carmen, Tulum, Guadalajara, Oaxaca City, and more.
iOS, free (in-app purchases for guides to other cities)
---
Which Mexico apps are we missing? Do you have a different favorite translator, currency converter, or local guide? Let us know in the comments below.
Main image via Seckin Ozturk/Shutterstock.com, screenshots via respective app developers