London is a city where everything can seem overpriced, everyone appears overworked, and the skies are always overcast.
Despite (or maybe because of) that, the freelance/remote worker scene is booming there, which means fewer lonely days spent in your pyjamas working towards a tight deadline. Unless that's your thing, of course.
If you find yourself in London for a while and in need of a place to work, it's worth starring all of these places on Google Maps. That way you don't end up in your local Starbucks by default, but can grab a decent coffee and log in to reliable Wi-Fi instead.
This list includes both co-working spaces and cafes. The dedicated spaces are fantastic, but you'll generally find the cafes to be a cheaper option. If you're there in the middle of the day, you'll almost certainly be sitting next to another digital nomad/freelancer/creative type anyway.
Barber and Parlour
The vibe in Barber and Parlour is unrivaled. As you might expect from the name, this hip cafe also has a barber and beauty parlour in the corner. Because of course it does. You can relax in the large, comfy sofas, or get down to some serious work at the spacious tables.
Special Interest: Just four minutes walk away is the famous Cereal Killer Cafe. It's an expensive area, but if you can't afford the prices, just wolf down a sandwich from the nearby Sainsbury's before you go in to stave off the "hanger."
Food: There's an extensive menu at Barber and Parlour (which, perhaps unsurprisingly, includes a lot of avocado.) It's not exactly bargain-priced, however — you may want to just stick to the coffee, which is delicious.
Hours: Open every day, 9am to 9pm
Address: 64-66 Redchurch St, London E2 7DP
The Book Club
Doubling up as a bar/club at night, the Book Club is surprisingly chilled in the day, with large tables to work from and a welcoming atmosphere. Based in Shoreditch, there's always something going on if you need a quick wander around the area to get the creative juices flowing.
Special Interest: "Heaps" of events are offered at the Book Club, from film adaptations to "Diary Days." Check out the events section of the website to find out more.
Food: Power through a full English breakfast with your morning meeting, or indulge in the huevos rancheros if the weather sucks and you want to pretend you're in Mexico. There's plenty of choice, but expect London prices: a plate of food is around the £10 mark.
Hours:
Monday – Wednesday: 9am – midnight
Thursday – Friday: 9am – 2am
Saturday: 10am – 2am
Sunday: 10am – midnight
Address: 100-106 Leonard Street, London, EC2A 4RH
TY or Timberyard
Expect to be rubbing elbows with your neighbour, as all Timberyard locations are usually packed full of millennials on MacBooks hustling away towards their dreams.
Special Interest: The cafe itself isn't a designated coworking space, but it's treated like one. Any companies that need a little more space can pay for a desk in the actual coworking area, however, so long as they're an "early stage business with four or more employees."
Food: Would you prefer peanut butter and banana bread, smashed avocado on toast, or porridge? All the food has a beautiful twist, and is perfect for a midday Instagram post.
Cost: For the coworking space, each desk is £520 + VAT per month. You'll need to sign up for a minimum three-month commitment.
Hours:
Monday to Friday: 8am to 6pm
Saturday: 9am to 6pm
Sunday: 10am to 6pm
Address: 7 Upper St Martin's Ln, London WC2H 9DL / 4 Noel St, Soho, London W1F 8GB
Kaffeine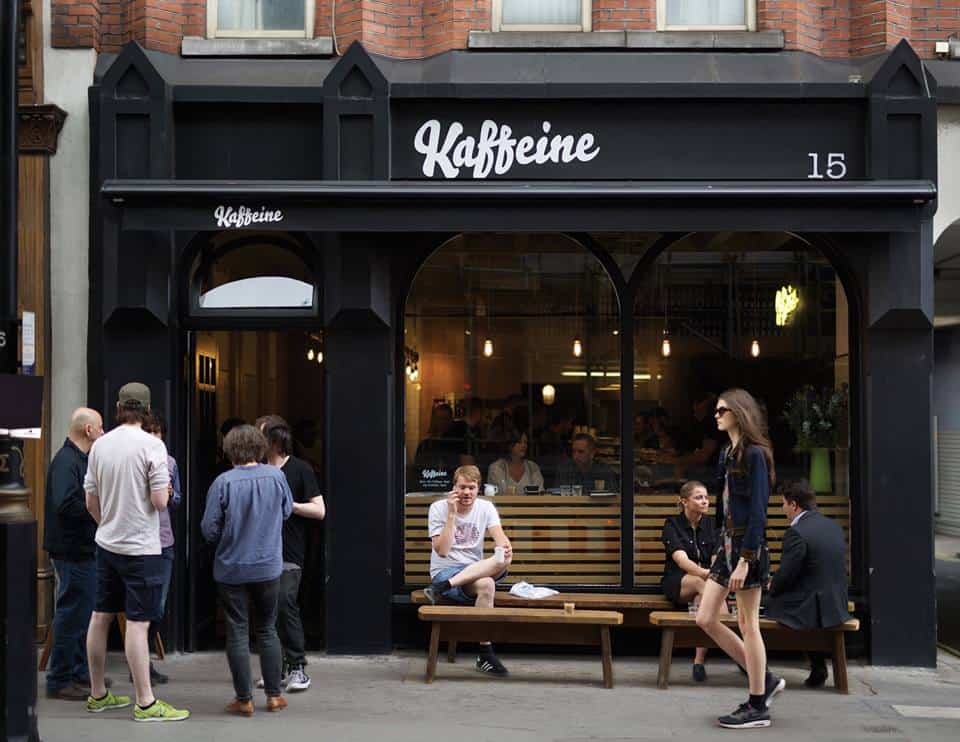 If you're an Aussie/Kiwi away from home, check out Kaffeine, which is inspired by the coffee culture down under. Shame the owners couldn't bring along some of that Sydney weather as well.
Special Interest: If you love the food at Kaffeine and are hosting a party, they offer catering to offices or homes. Check out their website to find out more.
Food: There's a range of food on offer at this espresso bar. My pick? The grilled salmon, mangetout, broccoli, edamame bean, lemon and dill sauce, followed by a Portuguese tart.
Hours:
Monday – Friday: 7.30am – 6pm
Saturday: 8.30am – 6pm
Sunday: 9am – 5pm
Address: 66 Great Titchfield St, Fitzrovia, London W1W 7QJ
Prufrock
This open-plan space is bright and welcoming. Plonk yourself down amongst other entrepreneurs in the minimalist cafe and grab a hand-brewed filter coffee.
Special Interest: If you're interested in extending your knowledge and learning a little more about coffee after a hard day in front of the laptop, Prufrock offers coffee training programs, bespoke courses, latte art workshops, private barista training and a range of other special events.
Food: Pick up a brownie bite with your coffee for £1, or choose from the everyday lunch menu which offers a delicious roast vegetable omelet with green salad for £6.00.
Hours:
Monday – Friday: 7:30am–6pm
Saturday – Sunday: 10am–5pm
Address: 23-25 Leather Ln, London EC1N 7TE
Huckletree Shoreditch
This coworking space offers bright open work areas and a quirky, yet not overbearing, interior that doesn't overwhelm. There are many onsite facilities, including a kitchen, so you won't have to run out for lunch every day if you don't want to.
Food: Within a couple of minutes of Huckletree's Shoreditch location you'll find a PizzaBuzz, Modern Pantry, and EAT. There's also a Tesco Express nearby if you want to quickly grab something to eat cold or heat up in the kitchen.
Hours:
Monday – Friday: 8:30am–8:30pm
Saturday – Sunday: Closed
Address: 18 Finsbury Square, London EC2A 1AH
Central Working
There are seven Central Working locations in London, and they're all worth checking out, especially if you don't like going into the same office day in, day out.
Special Interest: As well as those London spaces, Central Working is also in Cambridge and Manchester. The company promise: "We guarantee a meaningful connection to your business in your first 30 days or you, the founder, get your money back."
Unfortunately, the company is less forthcoming about how much money that might be — there are no prices on the site, and they didn't want to share them by email when we asked either. Much like your local gym, you'll need to book a tour of the premises to find that out.
Food: The spaces offer free coffee & kitchen facilities, but you'll have to venture out if you don't want to prepare your own meal.
Hours:
Open 24 Hours
Address: 86-88 Clerkenwell Rd, Clerkenwell, London EC1M 5RJ
---
Got other favourite spots to work in the capital? Let us know about them in the comments!
All images via respective companies. Header image via TY.