Standard Luggage isn't a household name, but this Canadian company has been quietly turning out well-priced carry-on luggage and accessories for a few years now.
A Kickstarter campaign funded the first version of the 35L carry-on backpack in early 2015, which I checked out soon after and use to this day. Since then an updated model has hit the shelves, and most recently, a smaller Daily Backpack designed for, well, daily use.
With a couple of "tech" features like USB charging and RFID blocking, the Daily bag caught my attention when it was released. When the company's founder reached out to see if I'd be interested in taking a closer look, it wasn't a hard decision to make.
Features and Specifications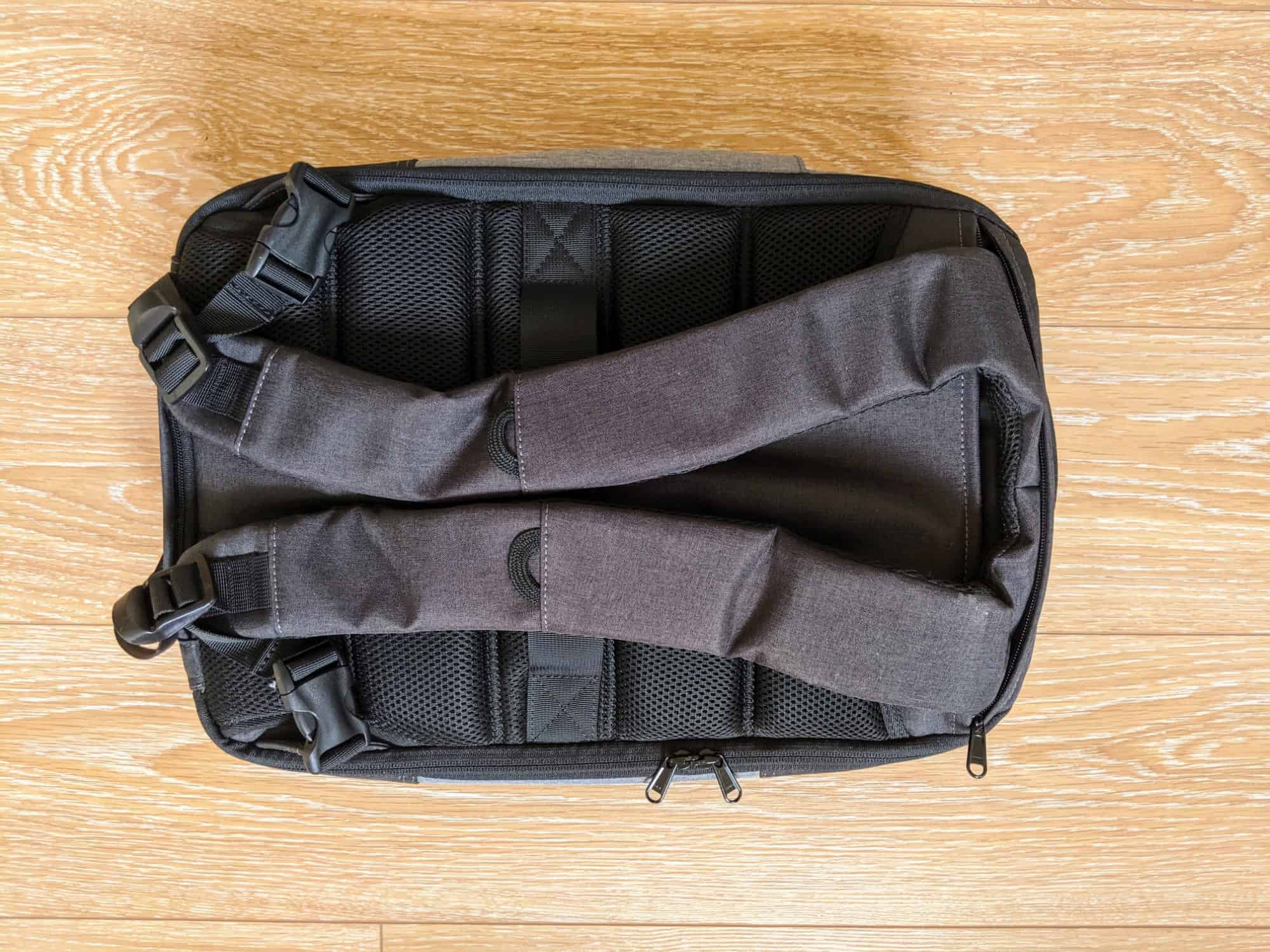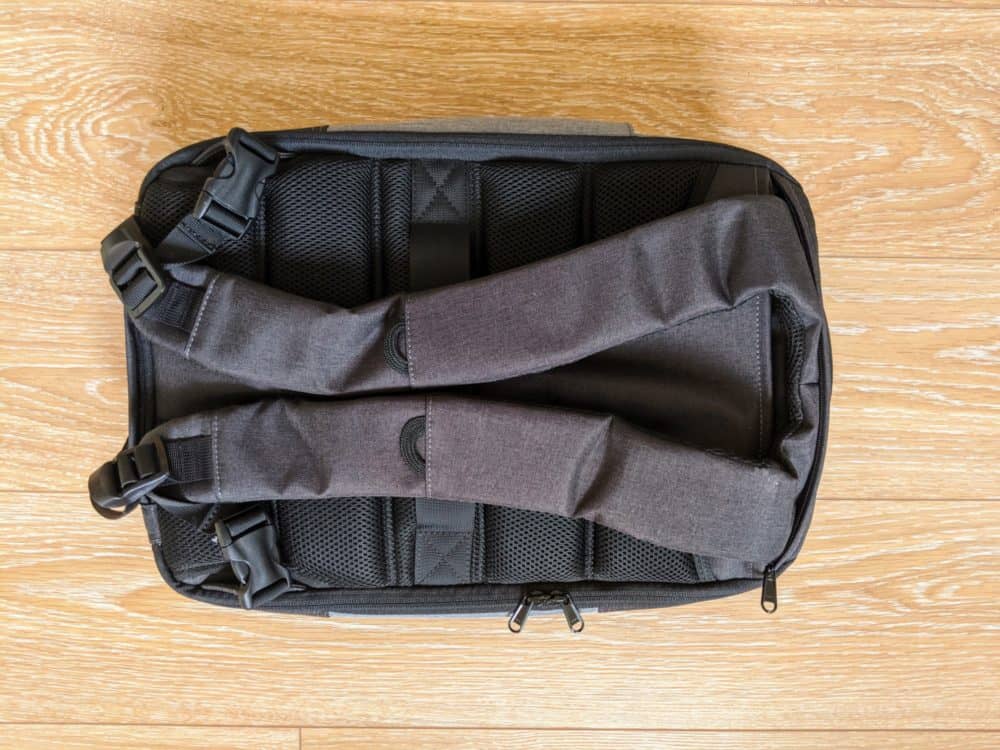 As the name suggests, the Daily Backpack is designed for everyday around-town use. It's not big enough to be your only luggage for anything other than a quick overnight trip, but it's not intended to be.
It makes the most sense for travelers that check a bag with all of their main gear, who need something small and practical they can use for electronics and other essentials inflight and while out exploring a new city. To that end, the bag has a surprising range of features for something so compact.
There are three external zippered pockets (top, front, and base) for things like keys, passport, and wallet. You'll most likely want to keep your passport and cards in the top pocket, though, since it uses an RFID-blocking material to help prevent skimming and identity theft.
The backpack straps clip onto the base of the bag via a pair of buckles and tuck down into the rear flap if you don't need them. An elasticated strap sits across the back of the bag, designed to fit over the handle of a rollaboard suitcase if you're traveling with one.
Like many bags of this size, it's marketed as a "3-in-1" backpack, briefcase, and messenger bag. It ships with a sturdy strap for the latter, but I'd expect people will use it as a backpack the vast majority of the time.
As well as the messenger bag strap, the Daily also comes with a rain cover that lives in a small pouch until it's required. Many companies selling much more expensive bags charge extra for accessories like these, so it's nice to seem them included in the price here.
There's no hip belt or sternum strap, but unless you're planning to pack the bag full of rocks, you're unlikely to get enough weight inside for that to matter. As a result, though, it's intended more for urban exploring than proper hiking. The harness is vented, helping keep your back cooler and less sweaty when walking around in hot conditions.
Something I've not seen before is the side drinks pocket with a zip up the middle. This is a smart move, since it can expand to accommodate larger bottles, but doesn't flap around when it's not being used.
The front compartment is the smaller of the two, sporting a pair of zippered mesh pockets on the flap. Three other pockets of various sizes sit inside, appropriate for a camera body and lenses, along with a couple of loops to clip pens onto.
This is also where the cable for the external USB-A port sits, ready to be connected to a portable battery so you can charge your phone as you wander around.
The main compartment opens out like a suitcase, with a pair of padded laptop and tablet compartments on the flap. Two pockets of different sizes sit on the bottom, plus another mesh pocket for cables or small accessories.
| | |
| --- | --- |
| Dimensions: | 17.5 x 13 x 6 inches (44 x 33 x 15 cm) |
| Volume: | 18 litres |
| Weight: | 2.2 pounds (1kg) |
| Zips: | YKK, lockable |
| Materials: | 310D nylon exterior, 210D nylon lining |
Real-World Review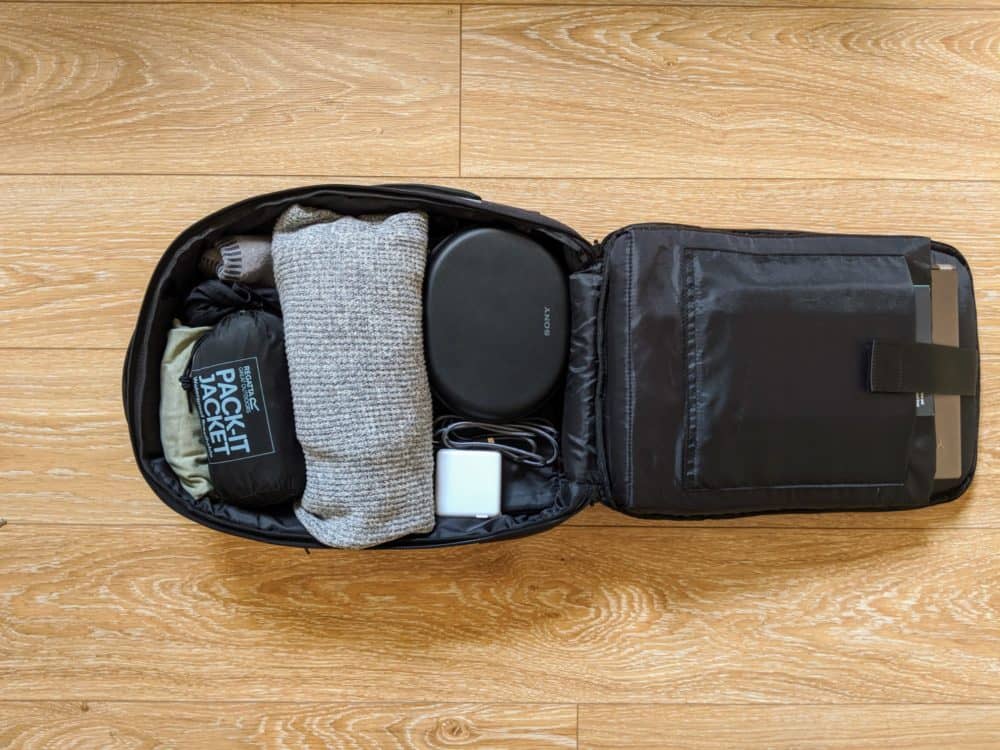 The Daily Bag arrived in a compact cardboard box, free from most of the plastic packaging that blights many online orders. Small and sleek, especially with the straps tucked away for shipping, first impressions were good.
The backpack straps clipped easily onto the buckles at the rear of the bag and were adjustable enough to create a comfortable fit. As with the larger Standard Luggage carry-on I've used in the past, the bag has quite a boxy shape, but it works better in luggage this size.
Paired with the fully-opening flap, the cube-like main compartment was easy to pack a day's worth of stuff into and the bag felt larger than its 18-litre capacity. I promptly pulled everything out of my usual day bag, threw it and my laptop into the Daily Bag, and headed out to the gym and to work in a cafe for a few hours.
The bag sits close to the body, which is good for both comfort and security. The small bottom pocket in particular would be extremely difficult for a pickpocket to get into unnoticed. I wore the bag for close to 20 hours over the course of several days, and it never became uncomfortable.
I tried the drinks pocket with a few different bottles, and it worked well. Due to the shape of the pocket, you'll have the best results with containers that are long and thin rather than short and wide. A one-litre Camelbak Chute was a very tight squeeze, but anything smaller was fine.
I was initially surprised by the location of the USB socket, on the bottom left side of the bag. Most other bags place it near the top, but after using it while walking around town, it makes a lot of sense.
Having the socket near the base of the bag let me keep my phone in my pocket and charge it with a short, one-foot cable. There was still enough slack to be able to take the phone out and use it, without having miles of spare cable dangling around and getting in the way.
I plugged a portable battery into the other end of the cable and sat it in one of the inside pockets. Charging worked exactly as you'd expect it to. Both ends of the internal cable have USB-A sockets.
Packing the bag for an overnight trip posed few problems. Since it's heading into winter right now, I had to find space for warm clothes and a rain jacket alongside the usual toiletries, electronics, cables, and chargers.
Everything fitted in fine, albeit without much room to spare. There'd have been a lot more space in summer! Having the option of using the Daily as an overnight bag increases its flexibility for travelers, letting you leave most of your luggage in your hotel or apartment during short trips away.
Any Downsides?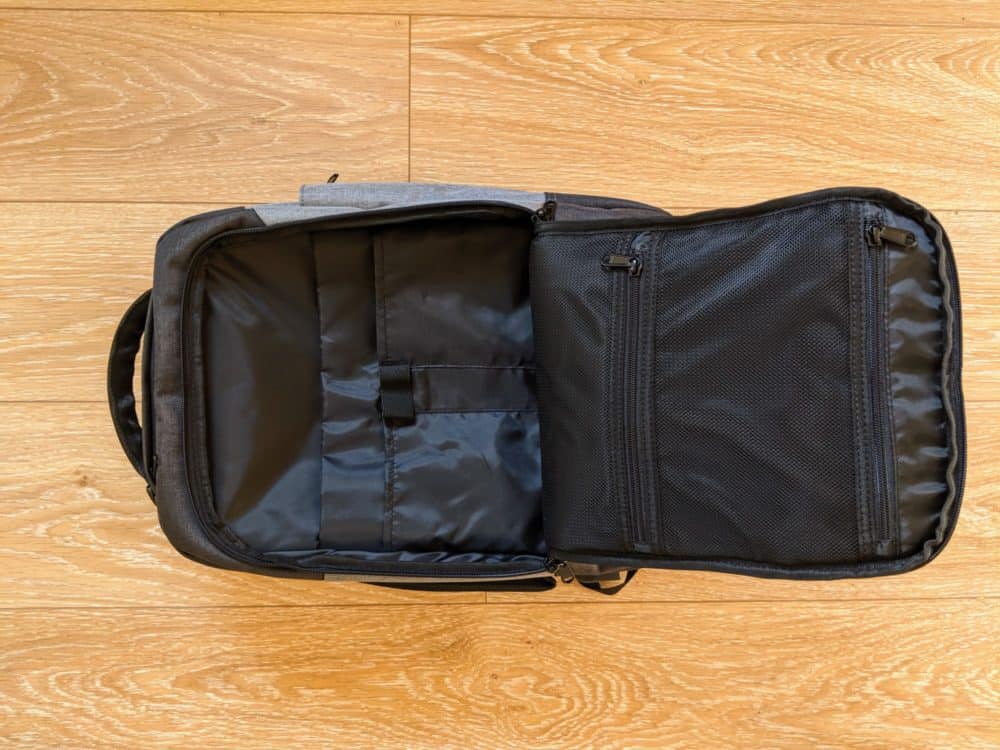 I liked almost everything about this bag, but I'm fussy, and there were a couple of aspects I wasn't quite as keen on.
To start with, I'm always a bit torn by small bags with a vast array of pockets and sections. A few are definitely useful, but it's easy to get carried away and include a bunch of small, unnecessary ones that do little except take up space.
Unless you're a photographer carrying around a bunch of lenses, the Daily Bag teeters on the edge of this. For other travelers, I feel the design could have been simplified to give back a bit of room in the front compartment in particular without reducing the bag's real-world usefulness.
It also took me a while to get used to the placement of the main zip, just in front of the harness. As a result, the bag counterintuitively needs to sit on its front when you're opening it all the way, at least if you don't want the contents to fall out on the floor.
After a couple of days I learned to only partially unzip the main compartment unless I really had to delve into the bottom of the bag, and lie it on its front the rest of the time.
Verdict
Overall, I was impressed by the Standard Daily Backpack. It's an understated yet sleek backpack, priced well, and with extras like the expandable drink pocket and USB charging socket that you rarely see on bags costing twice as much. Including the messenger bag strap and rain cover in the price sweetens the deal even more.
Being able to use it as a small carry-on for flights, an overnight bag for short trips, and a general-purpose backpack for urban exploring makes it a solid investment for travelers. As I found, it's equally at home as a gym or everyday bag as well. Most people will get plenty of use out of it even when they're not on the road.
The key thing, for me, of course, is whether I'd choose to take an extended trip with it. If I was checking another bag as well, the answer is yes, I would. The Daily Backpack has enough features and flexibility to justify its place on the kinds of trip I take, is comfortable to carry, and seems durable enough to last the distance. That's really all I can ask.
Recommended.