Many things can ruin a travel day, from a missed flight to a lost suitcase, terrible weather to an awful meal. Sometimes, all you want to do is curl up and take your mind off your problems, losing yourself in the parallel universe of a funny movie or favourite show.
Streaming services have made our life a lot easier when it comes to taking entertainment on the road… or have they? Thanks to both geographic and technical restrictions, it's not always obvious which of the major providers is the best to bring along on your trip. We decided to take the guesswork out of the process for you.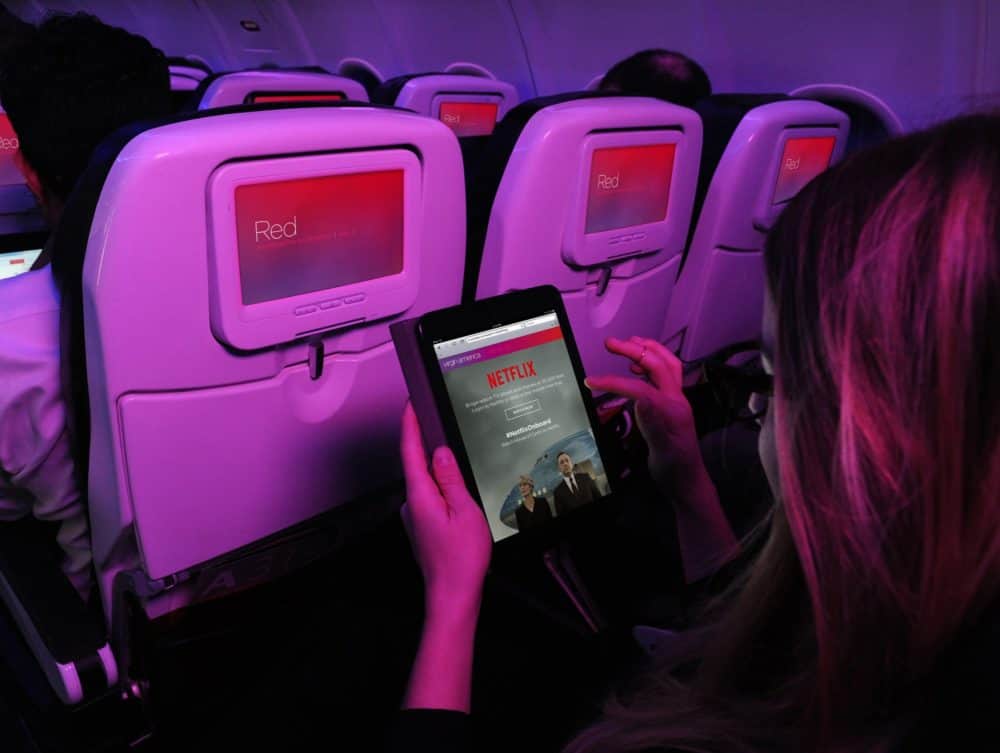 Netflix
Availability
After its last expansion, Netflix is now available in 190 countries, so you'll be hard-pressed to find somewhere it hasn't yet reached.
Can It Be Used In Countries Other than Your Own?
In short: yes.
This is one of the best additions to recent versions of Netflix, but it wasn't always the case. Back in the day, your Netflix account was only good in your home country. If you had a US Netflix account, for instance, it was only accessible within the United States.
If you wanted to use the service abroad, you had to sign up for another account in your new country (permanent or temporary). Even VPNs, as explained below, were usually out of the question.
Thankfully this is no longer the case, and your account is now accessible all over the world, no matter where you are, or where you signed up. Keep in mind, though, that due to licensing restrictions, the range of shows and movies available may not be the same as at home.
Are VPNs Blocked?
Yes. If you try to use a commercial VPN with Netflix to make it seem like you're in a different country (so that you can watch a show that's not available on your local version of Netflix, for instance), the service will most likely be blocked. You'll just get an error message, accompanied by code m7111-5059.
VPN companies sometimes claim to have a way to bypass it, either by using a specific server, or by contacting customer service for a fix, but these constantly change as Netflix blocks them one by one. It ends up becoming a frustrating cat-and-mouse game, so proceed at your own risk.
That said, if you're looking for a VPN that works with Netflix, we've had a lot of success with ProtonVPN lately. I've had virtually no issues watching my favorite shows, even when using it every day for months on end.
Quality of Image & Sound
Available in standard definition (SD) and high definition (HD), depending on the plan you sign up for. If the sound is too low to hear over the noise of the city or nearby roosters, try Jim's advice on how to crank things up a little (or a lot).
Streaming Library & Flagship Shows
Netflix's US library reportedly has 5,000 shows and movies to choose from, with over 15,000 total shows across all of its regional platforms. Those are hard numbers to beat.
Ever since taking the plunge on producing its own content in 2013, Netflix has been putting out some truly unforgettable shows. Shows like Stranger Things, You, and The Witcher are incredibly popular, and with new content being added every day, you'll never struggle to find something to watch.
Price
Basic plan: $8.99 per month (SD, one device)
Standard plan: $12.99 per month (HD, simultaneous viewing on two devices)
Premium plan: $51.99 per month (Ultra HD, simultaneous viewing on four devices)
Amazon Prime Video
Availability
Prime Video is available in over 200 countries and territories.
Can It Be Used In Countries Other Than Your Own?
Yes. Your Amazon Prime Video account, no matter which country it's from, will continue to work regardless of where you access it from. However, just as with Netflix, the catalog may be limited depending on which country you're in.
Are VPNs Blocked?
Yes, Prime Video will generally be blocked with most VPNs. We've had good success using ProtonVPN to get around these blocks, but most of the others we've tried haven't worked.
Quality of Sound/Image
Prime Video supports up to 4K/Ultra HD, and automatically adjusts the quality of the video to the connection speed.
Streaming Library & Flagship Shows
Prime Video has been putting out some excellent content since it launched, like the trailblazing and much-praised Fleabag, Transparent, and The Marvelous Mrs. Maisel.
Price
Amazon Prime Video is included for Amazon Prime subscribers in many countries, including the US, UK, and elsewhere. If you don't already have a Prime subscription, you'll get a 30-day free trial, then pay $12.99 per month after that.
You can also pay for a video-only subscription in certain countries, which is cheaper. It typically costs around $2.99/month for the first six months, and $5.99/month after that.
Availability
YouTube Premium is available in over 70 countries, including the US, Mexico, Canada, UK, Australia, and New Zealand.
Can It Be Used In Countries Other Than Your Own?
Yes, provided that YouTube is available in that country.
If it isn't, YouTube Premium lets you save videos to watch offline for 30 days. These can be watched anywhere, including countries where the service isn't available.
Are VPNs Blocked?
No, YouTube Premium won't be blocked if you're using a VPN, at least for now.
Quality of Image
Up to 1080p HD.
Streaming Library & Flagship Shows
YouTube Premium is a recent addition to the streaming content landscape, and its content is still relatively light compared to its more-established competitors. Its first original shows launched in February 2016, including some produced by well-known news site Buzzfeed, and some famous YouTubers.
Price
Membership: A 30-day free trial, then $11.99 per month. This will remove ads from all videos, as well as give you access to original content.
Membership is linked to Google Play. This means Google Play subscribers automatically get a YouTube Premium subscription, and canceling one will instantly cancel the other.
Hulu
Availability
Hulu is only available in just two countries, the US and Japan. There are reported plans to expand the service from 2021, but Hulu is currently keeping them under wraps.
Can It Be Used In Countries Other than Your Own?
No. Hulu only works in the countries where it is available (with the exception of US military bases abroad, where it also works).
Are VPNs Blocked?
Yes. Just like Netflix, Hulu blocks all VPNs. And just like Netflix, there are VPNs like ProtonVPN that claim they can take you there anyway. They've got the same issues as with Netflix, so again, don't expect any particular VPN to keep working forever.
Quality of Sound/Image
720p HD, 1080p HD, and 4K Ultra HD are all available.
Streaming Library & Flagship Shows
Hulu started producing its first shows in 2011, but the original content didn't really make headlines until it picked up an Emmy award for the mesmerizing-if-disturbing The Handmaid's Tale in 2017.
Price
Streaming library: $5.99 per month
Streaming library + Live TV: $54.99 per month
No ads: + $6 per month
Unlimited screens: +$9.99 per month
Enhanced Cloud DVR: + $9.99 per month
So, Which One Should You Go With?
No question about it, Netflix and Amazon Prime Video are the obvious choices here. Both services have wide availability, allow you to access your account outside of your country of residence, and have a large selection of shows and movies to keep you entertained no matter how long your trip.
Now, which of the two you go with depends a little on your personal situation. Do you live in one of the countries that include Prime Video with Amazon Prime membership? Are you traveling to countries where you need to use a VPN all the time (which is something we recommend you do wherever you go anyway)? Are you a Stranger Things fan, or more of a Fleabag kind of person? It's your pick, but you're bound to be satisfied either way.
As for Hulu or YouTube Premium, their usefulness for travelers is pretty limited. Hulu's very-restricted availability makes it interesting only if you are going to be in the US or Japan for an extended period of time (as in, opening-a-bank-account-there period of time), while YouTube Premium is still too much of a toddler to show real promise.
---
Images via Jason Rogers (watching in bed), Netflix (feature image, tablet in plane, watching in cafe), Amazon (camera and laptop).