Poland offers travelers a myriad of options, whether that's sifting through Teutonic knight lore at Malbork Castle, filling up on pierogi and ice cream while listening to a Chopin concert in Warsaw, or reflecting on the unspeakable horrors that occurred at Auschwitz.
For those looking to stay connected during their explorations, buying a SIM card is quick, painless, and inexpensive. You'll be back on the tourist trail in no time, with downloads flowing as quickly as the ever-present Vistula river.
Here's what you need to know.
Need travel insurance for your time in Poland? We currently use HeyMondo, thanks to its comprehensive coverage options, competitive pricing, and the ability to buy or renew a policy while outside your home country. Residents of most countries get a discount with this link.
Companies
---
We recommend Orange for most travelers
A Poland eSIM is often the best option if your device supports it
---
Poland offers several choices when it comes to buying a SIM card, with four main cell networks to choose from: Orange, Play, Plus, and T-Mobile.
There are other options as well, but for the short-term traveler, these four will suffice. Each of the companies has about a quarter of the market, and their ongoing price wars lead to good deals for locals and visitors alike.
T-Mobile and Orange offer the best coverage across the country, with 4G/LTE available and common in the larger cities.
I chose Orange for two simple reasons: it was the network recommended by the attendant at my local kiosk, and had the best coverage throughout the country.
While this article is about buying physical SIM cards, if you have a recent iPhone or other supported device, the best way to get connected in Poland may be to buy an eSIM instead.
We've written an explainer of what eSIMs are all about if you're not familiar with them. Because they're software rather than a plastic card, you can buy before you leave home, avoid the hassle of kiosks and phone stores entirely, and get connected as soon as you land.
These days, we use
aloSIM
: easy to buy and set up, it's a simple, low-cost way of staying connected when you travel. You'll get a discount on your first purchase with the code
TMA
.
How to Buy a Prepaid SIM Card in Poland
---
There are many ways to buy SIM cards and packages: in supermarkets, street kiosks, gas (petrol) stations, and official company stores. I purchased a SIM card from a street kiosk next to the Old Town in Warsaw, and the process was fast and simple, taking under 15 minutes.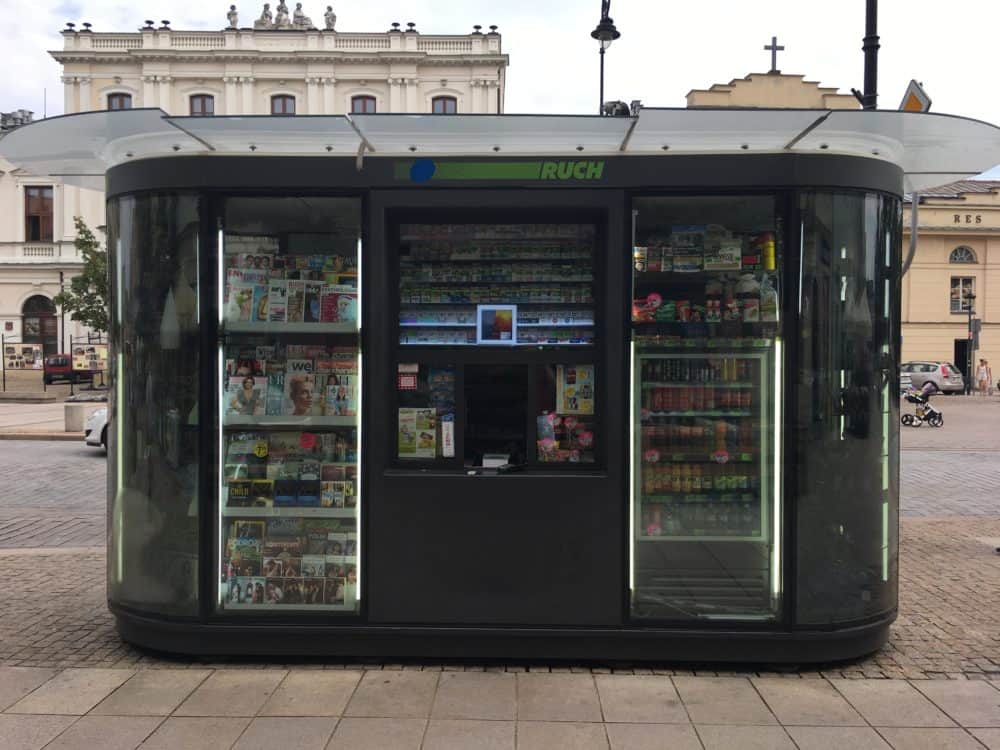 Registering with your passport or national ID card is now mandatory when buying a SIM card in Poland, due to an anti-terrorism act that went into effect in 2016.
Because of this, it's highly recommended to confirm during your purchase that the attendant has not just given you your SIM card package, but has activated the card as well.
This shouldn't be a problem, and any helpful attendant will be more than willing to set everything up for you during purchase. That includes inserting and registering the SIM card, then confirming it's all working properly via text messages from the cell company and a quick internet speed test.
Verifying everything before leaving the store or kiosk is much easier than trying to deal with non-activation later. A smile and humble attitude works wonders on reluctant attendants!
Prefer to spend your vacation sightseeing instead of buying SIM cards? Grab one in advance to stay connected in Poland and across Europe.
This Orange SIM includes 20GB of data, 1000 international texts, and two hours of international calls. The price includes US delivery, and it's valid for two weeks in 30 European countries. Use the code SIMOFF20 at checkout to get 20% off!
Other options are available
if you're traveling for longer, need a portable hotspot, or want a different mix of calls, texts, and data. No matter how you do it, you'll be connected with a minimum of fuss before you've left the airport.
Prepaid SIM Costs
---
Orange has a few different starter packs available, so it's easy to find one that fits your requirements. As an example, 30 zloty (~8 USD) gets unlimited domestic calls and texts and 15GB of data, valid for a month. This includes the SIM card, and a small amount of extra credit.
Unlimited plans are also available for 55 zloty/month, although speeds are limited after the first 15GB.
With Orange, you can check your zloty balance by dialing *124*#, and remaining data allowance by dialing *101*01#.
Topping Up
---
You can easily buy top-up vouchers in the same places you bought the SIM card, including street kiosks, stores, petrol stations, or online.
To top-up your Orange SIM, dial *125*[top-up code]#
Coverage and Data Speeds
---
Orange coverage was good throughout Poland. Speeds were extremely good in all tourist cities, slowing down (but still acceptable) in the countryside.
I did have a couple of issues, however. First, while taking the train from Warsaw to Gdansk, coverage dropped multiple times: not ideal for work, or if a constant connection is necessary.
Second, as with any cell company or city, the coverage dropped dramatically whenever I was inside the concrete buildings common in Warsaw or Krakow.

EU Roaming
---
Poland is part of the European Union, so EU roaming regulations apply. These "roam like at home" rules ended roaming charges across much of Europe in 2017, letting you use a SIM card from any EU country across all the others at no extra charge.
There are some exceptions and limits, however, especially with large data packages. The main operators, including Orange, include a certain amount of roaming for free, with a surcharge after that. The 15GB package mentioned above, for instance, includes 2.5GB of roaming data. Double-check the exact details at time of purchase.
---
Check out our guides to buying SIM cards in many other countries here.