As much as laptops are a godsend for mobile workers, they have some limitations. Their life span is shorter than desktops, particularly when they're stuffed into backpacks, bumped over dirt roads, and jostled through airport security. You're not the only one suffering on long travel days. 
Processing power is typically reduced, storage space is often more limited, and as a rule, screens are much, much smaller. If you're a graphic designer or video editor, every inch of screen real estate matters. Even text-based tasks like programming and writing, though, benefit from a little extra room.
If you're in the market for extra pixels on the road, we've got good news. There's something you can do that doesn't involve shelling out for a larger laptop, or trying to fit a monitor in your backpack. The answer could be sitting right next to you already, in the shape of your iPad.
That sleek Apple tablet can also be an excellent second screen for your laptop, and it's actually pretty simple (and inexpensive) to make it happen. The trick isn't exclusive to iPad owners, either. Many of the tools listed below also work with iPhones. If you're a Windows user, you're also in luck, and some second-screen apps also support Android devices.
How Does It Work?
The mechanics behind this technique are actually quite simple. As we hear so often these days, "there's an app for that."
There are a few of them, in fact, which all work in similar fashion. You download an app on both your iPad and laptop, and they link (through either Wi-Fi or standard Lightning/30-pin cable) to provide one cohesive display across both screens.
That said, not all of these apps work equally well, or offer the same quality of service. Here's the lowdown.
A Review of Second-Screen Apps
Duet Display
Duet Display is arguably the most recommended dual-screen app, with tech sites singing the praises of its easy set-up, lag-free wired connection, and customization options.
Pros:  Uses minimal CPU and battery, with delay (lag) between first and second screen virtually non-existent. High-resolution support at up to 60 frames per second. Android and Windows versions also available. Regularly updated.
Cons: High-resolution display can slow down transfer between laptop and older versions of the iPad. No free version. Android version has mixed reviews, and older versions of MacOS (10.8 or earlier) aren't supported. No Wi-Fi support: it's cable-only here.
Price: $9.99 for both iOS and Android.
Air Display
Air Display also gets some love in the media, mostly because of its regular updates and bug fixes. Currently there are two versions of Air Display: Air Display 3, which supports Apple laptops and mobile devices, and the older Air Display 2 for Windows and Android.
Pros: Works through either a wired or Wi-Fi connection. Display lag on iPad is unnoticeable, especially through a wired connection. It's the best option if running an older Mac, since Air Display 3 works with OS X 10.6.3 or higher.
Cons: Limited for Windows and Android — only Air Display 2 is available, and it's no longer supported. Air Display 3 only works on MacOS X 10.8 and newer, so older MacOS versions aren't supported. Mixed reviews for both AirDisplay 2 and 3.
Price: $9.99 for Air Display 3, $4.99 for Air Display 2.
Splashtop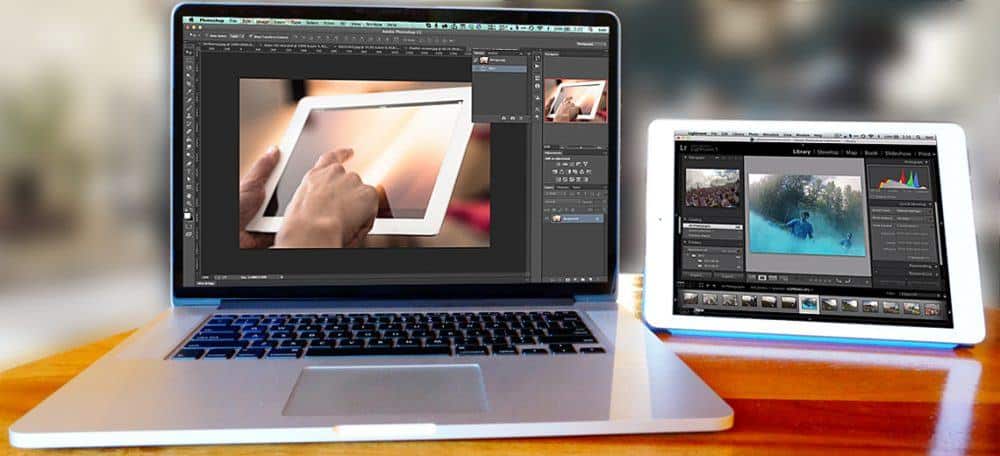 Splashtop XDisplay offers a wired option for turning your iPad into a second screen for your Windows or Mac computer. Even though it doesn't offer as much in terms of image quality and connectivity, it's a good free option worth trying out before going for one of the paid alternatives.
Pros: Wired, no need for Wi-Fi. Supports 1080p and Retina resolutions at 60 frames per second. Also available for Android and Windows. Free.
Cons: For Apple laptops, it's only available for OS X 10.9 and up. Users complain that display lag can be considerable. No updates for years, so appears to have been abandoned by the manufacturer.
Price: Free
iDisplay
iDisplay is less loved, but still an option for users without many technical requirements.
Pros: offers both Wi-Fi and wired connection. Also has Windows and Android support.
Cons: More bare-bones than other apps in terms of screen customization and supported resolution. Suffers more lag between screens than other apps. Seems all but abandoned, and expensive for what you get.
Price: $14.99 for iOS ($19.99 for Android)
---
So, what's the best second-screen app for iPad and iPhone? For most people, Duet Display is the best choice. It's reasonably priced and updated regularly, with strong performance that easily justifies the investment.
For casual users without intense graphical requirements (e.g. if your work is mainly text-based and you'd just like your internet browser open alongside), I'd suggest giving Splashtop a try. It no longer seems supported, but still might just be enough for your needs, and if not, you're not out of pocket.
Now Go One Step Further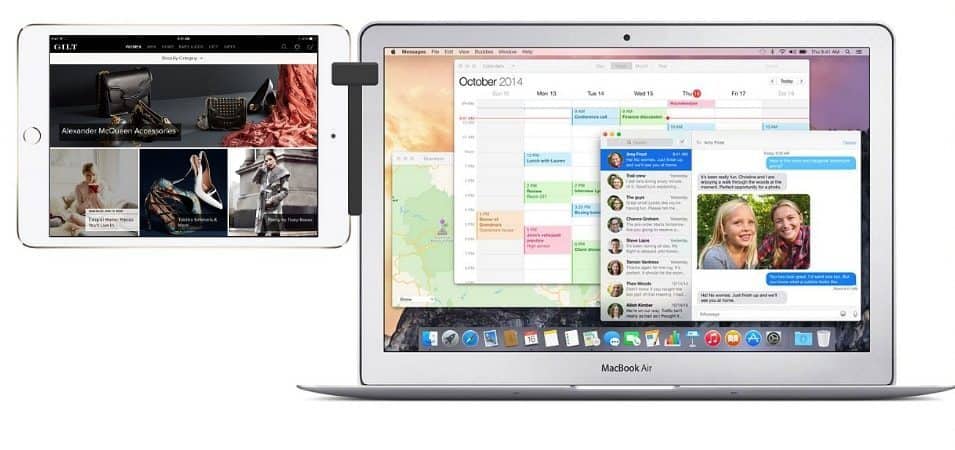 Once you've picked the app you like, go the extra mile and turn your laptop + tablet or smartphone into a makeshift double-screen computer.
Sure, you could just let your iPad sit next to the screen in any iPad cover with a stand, and it will do the trick — but if you're going to use your new second screen regularly, look into investing in a mounting clip as well. This attaches your phone or tablet to the laptop display, resulting in a pretty cool double-, or even triple-, screen laptop.
You've got a few different mounting options, depending on the size of your tablet or phone. The Mountie clips onto the side of your laptop (how great does this look??) and is compatible with most laptops, tablets, and phones 5-9mm thick, or you can use this magnet-based approach to attach smaller devices without putting pressure on the side of your laptop screen.
You can also use a simple tablet stand to keep your iPad elevated and stuck firmly in place. For a budget option, you can be more inventive if you've got a bit of practical ability: check out this article by Instructables for inspiration.
I'd definitely recommend placing your second screen at eye-level if you can. It's perfect for work since you'll get less neck and shoulder pain, but also for play. If you use your extra screen for an episode or two of Game of Thrones, there's nothing wrong with that!
---
Would you find a dual display like this useful on the road? Tell us why in the comments!
Images via Duet Display, Splashtop, Air Display, and Mountie.