I'm sure you've all seen it lately, right? A person standing in front of some scenic attraction or other, clumsily turning what looks like a large placemat left and right while squinting hopelessly at the glare reflecting off the back of it.
I've been on road trips in the US for the last couple of weeks, and have lost count of how often I've seen this exact scenario. In front of a waterfall in Glacier National Park? Check. Up a mountain in Zion? Absolutely. In the hands of a busload of tourists at Yellowstone? Yes, multiple times.
That thing that looks like a placemat is actually an iPad, and that clumsy maneuvering is people attempting to take a photo with it. Which, in my opinion, is possibly the most ridiculous travel trend I've seen in a very long time.
Here's why.
You Look Ridiculous
And not just a little bit. Like, seriously ridiculous. As if the iPad itself wasn't about five times the size a camera should be, it's usually still sitting inside its cover when in use.
You've now got something the size of a small backpack that you're holding awkwardly out in front of you, half of it flapping around in the breeze. See exhibit A, above.
It's probably a good way of getting the picture you want, at least, as everyone around you will be too busy rolling on the ground with laughter to get in the way of your shot.
It's Completely Unwieldy
Something that big is simply not designed for taking photos with. There's no comfortable way to hold it, and due to the size of the screen, you have to hold it almost at arm's length to see what you're shooting.
Trying to balance several pounds of tablet and case, line up the shot with a straight horizon, and then somehow press the screen or volume button to take the photo without messing it all up and/or dropping your iPad requires super-human skills. 
Judging by the results I've seen, those skills are in short supply.
There's a High Chance of Damage
Cameras get a hard life when you're a traveler. Thrown into a bag or pocket, knocked around and dropped more often than they should be, taken out in the rain, sun, and dirt, it's amazing they last long at all. And that's a device that's designed to be treated that way. Your iPad isn't.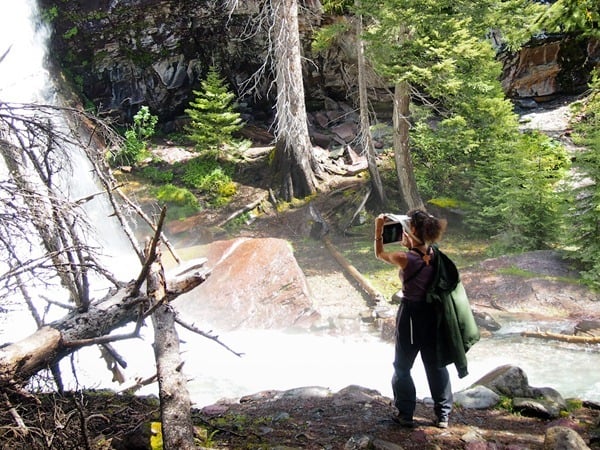 That lightweight frame with glass everywhere is perfect for watching a movie on the plane, but not when hiking down a rocky trail to take photos of waterfalls. If you carry it in your hands, there's a high chance of dropping it or breakage if you fall, and it's not much safer in your pack or handbag either.
You Can't Even See the Screen Outside
The big, bright, colorful screen on the iPad is wonderful when you're reading a book or flicking through web pages on your sofa. If you've ever tried doing the same thing in direct sunlight, though, you won't be quite so impressed. 
Colors disappear, and the glare makes it almost impossible to see anything at all. In reality, the device just wasn't designed to be used outside.
As if the degree of difficulty of taking a decent photo wasn't high enough already, you now get to compose your picture without even being able to look at it. Perfect.
The Image Quality Sucks
The first generation iPad has no camera (probably a good choice,) and the camera on the iPad 2 is truly horrible. With an effective resolution of well under one megapixel, coupled with the tiny lens and sensor, your photo is guaranteed to be terrible.
Grainy, washed-out pictures that aren't even big enough to print out a standard 6×4″ photo? Not the way I want to remember my vacation, thanks all the same.
If, on the other hand, you're one of the people who has splashed out for the 'new iPad' (ie, the third generation version) then congratulations, you have a wonderful piece of technology. But the camera still sucks.
While the lens is better, and the resolution has been upgraded to an almost-acceptable five megapixels, there's no flash, the sensor is still tiny, an optical zoom is missing and overall, images of anything except stationary objects with perfect lighting are still pretty terrible.
And that's before the camera shake from not being able to hold the damn thing straight…
My advice?  Just buy a camera.  Even a basic point-and-shoot will take better photos, be much easier to use, and fit in your pocket. Hell, even your phone is a better choice.  The quality of the images might not be any higher, but at least you don't look like a carnival attraction while you're using it.  Save the iPad for what it best at.
Which is, undoubtedly, not taking photos.