Speak to anybody who's bought a new Macbook within the last couple of years, and the conversation will inevitably turn towards dongles.
In 2016, Apple decided to remove practically all of the useful ports from the Macbook Pro in its never-ending quest to make laptops more slimline than they need to be.
And more frustrating to use.
Goodbye SD-card reader, standard USB ports, MagSafe charging port, HDMI port.
Hello, USB-C!
These days Apple users are living the dongle dream, connecting SD cards to USB adapters to USB-C adapters, and wondering if anybody truly believes this is progress.
And while it's true that USB-C likely is the future, and in five year's time we probably will be laughing at how outdated an SD card looks, we're not in that future yet.
Sigh. What's an Apple-loving fangirl to do?
Um, maybe buy a laptop that actually has all the ports you need?
Don't be silly. I'm in this ecosystem now, and I'm stubbornly refusing to leave.
And fortunately, for all likeminded people out there, there's a new device promising to solve your port-based woes. It's called the Linedock, and it does a hell of a lot for your laptop.
Introducing the Linedock
The Linedock is a slim rectangular slab, the exact size and colour of the 13″ Macbook Pro, that promises to eliminate your need for adapters.
Once you connect your laptop to the dock, you've got access to three USB 3.0 ports, three USB-C ports, an SD card reader, an HDMI port, and a Mini DisplayPort.
The device also holds a 20,000 mAh battery to keep your laptop, tablet, and phone charged. Finally, there's the option of a 256 GB or 1 TB solid -tate drive to expand your storage capabilities.
Beginning life as an Indiegogo campaign in 2016, the Linedock raised almost half a million dollars. It's taken a long time to start shipping, but (frustrated) backers are now finally receiving starting to receive their devices.
With production underway, the company offered to send out a review sample.
Does the Linedock have much to offer travelers? I'll confess my first reaction was a nope.
Travelers already have a hard time trying to keep the weight of their luggage down. Packing a product with similar dimensions to a Macbook Air that weighs almost a kilogram felt like a hard no.
But.
Honestly, as someone who works from the road, this is the type of product I'd travel with. I often work in coffee shops and co-working spaces, and nearly always end up having to return to my hotel too early when I ran out of charge.
Extending my battery life, combined with extra storage for backing up my photos and being able to leave my dongles and accessories behind sounded like a big win. I decided to take a look at it.
The Specs
First, let's deep-dive into the Linedock's features.
As I mentioned above, the Linedock comes with nine ports: three USB-C ports, three USB 3.0 ports, an SD card reader, HDMI port, and MiniDisplay port.
The 20,000 mAh battery outputs up to 100W of power, and has enough capacity to charge the latest Macbook Pro 1.5 times.
There are three options when it comes to internal storage. You can opt for none at all to save money, or choose between a 256 GB or 1TB SSD.
In terms of size, the Linedock has similar dimensions to the body of a Macbook Pro: 12″ inches (30.4 cm) wide, 8.4 inches (21.2 cm) long, and 0.4 inches (0.9 cm) high. It weighs two pounds (912 grams.)
The Design
Show the Linedock to a friend, and they'd likely believe you if you said it was an Apple product. It's slick, sleek, and designed to perfectly align with any recent 13" Macbook placed on top of it.
The colour and aluminium finish blend perfectly with my laptop, making it look as though they were meant to come as a pair.
That said, while the Linedock is designed to be used with a Macbook, there's no reason you couldn't use it with a 13" Windows laptop. I tested it on a Lenovo Yoga 920, and although it didn't look quite as seamless, all of the ports and accessories functioned perfectly well.
An internal magnet in each corner helps you position your laptop perfectly on the Linedock, although I can't say I could feel them doing an awful lot.
The Features
The Battery
I've noticed the battery life of my Macbook Pro deteriorating over time, to the point where it usually shuts down after four or five hours these days.
The Linedock includes a 20,000 mAh battery. That's a useful size, given my 2016 Macbook Pro's battery is around 12,000 mAh. In real-world testing, using the Linedock doubled my laptop's battery life, lasting even longer with Wi-Fi turned off.
I can see this being especially useful on long flights, as I'm forever running out of charge half-way through a long, boring travel day.
The Linedock also has a fast-charging feature it calls Saiyan Mode, which pushes up the power output from 60W to 100W.
While the standard mode was fine for maintaining a full charge on my laptop when it was already at 100%, I needed to enable Saiyan mode at other times.
Without it, the output wasn't quite enough to charge my laptop while I was using it, and the battery level dropped by a percentage point every five minutes.
Finally, you can use up to seven of the ports to charge your devices at any one time. That's ideal if you're like me and forget to charge all your devices until you're about to head to the airport.
I tested this by charging my Macbook Pro, iPhone XS, Fitbit Aria, and Kindle Paperwhite at the same time. As expected, they all charged at normal speed.
The Storage
The Linedock storage functions just like any other external drive. Simply plug your laptop into the dock via the provided USB-C to USB-C cable, and you'll have your drive ready to go.
When I benchmarked the Linedock SSD, I was getting read speeds of around 250 MB/s, and write speeds around 230 MB/s. That write speed is around half the 460MB/s advertised on the spec sheet (there's no equivalent read speed listed).
In real-world usage, this translated to taking two minutes to copy approximately 10GB of photos from my laptop to the Linedock drive. Copying them back again took just over a minute.
For the tinkerers among us, the SSD is upgradeable and the Linedock comes with instructions for doing so. This will void your warranty, though, so you'll want to make sure you know what you're doing.
The Ports
As I mentioned above, there are a whole bunch of ports packed into the Linedock. For me, the big selling point here is the SD card reader. When Apple did away with the SD card reader in the Macbook Pro, it created an enormous headache for me.
I'm someone who typically needs to access what's on an SD card a few times a week, and what was once a simple process now involves sliding my SD card into an external SD card reader. Since that reader has a USB-A connector, I then have to connect it to a USB-A to USB-C adapter.
That whole mess then plugs into my laptop, assuming I can actually find all of the different adapters when I need to use them. That rarely happens.
Everything works as expected with the Linedock ports, and I appreciated being able to live a dongle-free life for the first time in over a year. My workflow is made so much simpler through being able to easily plug my devices into my laptop. Who would have thought?
The Accessories
Linedock also offers several optional accessories. I was sent the Linesleeve as well, an attractive case that fits both a MacBook Pro and Linedock. The flap has magnetic closures, and there's a pocket inside for your passport.
One feature I particularly appreciated is the separate small opening on one side. This allows you to access the USB ports for charging purposes without needing to take the Linedock out of its case.
Wanting to give my phone as much charge as possible before a long flight, I find myself always removing my laptop from my backpack at airports to access the ports.
At $69 the case feels a little overpriced, so I wouldn't recommend purchasing it if you already have a laptop sleeve you like. But if you do need one, the Linesleeve looks nice, and is well-made and useful.
You can also buy a USB-C magnetic module ($29) that plugs into the Linedock, which safely detaches your charging cables when they get pulled on. If this sounds a lot like the Magsafe charger, another port that Apple really shouldn't have discontinued, you're probably already sensing a theme here.
Finally, there's the Line-u cable, which also sells for $29. This small U-shaped USB-C to USB-C connector lets you neatly attach your laptop to the Linedock without using long, messy cables.
The Price
The Linedock crams in a whole bundle of features, and that comes at a price. For the three different models, you can expect to pay:
No SSD: $349
256GB SSD: $449
1TB SSD: $699
If you were considering the 256 GB model (in my opinion, the one worth buying), it feels like a bit of a bargain. Apple charges twice as much to add an extra 256 GB of internal SSD storage when you're buying a Macbook Pro.
You'd also be looking at around $130 for our recommended portable battery that can charge a laptop. Throw in another $30 for a bunch of dongles to cover SD cards and USB 3.0 devices, and you're paying about the same as the Linedock, which does more in a much slicker package. I think it's actually pretty good value for money.
I'd generally recommend going for the 256GB SSD option over the other two. $349 feels like a fairly steep price for the no-storage version, and $699 is, um, rather expensive. The 256GB option seems like the best choice here.
The Verdict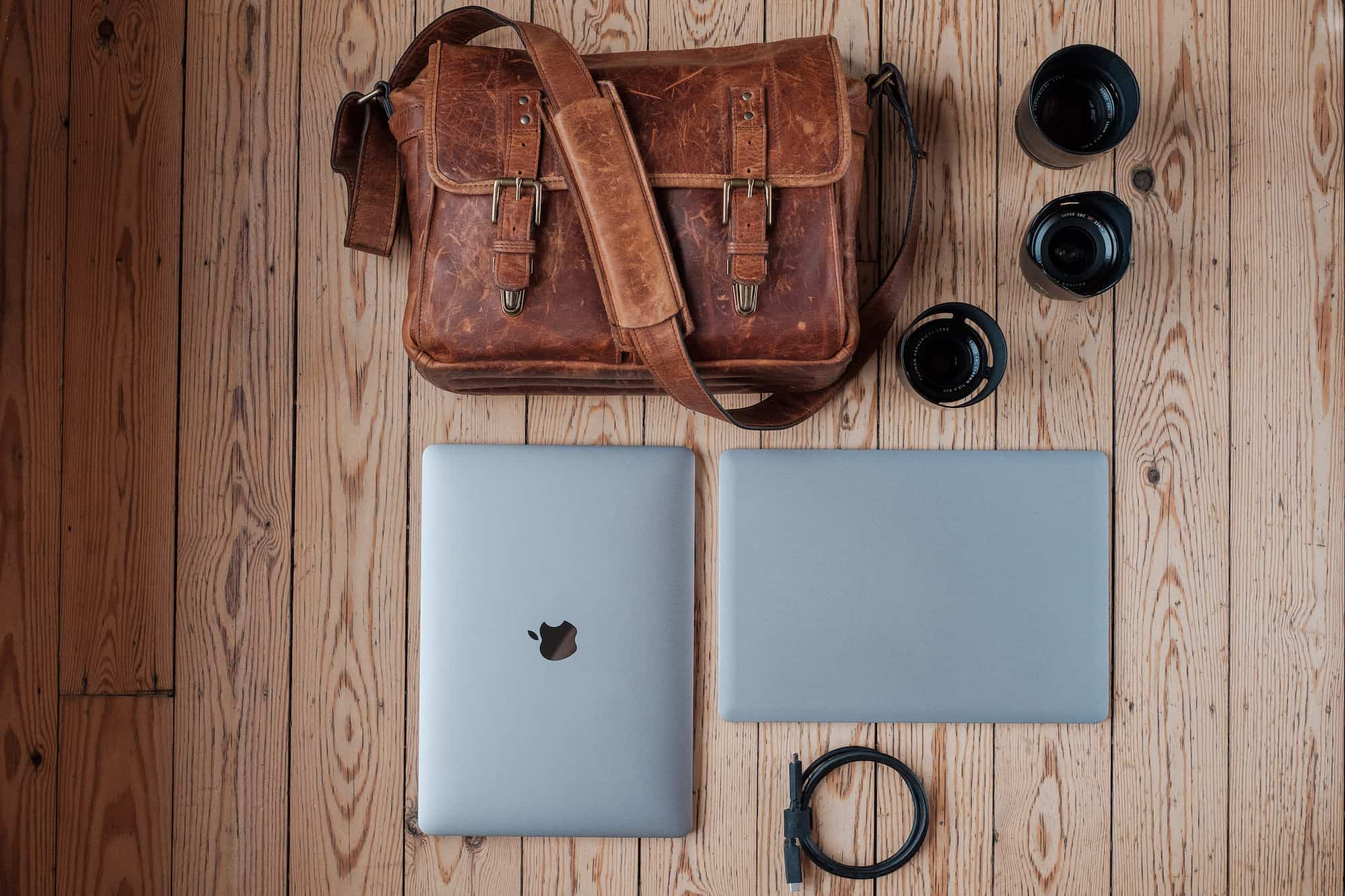 In order to weigh up whether I believe a review sample is worth buying or not, I ask myself one simple question: if it were to break, how likely is it that I'd replace it?
In the case of the Linedock, I'd say there's an 80% chance I'd replace it if mine was to break.
It's proven to be super-useful for extending my work day whenever I'm away from a power socket. Having another place to back up my photos and important documents while on the road has been great, and not having to travel with a bunch of dongles is obviously a huge bonus.
I'd miss its presence in my life if it were to break, and I'd struggle to go back to always running out of charge while working in coffee shops.
So what are the downsides? I think the Linedock is a tough sell if you're a carry-on only traveler. When weight and space are limited in your backpack, adding an extra two pounds and additional laptop-sized device to your luggage doesn't make packing any easier.
While I think this will appeal a lot to my fellow digital nomads out there, whether you splurge on this device will depend on how you work and travel.
If you travel slowly, work in coffee shops, and fly with a checked bag, you'll gain a lot from the Linedock. It won't be frustrating to carry it around the world if you're not doing so every few days with a small carry-on bag.
Photographers and videographers will appreciate the inbuilt SD card reader and extra storage. The extra battery life will also help when using resource-hungry apps like Lightroom.
Even if you're not a traveler at all, but regularly find yourself working in cafes and other places without power sockets, this is a good solution given all of the features it offers.
Overall, I was impressed by the Linedock, and surprised by how often I used it.
It's reached the point where I'd struggle to work outside my accommodation without it. The thought of returning to a life that's void of extra ports is also pretty unbearable.
No, you're being overly dramatic.
The Linedock offers good value for money, and is an elegant solution for any other remote worker frustrated by tech's swift transition to USB-C. I'd highly recommend it.