Even as a long-term traveler, carrying a mouse is a must for me. I blame both years of habit, and the fact that most PC manufacturers still haven't figured out how to make a good touchpad.
The problem with travel mice, though, is choosing a good one. Should it connect by Bluetooth or USB? What's the battery life like, and is it rechargeable or use disposables? Finally and most importantly, is it comfortable and durable on the road?
The Marathon M705 Wireless Mouse from Logitech is one I've used on and off for the past few years. After my last mouse broke down, I decided to switch back to this 8-button wireless wonder.
Connectivity: Does It Work Without Driving Me Nuts?
I've never been a big fan of Bluetooth mice, as I found myself dealing with problems syncing and keeping them connected to my laptop. The M705 uses Logitech's wireless "Unifying Receiver" which can connect up to six devices at once. Handy at home, but not so much on the road.
What is handy, however, is the size of the connector. It barely sticks out of the laptop, meaning I can leave it in all the time without worrying about it breaking off.
The downside is that it still takes up one of the three USB ports on my laptop, bringing it down to only two for charging gear and connecting USB hard drives.
If you do decide to take the adapter out, it fits right into a small compartment underneath the battery door, so it won't get lost.
Answer: Yes. Not only does it not drive me nuts, it stays connected like an all-star.
Batteries: Does It Last an Eternity?
Finding quality batteries on the road can be a pain in the neck. Not only that, but dropping everything you're doing when your mouse craps out just to search the neighborhood for batteries is hardly a great use of your time.
It's here, with its rep for battery power, that the M705 Marathon Mouse gets its name. With just a couple of AA batteries, you could have battery power for up to three years! Problem solved.
If you don't want to have two AA batteries weighing you down, you can also run the M705 using just one. To make it last longer, just flip the power switch on the bottom of the mouse. This is particularly important if you tend to put your laptop to sleep. If the mouse is still powered on, the movement in your bag may wake up your laptop.
Answer: Yes. While not an eternity, I think years of battery life is a good start.
Comfort, Usability & Durability: Do I Want To Haul It Around The World?
Here's the big one. Do I actually want to use it?
It's is a little bit bigger than my previous wireless travel mouse, but even with my petite digits, the slightly larger size of the mouse is actually more comfortable for hours of usage.
The buttons (and there's no shortage of them), are configurable through the relatively poor Logitech "SetPoint" software. I assign some of the extra buttons to be "back" for the browser, "Alt-Tab" to switch to the last window, and a couple of more obscure ones specific to software I use everyday. The extra buttons are a big bonus for me.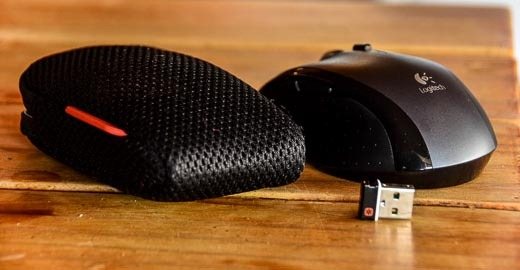 The M705 also has a two-function scroll wheel. You can switch between a free-motion "hyper-fast" mode or more traditional click-style roll of the wheel. I prefer the free-motion, which Logitech has improved greatly since its earlier models.
Finally, the mouse comes with its own zip-up carry case for safe keeping for those long flights and chicken bus rides.
Answer: Yes. It's a good mouse to haul around.
Should You Buy the Marathon M705 Mouse for Travel?
I'd say yes.
Although the size of the M705 is a little larger than some other wireless mice for travel, it's far from huge, and the extra comfort while using it justifies the extra size. The battery life is top class, and it works on nearly any surface.
I'm a fan.
Buy on Amazon
---
Image via islev59