If you've been in the market for a new laptop lately, you've probably noticed that more and more models are being designed with fewer and fewer ports. Some recent MacBook models, for instance, have just a pair of USB C ports and nothing else.
Computer makers may be done with external devices, but that doesn't mean the rest of us are. USB hubs give back the flexibility that manufacturers have taken away, letting you connect to all of those things that don't have USB C ports: HDMI TVs and monitors, Ethernet cables, SD cards, or just a simple memory stick. Some let you charge your laptop or other devices from them as well.
We've pulled together our favorite USB and USB C hubs for various needs including travel and those on a budget, plus the best choices overall. Be sure to determine whether you'll be plugging yours into a USB-A (old-school) or USB C (the newer type) port on your computer before you start shopping around.
Sale
Sale
Sale
Sale
What to Consider When Choosing a USB Hub
Compared to most tech gadgets, USB hubs don't cost much. Even top of the line versions cost under $100, and reliable budget models can be found for under twenty bucks. However much you spend, look for a USB hub that meets your specific requirements and includes the ports you need.
If your laptop only has a USB C port, make sure to only look for hubs that connect via a USB C cable. If you only need a few extra USB-A sockets, don't go wild with a 12-in-1 hub that has a bunch of features you'll never use.
Powered USB Hubs and Charging Devices
Powered USB hubs plug into an external electrical source as well as your laptop. This is usually a wall outlet, but can sometimes also be a portable charger. Since they have their own power, you don't have to worry about draining your laptop's battery while using them.
Some powered USB hubs support Power Delivery (PD), which lets them provide power to your laptop as well as whatever else is plugged into them. If you're planning to charge your laptop like this, make sure the hub has enough power to do it. While some laptops need as little as 30W, others need double that or more to charge at full speed.
Even with a powered hub, don't expect to charge all of your devices at once. Just because the hub has the right ports, it doesn't mean they're designed for charging. Most give one additional port for charging at most.
USB-A or USB C data ports are only designed to connect accessories, not charge them, but some brands gloss over the difference or only mention it in the fine print. Read the product specifications carefully, and assume if it doesn't mention charging, it's not designed for it.
USB Hubs vs. USB C Hubs
Simply put, USB hubs connect to USB-A ports and USB C hubs connect to USB C ports. Those big, flat USB-A ports were the standard for many years, and odds are you still have an old USB memory stick lying around with photos, documents, or movie files on it.
Older laptops likely have a few USB-A sockets for charging and using older accessories. Newer laptops may have a mix of USB-A and USB C ports, while the latest models often don't have any USB-A ports at all.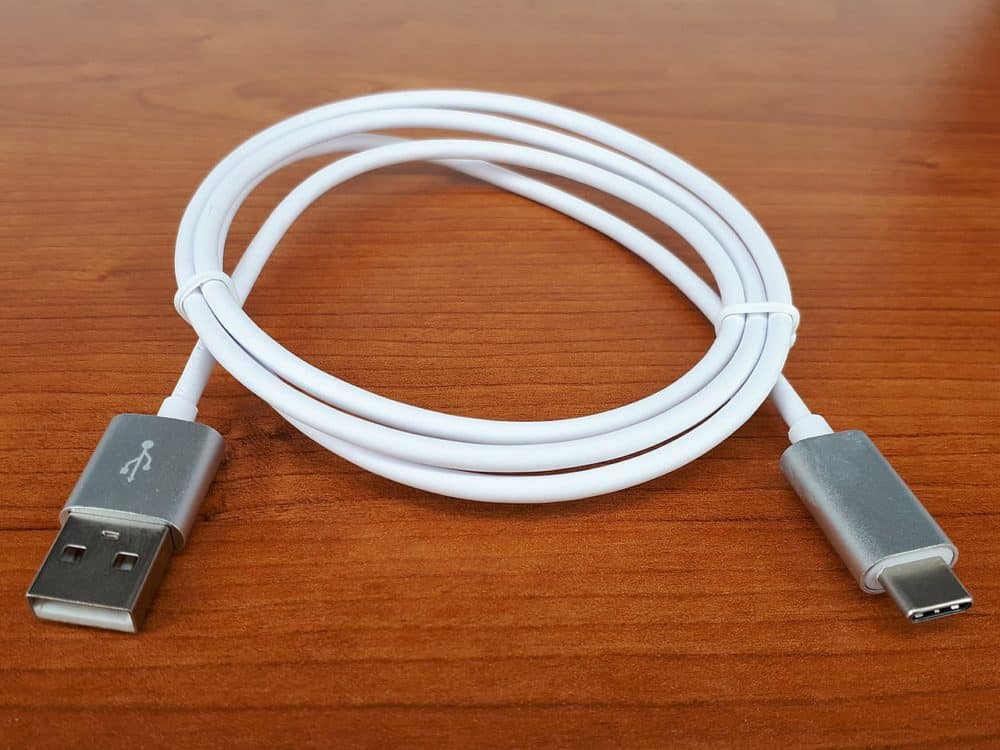 Since it's far more powerful and versatile, USB C is the new standard for most industries. It can support better video quality, transfer data at higher speeds, and charge devices faster, all with a slimmer design and a plug that can be inserted in either direction. If your laptop has a USB C slot, that's the way to go. Otherwise, look for a regular USB hub.
Bottom line? Make sure the hub can connect to your computer, and that it has the right type and number of ports you need.
Best Powered USB Hub: Atolla 5-Port USB 3.0 Hub
USB hubs are becoming less common as more and more laptops and other devices switch to USB C cables. If you're still in the market for one that plugs into a USB-A port, though, check out Atolla's 5-Port USB 3.0 hub.
Compatible with most Windows, macOS, and Linux systems, the hub ships with an optional wall adapter for when you're using power-hungry devices. It includes four data-only USB 3.0 ports on the top of the hub, along with a fast-charging port that can put out up to 2.4 amps (12W).
In a useful touch, each of the ports on top has a separate on/off switch and lights up to let you know it's in use. This simple, inexpensive hub is ideal for transferring files, charging a single device, and connecting external accessories like a mouse, keyboard, or card reader.
Pros
Fast-charging port
USB 3.0 data ports for faster file transfer
Individual on/off switch for each port
Cons
Only has USB-A ports, nothing else
---
Buy on Amazon
Best Powered USB C Hub: Anker PowerExpand 8-in-1
The Anker PowerExpand 8-in-1 USB C hub has all of the extra ports you're likely to need, while also supporting Power Delivery (PD) for charging your laptop. Plug it into a wall socket, and you'll get pass-through charging of up to 85W.
Onboard, you'll find a 10Gbps USB C PD port, USB C data, two USB 3.0 data, 4K HDMI, 1Gbps Ethernet, and both SD and microSD card readers. That's a lot, and should easily cover most requirements. Thanks to that pass-through charging, you don't even lose a USB C port when you're using it.
Unusually for hubs like these, you get 60Hz refresh rate at 4K resolution from the HDMI port. Most top out at 30Hz, which makes for a less-smooth viewing experience.
The only real downside is that you can't charge from the USB 3.0 ports or the USB C data port, so this isn't the answer for powering a bunch of devices at the same time. For almost anything else, however, it's the way to go.
If you don't need the Ethernet port, 4K/60fps HDMI, or the faster 10Gbps USB C data transfer, there's a 7-in-1 version of this hub that's often around half the price. It's a noticeable trade-off, but for some users, one that may be worth making.
Pros
85W PD pass-through charging
10Gbps USB C data transfer
1Gbps Ethernet
4K HDMI port (60Hz)
18-month warranty
Cons
Larger design than some other hubs
Only one charging port
Higher price
---
Buy on Amazon
Best Powered USB C Hub (Alternate): StarTech USB Type-C Mini Dock
As I mentioned up top, it's rare to find hubs that offer much in the way of extra charging options. That's especially true when it comes to the USB-A ports: despite there often being two, three, or more of them available, they're almost always data-only.
That's why this StarTech model is a breath of fresh air: as well as 88W USB C passthrough, you'll also get up to 12W from one of the two USB-A ports. It's dependent on how much the connected device actually requires, but I measured a consistent 6-8W when charging an older smartphone.
If you're not using the USB C socket in passthrough mode (in other words, there isn't a cable plugged between it and a wall socket), you can also use it to charge your smaller devices. Don't expect huge output, but I was able to at least charge a phone at normal speed.
It's a relatively expensive hub, but you get a lot for your money beyond just extra charging ports. There's a 4K HDMI socket that properly handles 60Hz refresh rates, SD and microSD card readers that are as quick as any I've tested, and a 1Gb Ethernet port, as well as those two USB-A ports and a single USB C Power Delivery port.
It's relatively thin and lightweight, taking up minimal space on your desk or in your bag, with a roughly 12-inch cable that provides a bit more flexibility about where you place it. That's especially true if, like me, you use a laptop stand most of the time: it won't hang awkwardly in the air when connected.
If you want two USB C (data-only) ports on your hub, you'll be better off with the Anker 8-in-1 mentioned above. If extra charging options are more important than that second USB C port, however, the StarTech is the way to go.
Pros
Can charge from one of the USB-A ports, plus the USB C port in a pinch
1Gb Ethernet
Properly handles 4k 60Hz HDMI video
Thin and lightweight
---
Buy on Amazon
Best USB C Hub For Travel: Anker 5-in-1 USB C Hub
If you like to travel light, you'll appreciate Anker's slimline 5-in-1 USB C hub. It weighs less than two ounces, but still manages to pack in three USB 3.0 data ports, an HDMI port, and an Ethernet port. It also comes with a convenient pouch to protect your hub on the move.
The USB 3.0 ports are all data-only, and aren't intended for charging. They're designed for connecting external devices such as a hard drive, mouse, or keyboard, and will quickly transfer files to or from your laptop.
If your laptop supports USB C PD, however, or you know you'll need the extra USB C ports or card readers, it's worth considering the Anker 7-in-1 USB C Hub mentioned above. It's a bit bigger and heavier, but the extra ports and pass-through charging will justify the size for many travelers. 
Pros
Slim, lightweight design
USB 3.0 ports for quick file transfer
4K HDMI port (30Hz)
Ethernet port for old-school hotels
18-month warranty
Cons
USB-A (3.0) ports do not support charging
No USB C ports
---
Buy on Amazon
Best USB Hub On A Budget: Sabrent 4-Port USB 3.0 Hub
The Sabrent 4-Port USB 3.0 hub is a simple and effective budget USB hub that lets you turn one USB port into four. All ports supports transfer speeds of up to 5Gbps, but since they're not powered, don't expect to charge your devices from them.
Compatible with Windows, macOS, and Linux operating systems, the hub is lightweight and includes individual on/off switches for each USB port.
It also comes with a two-foot cable, which may be good or bad depending on your needs. The cable will get you closer to other devices like an external monitor or television screen, but it can get in the way if you don't require the extra length.
You won't be adding any extra power or functionality with this hub, but it's a cheap and easy way of adding a bunch of USB ports to your laptop or desktop computer. 
Pros
Low price
Compact design
USB 3.0 ports for faster file transfer
Cons
Only has USB-A ports
Not designed for charging devices
---
Buy on Amazon
Best USB C Hub On A Budget: QGeeM 4-in-1 USB C Hub
The QGeeM 4-in-1 USB C hub is an easy, low-cost way of making better use of your laptop's USB C ports. The hub includes a USB C PD port, an HDMI port, and two USB-A sockets, ideal for adding an external mouse or keyboard, connecting to a monitor, or transferring files via a memory stick or portable drive.
It's a useful little tool, does what it needs to for the price, and covers the basic needs of many laptop owners. You can charge devices from the USB C port, or plug anything up to a 100W charger into it to power your laptop. That'll also provide extra power to the USB-A ports, handy when you've got hard drives or other high-draw gadgets plugged in.
The HDMI port, as usual with cheaper hubs, supports 4K@30Hz or 1080p@60Hz. Note that the USB C PD port is only for charging, and can't transfer data. Don't plan to plug in a hard drive or run a monitor from it.
The manufacturer advises against charging from the USB-A ports, but they will put out up to 1.5amps (7.5W), so you may still be able to slowly juice up your phone or other small USB device.
Lightweight, small enough to fit in your pocket, and with an 18-month warranty, this is a simple, inexpensive way of adding a few extra ports to your laptop.
Pros
Low price
Compact design
USB C PD passthrough charging
18-month replacement warranty
Cons
Not intended for charging devices
USB C socket is only for charging, not data transfer
---
Buy on Amazon
Best USB Hub For MacBooks: Anker PowerExpand Direct 8-in-2
Apple has been ruthless about removing ports from most of its laptops, forcing users to resort to expansion hubs to add them back. USB C ports may be the way of the future, but chances are you're still lugging around some tech from the past, and if you're not, those around you are. When you get tossed a USB key to grab a file, you need to know you can connect it.
The Anker PowerExpand Direct 8-in-2 USB C Hub for MacBook includes a Thunderbolt 3 USB C port with 100W PD charging, a USB C data transfer port, two USB 3.0 ports, SD and microSD card readers, Lightning audio, and an HDMI port.
The slim device matches the look of Apple laptops, attaching directly to both USB C slots on the side of your laptop. This means you won't have any cords hanging loose off of your computer, but you also won't get any closer to other devices if you're trying to share ports with friends or reach a wall-mounted TV.
The downside to this hub is that you need to plug it into two Thunderbolt ports, but only get one in return. That might be if you have a MacBook with four USB C ports, but if yours only has two, you might want the bulkier 7-in-1 version of the hub instead.
We did an in-depth review of the previous version of Anker PowerExpand Direct USB C Hub when it came out, and were impressed by it.
Buy on Amazon
---
No one wants to carry around extra tech gadgets they'll never use. When choosing which USB hub is right for you, consider which ports you need and how often you'll actually use them. If you don't need all of the bells and whistles, save yourself some money and space by going for the smaller, simpler models.
If you think you'll use extras like card readers and HDMI ports or want to charge your laptop and other devices from your hub, on the other hand, it's worth the additional size and cost to grab a model that includes those features.
🎤Looking for some great accessories to plug into all those extra ports? These are our favorite USB microphones, headsets, and flash drives right now.
---
Main image via Yogas Design, USB-A to USB C cable via Fructibus / CC0, product images via Amazon