Laptops and tablets let us work from anywhere in the world, whether that's a co-working space, coffee shop, or airport lounge. Working for long hours hunched over a device is bad for our bodies, though, and causes pain and injury longer-term. Ask me how I know.
Investing in a proper mobile office setup made me more comfortable and more productive, even when working from a hotel room or cafe. A vital part of that setup is my keyboard, which increases my typing speed and accuracy, and lets me raise my laptop up on a stand to a better height.
I have a full-size keyboard and mouse at home, but they're too big and heavy to sensibly stow in my daypack. I take smaller, lighter versions with me whenever I'm working outside the house: Bluetooth-enabled, I can use them with laptops, tablets, phones, and even the smart TV in my Airbnb.
After using dozens of models over the years, the key things I look for now are the size and weight, comfort and noise levels while typing, compatibility with the devices I use, and battery life. Durability is also crucial: the lightest, quietest keyboard is no use if it breaks within a few weeks.
Whether you're looking for a high-quality option for remote work, a lightweight budget option to use now and then, or an ultra-compact model for smartphone use, these are the portable keyboards worth buying right now.
Sale
Sale
Best on a Budget: Logitech K380
Size: 10.9 x 4.9 x 0.6 inches
Weight: 14.9 ounces
Battery Life: Up to two years from 2x AAA batteries
Connectivity: Bluetooth
Sale
Best With Mechanical Keys: NuPhy Air75
Size: 12.4 x 5.2 x 0.6 inches
Weight: 18.5 ounces
Battery Life: Up to 48 hours of continual use from internal rechargeable battery
Connectivity: USB, Bluetooth, wired
Sale
Best With Stand: Logitech K780
Size: 14.9 x 6.2 x 0.9 inches
Weight: 30.9 ounces
Battery Life: Up to two years from 1x C battery
Connectivity: USB, Bluetooth
Sale
Best for Phones: iClever BK06
Size: 10 x 3.5 x 0.3 inches (when extended)
Weight: 6.2 ounces
Battery Life: Up to 40 hours of continual use from internal rechargeable battery
Connectivity: Bluetooth
Best Portable Keyboard: Logitech MX Keys Mini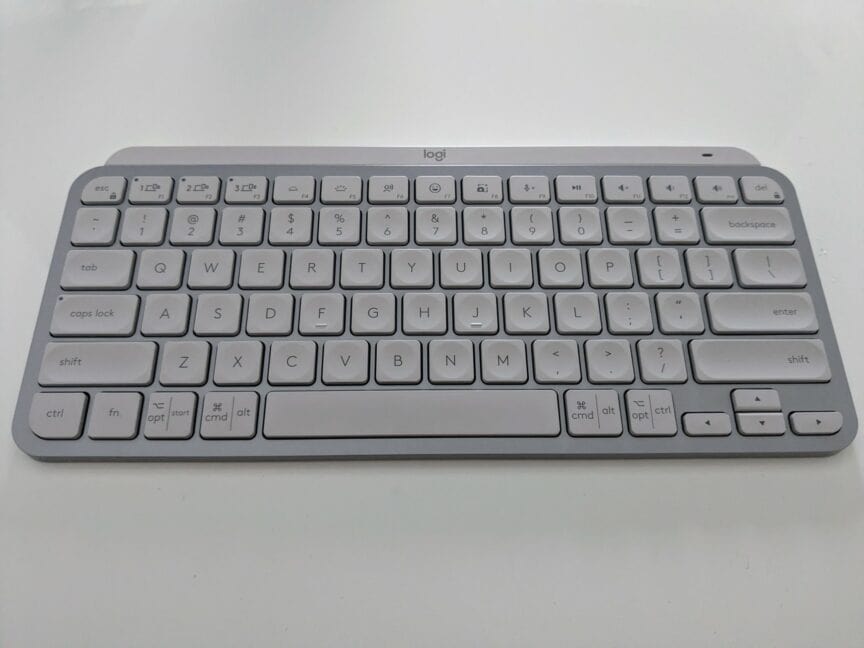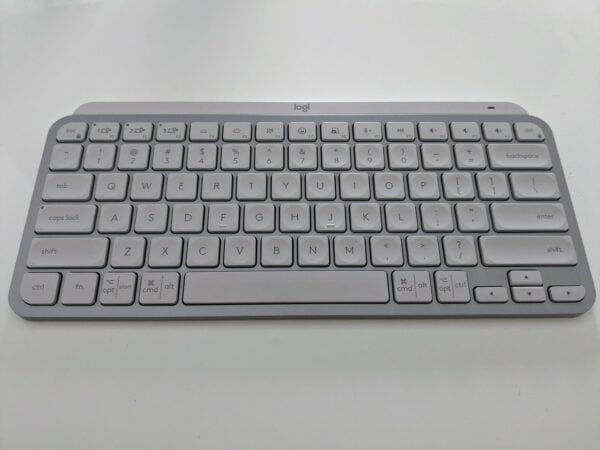 For several years, there really wasn't a high-quality keyboard out there that was small and light enough to travel with consistently, had a great typing experience, and didn't feel like it'd break after a few weeks on the road.
After my Logitech K810 broke and I discovered that the company had discontinued it, I spent a lot of time looking for a true replacement without success. I made do with cheap versions that did the job ok, but was never totally happy with them.
That finally changed when Logitech released the MX Keys Mini, a smaller version of the full-sized MX Keys that lives in my home office. It's a genuine pleasure to use, even when I'm typing quickly: at 80wpm, which is about as fast as I can manage, there's no flex or movement and very little noise.
Like many of the company's keyboards, it can pair with three different devices, and you can switch between them at the press of a button. I also like the system-wide mic mute button for when I'm on conference calls; I'm less excited about the dedicated emoji key, but I'm sure it's useful for someone.
Battery life is reasonable with backlighting turned on, at about ten days, and excellent when it's turned off: you'll get anywhere up to five months out of it. If you do leave it on, it's automatic: the lights switch on when you bring your hands nearby, and off again a few seconds after you move away.
At 1.1 pounds, it's a little heavier than many similar-sized keyboards. That's for good reason: there's a single metal plate that holds the whole thing together, and it feels extremely solid as a result. I haven't had enough time with it yet to really comment on its longevity, but first impressions are very good.
The keyboard connects via Bluetooth or one of Logitech's new Bolt USB receivers. You'll almost certainly be using the former, if for no other reason than there's no USB dongle in the box. That's the only real disappointment with this keyboard, especially given the price.
You can read my full review of the MX Keys Mini here, which goes in to much more detail. Suffice it to say, though: if you're in the market for a premium portable keyboard for working from the road, this is the one to buy.
Pros
Small
Great typing experience
Robust and well-made
Useful features
Cons
Expensive for a keyboard
No USB receiver in the box
---
Buy on Amazon
Best on a Budget: Logitech K380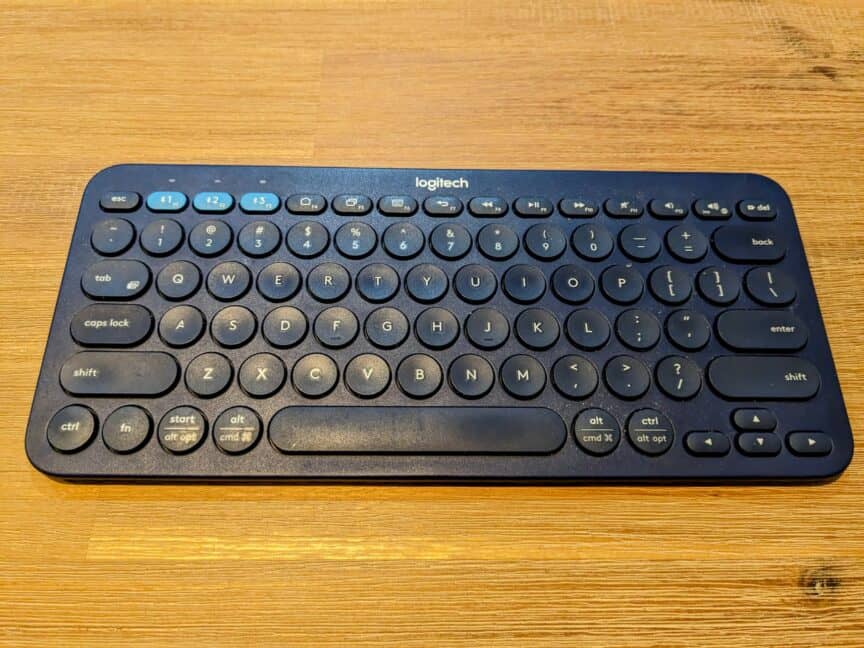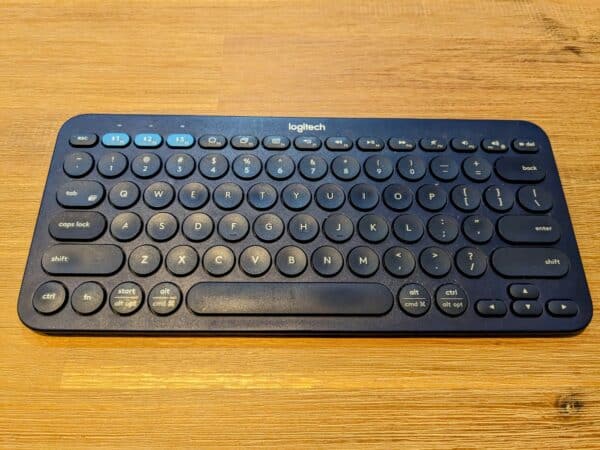 Staying on the Logitech train, one of the company's most popular compact models is the Logitech K380, and for good reason.
Inexpensive and lightweight, the K380 appears somewhat flimsy at first glance, but looks can be deceptive: both the typing experience and durability have significantly exceeded my expectations.
This is the keyboard I bought to travel with when my old one died: the MX Keys Mini hadn't come out yet, and I needed something, anything to get me through. I figured I'd be happy if it lasted longer than its one-year warranty period, but it's still going strong 3+ years later.
The rounded keys took a little getting used to, but the travel and key gap is no different to other portable keyboards, and you should be typing at full speed within a day or two. The keys are a bit "clacky" if you're typing quickly, a common issue with cheaper keyboards, but it's quieter than most at this price.
Measuring roughly 11 by 5 inches and weighing under 15oz, it takes up minimal space on your desk or in your bag. Narrower than my 13″ laptop, it slides easily into my daypack, and I barely notice it's there. It lived there for over a year of continual travel, and held up to the abuse just fine.
The keyboard can pair with up to three devices via Bluetooth, and it's easy to switch between them via the function keys at the top. It's quick to connect, typically taking less than a second, and doesn't drop out or miss keystrokes even when typing quickly.
The K380 comes in a small range of colors, and two variants: one with a Windows-focused keyboard layout, and one for Mac. All versions will work on most mobile and desktop operating systems, but it's worth getting the layout you're most familiar with.
The keyboard runs from a pair of AAA batteries (included) that are rated for up to two years of use before needing replacing. That hasn't quite been my experience, although I probably spend longer on it each day than some: I've swapped them out about once a year on average.
One thing I would suggest is to make sure you switch the keyboard off when you're not using it, and especially on travel days. It's all too easy to drop it in your bag and have it keep activating every time a key gets accidentally pressed, which drains the batteries pretty quickly.
A comfortable, reliable option that's easy to travel with and is priced very reasonably for what it offers, this is my top budget keyboard pick for travel right now. You can find my full Logitech K380 review here.
Pros
Inexpensive
Slim and lightweight
Can pair with three devices at once
Mac and Windows layout options available
Long battery life
Cons
Round keys may take a little getting used to
No backlighting
---
Buy on Amazon
Best With Mechanical Keys: NuPhy Air75
Can't stand the "squishy" feeling of typing on most laptop and quiet-touch keyboards? Like to game as you travel and can't stand the latency of a standard Bluetooth keyboard? A portable mechanical keyboard is the answer to both problems.
While most models are far too big and heavy to even consider traveling with, a few companies have spotted an opportunity to make smaller, lighter versions. My favorite is the NuPhy Air75, which is 75% the size of a traditional desktop keyboard, but doesn't compromise at all on the typing experience.
At just 12.4″ wide and 0.6″ thick, it's smaller than some of the other models discussed here, and even the 18.5oz weight stacks up well against other travel keyboards. If you're set on a mechanical keyboard, you'll struggle to find much smaller or lighter than this, especially anything made this well.
The typing experience is a delight, and while any mechanical keys will require more force than tapping away on your laptop, the Air75 doesn't go overboard. Choose between low-profile brown, clicky blue, or linear red switches at time of purchase; you can swap them out later if you change your mind.
You've got several connection options, more than anything else on this list. As well as connecting to three Bluetooth devices simultaneously, you can plug in the bundled USB receiver to control a fourth. Run a USB C cable to your computer, and you can even use it as a wired keyboard while it charges.
Build quality is very impressive, with plenty of metal used throughout: this keyboard can take a beating. If you're one for RGB lighting, the individually-lit keys and wide range of customization options in the bundled software means you're in for a treat.
Battery life is reasonable, at about 50 hours of use between charges of the internal battery. Plan to charge it once a week if you're using it all day, every day.
Mechanical keyboards are a bit of a divisive issue when it comes to travel. While many people love the firm, tactile touch they offer, even the quietest mechanical keys and switches are noticeably louder than the average laptop or scissor-switch keyboard.
As a result, I'd generally suggest that portable mechanical keyboards are best used in hotel rooms and Airbnb's rather than libraries or quiet cafes when you're traveling. At the end of the day, it's entirely up to you: just don't be surprised if you get dirty looks in public spaces!
If you do decide that mechanical is the right approach, it's very hard to go past the NuPhy Air75.
Buy on Amazon
Pros
Great typing experience
Small and light for a mechanical keyboard
Well-made and durable
Impressive connectivity
Swappable switches
RGB lighting
Cons
Louder than membrane keyboards
Battery life is ok but not amazing
---
Best With Stand: Logitech K780
Small keyboards are ideal for travel, but if you have large hands or an especially-high typing speed, the smaller keys and reduced gap between them can be a problem. Likewise, if you do a lot of data entry work, the lack of a number pad can also be frustrating.
If that sounds like you, check out Logitech's K780. It has full-sized keys, a proper number pad, and a familiar layout, but is still a reasonable size for travel. Compact yet comfortable, it sits somewhere between ultra-portable models and standard desktop keyboards.
Like many Logitech keyboards, the K780 lets you quickly and seamlessly switch between devices. It can pair with up to three devices at once, and you can easily switch between them via the first three function buttons in the upper left corner.
It's compatible with PC, Mac, iOS, Android, and Chrome OS, so you can use it with all your favorite devices. Many competing brands offer this broad device compatibility, but few can actually remember multiple devices and easily switch between them.
Because the Logitech K780 has a wide stand built into the top of keyboard, it's my pick if you're planning to do a lot of typing on your phone and tablet. The simple device switching means you could be working away on your laptop, and quickly switch the keyboard to your phone to reply to a text. 
That integrated stand is a useful feature for some, especially anyone who wants to use a full-sized keyboard with their tablet or phone, but a downside for others. It's not removeable, and adds bulk and weight to an otherwise slim keyboard, making it a bit less portable than it could be.
The K780 has both Bluetooth and USB dongle connection options: with any keyboard, the latter tends to be a bit more reliable for computers, while the former is essential for mobile devices. It's powered by one C battery, from which you can expect anything up to two years of normal use before it needs replacing.
Given the extra size and weight, this isn't the keyboard I'd choose to drop in my carry-on before a flight. If you're more likely to move it around the house than around the world, however, the full-size layout and useful stand makes it a solid option.
Pros
Can pair with three devices at once
Full size keyboard for comfortable typing
Integrated phone/tablet stand
Dual connectivity (USB dongle and Bluetooth)
Long battery life
Full number pad
Cons
Moderate size and weight
Stand adds bulks and can't be removed
Round keys may take a little getting used to
No backlighting
---
Buy on Amazon
Best Ultralight Option: Arteck HB030B
For those looking for a lightweight travel-friendly keyboard, the Arteck HB030B is the way to go. This slim, compact model weighs less than eight ounces and measures just 9.7 x 5.9 x 0.2 inches. It doesn't have a number pad, which shaves off a bit of width.
The built-in rechargeable battery lasts anywhere up to an impressive six months before needing to be charged up again. That's based on around two hours of use per day: scale that timeframe up or down as needed based on how much typing you expect to do.
The Arteck HB030B connects to devices via Bluetooth. As such, it's compatible with any Bluetooth-enabled device running one of the standard operating systems (iOS, Android, macOS, and Windows). It also has limited Linux support: some function keys don't work correctly.
Unlike the Logitech models mentioned above, though, it can only remember one device at a time, so isn't designed for rapid switching back and forth.
The HB030B has seven backlighting color options and two brightness levels. This adds some style, but not for long: the light turns off after 15 seconds of inactivity. This preserves battery life, but the switching on and off can be a bit distracting.
Apart from the backlighting, the only real downside to this model is its durability. The ultra-slim design makes it more prone to damage, particularly when it's constantly going in and out of a backpack. It does have a 24-month warranty, but this only covers manufacturing defects, not accidental damage.
Pros
Ultra-slim
Connects to any Bluetooth-enabled device
Backlighting
Rechargeable battery, lasting up to six months
24-month warranty
Cons
Backlighting turns off after 15 seconds of inactivity
Less durable than some competing models
---
Buy on Amazon
Best for Phones: iClever BK06
The most portable keyboard on this list is the iClever BK06, which uses a folding design to get down to somewhere around pocket size. A large pocket, perhaps, but a pocket nonetheless.
Measuring 13.2 x 4.0 inches when extended, it folds down to 6.5 x 4.0 inches, not much bigger than a large smartphone. Weighing just 6.2 ounces, this is a keyboard that you can always have with you, and could use for quickly jotting down notes or responding to texts on your phone.
The iClever BK06 turns off automatically when folded up to conserve battery. It connects to most Bluetooth-enabled devices, including phones and tablets (Android or iOS), and comes with a free stand to prop up your mobile device. It works with Mac and Windows computers as well.
Like the Logitech models mentioned above, the BK06 can remember up to three devices at once, and easily switch between them. 
The 13-inch width is close to full size, meaning most people shouldn't feel too cramped while using it. The company makes even smaller models of keyboard as well, but after using one of them, I think the trade-off between size, comfort, and productivity is a little too great.
Tri-fold versions of this keyboard are also available, including one with a backlight and another with a touchpad. They're a similar size to the BK06, and may suit you better depending on your exact requirements.
Pros
Foldable, ultra-portable design
Works with computers, smartphones and tablets
Pairs with three Bluetooth devices at once
Lightweight
---
Buy on Amazon
---
Main image via Goumbik, Logitech MX Keys Mini and K380 images via author, other product images via Amazon