While there are plenty of travel-sized keyboards out there, most of them are, shall we say, not very good. They're usually made from cheap plastic, are spongy and loud to type on, miss keystrokes if you type quickly, or if you're really lucky, all of the above.
Rarely, though, a company tries to make something better. Very rarely, to be honest: I can think of two, maybe three keyboards that I've come across in the last decade that are both an appropriate size for travel and genuinely excellent to use.
When I saw that Logitech had released a smaller version of the MX Keys, the full-sized model that I've enjoyed using for the last year, I was intrigued. If they'd managed to keep the build quality and typing experience of the bigger model, it could be the ideal travel keyboard…but could they actually do it?
I've been using the MX Keys Mini for the last week to try and answer that question.
Features and Specifications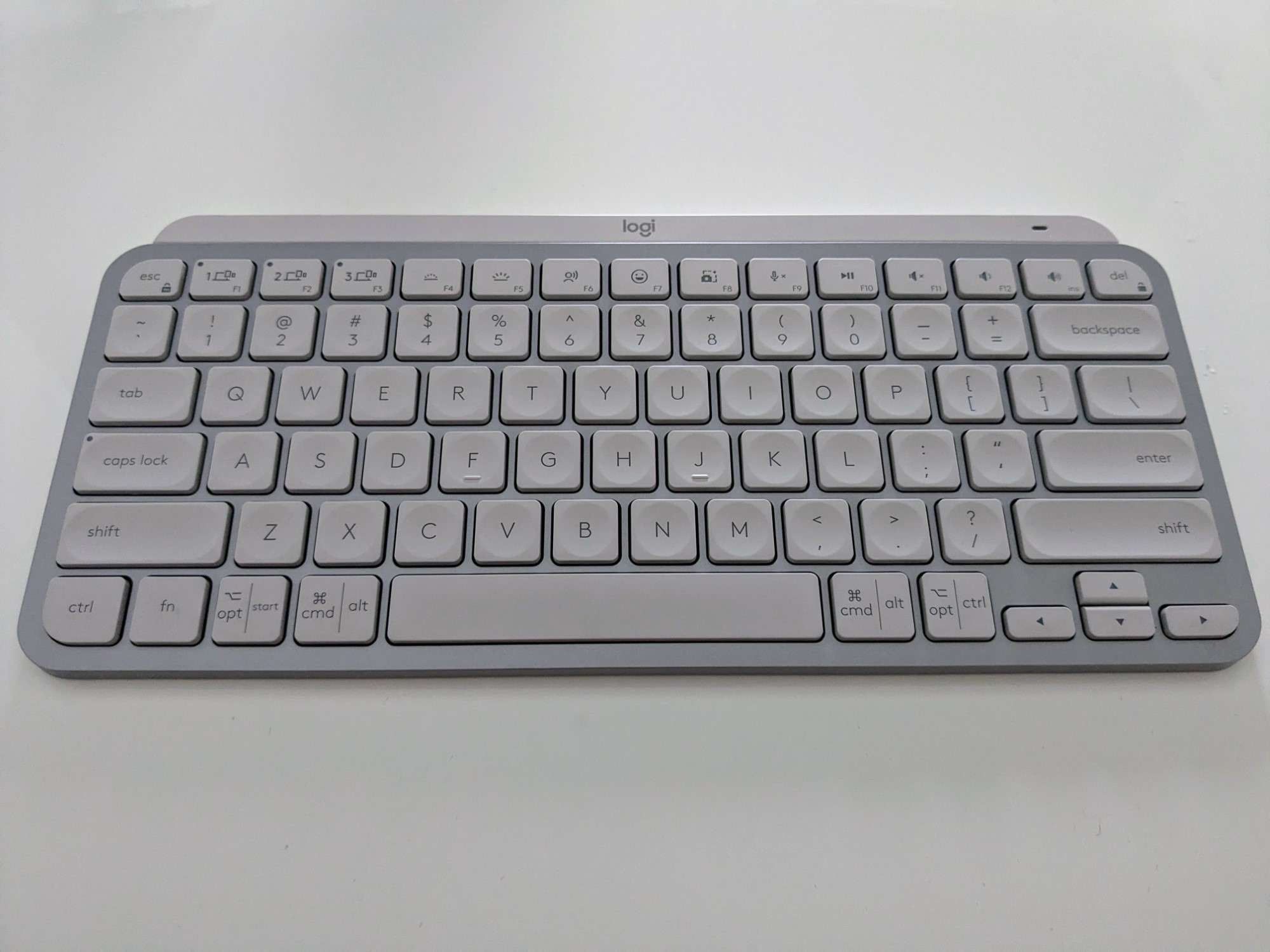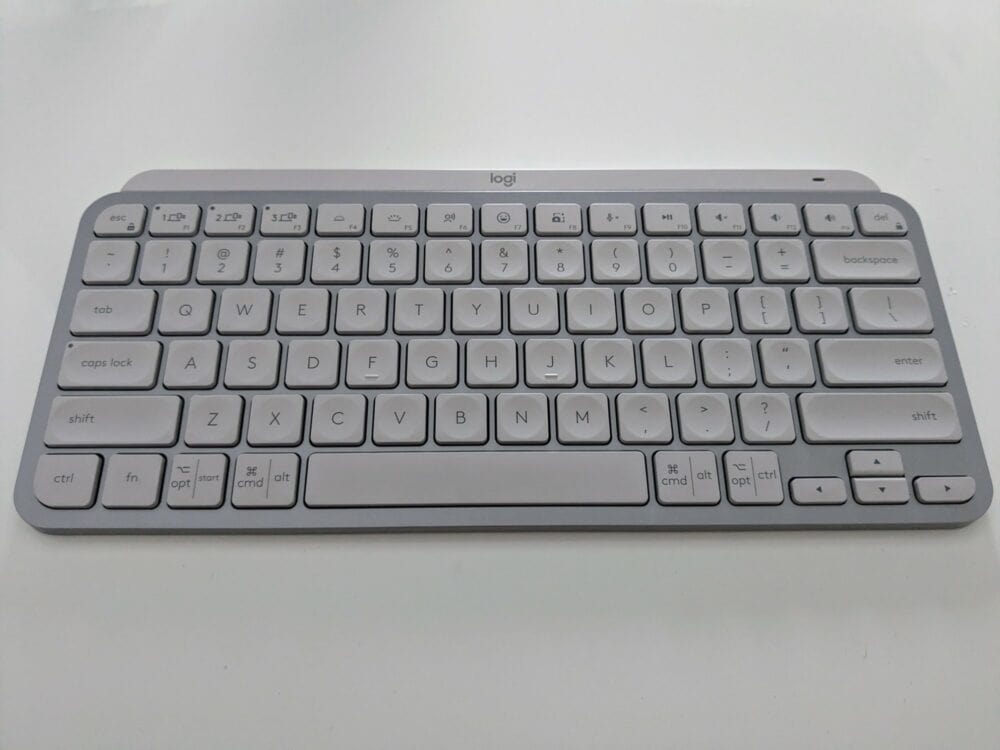 If the name didn't give it away, the keyboard's diminutive size is obvious as soon as you take it out of the box. Measuring 11.6 by 5.2 inches, it's roughly the same size as the keyboard on your average laptop. It's low-profile as well, just 0.8″ at its highest point, sloping gently down at the front.
Like many of Logitech's keyboards, you can pair it with up to three devices at once and switch between them with the touch of a button. This is a feature I regularly use: with two computers set up on my desk most of the time, it's a lot easier than dealing with separate keyboards.
The MX Mini comes in two flavors: the universal version and a Mac-specific one. I'm reviewing the universal model, which has both Windows and macOS symbols printed on the bottom row of keys.
If you'll use it solely with Apple gear, there's a Mac version with only those symbols. The standard version comes in a few different colors: graphite, pale grey, and rose. If you go for the Mac one, you're stuck with pale grey.
Charging is handled via a USB C port at the back. There's a USB-A to C cable in the box, but no charger. It's 2023, so chances are you'll already have one lying around: if not, you can charge it off your laptop instead. A small slider alongside the charging port turns the keyboard on and off.
Logitech estimates battery life at around ten days of normal usage, and depending on your definition of normal, that's about right: using it as my only keyboard for eight hours or so per day dropped it by about 10% each time.
That number is with automatic backlighting turned on: you'll get dramatically longer between charges (supposedly up to five months) with it turned off. If you only work in well-lit spaces, turn the lighting off via Logitech's Options+ software.
If you do want the backlighting, it's quite smart, switching on when you move your hand nearby and fading out a few seconds after you move away again. The intensity also changes depending on the amount of ambient light, or a pair of function keys let you adjust it manually.
The keys use Logitech's own scissor switches, with a travel depth of 1.8mm. That's more than you'll get on most laptops (the MacBook Pro 14 has 1.1mm of travel, for instance), and I found it easier to type quickly on as a result. The keys don't need a lot of pressure to activate; a light touch is fine.
Other than that charging cable and a few safety booklets, there's precious little else in the box. In an unwelcome change, that extends to Logitech's USB receiver as well: other keyboards in the range come with them, but not this one.
To make matters worse, even if you happen to have an old receiver lying around, you probably can't use it with this keyboard. Logitech has switched to a more-secure connection protocol, so you'll need one of its new Bolt receivers if you want to use the Keys Mini with a device that doesn't support Bluetooth.
Most people won't care: chances are you'll be using it via Bluetooth anyway. If you can't or don't want to, though, just be aware you'll need to shell out a little extra on top.
Real-World Testing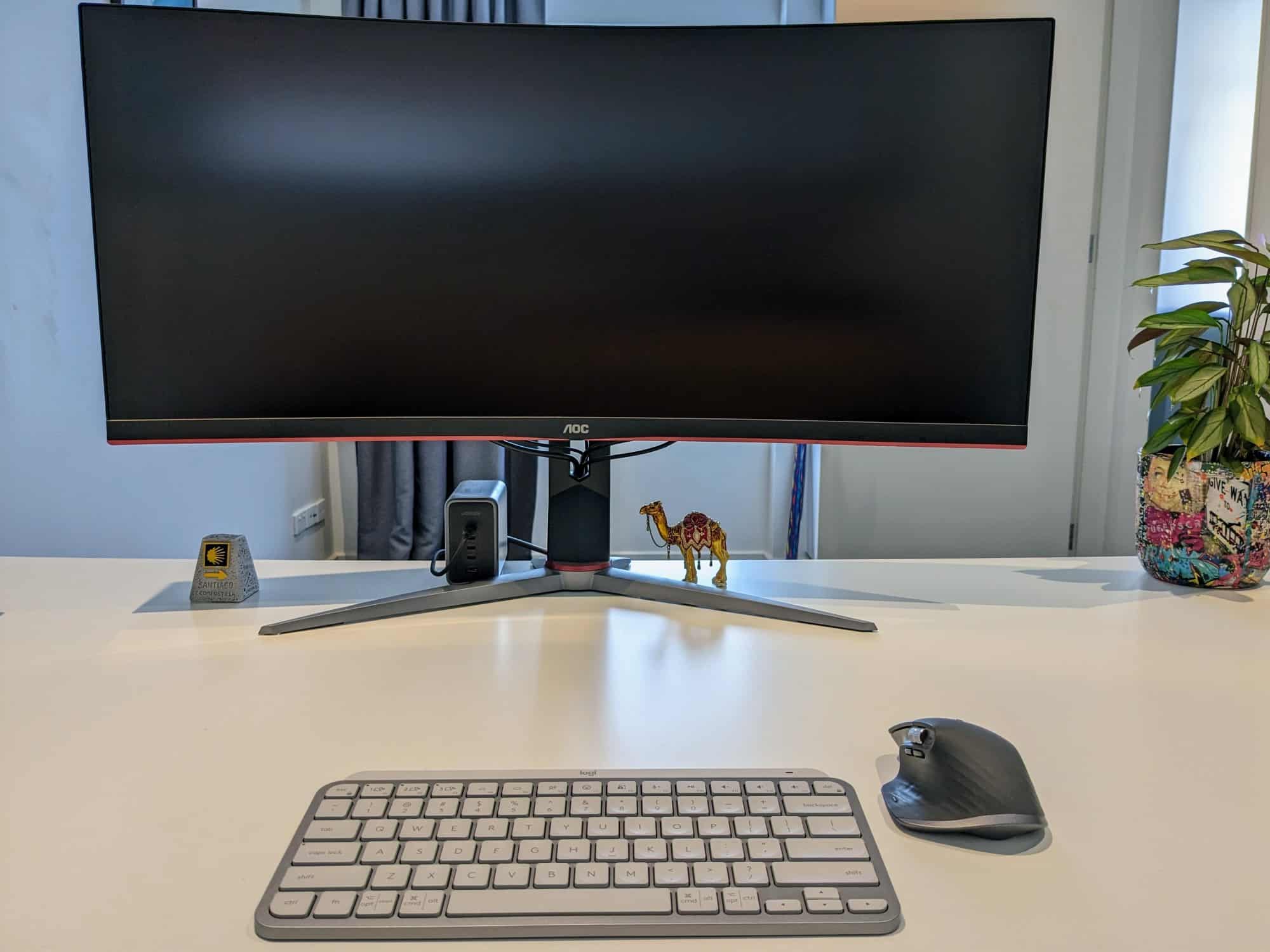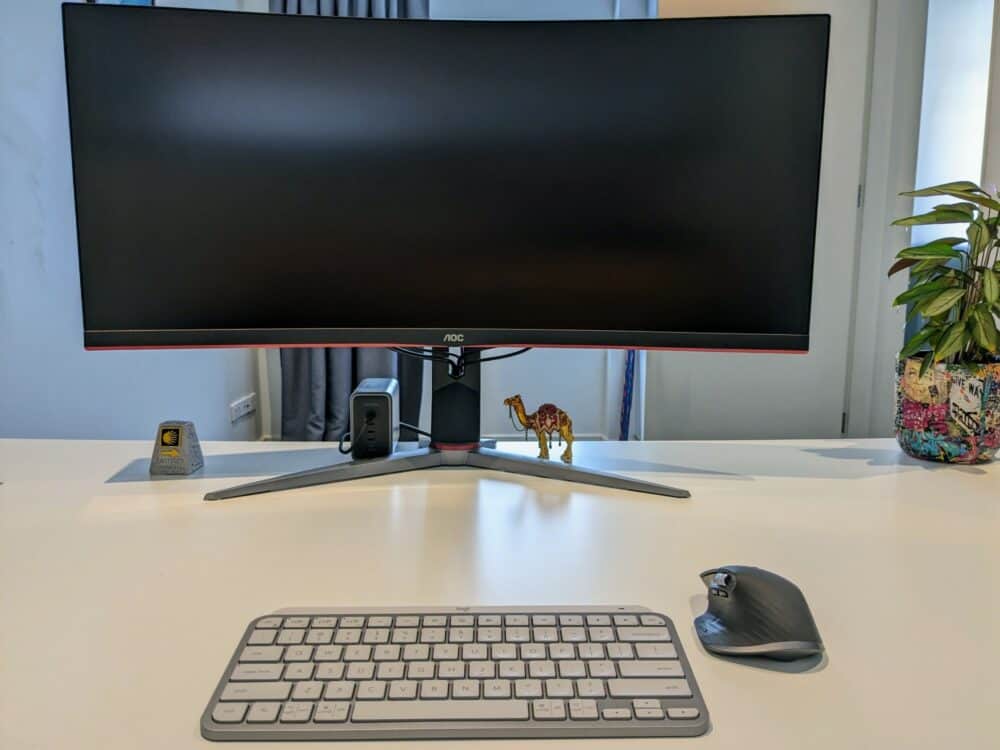 Despite its small stature, the keyboard feels impressively robust. Held together by a single metal plate, it's heavier than you might expect (1.1 pounds), but in a good way. It doesn't flex or move around on the desk even when I'm typing quickly, unlike most of the cheaper plastic versions I've used over the years.
The pairing process couldn't be simpler, especially the first time around. It's in pairing mode out of the box, so it took all of about ten seconds to connect it to my laptop and start typing.
Connecting it to a second machine wasn't much harder: I just held down the second of the three quick-switch buttons for a few seconds until the light on it blinked rapidly, then paired as usual.
If you decide to install the Logitech Options+ software, it lets you update the keyboard firmware and configure settings like backlighting and disabling keys you don't use. If you don't care about those things, the keyboard works just fine without it.
The typing experience was better than almost any other similar-sized keyboard I've used. The concave keycaps feel great, and even with that limited amount of travel, there's no uncertainty about whether I've pressed them. My usual max typing speed is around 80wpm, and I had no problem maintaining that.
There's no rattle or sideways movement even when typing quickly, and the scissor switches are super-quiet, which my partner greatly appreciates. I'm usually working within earshot of other people, and I really have to thump the keys for them to make much sound at all. The spacebar is slightly louder than the rest, but not by much.
What's It Like to Travel With?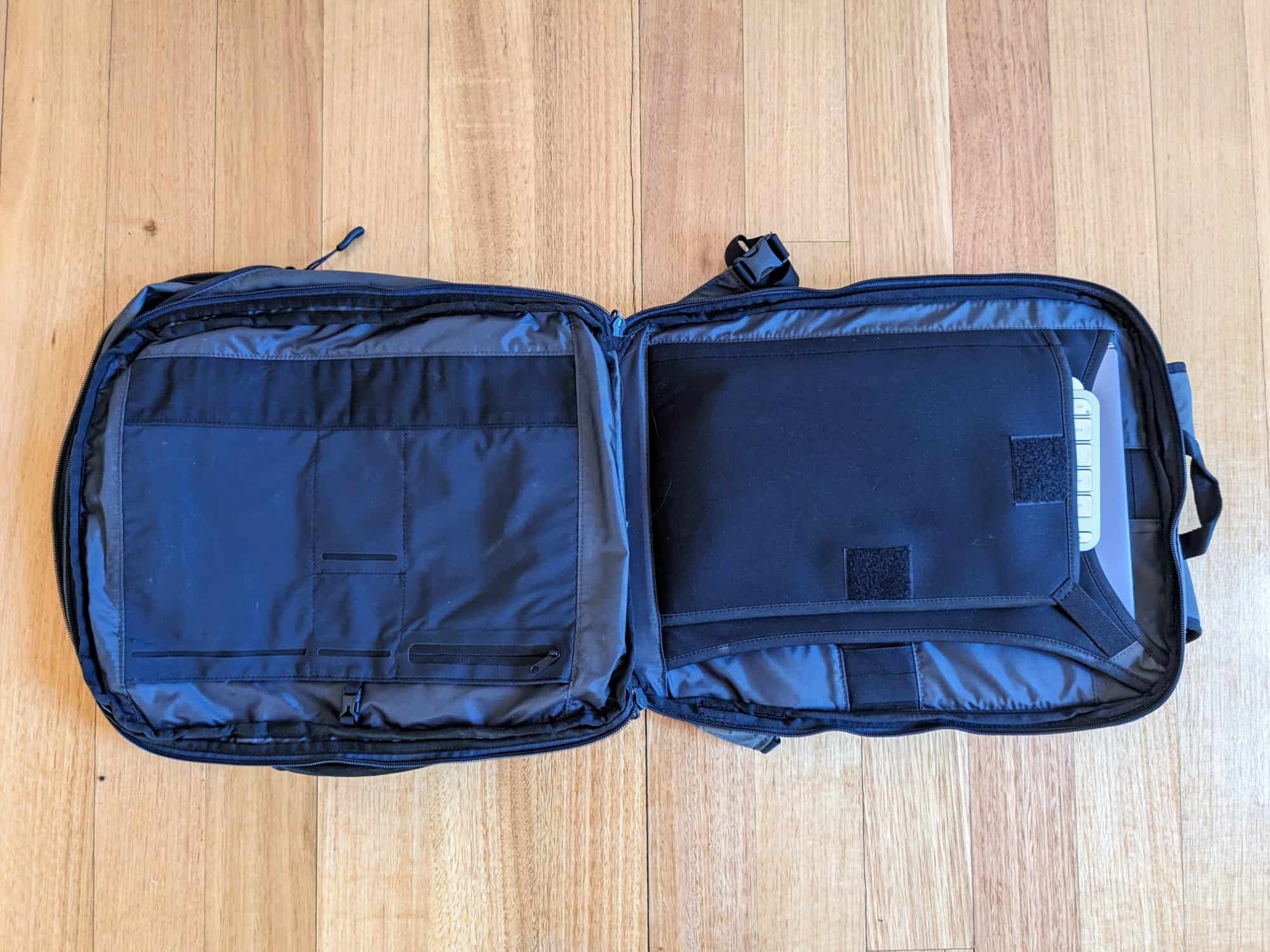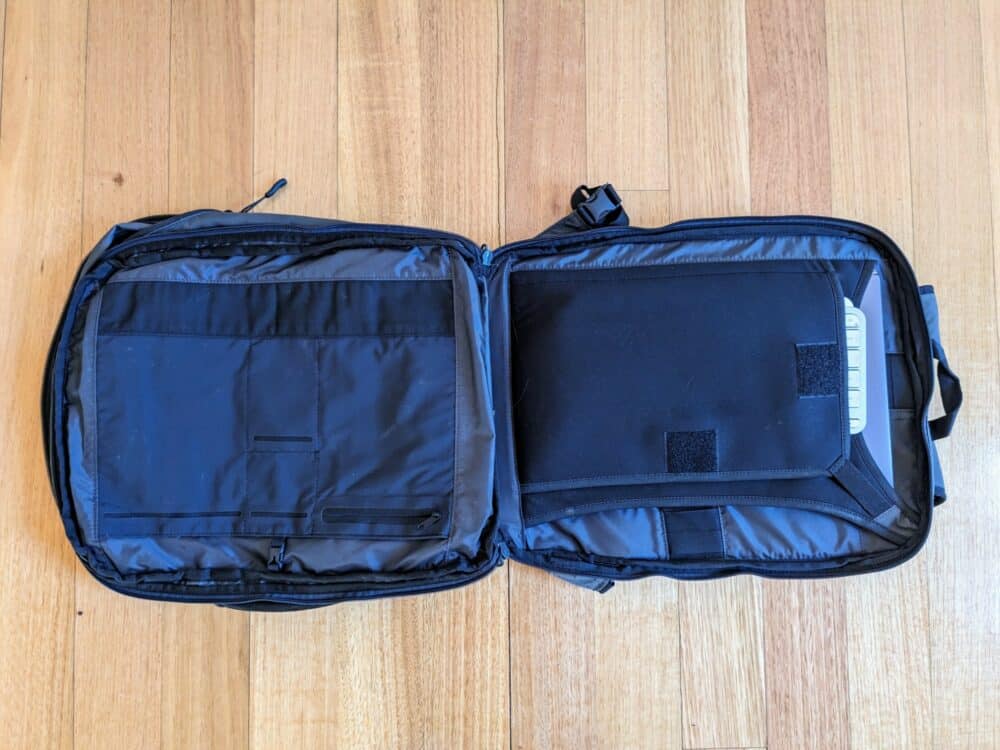 The thin profile of this keyboard meant that it fits into all of my usual daypacks without issue. The one shown above has two inbuilt sleeves, one for a laptop and one intended for an iPad or other tablet. The keyboard slips easily into the latter, with enough room down the side for my Roost stand.
Throw a mouse in the top pocket, and I've got the basics of my remote office covered, with plenty of space for a jacket, headphones, and whatever other junk I'm carrying around at the time. It's my go-to setup for working out of cafes and other shared spaces; robust, reliable, and taking up very little room.
Because it's so comparatively small, the keyboard fits easily onto even tiny work areas. I've had problems in the past trying to use a mouse alongside an external keyboard when space was at a premium, but not here.
Even at a compact two-person table at a local coffee shop, there was enough room for my laptop on its stand, the keyboard in front, and the mouse to the side. Oh, and the all important flat white to help keep my caffeine levels somewhere near maximum.
I can't speak for its longevity yet: it'd need several more months bouncing around in a daypack before I could confidently say it was bulletproof. I have hope, though: I've traveled for years with other Logitech keyboards without issue, and some of them definitely weren't made as well as this one.
MX Keys vs MX Keys Mini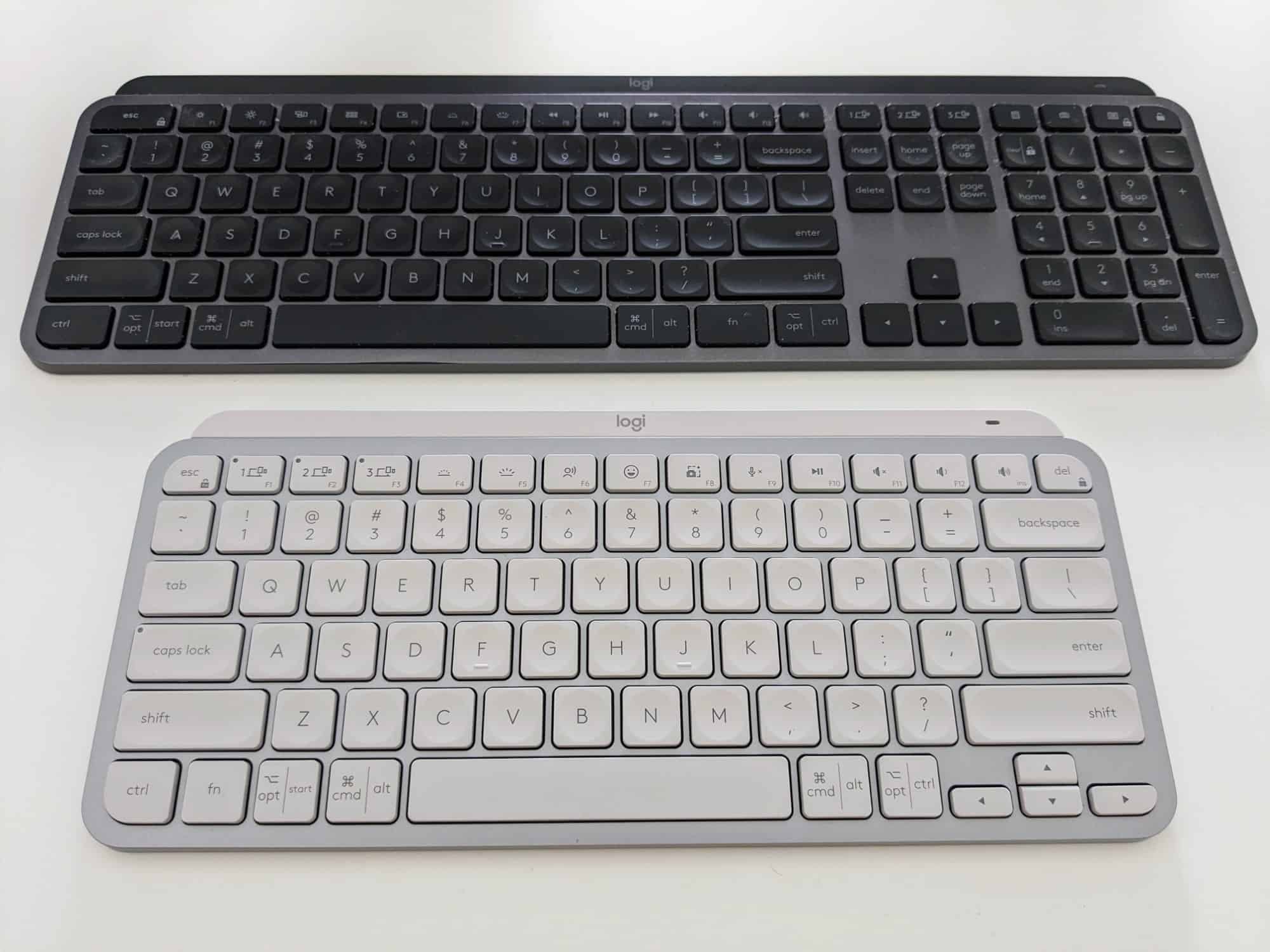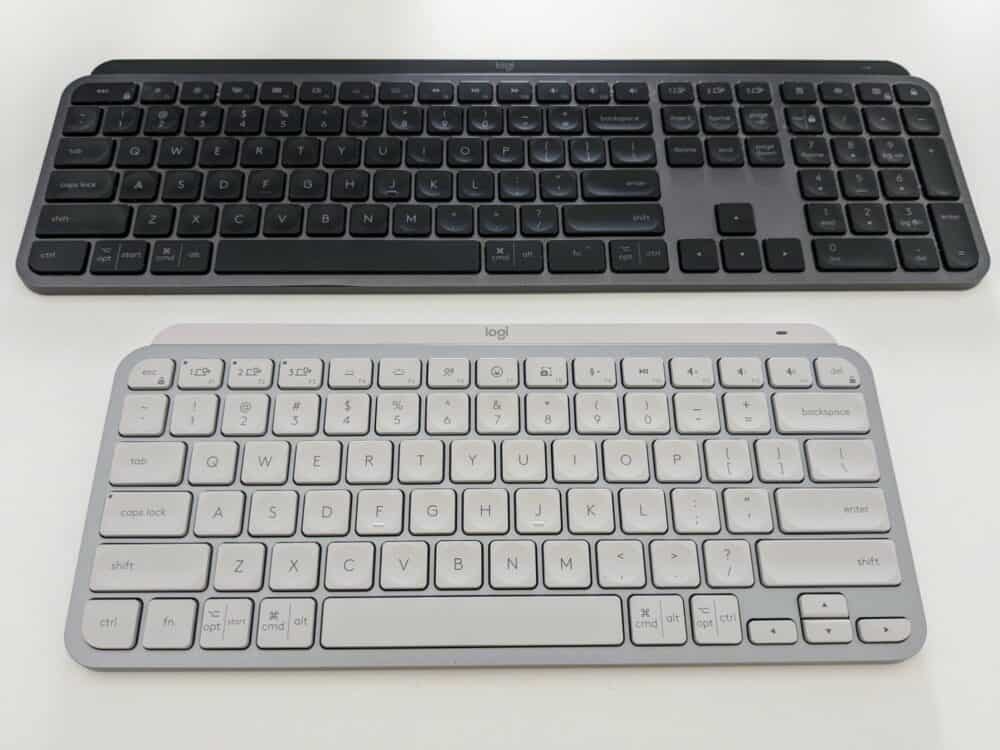 For the last year or so, I've used the larger version of this keyboard, the MX Keys, in my office at home. As a result, I figured it be worth spending a bit of time comparing the two.
While it clearly shares the same DNA as its larger sibling, the MX Keys Mini does have a few noticeable differences. Other than the size, of course, the most obvious is the lack of a number pad or dedicated keys for things like home, page up and down, and switching between connected devices.
Smaller changes include the Escape button being half the size, and the function key moving from the right of the spacebar to the left. The cursor keys are in the same inverted-T shape, but are half the height.
Some of the function keys have different purposes, too, including an emoji button for when you just need to get a thumbs up or eyeroll out as quickly as possible. Perhaps more usefully, there's a system-wide mic mute button, along with a voice dictation button if that's something you use.
All of those extra buttons work fine on Windows, but you'll have different experiences on other operating systems. None of them work on Linux, the mute button doesn't work on any Android or Apple devices, and the emoji button doesn't work on phones.
Where doesn't differ between platforms, however, is the typing experience. As I mentioned earlier, my speed and accuracy haven't changed: I just ran the same typing test with both keyboards one after the other, and there was essentially no difference in the results.
The smaller cursor keys were quite noticeable when I first started using the Mini, and it took me a couple of hours to get used to them. Now, unless I'm switching backward and forward between the two keyboards all the time, I hit them consistently without looking.
The larger model measures 16.9″ across, and weighs 1.8 pounds. That extra width is very noticeable when you line the two up beside each other: if you chopped the number pad and cursor keys off the MX Keys, you've essentially got the Mini.
The additional size and weight completely changes things when it comes to using these keyboards outside the house. In short, the Mini is something that most remote workers would be happy to travel with. The MX Keys is not.
Note that if you're buying the full-size model today, you'll get the MX Keys S. There's virtually no physical difference between the two barring some minor tweaks to the function key shortcuts, but it did gain the automatic light level sensing of the Mini.
You need to change the backlight intensity manually on the older version, something I've done exactly zero times in the last year. Take that for what it's worth.
Verdict
Like many other digital nomads and remote workers, I was very sad when Logitech decided to discontinue its K810 model a few years ago. Easily the best travel keyboard at the time, nobody (including Logitech itself) made anything else half as good for people who spend a lot of time on the road.
Until now.
I loved that keyboard and used it for many years, but the MX Keys Mini is even better. Unless I really couldn't live without a mechanical model, this is what I'd now buy for working while traveling. It gets everything right for digital nomads in particular, from sturdiness to typing experience, in a way that others don't.
I only travel for a few months a year these days, but I've missed having a high-quality keyboard when I do. I avoided traveling with a stand and keyboard for years when I was doing the fulltime digital nomad thing, and then wondered what on earth took me so long as soon as I made the switch.
Being able to use this at home, then easily drop it in a bag whenever I'm heading to a coffee shop or the airport, is a real bonus.
Even if you don't regularly work outside the house, though, there are still good reasons to consider the MX Mini. A friend of mine only has a small desk in the corner of his living room, for instance: he bought this keyboard to help maximize his work space, and has been very happy with it ever since.
If you're not short on room and like the idea of having a number pad or full-size cursor keys, by all means go for the MX Keys instead. After a year of faultless use, I really have no complaints about mine: it's been a solid and dependable workhorse.
For me, though, if I could only own one, I'd probably go for the smaller version. I so rarely use the number pad on the full-size model that I wouldn't miss it, and for Windows users like me, the dedicated mic mute button on the Mini is genuinely useful on conference calls.
With the typing experience being almost completely the same, at least for the way I use a keyboard, it's a bit of a no-brainer really.
Sure, it'd be nice if it was a bit cheaper (wouldn't everything?), and at that price, not including a USB receiver in the box is less forgivable. Even so, if you travel regularly or have limited desk space, this is the keyboard to beat right now. Highly recommended.
Pros
Small
Great typing experience
Robust and well-made
Useful features
Cons
Expensive for a keyboard
No USB receiver in the box
---
Buy on Amazon