Stuck at an airport with a looming deadline? Lucky you! I've recently discovered that I can be way more productive at the airport than almost any other place. Sometimes I'll now even head there well before my flight departs, just so I can get more work done.
Turning a bustling airport into a productivity paradise does take a bit of work, though. From finding the ideal place to set up your portable office to tracking down reliable Wi-Fi, eliminating distractions to being entirely self-sufficient, these seven tips will help you turn a frustrating layover into a few hours of quality work time.
Find a Dedicated Work Area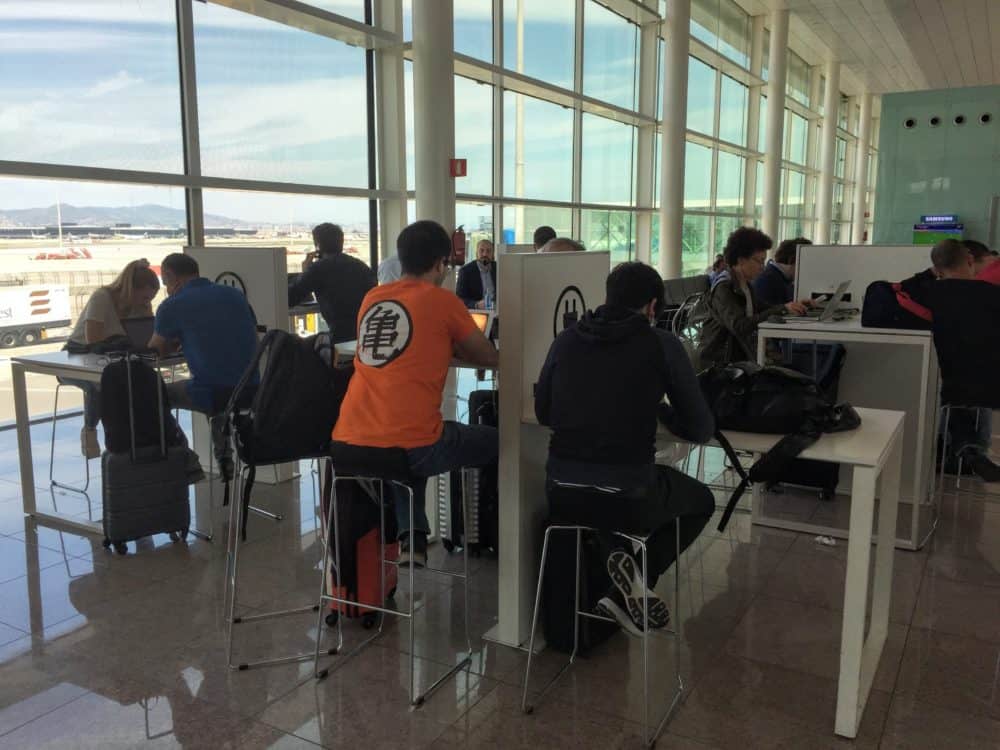 It used to be that working at the airport inevitably meant hunching over an uncomfortable plastic chair while your laptop kept falling off your knees. Thankfully, at least in some parts of the world, that's no longer the case.
Many airports, especially in Europe, have realized that mobile workers make up a large chunk of their passengers. As a result, they've started providing more amenities to suit them, particularly in new or refurbished terminals.
Designated working spaces like these typically offer desks with access to free Wi-Fi and a useful amount of space to spread out. Some, like in Zurich airport, even provide proper office chairs!
Designed specifically for laptops, tablets, and smartphones, the desks usually have multiple wall and USB sockets available so you can charge whatever you're traveling with.
Designs vary, from simple long, high tables to individual desks, or even cubicle-style areas, like the one I saw in Terminal 1 at Barcelona El Prat (above.)
Since you'll usually be joined by other people seeking a good place to work, these areas often feel like a mini coworking space in the middle of a busy airport terminal.
Make the Most of Unused Gates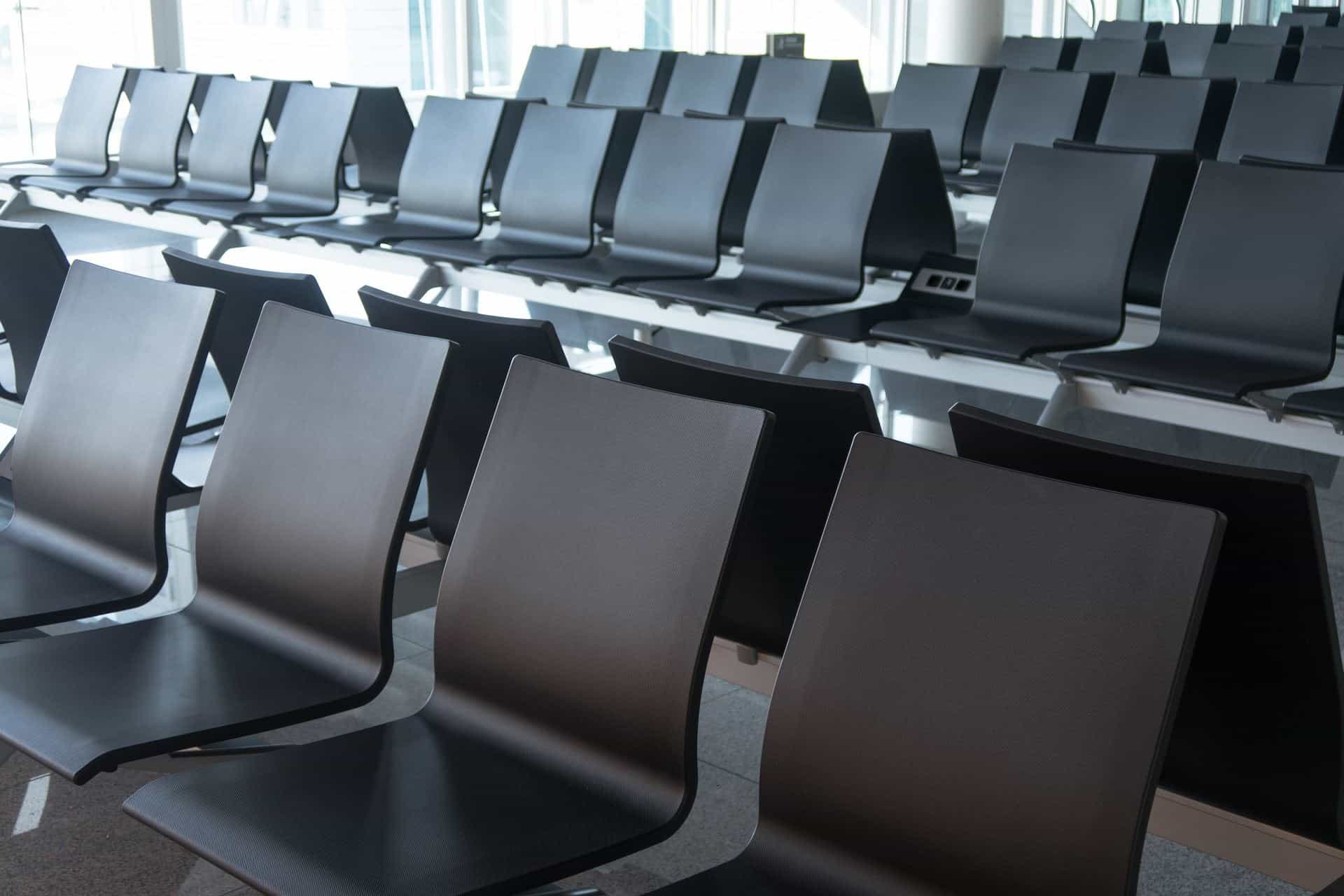 While many airports don't yet have dedicated workspaces like those mentioned above, there's one thing they all provide: unused departure gates.
If you're after some peace and quiet away from the crowds, take a close look at the departure board once you've checked in. See if you can spot a gate (or even better, several beside each other) that don't have flights leaving in the next couple of hours, and make a beeline for them.
As well as extra space, you'll also have any available power outlets to yourself. Just don't stray too far away from your actual departure gate, and try to stay within eyeshot of an information screen in case there's a change to your flight.
If not, just load up the airport's website (most have arrival and departure details on there) or use an app like Flio to get real-time flight information.
Invest in Noise-Canceling Headphones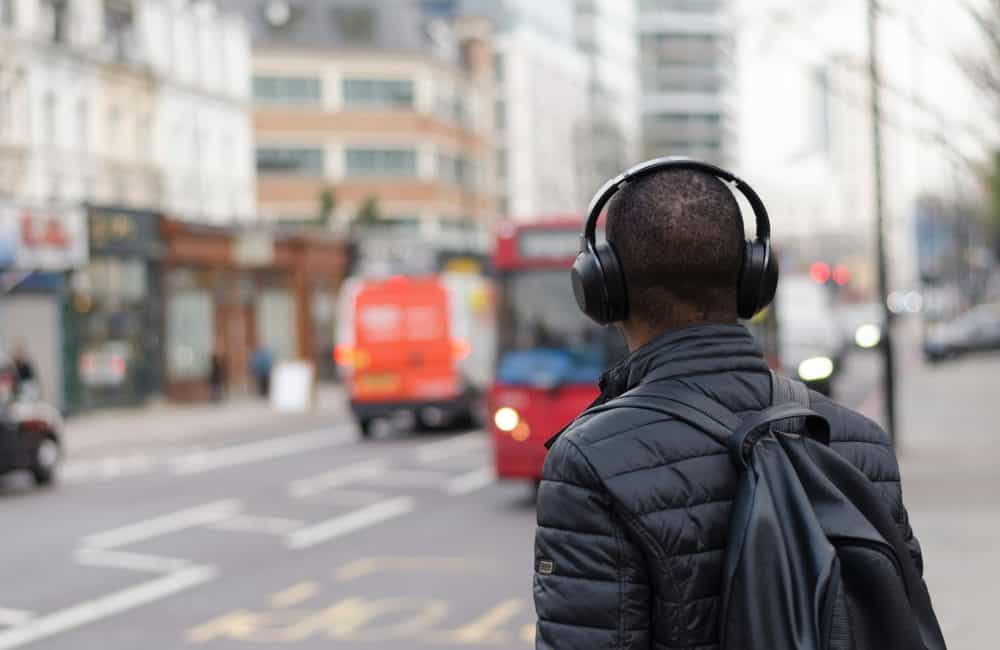 There's no question about it: airports aren't the quietest places to work. Boarding announcements, screaming kids, and the endless din of thousands of people trying to get from one place to another isn't a recipe for zen-like calm.
That's where noise-canceling headphones come in. A good set isn't cheap, but the best pairs can all but eliminate background noise entirely. Throw in their ability to cut out the drone of plane and bus engines, and they feel like they were made for long travel days. They've made a huge difference for us.
We recently took a close look at where things sit with this type of gear, and found the best noise-canceling headphones for travel in 2020.
Get Around Time-Limited Airport Wi-Fi
Once you've found a decent place to work from, it's on to the next challenge: useable Wi-Fi. Even in this day and age, a free, unlimited, fast connection is hard, if not impossible, to find at most airports around the world.
Many view it as another revenue source, and either offer nothing for free, or restrict time, speed, or both. Fortunately, there are ways to get around most time-limited Wi-Fi, at least if you're using a laptop.
This approach is pretty straightforward, and works for most networks that don't require voucher codes or other unique individual login details. Just make sure you have the app or instructions available on your machine ahead of time.
Remember that unsecured hotspots like the ones in most airports come with their own set of risks. Your data isn't encrypted as it moves across these kind of networks, which means it's essential to protect yourself with a VPN on every device you use.
Deal With Slow Airport Wi-Fi
Of course, all the free Wi-Fi in the world isn't much help if it's too slow to use. Sadly that's not uncommon, whether because the airport is deliberately reducing speeds in the hope of getting you to pay for an upgrade, or just because too many people are using it at once.
If paying for faster service is an option and prices aren't too bad, spending the money may be worth it to everything done before your plane takes off. If not, it's time for plan B.
Buy a Coffee (or a Bad Meal)
While most airport cafes and restaurants presume you'll just use the terminal Wi-Fi while you're sitting there, that's not always the case. When the airport doesn't provide any, or it's particularly slow or expensive, you may find food and beverage outlets providing their own connection as an incentive to get you in the door.
You'll typically need to pay for a coffee or light meal to get the Wi-Fi code, either because the attendant won't give it to you otherwise, or because it's printed on the receipt. Even so, the cost of a lukewarm latte or soggy sandwich is often a small price to pay for a table, chair, and potentially usable internet.
It's also rare that you'll get asked to leave, even if you're there for an hour or two. That doesn't mean the staff won't look at you funny, of course.
Bring Your Own Wi-Fi to the Airport
If you really can't find any usable or affordable Wi-Fi at the airport, take matters into your own hands. If you're only doing it occasionally, in a pinch your Android or Apple smartphone can become a personal hotspot.
Make sure cell data isn't going to cost too much, enable and connect to your phone's hotspot, and you're good to go. Just keep an eye on the battery icon!
If you find yourself working from airports often, though, a better solution is carrying a MiFi device. It works the same way as turning your phone into a hotspot, but doesn't drain your phone battery.
Either get a prepaid mobile hotspot with international service, or buy an unlocked hotspot and stick a local SIM card in it, and you're good to go. You can also share the connection with several other devices, which is ideal when traveling as a couple or group.
The All-In-One Option: Use an Airport Lounge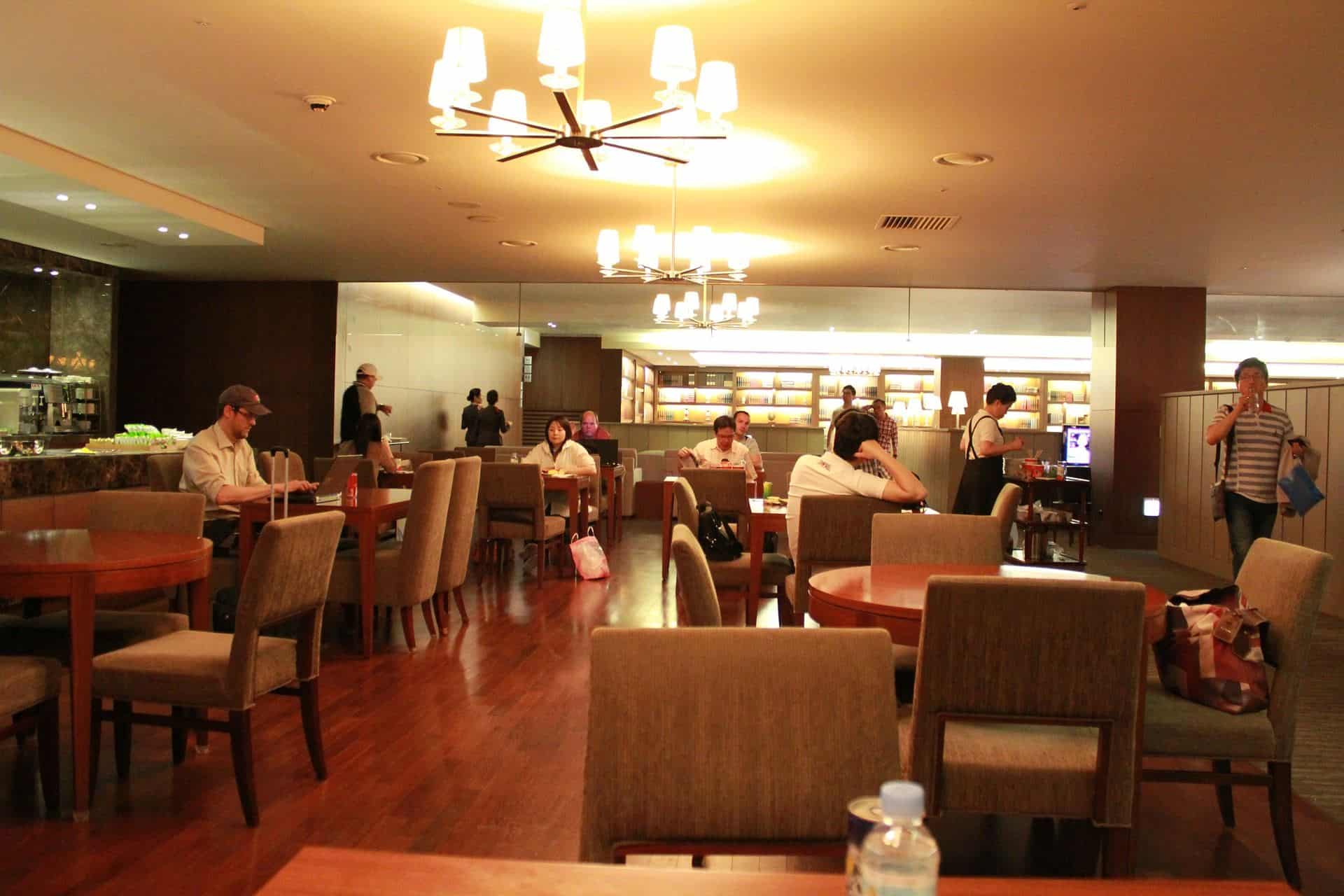 If finding a comfortable place in the terminal with accessible power sockets and fast Wi-Fi proves impossible, there's usually another option. Airport lounges, once only available to those flying in business class or with elite airline status, have become more accessible to the rest of us in recent years.
Many lounges now offer day passes, especially when they're independent rather than run by a particular airline. For your money, you'll typically get a quiet, relaxed space with areas to work, unlimited Wi-Fi that's reasonably fast, and at least some sort of food and drink option.
Some go much further, offering showers, massages, newspapers, magazines, and more. Having access to a wide food selection, comfortable sofas, a workspace, and an unlimited supply of international press isn't always all that expensive, especially when you consider the cost of airport food and drink on a long layover.
On my way to Colombia, for example, I took a much-needed hot shower at Madrid Barajas' airport after spending ten days walking the Camino de Santiago. For around 30 euros, the soft towels, finger food, and a place to work and relax felt like a very affordable luxury!
Apps like LoungeBuddy let you read lounge reviews and (if you have an American Express card) book day passes where possible. Companies like Priority Pass also offer a global membership program with access to over 1200 lounges.
Just be sure to check any lounge restrictions, including availability at peak times and whether you need to book in advance. Ensure you'll also be able to physically access it during your layover, especially if it's through security or in a different terminal.
Become Self-Sufficient
If you don't want to have to rely on always finding power sockets and usable Wi-Fi at an airport, it's time to get self-sufficient.
An increasing number of laptops can charge using an appropriate battery pack, which means an extra few hours of productivity away from a socket. These portable batteries can be relatively large and heavy, but when time is money, they're still a good option for many working travelers.
Some laptops also have inbuilt SIM card slots, which helps deal with slow or non-existent airport Wi-Fi as well. We go into more detail about a killer digital nomad setup here, that uses a small and light laptop, portable battery pack, and Google Fi SIM card to create the ultimate productivity device for under $1000.
---
What tips and tricks do you use to let you work more effectively at airports?
Images via Anna & Michal (airport scene), author (Barcelona airport working area), Taken (empty departure gate), StockSnap (man wearing headphones), FranckinJapan (dead slow), trifore (airport lounge)