In part 1 of our review, we covered some of the tech of the Dell XPS 13 Ultrabook.
Beyond the techy mumbo jumbo, what's this going to be like in your carry-on or backpack?
How Big is This Beast?
One of the standout features of the Dell XPS 13 Ultrabook is the size. It measures in at 2.99lbs (1.35kg), and with a smaller footprint and volume than the 13" Macbook Air. Compared to my current 11.6" ultralight, the XPS 13 is thinner and lighter, while only being a little wider. Very impressive.
The Build
One of the first things you notice when you pick up the XPS 13 is the machined aluminum top and a slip resistant carbon fiber bottom. It's a black & silver combo that looks good instead of tacky, thanks to an attention to detail missing from most of the other notebooks out there.
Who knew that using high-quality materials makes a product feel high quality?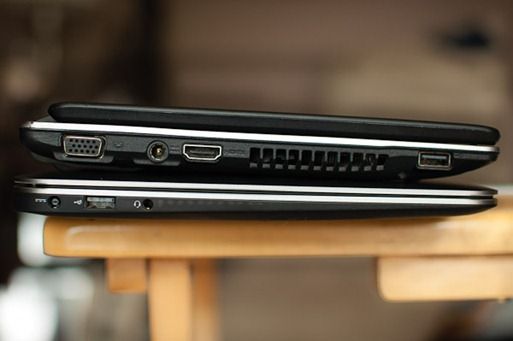 The notebook is tapered a bit toward the front, so the few ports for connectivity are positioned near the back on the left and right sides. As mentioned in part one of our review, you won't find much for connectivity options beyond a couple of USB ports (1x v3.0, 1x v2.0). For travelers, keep in mind you'll be missing an SD card slot and an Ethernet port.
One feature I really like is a battery meter on the right side. Press a little button and you can see how much juice you've got left with 1-5 little dots lighting up.
There are no bright LEDs on the top either, just a small, unassuming light bar on the front of the laptop which will change colors whether your are plugged in to AC power, nearing empty, or the computer is sleeping.
The screen, as mentioned before, looks great head on, and less so off-axis. It's actually covered in a piece of Gorilla Glass that has essentially no bezel, only a couple of mm worth of the aluminum top coming over. Presentation here looks great, though I wish it had a higher quality, higher resolution screen.
Taking the Dell XPS 13 on the Road
Built in wireless N for network access is a given, as is Bluetooth 3.0. The speakers are better than expected for a notebook of this size, thanks in part to built-in sound processing software.
There will be no hotel room parties powered by these badboys, so if you want big sound, pack your headphones or a portable speaker. The webcam and microphone that are built in are what you would expect in a laptop these days.
The battery life is not bad at all, and I squeezed about 5.5hrs to 6.5hr of usage the two times I tested. This was everyday sort of usage, web surfing, writing, WiFi, and some audio / video streaming. Pretty good to me.
Thanks to the aluminum / gorilla glass combo for the lid of the Dell XPS, it feels very solid with almost no flex. It doesn't feel like something you need to baby.
Speaking of babying a laptop, since it is outfitted with an SSD, there are essentially no moving parts in the laptop besides cooling fans inside. Less moving parts means less chance for failure, and increased durability. Score one for the road warrior.
The Wrapup
Very fast boot, wake from sleep, and usage in general
Thin design with a small footprint
Light (less than 3lbs / 1.35kg)
Decent battery life (~6hrs regular usage)
Very good build quality
Backlit keyboard
Durable exterior
No bloatware pre-installed
Expected a better trackpad on a high-end machine
Low resolution screen with poor viewing angles
No SD card slot
Mini DisplayPort instead of HDMI
The Verdict
The Dell XPS 13 is one of the nicest, most refined notebooks I've seen. Using high-quality materials pays off in both durability and style here.
While it has a few drawbacks, the majority of travelers would have their needs filled, with only the most hardcore users requiring more power or features.
The combination of power under the hood, lightweight and slim design, and a $999 price tag from Dell (we've seen it as low as $900 on Amazon) put the XPS 13 a pretty sweet spot in the market.
8/10 – Recommended
This XPS 13 was provided to us by Dell.