GoPro practically invented the "tiny action camera" market, but it's been having a tough time of late. Dozens of competitors have sprung up offering similar cameras for less money, and customers have paid attention.
One of the more successful of those competitors is Akaso. The company has sold a range of low-cost GoPro clones for a few years, and recent versions have offered impressive specifications for the price.
Today we're reviewing one of Akaso's latest models, the V50 Pro SE. The "SE" on the end stands for Special Edition, and at the time of writing, it's the highest-end model that the company sells.
Features and Specifications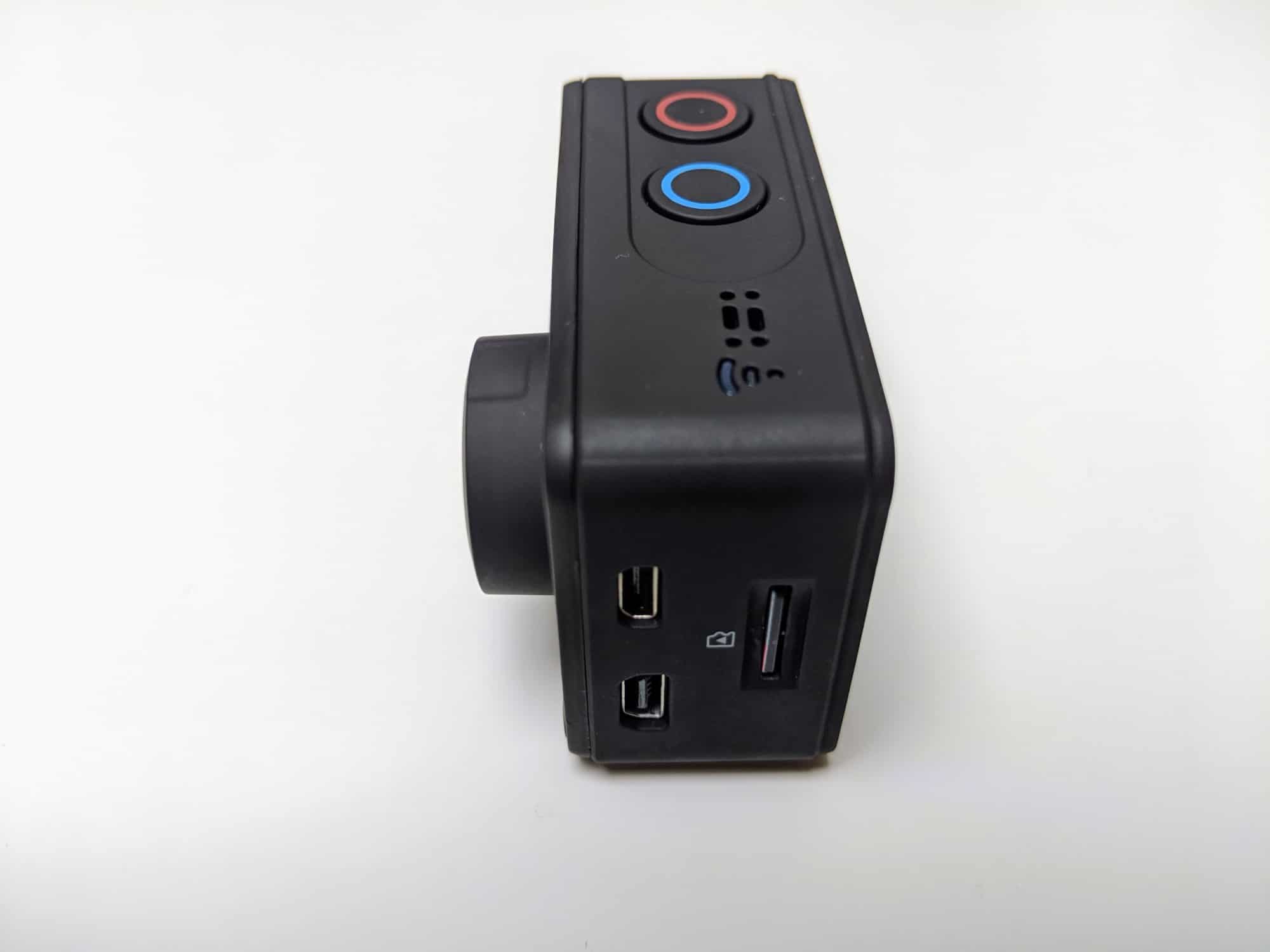 Often "Special Edition" versions of electronic gadgets aren't all that different from the standard models, but that's not the case here. You'll get a decent specification boost and some extra accessories for your money, at a price that's still around half the price of the equivalent GoPro.
It's also worth mentioning that a portion of sales from the V50 Pro SE goes to the "Leave No Trace" campaign run by the Center for Outdoor Ethics.
Physically, the camera looks much the same as any other GoPro competitor… which is to say, it looks much the same as a GoPro. Since it's compatible with the endless range of GoPro accessories, that's perhaps not a huge surprise.
Despite the low price, however, it doesn't look or feel cheaply made. The outer material is soft rather than hard plastic, and while the front is dominated by a large white Leave No Trace logo, it doesn't seem tacky.
The 2″ touchscreen on the back isn't super-high resolution, but it's nice and bright even in direct sunlight. One side holds the mini-USB charging port, a microSD card slot, and micro-HDMI for outputting to a TV or monitor if you're so inclined. You can also plug an external mic into the USB slot.
The top holds a pair of round buttons that control power, shutter, and switching between modes. Other than grills for the internal microphone and speaker, that's about it for external features.
As with most action cameras these days, there's a wide range of advertised features beyond just taking photos and video. Time-lapse, burst mode, and self-timer are all pretty standard fare, but there's also a diving mode (to compensate for the loss of red light at depth), and an auto-start mode to let you use the camera as a dashcam.
Extras like lens distortion correction (to reduce the curved, fish-eye effect of the wide-angle lens), wind noise cancellation, and image stabilization are also included.
Unlike recent GoPro models, the Akaso V50 Pro SE isn't water-resistant by itself. You'll need to put it in the bundled case for that, which is rated down to 130 feet (40m).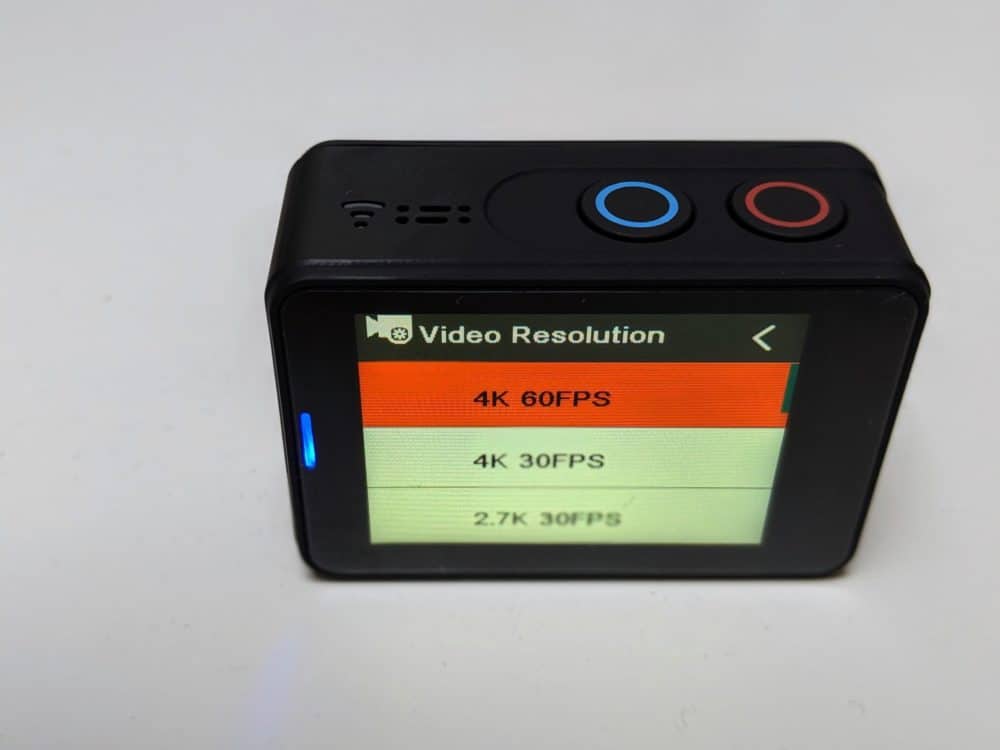 While the standard V50 Pro tops out at 4K/30fps, the SE boosts that to 4K/60fps. You won't get image stabilization when shooting at the higher rate, however. Full specs as follows:
Video Resolution:
4K/60fps, 4K/30fps, 2.7K/30fps, 1080p/120fps, 1080p/60fps, 1080p/30fps, 720p/240fps, 720p/120fps, 720p/60fps
Photo Resolution:
20MP JPG
Size:
2.4 x 1.6 x 1.2″ (60 x 41 x 32mm)
Weight:
2.2 ounces (63g)
Storage:
MicroSD (up to 64GB officially supported)
Features:
Video: Time Lapse, Slow Motion, Fast Motion
Photo: Burst, Time Lapse
Noteworthy Extras:
Image stabilization, wind noise cancelation, lens distortion correction
Battery:
1100mAh (three in box)
First Impressions
For such a small camera, the box for the Akaso V50 Pro SE seemed surprisingly large when it showed up at my door. The reason for that became clear as I opened it: there was a vast array of accessories under the plastic display case.
There were two extra batteries, and an external charger and cable for them. There was a handlebar mount, helmet mount, flat mounts with sticky strips for surfboards, and others that I still haven't figured out a use for.
A chunky wrist-mounted remote control toppled out, along with bags of cable ties and velcro strips. There were extra mounting screws and a plastic wrench to tighten them, a cleaning cloth, and a little safety tether. Let's not forget the mounting frame or spare backdoor section either.
Basically, if you need a standard type of mount for your action camera, there's a pretty good chance it'll come in the box. While some of them felt a little flimsy, with screw caps popping out and the like, they all clipped securely into place, and it's impossible to argue with the value.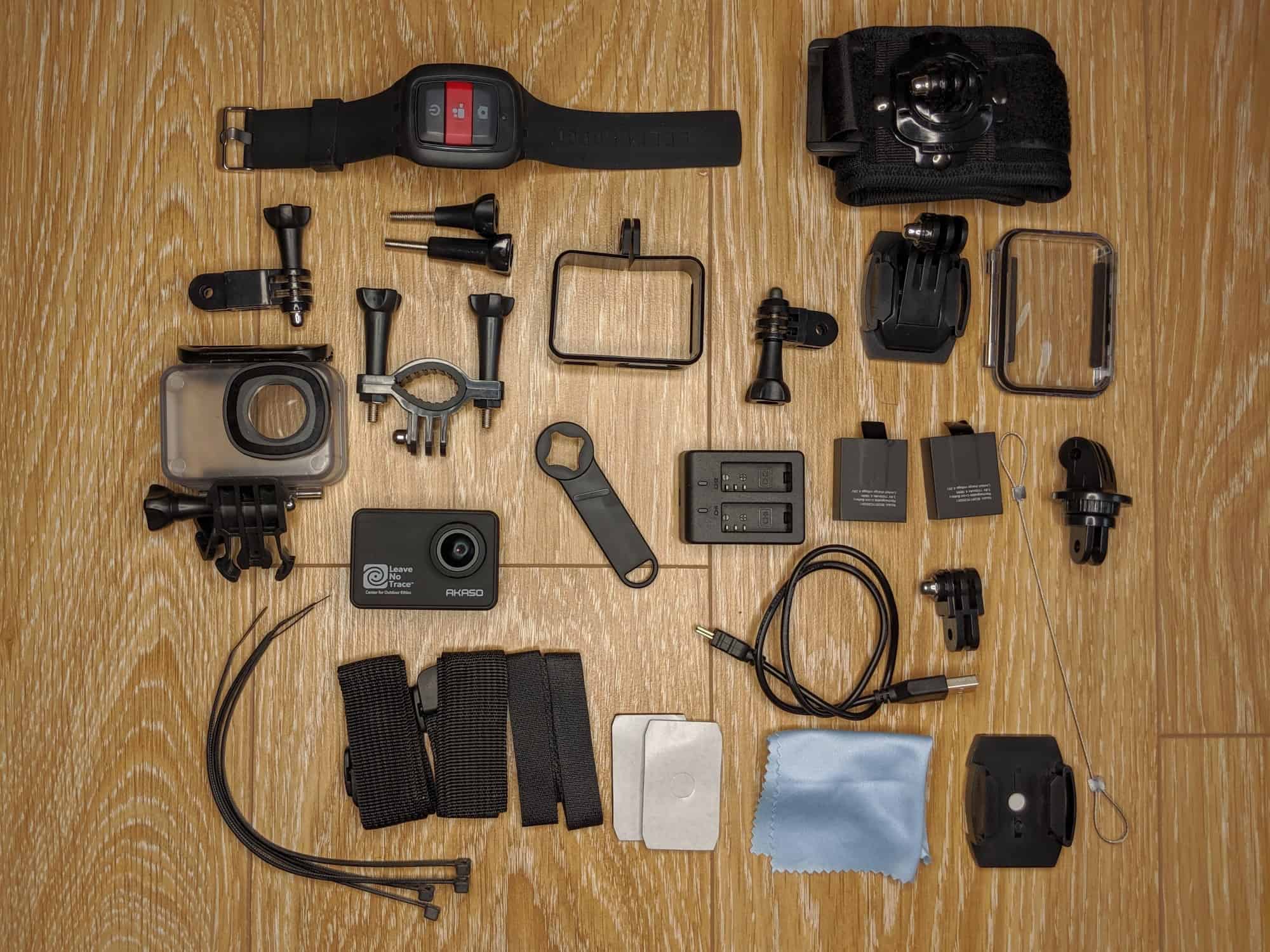 Note, however, that there's one required accessory that's not in the box: a microSD card. If you don't already have one, you'll need to buy one before you can do anything with the camera. Even if you do already have a microSD card, however, you might still need to buy a new one.
The V50 Pro will use pretty much any old microSD card you've got lying around, but you'll need a UHS-III class card to record 4k/60fps video. If your card is too slow, you'll get a message to that effect and will need to select a lower recording rate or replace the card.
While the camera itself feels quite premium, you can't say the same for its software. The interface is pretty basic, and not particularly intuitive.
I didn't find the touchscreen overly responsive either, and it often took two or three attempts to get it to register a finger tap. Still, it does the job, and you probably won't be digging deep through the menus all that often after the initial setup anyway.
The Android and iOS companion app have terrible reviews. While the design is ugly and it has an annoying quirk, I think those reviews are a little harsh. Lower your expectations a bit, and you'll be happy enough with its functionality.
The key thing to remember? If you're having trouble connecting to the camera's Wi-Fi network, try turning off mobile data on your phone first. There's no mention of this in the app or elsewhere, which would probably have avoided many of the bad reviews.
Basic tasks like switching modes and starting/stopping recording work fine, and you can change some (not all) of the settings from the app. You can also download photos and videos to your phone or tablet, as long as you select each file individually. Oddly, there's no "select all" option.
Real-World Testing
I won't be anywhere near a beach until the end of the year, so headed somewhere a little closer to home to test the camera's water resistance. Quite literally, in fact: I put the camera in its case, set it up about three feet from my front door, and unloaded several litres of water on top of it.
The camera didn't miss a beat, recording throughout its dousing. It worked equally well when I left it sitting in a sinkful of water for twenty minutes afterward. I ran a paper towel around the camera and inside of the case after disassembling it, and there was no sign of dampness.
One thing worth noting, though, is that you'll need to make sure you've turned on Wi-Fi and set the options you want to use before putting the camera in the waterproof case. The touchscreen (obviously) won't work, and while the buttons on top will get you into the settings menu, you can't actually change the options once you're in there.
I then spent an afternoon with the camera in a local park one sunny autumnal day, taking hundreds of photos and over an hour of video.
When shooting photos, the image quality was generally pretty good. While the camera occasionally struggled with the exposure in brightly-lit scenes, it was rarely bad enough to make a photo unusable. As with most action cameras, you can dial back the field of view from "super-wide" to narrower capture angles. It makes quite a difference!
Time-lapse and self-timer worked exactly as expected, as did firing the shutter from either the app or the remote. The plastic buttons on the remote felt cheap and hard to push, but they worked.
Would I replace my compact or smartphone camera with the V50 Pro SE? No, I wouldn't, but I wouldn't replace them with any other model of action camera either. For still shots during extreme weather, underwater, or fast-moving situations where I couldn't use my usual gear, though? Absolutely.
I took video in a variety of modes, both from a fixed position and while walking and jogging around. The image stabilisation smoothed out the worst of the jerky movements, and while it's no replacement for a proper gimbal, it's still fairly effective. Don't forget, though, that it's not available in 4K/60fps.
The wind noise reduction also worked pretty well, although it didn't eliminate the sound of sudden gusts entirely.
The camera includes various inbuilt filters and effects. The filters were a useful way of quickly adjusting settings for the kind of shooting you plan to do. I couldn't see myself using the effects in the real world, however: they tended to create pretty unnatural-looking colors.
Battery life was better than expected, with around a quarter left after a few hours of stop-start use in the park. Back at home I inserted a freshly-charged battery, set the screen to never turn itself off, and hit the record button. 81 minutes of unexciting video later, the camera chimed briefly and shut itself down.
Verdict
Overall, I was more impressed by the Akasao V50 Pro SE than I expected to be. Video and still images were often very good, and unless you're planning to shoot pro-level movies, you'll be happy with the results in most shooting conditions.
The camera itself looks and feels more expensive than it is, and it's always nice to know that some of the money you're paying is going to benefit a worthwhile cause.
If you're looking for the "polish" of the GoPro experience, though, you're not going to find it here. The internal software and Android app both need work, and feel quite rudimentary. It's not that you can't do what needs to be done, it just takes more work and is less intuitive to do it.
You also won't get extras like live-streaming direct from the app, or a camera that's waterproof without a case. Not needing a case would be useful for the V50 Pro SE, given you can't change most settings without the touchscreen.
Still, those are pretty minor niggles for a device that really does do most things right. It's a well-constructed little camera that offers 4K/60FPS video, good battery life, and a bunch of useful features. Pricing is extremely competitive, especially given the vast array of mounts and accessories that other companies charge extra for.
If you're in the market for an action camera with high-end specifications and don't want the bells, whistles, and price tag of the GoPro range, the Akaso V50 Pro SE should be up the top of your shortlist.
Recommended.
August 2021 update: Akaso seems to have replaced the V50 Pro SE with the V50 Elite. It's a different color and has basic voice control, but is otherwise a near-identical camera.