Picture Belize, and images of palm trees, golden beaches and a turquoise sea likely come to mind.
Picture it again, and you might hear the tune of a reggae song or the syrupy taste of rum punch. It's a place to relax, to unwind, to disconnect.
If you do need to stay connected in the country, though, it's definitely possible. It's not super-cheap, but it won't break the bank either. Here's what you need to know.
Need travel insurance for your time in Belize? We currently use HeyMondo, thanks to its comprehensive coverage options, competitive pricing, and the ability to buy or renew a policy while outside your home country. Residents of most countries get a discount with this link.
Companies
---
We recommend DigiCell for most travelers
---
Belize's telecom industry is the domain of one company: BTL (Belize Telemedia Limited). Until 2003, it had an exclusive license to operate in the country. Your only choice for a prepaid SIM card was DigiCell, the cellular division of the company.
These days there is another option (Smart!), but its services are still limited. There's a lack of both coverage and authorized agents for topping up or helping with problems.
You'll see this as soon as you arrive. Every other door will have a sign for DigiCell top-up services, whereas only a handful will have it for Smart!
DigiCell, therefore, is the way to go.
How to Buy a Prepaid SIM Card in Belize
---
DigiCell SIM cards are widely available all over the country: official stores, gas stations, convenience stores, electronic repair shops, you name it.
I saw signs for DigiCell services and top-up on virtually every door around Belize, and every single business responded affirmatively when I asked if they sold SIM cards.
I ended up purchasing my SIM card from an electronics repair shop in San Ignacio, out of sheer convenience (my bus left me right next door). The buying process was simple.
I asked for the card, double-checking it would provide me with a nano SIM for my iPhone. The seller, in turn, showed me several cards for me to pick the number. Easy peasy.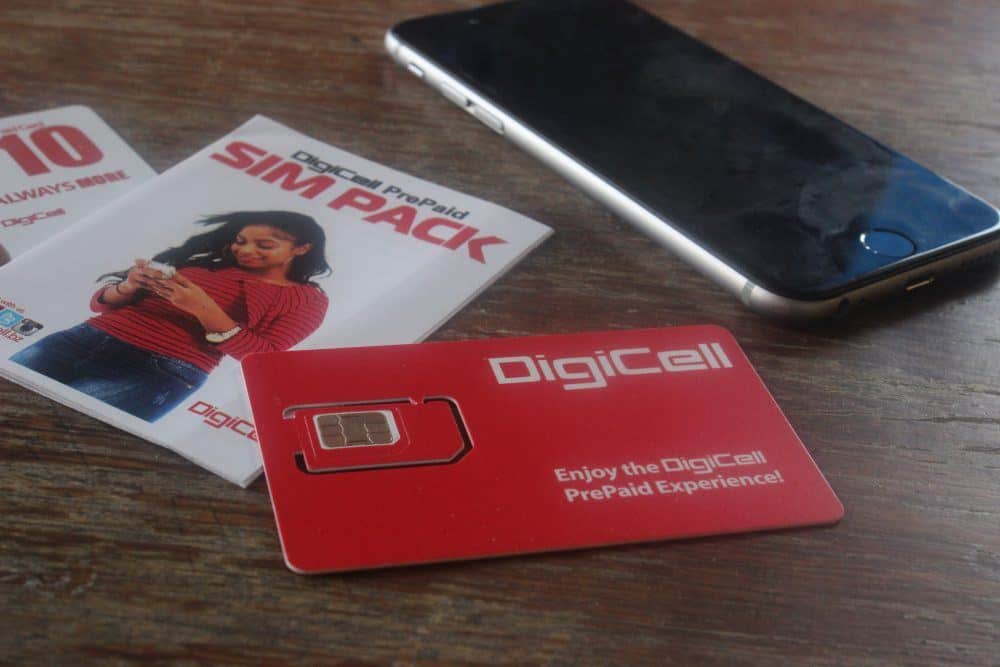 Or so I thought. I went back to my hostel, inserted the card, and then proceeded to top up with the prepaid credit that came included in the starter package.
Every time I tried to call the service, however, it would tell me the number had been disconnected due to unpaid bills. I was befuddled. How could my bill be unpaid, if I'd never had one?
As it turns out, my line hadn't been disconnected, it had just never been activated. What I never learned when I purchased my card was I needed to officially register my account in order for it to work.
As activation can't be done online, I headed to a BTL store (available in most cities, including San Ignacio) with my passport. After giving my hostel's address and answering a couple of security questions, I was all registered.
Can't be bothered with the hassle of buying a local SIM in Belize? OneSIM topped our international SIM card comparison.
It offers phones and SIM cards that work in 200 countries, have free incoming calls, save up to 85% on roaming fees, and can be sent out ahead of time to let you hit the ground running.
Find out more here.
Prepaid SIM Costs
---
The SIM card costs BZ$20 (USD$10) plus tax, and comes with BZ$10 in credit and 1GB of data, valid for 10 days. This credit could last you some time if you limit yourself to national voice calls and texts, which will set you back BZ$0.50 per minute. and BZ$0.25 per text (plus tax).
If you want more data, you'll need to purchase it separately. There are seven different data plans:
BZ$1 for 130MB for six hours (XS)
BZ$2.50 for 330MB for 24 hours (S)
BZ$5 for 680MB for three days (M)
BZ$12 for 1700MB for a week (L)
BZ$20 for 3GB for 15 days (L+)
BZ$35 for 5.5GB for 30 days (XL)
BZ$45 for 7.5GB for a month. (XXL)
In order to get the plans, you need to text DATA [plan name] to the number 400. For example, if you wanted 3GB valid for 15 days, you'd text DATA L+. The cost will be deducted from your credit, and your phone will start receiving data.
A tourist SIM card is also available from any DigiCell outlet. It lasts for 14 days and includes 3GB of data, unlimited national texts, and 300 minutes of national calls, plus 30 minutes of calls and 300 texts to North American countries. It's comparatively expensive, so unless you need the international calls and texts, there's no particular reason to go for it.
The company advertises 4G, and BTL has been very vocal about its investment in an LTE network, but I only saw 3G wherever I went (and coverage turned out not to be a guarantee of service, as explained below).
Topping Up
---
The easiest way to top up is to purchase a prepaid card, which you can find in convenience stores all over the country. Cards are available for between BZ$5 and BZ$50.
There are other options available. You can top up in person at an official BTL store, or purchase a secure e-Pin to top up via text. I'd only recommend that if you're planning to stay in Belize for several months, though.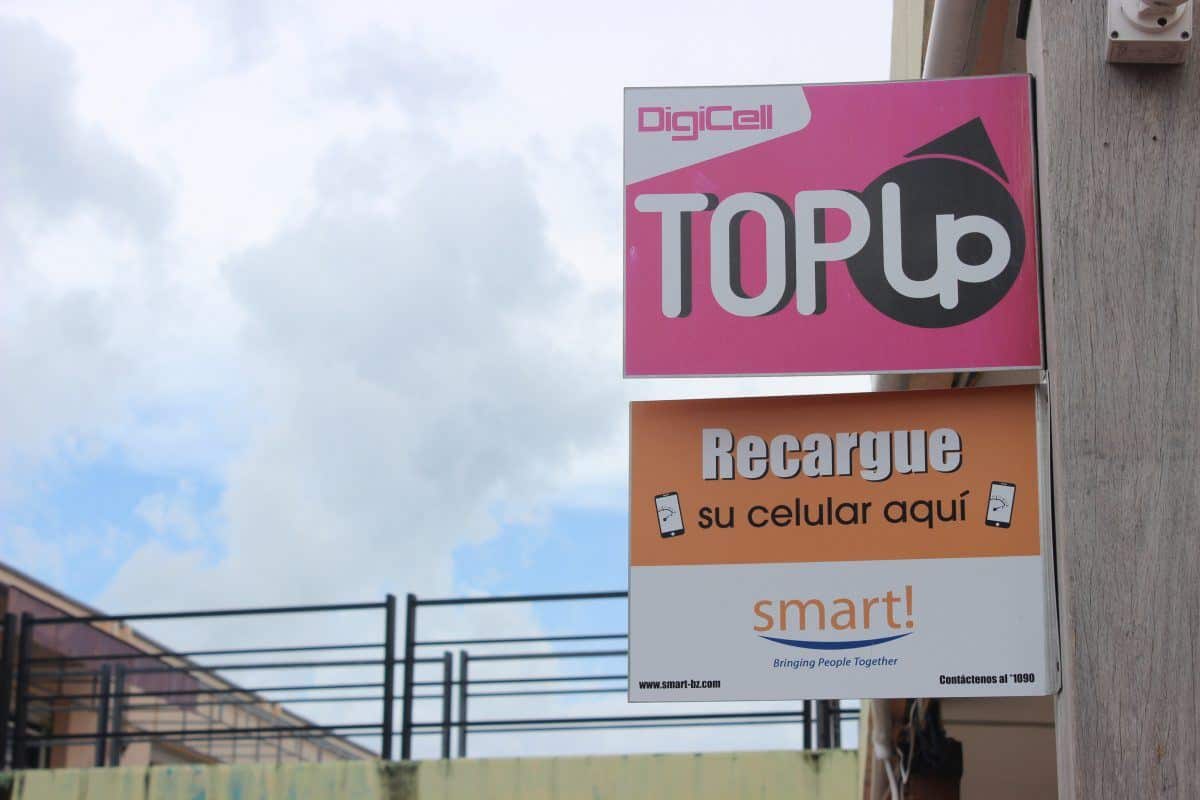 DigiCell's and BTL's websites don't allow for online top-up, but there are several third-party sites that do. My Top Ups, e-Top Up, and Ding are the three virtual agents for DigiCell top-ups, using a Visa or MasterCard.
They allow for international cards, though not without problems. In my case, my bank in Spain blocked the activity. That made it an unsuitable option for me, though you might be able to use them.
Another option is via the eCreditBelize app (available for iOS and Android), which allows to top up using your PayPal account. I used this option with no glitches, though the credit took a full day to appear on my account.
Coverage and Data Speeds
---
Despite Belize's changing landscapes and modest infrastructure, voice coverage was pretty stable throughout my stay.
From San Ignacio to Belize City to Caye Caulker to Corozal, service stayed at four or five bars. I made calls pretty consistently to information services just to check that it worked, with no problems.
Data was a different story. Despite my phone showing 3G service all over the country, I was completely unable to use it. At first I thought it was exclusive to San Ignacio, but after the situation remained unchanged in Belize City and Caye Caulker, I checked with customer service.
If you've traveled to the tropics before, you'll be aware of the concept of rainy season. Belize, as a tropical country, has two distinct seasons: dry, from November to May, and rainy, from June to October.
August and September are particularly temperamental, with hurricanes and tropical storms wreaking havoc on an annual basis, on a scale from mild annoyance to true devastation.
In the weeks prior to my trip, a major hurricane hit Belize. Fortunately there were no deaths or extreme damage. Infrastructure was affected, however, and BTL issued a statement a few days later about trying to restore service as fast as possible. In the meantime, mobile data was off, as the customer service representative told me.
Moral of this story: if your Belize trip falls in rainy season, keep in mind mobile service might be spotty, or downright lacking in some cases.
In any case, always check prior whether any hurricanes are on their way, and what to do in case they hit during your trip. Stay safe!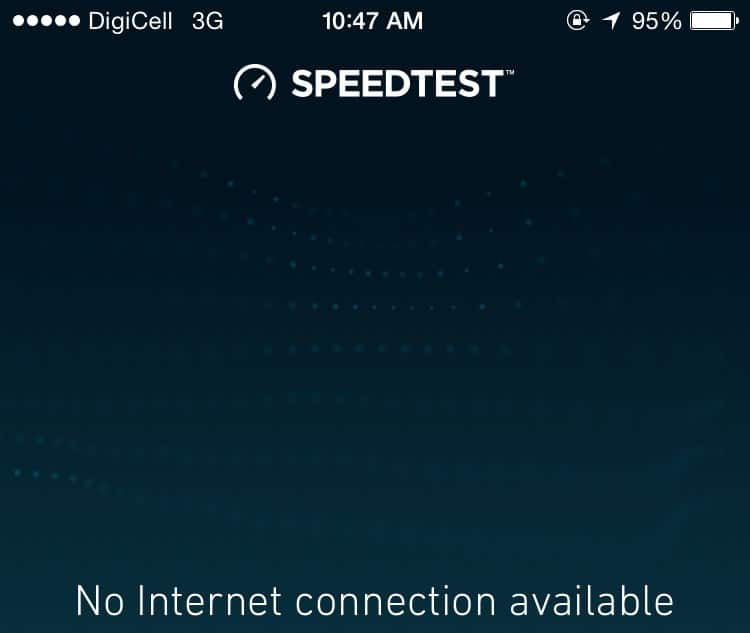 ---
Check out our guides to buying SIM cards in many other countries here.