For travelers, there's a lot to like about Cambodia. Laid-back islands and great seafood on the south coast, beautiful colonial architecture in Phnom Penh, the jaw-dropping temple complexes of Angkor Wat, and much more.
It's often overlooked by visitors to the region, especially anywhere outside Siem Reap and Angkor, but the country deserves far more time and attention than that.
If you're planning to stay connected while you're there, the news is good. It wasn't so long ago that tourists couldn't even buy a local SIM, but that's all changed in recent years.
Prices are extremely reasonable, the process is very straightforward, and speeds and coverage are more than acceptable.
Here's what you need to know.
Need travel insurance for your time in Cambodia? We currently use HeyMondo, thanks to its comprehensive coverage options, competitive pricing, and the ability to buy or renew a policy while outside your home country. Residents of most countries get a discount with this link.
Companies
---
We recommend Cellcard or Smart for most travelers
Go for Metfone if you'll be spending time in more remote areas
A Cambodia eSIM is often the best option if your device supports it
---
There are four cell networks in Cambodia, and of the major players, Metfone has the best coverage. Service with both Cellcard and Smart is generally good in the towns and cities, and reasonable outside them. 4G/LTE is available with all providers, as long as your phone supports the right frequencies.
If you're only visiting the major tourist hotspots, any of those three providers should meet your needs. If you're going well off the beaten track, stick with Metfone.
I've used both Smart and Cellcard in the past, and have found little practical difference between them. I typically end up going for Cellcard, since coverage has always been reasonable wherever I am, official stores are easy to find, and prices are low.
While this article is about buying physical SIM cards, if you have a recent iPhone or other supported device, the best way to get connected in Cambodia may be to buy an eSIM instead.
We've written an explainer of what eSIMs are all about if you're not familiar with them. Because they're software rather than a plastic card, you can buy before you leave home, avoid the hassle of kiosks and phone stores entirely, and get connected as soon as you land.
These days, we use
aloSIM
: easy to buy and set up, it's a simple, low-cost way of staying connected when you travel. You'll get a discount on your first purchase with the code
TMA
.
How to Buy a Prepaid SIM in Cambodia
---
Buying a Cellcard SIM in Cambodia is straightforward, although it's got slightly more difficult for international arrivals lately.
Pre-pandemic, when arriving into Phnom Penh airport, there was a booth in the terminal on your right as you left baggage reclaim. At the time, the person working at the booth spoke excellent English and set everything up for me in a few minutes, at no charge.
Flying in in February 2022, however, almost all of the shops in the arrivals area were closed (other than a money changer), and much of the space had been converted into a Covid-19 testing facility. I couldn't see anywhere to buy a SIM, which means for now, you'll likely need to wait until you get into the city to purchase.
At the time, Cambodia was still testing passengers for Covid on arrival, and those with a positive result were whisked off to a government quarantine camp unless they had an approved place to isolate. If you needed data or to call/text someone to arrange this, it was a bit of a problem.
As a result, I'd bought and set up a Cambodia eSIM from Airalo on my phone before flying out, just in case. It started working before I got off the plane, and with 1GB of data valid for a week for $4.50, it felt like a good insurance policy.
Now that testing on arrival has been scrapped, the urgency around having a working phone isn't so high. Even so, if your phone has eSIM support, it's still worth considering if you want data service immediately: I can't currently confirm whether SIM card vendors have returned to the airport.
Note that you can also buy 3-5GB of data valid for a month from the same company, so if you have the right kind of phone and don't need a lot of data for your stay, you may be able to avoid buying a local SIM altogether.
When and if you do come to buy a physical SIM, at least it's still not a complicated process. You'll see Cellcard signs everywhere, but while any tiny store can likely sell you a SIM card, you'll get better service (and the correct pricing) at official stores.
I've bought mine in both Phnom Penh and Kampot, and the process was straightforward in both cases. After checking what kind of call/text/data package I needed, setup was handled by the salesperson. All I needed was my passport, ten minutes of my time, and a few dollars.
Prepaid SIM Costs
---
Both the card and data packages were very inexpensive. You'll pay all of $1 for the card itself (Cambodia operates a dual currency system, but all prices were quoted in USD).
In the past, I was asked to pick one of around a dozen different data packages from a poster on the wall. This time, when I said I'd be in the country for a month, the salesperson offered two choices from the Cellcard4U packages: 30GB for $5 or 70GB for $10.
These are both valid for 35 days, and include 3000+ texts and unlimited calls to other Cellcard numbers. I went for the first option, which meant I paid a grand total of $6 to be connected for a month, with more data than I'm ever likely to use.
If you think you'll need to call or text other Cambodian numbers that aren't with Cellcard, it might be worth loading another dollar or two of credit onto your prepaid balance at the same time (or just use WhatsApp like everyone else does.) If you have enough credit on your account when a package runs out, it'll automatically renew.
A tourist SIM option is also available in some stores. Costing $6, it's valid for a week and includes 5GB of data per day, with some credit for domestic calls and texts. There's no particular reason to seek it out, but since it's reasonably-priced and you can top up after the initial package expires, it's not a terrible option either.
Topping Up
---
It's almost impossible to walk a hundred meters in any Cambodian town without seeing the logo for a cell company. You'll be able to top up pretty much anywhere you're ever likely to be as a tourist.
Coverage and Data Speeds
---
Coverage was good with both Smart and Cellcard in the major towns and cities I visited, but less so outside them.
I had full LTE signal in Phnom Penh, Kampot, Siem Reap, Battambang, and in and around Sihanoukville. Coverage in Kep was more variable, though, and there was only limited (or no) service in much of the Angkor Wat complex and on the roads between towns.
Even with LTE service, data speeds were variable, and I found Cellcard to be noticeably slower in Phnom Penh than elsewhere. That said, it was always fast enough for anything I wanted to do, whether that was web browsing, emails, using maps, or making video calls.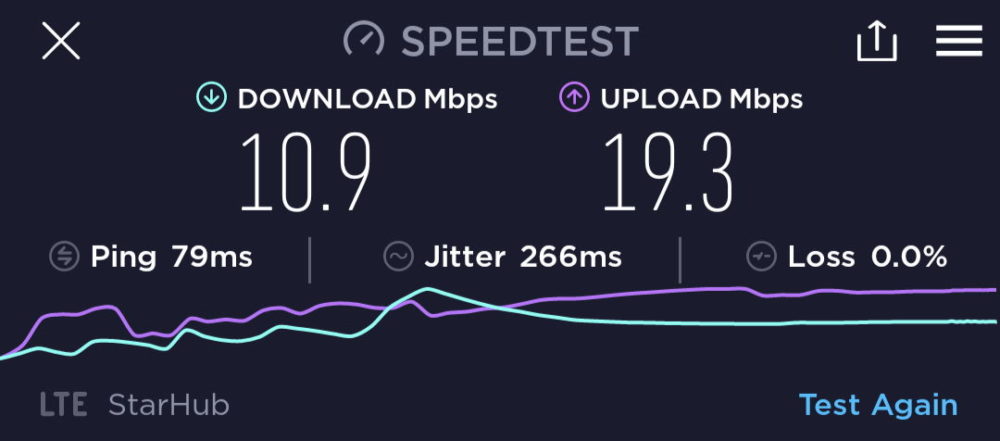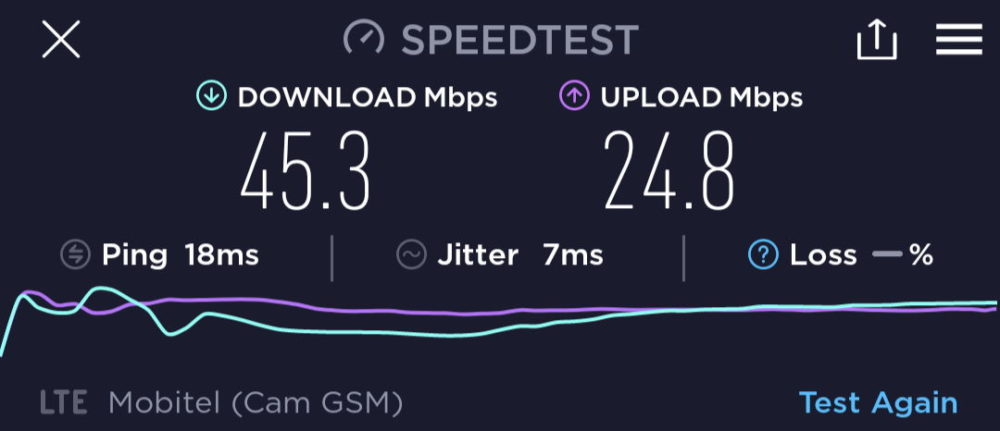 ---
Check out our guides to buying SIM cards in many other countries here.