Kenya is a classic East African safari destination, and the wildlife is what draws most travelers to visit. The country is also home to more than 300 miles of Indian Ocean coastline, breathtaking hiking through a variety of landscapes, and a vibrant capital city, Nairobi.
My husband and I visited for all of these reasons, and, although we don't always buy local SIM cards while traveling, we found a working phone was crucial for arranging transportation on this trip.
Once we realized that, getting our phones working was simple and service was good. 4G/LTE coverage is available throughout the country, although speeds sometimes suffer as mobile towers get overloaded.
Need travel insurance for your time in Kenya? We currently use HeyMondo, thanks to its comprehensive coverage options, competitive pricing, and the ability to buy or renew a policy while outside your home country. Residents of most countries get a discount with this link.
Companies
---
We recommend Safaricom for most travelers
---
Safaricom has a bit of a monopoly with 65% of the market share, but there's comfort in knowing you're using the same service as most of the locals. It was the first company to get 4G/LTE capabilities in Kenya, and also owns M-PESA, a mobile phone-based money transfer service used by more than a third of the population. 
The other two major cell service providers are Airtel and Telkom, who are in the process of merging in order to better compete with Safaricom. For now, though, Airtel is the second-largest provider, with 4G/LTE service in Kenya's major cities and 3G in other parts of the country.
Its plans are cheaper than Safaricom's, so might be worth looking into if you're staying around Nairobi or Mombasa during your visit. We went with Safaricom on the recommendation of several of my husband's local coworkers. We were happy with this choice because we also wanted to use M-PESA during our visit.
How to Buy a SIM Card in Kenya
---
Getting a Safaricom SIM card was an easy process. We were staying in Nairobi's Westlands neighborhood and went to the Safaricom store in the Sarit Center, a local mall.
We took a numbered ticket when we arrived and waited a few minutes for our number to be called. At the counter, a Safaricom employee walked us through our options and got us set up with a SIM card in about 10 minutes.
We then sat back down to wait until someone else could help us set up an M-PESA account. The whole process took about 30 minutes, but would be quicker if you don't want an M-PESA account.
Although we didn't buy our SIM card at the airport in Nairobi, we could have. Airtel and Safaricom both have stores at Jomo Kenyatta International Airport. The Safaricom store is just outside the baggage claim area. Because it's an official retailer, a SIM card costs the same amount there as it does anywhere else.
As I mentioned, Safaricom has the largest market share in Kenya and you'll notice this as you're traveling around the country. In addition to official Safaricom stores, there are shipping containers painted Safaricom's bright green in every neighborhood where you can top up or add money to your M-PESA account.
You probably could buy a SIM card at one of these makeshift stores, but I wouldn't recommend it. SIM cards in Kenya need to be registered to the individual using them, so you'll need your passport to buy one, and don't want to risk buying one that's being illegally resold.
You're likely to get more professional, English-language service at an official store. English is one of Kenya's official languages, so don't worry about a language barrier in cities and commonly touristed areas.
Prepaid SIM Costs
---
As I mentioned earlier, Airtel is a bit cheaper than Safaricom, but neither will break the bank. A Safaricom SIM card costs 100 Kenyan Shillings (KES) (that's about $1 USD), to which you add one of a variety of daily, weekly, and monthly data plans.
You can also buy non-expiring data in various amounts, but this tends to be less valuable for visitors in the country for a few days or weeks than it is for locals.
I went for a weekly plan: 1GB of data for 250 KES (~$2.50). It also included unlimited use of Whatsapp, which didn't come out of my data allowance. Safaricom was good about notifying me 48 hours before my plan expired.
If you buy a new bundle before the old one expires, you can roll over unused data. We also put 1000 KES (~$10) of airtime onto our phones. If I'd run out of data, my phone could have pulled from that pool. 
Obviously, you know best how much data you need. We had Wi-Fi at the places we stayed and used our data primarily on apps like Uber and Taxify to get around.
Nairobi isn't a very walkable city, and our local friends advised us to always contact taxis via an app rather than getting into one on the street. Having a working phone was also necessary because Kenyan (app-based) taxi drivers have a funny habit of calling to confirm where they should pick you up.
It doesn't matter that you already included your location in the app, they will call and want to hear it from you. If they can't get through to you, they'll cancel the ride. If you want to travel independently in Kenya (i.e., without a tour group or hotel setting everything up for you), a local SIM card will make the process exponentially easier.
I would also recommend setting up an M-PESA account when you get your SIM card. We had more than one cab driver refuse to take us because we wanted to pay them with cash, but they only wanted to be paid with M-PESA.
Topping Up
---
Topping up was easy with an M-PESA account. In the SIM card settings menu (it was called SIM Toolkit on our phone), we chose M-PESA, then "buy airtime."
We needed to enter our phone number, the amount of airtime we wanted, and the M-PESA pin we got when creating the account. We just waited for an SMS confirming the purchase.
Online top-up should be doable for foreigners without M-PESA, but I haven't personally tried. Your other option is to visit one of those bright green shipping containers or any stall/store with a Safaricom sign and buy a Bamba voucher for the amount of airtime you want.
Coverage and Data Speeds
---
Coverage in Kenya is pretty comprehensive, if not always fast. You might not have service deep in the national parks, but you will at park entrances. We visited Mt. Longonot National Park and paid the entrance fee with M-PESA, for example, which wouldn't have been possible without service.
One of Safaricom's selling points is that they actually have service in Masai Mara, the country's most popular safari destination.
We used data most often in Nairobi, where the speeds were decent. An evening speed test (below) showed much higher upload speeds than download speeds on Safaricom's 4G/LTE network. This is almost certainly due to congestion, a testament to how many Kenyans use Safaricom!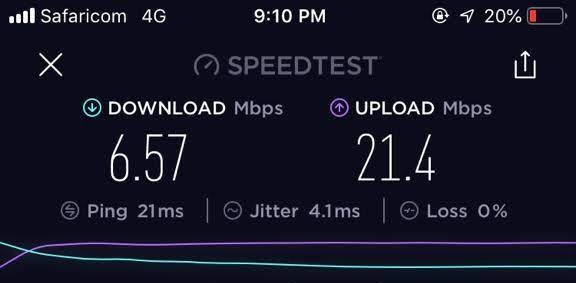 ---
Check out our guides to buying SIM cards in many other countries here.