Like much of the rest of Southeast Asia, Thailand offers an awful lot to travelers. Beautiful beaches and landscapes, great weather, fantastic food, and low prices make it an appealing destination, and many millions of visitors flock to the country every year.
For those looking to stay connected in the Land of Smiles, buying a prepaid SIM card as a tourist is a fairly straightforward and inexpensive process. Data allowances are typically quite generous, and you'll get decent speeds and good coverage almost anywhere you're likely to be.
We've spent years traveling through the country, from busy cities and towns to quiet islands and isolated rural areas. Having tried all the major cell companies, we've found the best Thai SIM card for most visitors, whether you're on vacation for a few days or plan to stay for weeks or months at a time.
Here's everything you need to know.
Got travel insurance for your Thailand trip yet? A good policy can cover you for all kinds of sticky situations, from medical emergencies to canceled flights, theft, lost luggage, and more. We've been using
World Nomads
for over a decade.
Companies
---
We recommend AIS for most travelers
Consider TrueMove or Happy if you're not venturing too far off the beaten track
---
There are three cell networks in Thailand, operated by dtac, AIS, and TrueMove. While you can also buy SIM cards and service from resellers, there's little point in doing so for most tourists and other short-term visitors.
AIS has the best coverage and largest market share, plus a large network of Wi-Fi hotspots you can access as part of the more expensive packages. It seems like you're rarely far from one of these hotspots in any good-sized city or town, and they don't count towards your mobile data allowance.
Prices are broadly similar to the competition, so for the majority of visitors to Thailand, AIS SIM cards are the best option. 3G/HSPA+ is available on the 900 and 2100Mhz bands, while 4G/LTE is provided on 1800 and 2100Mhz (LTE bands 1 and 3.)
I've also used TrueMove and dtac's Happy prepaid services, and both provided good coverage and speeds in towns and cities. They did have noticeable service gaps in rural areas and on less-populated islands, however.
All providers offer LTE service in 80-90% of the country, including all major cities and towns.
How to Buy a Prepaid SIM Card in Thailand
---
Like many other things in Thailand, buying a SIM card is quite simple, especially if you fly into either of Bangkok's airports. At both Suvarnabhumi and Don Mueang, all three cell companies have booths beside each other in the arrival hall.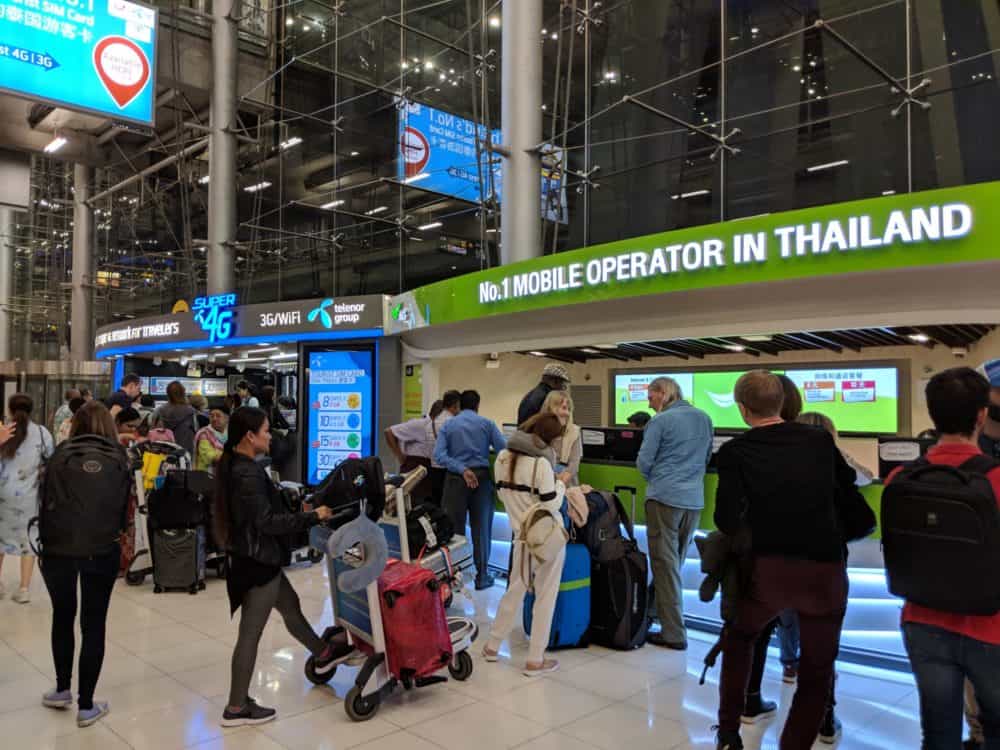 The booths at Suvarnabhumi are often busy, with long lines for all providers. Staff are efficient and the lines move fairly quickly, but if you're tired and grumpy after a long flight, it's not the most enjoyable experience.
dtac (Happy) has a self-service machine right beside its booth in the main arrival area, which takes cards and Thai baht notes. Customers were ignoring it despite the long line for counter service on my last trip, so my partner used it to buy herself a SIM in under a minute.
There's also a small AIS booth in the international baggage reclaim area at Suvarnabhumi, before you go through to the arrivals hall. It's often much less busy than the one in the main arrival hall, so if you're planning to buy an AIS tourist SIM at the airport anyway, this can be the place to do it.
All of the airport booths and machines offer pretty similar, tourist-focused packages, aimed mainly at those spending a week or two in the country. It's possible to buy SIMs at other international airports in Thailand as well, including Chiang Mai and Phuket.
If you're in a hurry and not in Thailand for long, feel free to pick up one of these tourist SIM card packages. For better deals, seek out convenience stores or official retail shops outside the airport.
Thailand bought in stricter requirements for buying SIMs in late 2017, which means the days of just handing over cash at the corner store are gone. Foreigners now need to provide their passport and have their photo taken as part of the registration process.
I experienced this first hand on my last couple of trips to Bangkok, both at a 7-11 and an official carrier store in a shopping mall. In both cases, the staff member took a copy of my passport and snapped a photo of me on a phone or tablet app.
I'm not a fan of onerous identification requirements like these. Unless you're buying from a street vendor and are happy with a used SIM that could be shut off at any time, however, you're pretty much stuck with it.
On the upside, the rest of the process was relatively painless. At the store, I took a number for an English-speaking sales rep, picked a call/text/data package from a printed brochure at the counter, and handed over the money.
The rep did the rest, including activating the SIM, loading my credit onto it, and selecting the right package. It took about ten minutes in total, and the SIM worked immediately.
At the 7-11, I asked for a basic SIM card, then picked a package from a list on the cashier's screen. After paying for the card and a top-up voucher to cover the total amount, I installed the SIM and added the credit using the instructions on the voucher.
Finally, the cashier gave me the right text code to enter for the package I was after, which activated immediately. Again, the process took about ten minutes.
Don't want to wait until you arrive in Thailand to get your prepaid SIM card? Buy it in advance instead! SIMOptions ships AIS SIM cards worldwide, letting you get set up ahead of time.
Just drop in your new card when you land and you'll be connected with calls, texts, and plenty of data before you even leave baggage claim. Find out more here.
If your device supports it, it's also worth considering a Thailand eSIM. You'll get inexpensive unlimited data for a specified period, without having to find, buy, or swap physical SIM cards.
Prepaid SIM Costs
---
Most of the tourist SIM cards sold at airports in Thailand offer "unlimited" data packages. With them, you get a certain amount of high-speed data, and greatly-reduced speeds after that. A small amount of call credit may or may not be included as well.
The AIS packages include an 8-day version for 299 baht (~$9) with 15GB of high-speed data and a 15-day package with 30GB of data for 599 baht (~$18). You'll get 15 THB call and text credit with either SIM, access to the AIS Wi-Fi network, and cheaper calls to several international destinations.
Both dtac and TrueMove have similar pricing, albeit with small variations in data allowances and validity periods.
None are great value compared to purchasing outside the airport, but if you're in a hurry and happy to pay for convenience, they're still relatively inexpensive by global standards.
If you're staying longer or want to save money, buy your SIM card from a convenience store or official outlet elsewhere in Thailand. There, you'll have access to the full range of call, text, and data packages. They are many and varied, with validity ranging from a day to a month.
Note that if you're planning to buy from a convenience store, not all chains sell all SIM cards. 7-11 doesn't sell AIS SIMs, for example, and a Tesco Lotus store I walked into near Don Mueang didn't sell SIM cards at all.
On an earlier trip, I bought a SIM from an AIS store in a mall in Bangkok. The SIM card cost 50 baht (~$1.50), and for 427 baht including tax (~$13), I received 3GB of LTE data valid for a month, plus access to the high-speed AIS SUPER WI-FI network. I also added a few extra baht to cover the occasional call and text.
In the interests of research on my most recent trip, I decided to buy a TrueMove SIM from a 7-11 in Bangkok instead. There, the SIM cost 49 baht, plus 399 baht (~$12) for 4GB of high-speed data valid for 30 days.
Topping Up
---
You can buy top-ups pretty much anywhere in Thailand, including many convenience stores, AIS retail locations, and several other places. Just keep an eye out for the AIS / 1-2-Call logo. It's also possible to top up online with a credit/debit card on the AIS website.
No matter how you top up, you may then need to purchase or renew the actual package you want to use. Be sure to do this, as the default call, text, and data rates aren't particularly cheap.
Calling *777# from your phone should give an interactive menu for choosing your package — take a look on the AIS site for more details. To switch your AIS SIM from Thai to English, enter *700*9*7*2# and wait a minute or two for the confirmation text.
Coverage and Data Speeds
---
AIS coverage is good almost anywhere you're likely to go as a tourist, and much of the rest of the country as well.
I've had full signal most of the time in Bangkok, Chiang Mai, Phuket and other provincial capitals, as well as on bus and scooter trips in the countryside and on several islands. I even had service for a while after crossing the border into Cambodia, at least until I got outside the range of the last Thai cell tower.
Data speeds are reasonable, but definitely vary depending on where you are, and how busy the cell tower is that you're using. I had much faster LTE speeds in Chiang Mai than Bangkok, for instance.
It's also worth mentioning the exceptional speed of the AIS SUPER WI-FI network. I regularly saw over 150Mbps download speeds when connected to it, and since it doesn't count towards your cellular data allowance, it's well worth using this network if your SIM package includes access to it.


As mentioned earlier, TrueMove and dtac/Happy coverage and speeds are good in populated areas but tend to drop off in more isolated spots. Traveling through the Trang island group with a TrueMove SIM, for instance, I usually (but not always) had 3G/HSPA+ service, with acceptable but not fast speeds.
4G/LTE speeds in Phuket, however, were very quick.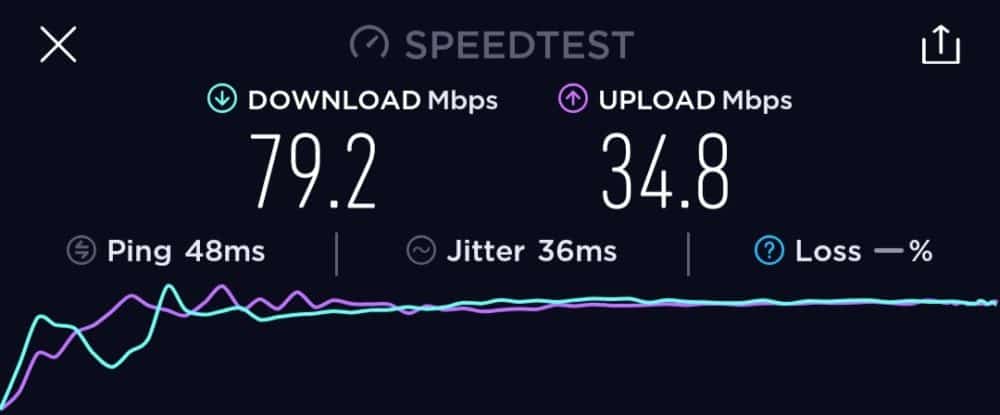 ---
Check out our guides to buying SIM cards in many other countries here.