Zimbabwe. The land of mighty Victoria Falls, Matopos rock formations older than pretty much anything else on the planet, local currency that spiked into trillions ten years ago, and the new (old?) order after Robert Mugabe's 37 years in power came to screeching halt in 2017.
Economically, things have calmed down a bit since the US dollar was introduced into official circulation. As in many developing countries, cellular network speeds and coverage are quickly surpassing expensive and slow Wi-Fi connections, especially after a recent upgrade to LTE.
Zimbabwe remains an expensive place to stay connected, however, especially if you plan to use a lot of cellular data.
Need travel insurance for your time in Zimbabwe? We currently use HeyMondo, thanks to its comprehensive coverage options, competitive pricing, and the ability to buy or renew a policy while outside your home country. Residents of most countries get a discount with this link.
Companies
---
We recommend Econet for most travelers
---
Econet and Telecel are the two dominant players in the Zimbabwe cellular market. A very-unscientific survey of several locals in Victoria Falls resulted in a strong case for the former (as in, every single person recommended Econet, with many mentioning better coverage as the reason).
This was further confirmed by the constant presence of a queue of locals at the Econet office, while I didn't see a single person inside the Telecel store in three days. Note that both offices were only open for half the day on Saturdays, and closed on Sundays.
So, Econet it was!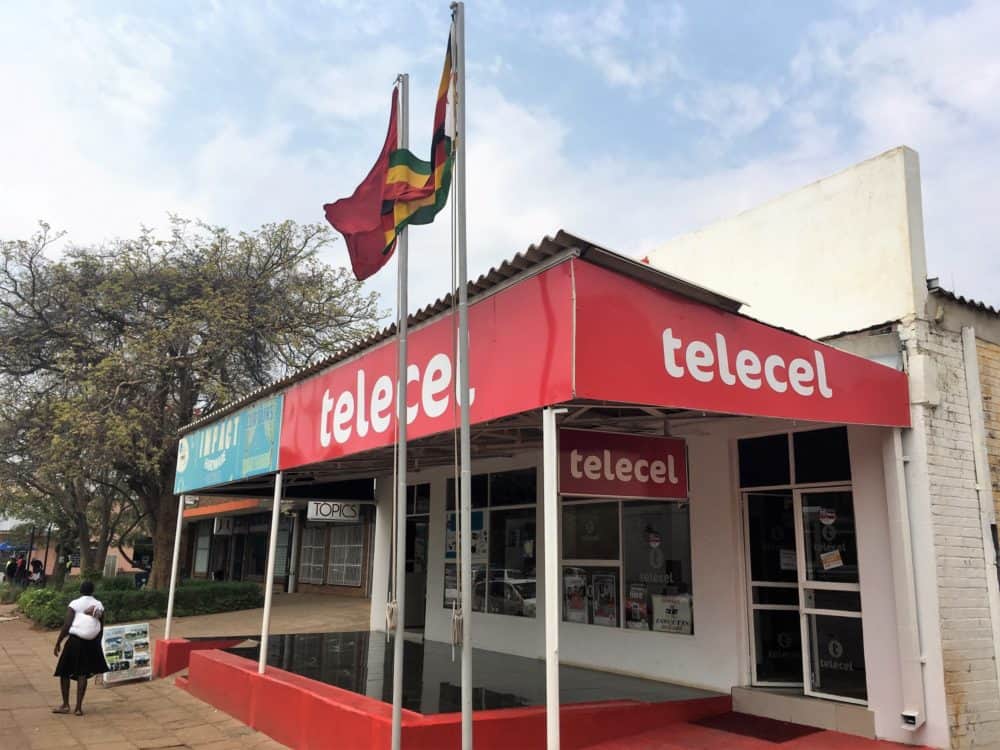 How to Buy a Prepaid SIM Card in Zimbabwe
---
Both Econet and Telecel's offices were located on Park Way, the main tourist drag in Victoria Falls. There were also prominent offices for both in Bulawayo and Lusaka.
You have to go into one of the official offices in order to buy and register the SIM card, and don't forget your passport!
With multiple queues at the Econet office, I was told to line up in the "Replacements" line. While in line, I also filled out the top part of the registration form.
It asked for local and permanent addresses, and I just put the name of the rest camp I was staying at. That seemed to suffice, although the staff seemed to be noticeably more demanding of the locals in line ahead of me.
The queue moved slowly — it took about half an hour to get through the three people in front of me. It was even worse early in the morning, as the line stretched down the block, and would have taken hours.
Once I reached the representative, she was friendly and helpful. After explaining the different options and costs (more on those below), she took my registration form and made a copy of my passport.
After paying (by credit card) for both SIM card and airtime credit, she quickly explained the way around the service menu on my phone, and I was off. The SIM card itself had cutouts for all three sizes.
The Telecel office seemed to have a similar procedure, also requiring a passport and filling in a registration form.
Prepaid SIM Costs
---
Both Econet and Telecel charge 50c (USD) for a new prepaid SIM card, which is then topped up with cash/credit card/Ecocash to activate any of the service plans.
Strangely, the Econet office didn't have any fliers or any information on plan costs anywhere. I had to wait in line for the representative to find out what my options were, although they're apparently listed on the company website as well.
Here's a quick summary of Econet's data options.
Daily plans (expiring 24 hours from activation)
$1 – 250MB cellular data + 250MB Econet Wi-Fi
$2 – 1GB cellular data + 1GB Econet Wi-Fi
$3 – 2GB cellular data + 2GB Econet Wi-Fi
Weekly plans
$3 – 120MB cellular data + 120MB Econet Wi-Fi
$5 – 300MB cellular data + 300MB Econet Wi-Fi
$10 – 650MB cellular data + 650MB Econet Wi-Fi
Monthly plans
$10 – 400MB cellular data + 400MB Econet Wi-Fi
$20 – 850MB cellular data + 850MB Econet Wi-Fi
$35 – 1.5GB cellular data + 1.5GB Econet Wi-Fi
$50 – 2.5GB cellular data + 2.5GB Econet Wi-Fi
None of the weekly or monthly plans are good value if you plan on using a lot of data. Daily plans are really where it's at.
I didn't realize this initially, and paid $10 for the measly 650MB weekly plan that I blew through in a couple of days. I switched to daily 1GB and 2GB bundles after that.
To check current rates, dial *143# and choose option 1 for Data Bundles.
Since you're unlikely to have an Ecocash account, the activation of any prepaid bundle is a two-step process:
Load the amount needed to your account as airtime
Use airtime credit to purchase the bundle you desire
Note that step 1 is initially done at the office, and you can top up anywhere after that. Step 2 is done by you on your phone, by dialing *143# and replying with option 1 (Data Bundles) to select from the menu of bundles listed above.
To check your balance, dial *143# and choose option 3 (Account Balance). I found it didn't update often enough to be effective, however, so just ended up using the data meter built into iOS instead.
Telecel options were structured in a different manner. The "Megaboost" packs included call time and texts, but data allowances were small. Data-only "Go" packs were also available, but expensive.
Topping Up
---
Once I blew through my weekly data allowance with Econet, I topped up my balance at their office in Bulawayo. It was as simple as providing them my phone number, saying how much airtime credit (that's the key) I wanted, and paying with my credit card (or cash if you wish). I received a confirmation text message right away.
If there are no offices in sight, you can also buy an Econect voucher from any number of street vendors, and add that to your account instead.
When adding to your airtime balance, it's a good idea to shut off your cellular data. This avoids per-use charges draining your balance while you wrestle with the phone menu to select the right plan. You can also ask the representative to disable casual data usage when buying your SIM card.
Coverage and Data Speeds
---
Overall, I found Econect 3G/HSPA+ coverage to be very extensive. Major population centers were covered by LTE, sometimes at very impressive speeds.
I traveled the country as part of an overlanding tour that started in Victoria Falls, headed south to Bulawayo and nearby Matopos, then east to Masvingo. From there we headed north through Harare, to Lusaka in Zambia. Curiously, I rarely encountered areas with 2G/EDGE coverage. It was either 3G or no service at all.
However, rather annoyingly, what my iPhone displayed and what was actually available weren't always the same. In many rural areas, with 3G showing on my phone, nothing would actually load even if I had full service. It was the same story in a few of the EDGE coverage areas -– not even Whatsapp or email would work.
Furthermore, if the signal strength was only one bar, nothing loaded. To make things worse, for some reason the phone wouldn't automatically drop back to a "lesser" network.
On the outskirts of cities, for instance, LTE signal would go down to one bar, and the Internet would stop working until I manually forced the phone to switch to 3G. I'd then have 3-4 bars of strong 3G service, and my connection would kick back into life.

---
Check out our guides to buying SIM cards in many other countries here.