"There is not enough available storage to take a photo."
Hands up if you've ever seen this message, or one like it, on your phone or tablet. We use our mobile devices for so many things while traveling these days, it's way too easy to run out of space.
By the time you've added your favorite apps, saved some maps to use offline, downloaded a bunch of podcasts, and shot a few days worth of photos and video, the storage on older devices in particular is often bursting at the seams.
Fortunately, if you'd prefer not to spend a few hundred dollars on replacing what is otherwise a perfectly good piece of technology, there's a much cheaper option available.
The Dedicated Gadget
For many people, the simplest approach is the best. Dozens of companies make flash drives that plug into a phone or tablet, typically with an accompanying app. They come in all kinds of shapes and sizes, with up to 256GB of storage that should satisfy even the keenest phone videographer.
These are our current picks.
Sandisk iXpand Flash Drive
Sandisk is one of the biggest names in portable storage, so it's no surprise it makes a strong showing here. Its iXpand drives come in a range of capacities, with a Lightning port on one end and a USB-A port on the other.
This makes copying files easy, whether you're sending them between the iXpand and your phone or tablet, or to and from a laptop. The drive is very small and light, and you can choose between two different designs: one with a swivel cover, the other with a loop that sits behind the phone or tablet.
Usefully, it ships with a USB-A to USB C adapter that lets you connect it to recent MacBooks and other laptops that only come with USB C sockets.
The simple app works well for moving photos and videos backward and forward between your iPhone or iPad and the iXpand drive. You can also set up automatic backups, and use the app to automatically move new video files straight to the drive after shooting them.
Buy on Amazon
Sandisk Ultra Dual Drive
Android owners haven't been forgotten, with companies like Sandisk making a small range of storage options for those devices as well. Any phone or tablet with OTG ("on-the-go") support can use these types of gadgets, but it's worth checking the compatibility chart before you buy.
The Ultra Dual m3.0 drive is the best of the bunch. The retractable design keeps the drive super-small, with a speedy USB 3.1 port for connecting to a laptop, and a micro-USB port that's compatible with older Android phones and tablets. If you need a USB C version instead, check out this similar, although larger, model.
The no-frills Memory Zone app works well, although you can use any Android file management app to move your photos and videos around. Write speeds could be better, but you'll likely only notice if you're copying hundreds of photos at once.
Overall it's an inexpensive, easy to use, and reliable way of freeing up much-needed space.
Buy on Amazon
The Cheapskate Approach
Speaking of OTG support, if you've got a compatible Android phone or tablet, you can connect it to pretty much any USB storage you can find. Plug one end of an OTG cable into the phone, and the other end into a flash drive, portable hard drive, or SD card reader, and you can move files around to your heart's content using a file manager. I've used OI File Manager for years.
It's a bit clunky, and by the time you add storage, not always much cheaper than buying one of the dedicated devices mentioned above. If you'll be carrying a hard drive, memory stick, or card reader for your laptop anyway, though, this is a cheap way to also use it with your mobile device. Just be sure to get one that has the right connector (most likely USB C), and you're good to go.
Buy on Amazon
The Wireless Drive
Looking to share your extra space between a bunch of different gadgets? It's time to grab a wireless storage device.
Sandisk Connect Wireless Stick
The Sandisk Connect Wireless Stick looks like an ordinary flash drive, and it can act as one if you need it to. The smarts, though, come when you put the plastic cap back on the end and fire up the built-in wireless network. You can set it to create its own hotspot for other devices to connect to, or tell it to join an existing network if you'd prefer.
For phones and tablets, just download the accompanying app, connect to the right network, and you're set. That app lets you automatically copy new photos, or you can move files backward and forward yourself as needed. For laptops and other devices, you just use a web browser to connect to the wireless stick and copy files that way.
It's also possible to stream video directly, which is useful if you're short on space on your phone or tablet. It's an easy way to store and share files among all your different devices, although I'd suggest getting in soon if you want one: it's been recently discontinued by Sandisk, so when current stock is gone, that's it.
Buy on Amazon
The Combo Device
Finally, there are various wireless gadgets out there that let you plug in all kinds of storage and share it among your devices. The good ones are combo units with various other features as well, so if you're in the market for something like this, it's really a case of figuring out which aspects are most important to you. We particularly like this one, however, and use it all the time.
RavPower FileHub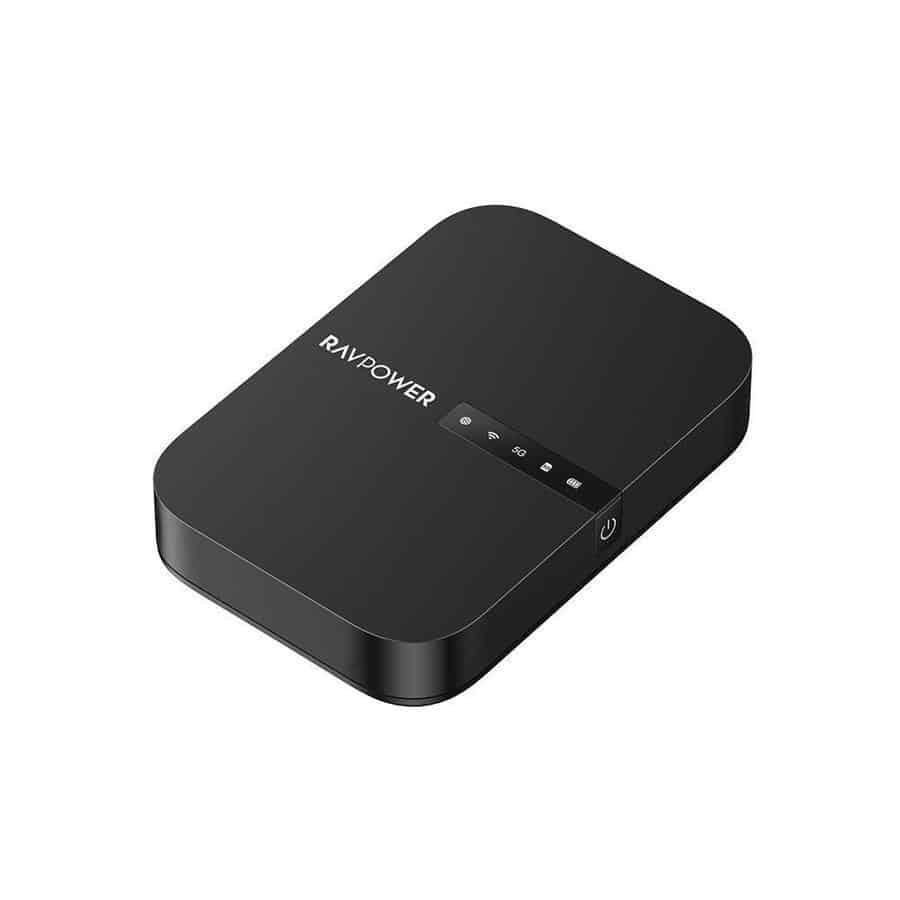 The RavPower FileHub trades off a bit of size and battery capacity for better networking and extra storage options. With both USB and SD card sockets, you can easily connect whatever storage device you have with you.
Got a spare SD card? Hard drive? Memory stick? Just plug it in and copy away. As with the other gadgets mentioned here, you'll use the included app for mobile devices, and a web browser otherwise.
You'll also benefit from the addition of 5Ghz networking, although note it only works when turning a wired network into a wireless one. You can't amplify an existing 5Ghz network to make it stronger, which is a bit of a shame.
There's one-touch backup of your SD card to USB storage, and the 6700mAh battery is more than enough to recharge your phone when it's getting low. You can also stream most video formats from a USB drive or SD card to your mobile device.
It does a lot, and doesn't cost a fortune. Now that's a combination we like. There's a full review here.
---
Got any other mobile storage gadgets you'd recommend? Share 'em in the comments!
Main image via Wachiwit/Shutterstock.com, product images via Amazon.