If keeping your devices charged seems like a constant struggle, you've probably looked into a power bank before. These small devices provide a backup source of juice for cell phones, tablets, cameras, and more.
The technology behind power banks has come a long way and prices have fallen dramatically over time, to the point where you can pick up a basic option that'll keep your phone running for twenty bucks.
At the opposite end of the spectrum, you have devices like the Omnicharge Omni 20+. This powerhouse of a power bank typically costs around $200, or $250 with bundled accessories, placing it firmly in the high-end category.
Is it worth the money? For some, yes. For the average user? Probably not.
Omnicharge sent us one to review, and we spent a few weeks putting it through its paces in detail. Today, we're taking a detailed look at the device from top to bottom, and letting you know how it performs, who we think it's best for, and whether it's worth the money.
Omnicharge Omni 20+ Bundle
Capacity: 20,000mAh (74Wh)
Weight: 1.4 pounds (635g)
Dimensions: 5.0 x 1.1 x 4.8 inches
Maximum output: 100W AC, 60W USB C PD, 18W USB-A
Outputs: 1x AC, 1x USB C, 1x DC, 2x USB-A, 1x wireless
Pass-through charging: Yes
Unboxing & Initial Impressions
I received the Omni 20+ bundle, which includes the Omni 20+ power bank (also sold separately), a protective case, and a rapid wall charger.
The bundle arrived nicely packaged, with the device itself cradled inside the protective case to save space and protect it during shipping. Also in the box was a USB C to USB C cable, USB C to USB-A cable, USB C wall charger, and — surprisingly — two travel adapters (Type C and Type G).
I didn't notice the inclusion of those adapters advertised anywhere, and it wasn't even printed on the box, so this was a pleasant surprise! Lastly, an insert asking customers to review the device (in exchange for free Omnicharge accessories) greeted me upon opening the box.
The Omni 20+ itself is certainly sleek, rectangular in shape (almost a perfect square) with clipped, angled corners. The exterior is coated in a soft-touch rubber coating, which looks and feels nice, but is unlikely to stay that way for long.
The front of the device sports a power button, plus two buttons that turn the AC socket and USB ports on and off. I had to look at the manual to figure this out, however, as only the power button is obvious based on its appearance.
Lastly, a tiny screen (less than one inch across) displays key information, including the remaining battery, power input and output level, whether wireless charging is on or off, and even the temperature of the battery. The screen is very small, so those with poor eyesight may struggle to use it, but otherwise works fine.
Overall, my initial impression of the device was positive. It looked and felt like a premium product, and it certainly should, given the price. Through my testing and research, I confirmed my original thoughts: this is a high-end power bank, packed full of features, with the versatility to charge just about anything, anywhere. 
Testing Results
I first tested the Omni using my phone (Pixel 3). I charged it via USB C with the included cable, and found that it drew enough power to enter the "rapid charging" mode. When charged wirelessly, it was substantially slower, but this is to be expected with Qi charging. As noted elsewhere in the review, the wireless charging was a bit finicky with how the phone is placed.
I also used the device to charge my laptop (a newer LG Gram) via the AC outlet, using my laptop's power brick and cord. This required pressing the AC outlet button (the top button to the left of the display) to activate charging.
Because my laptop generally stays plugged in while I'm using it, I didn't have much to compare it to in terms of charging speeds. What I did notice, however, is that the Omni provided enough juice to keep my laptop running in "best performance" mode without losing charge.
Because I was traveling at the time, I didn't have many devices to charge simultaneously. I did use the Omni to power both my laptop and phone (via wireless) at the same time, which worked perfectly and was certainly convenient given that my phone typically sits beside me while I work.
Overall, the charger performed exactly how I expected it to. Pass-through charging (charging devices while the Omni itself is charging) also worked well, and didn't seem to substantially impact the charging speed of my devices or the battery itself.
Specs & Features
Size & Weight
The physical heft of this power bank is significant, but when you think about all the different ports, and all the various use cases for this device, it's actually impressively compact. That said, the extra ports certainly add weight.
Dimensions: 5.0″ x 4.8″ x 1.1″
Weight: 1.3 lbs (21 oz)
Budget 20,000 mAh power banks (the same capacity as the Omni 20+) can be in the 13-14 oz range, so the Omni weighs about 60% more than the basic models.
The travel case (included in the Omni 20+ bundle) adds 5.3 oz, bringing the total to around 1 pound, 10 ounces. And really, when you're carrying around such an expensive charger, you're probably going to want to use the protective case.
The weight of the Omni 20+ makes it somewhat impractical to carry around in a purse all the time, but likely won't make a noticeable difference in a backpack or suitcase.
Input & Output
Capacity: 70Wh, 20,000mAh
AC Port (120 V): 100W output
DC Port (5-25V): 100W output
USB-A Ports (x2): 18W output (QC 3.0 compatible)
USB C PD Port: 60W output, 45W input (for charging the Omni 20+)
Wireless Charging : 10W output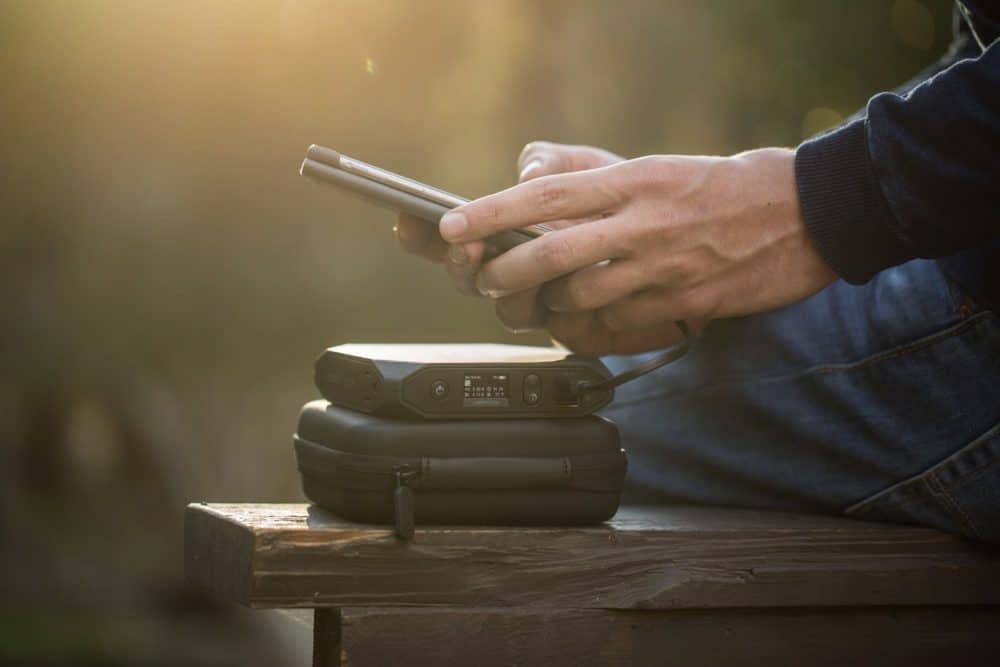 Charging Capacity
The 20,000 mAh capacity of the Omni 20+ is enough to provide (in theory):
Up to 5 smartphone charges
Up to 5 DSLR camera charges
Up to 10 action camera charges (such as a GoPro)
Up to 2 tablet charges
Up to 1 full laptop charge
Up to 2 drone charges
Of course, these are simply the guidelines that the manufacturer promotes. The actual number of charges held in this device will depend on the specific devices you are charging.
20,000mAh is a substantial capacity, although similarly priced power banks offer much higher capacity: 50,000-72,000 mAh isn't unusual. Maximizing capacity was clearly not the primary goal of OmniCharge when it designed the Omni 20+.
Instead, this product's designers focused on versatility. While most power banks only provide power from USB ports, the Omni 20+ can charge via USB-A, USB Type C, AC (120/230V), Qi wireless, and a barrel DC port.
That versatility is great for some users, especially those who need AC, DC, or wireless charging from their portable battery. If you don't need that, though, you'll likely be better off with a higher-capacity but more limited device.  
Pros and Cons
There are certainly huge advantages to this power bank. It's versatility is unrivaled: few devices can charge such a wide variety of devices, let alone at the same time.
The design incorporates just about every power output type into a single device. The pass-through charging technology is also very useful, as it allows you to keep using the Omni while it is plugged in and charging itself.
For advanced users, the monitoring features (output, battery temperature, etc.) can prove handy as well. The Omni 20+ is one of very few power banks to have a built-in OLED display. Here, users can monitor output and input levels, plus the temperature of the battery to help prevent overheating.
This is also where you can customize settings, including AC outlet voltage (120V AC or 150V HVDC), DC output voltage, screen timeout, auto shutdown, and more. While most people won't necessarily need all these customizable settings, it's nonetheless a nice feature for power users.
The biggest downsides of the device are the high price point and its relative complexity compared to competing power banks. The Omni packs a huge number of features, which in my opinion justifies its price. The problem is that most users don't really need all the features this device offers.
The complexity of the interface and large number of options presents a similar problem. Advanced users will likely appreciate how configurable the device is, and learn its quirks so they can use it more efficiently. The average person, however, may feel overwhelmed, and likely doesn't need all the complex features in the first place.
There are minor gripes, as well. The wireless charging works well, but only if the phone is placed in the right place (horizontally, at the "back" of the power bank if the screen is facing you). There are no clear markings as to where the wireless charging coil is located, however, and the relatively slick surface of the power bank means that your phone can easily spin around, preventing efficient charging.
Finally (and this is getting pretty nitpicky), the soft rubber-like surface of the Omni 20+ scratches and scuffs fairly easily. 
Pros
Incredibly versatile
Can charge almost any device
Pass-through charging
20000mah capacity provides up to five smartphone charges or up to one full laptop charge
OLED screen lets you monitor output levels, temperature and more
Customizable output levels and settings
Stylish design
Cons
Can feel complex for the average user
Limited physical documentation (full manual is available online)
Wireless charging requires exact placement of devices, with no clear markings
High price
Base model doesn't come with a wall charger
Soft rubber exterior scuffs easily
Higher-capacity power banks cost around the same
---
Who Should Buy the Omni 20+ Power Bank?
The Omni 20+ is a powerful device. It's honestly overkill for a lot of use cases, and the price tag makes me think it's more targeted towards power users in any case. These are some of the groups that may benefit from the Omni 20+:
Filmmakers & YouTubers
The versatility of this device, including its ability to have every output type in a single device, makes for a compelling use case for videographers and anyone else with a lot of different devices to charge.
It'll keep your gear going all day, and thanks to the pass-through charging feature, can simply be plugged in at the end of the day to charge itself and everything attached to it at the same time. This eliminates the need to carry a ton of individual chargers, and although the Omni isn't exactly light, the weight is unlikely to bother those used to carrying a lot of equipment.
Traveling Professionals
Those who travel frequently for work may also benefit from the Omni's high capacity, simultaneous multi-device charging, and TSA-compliant design. The capacity is enough to keep your devices powered through most of a long haul international flight. If the device can improve your productivity while on the go, the price is unlikely to be too much of a deterrent. 
Digital Nomads (maybe)
Digital nomads, full-time travelers, and freelancers on the move can potentially benefit from using the Omni. This is another group who may be able to justify the cost because the device can enable extra work hours that normally wouldn't be possible: on a long bus ride, for instance, or in remote areas with inconsistent access to electricity.
I say "maybe" for this group because you could certainly get by with a lower-tier device, but if you have the budget for it, the Omni is a good option for traveling workers.
If you plan to travel frequently with the Omni, definitely spring for the bundle ($50 extra), as it includes a durable travel case, and a fast charger with multiple plug adapters for international use.
Additionally, tech enthusiasts who simply enjoy having powerful, high-end equipment will likely appreciate the Omni 20+. It's certainly a versatile device, so if the price is within your budget, I'd say it's a great option overall.
Is the Omni 20+ Bundle Worth the Upgrade?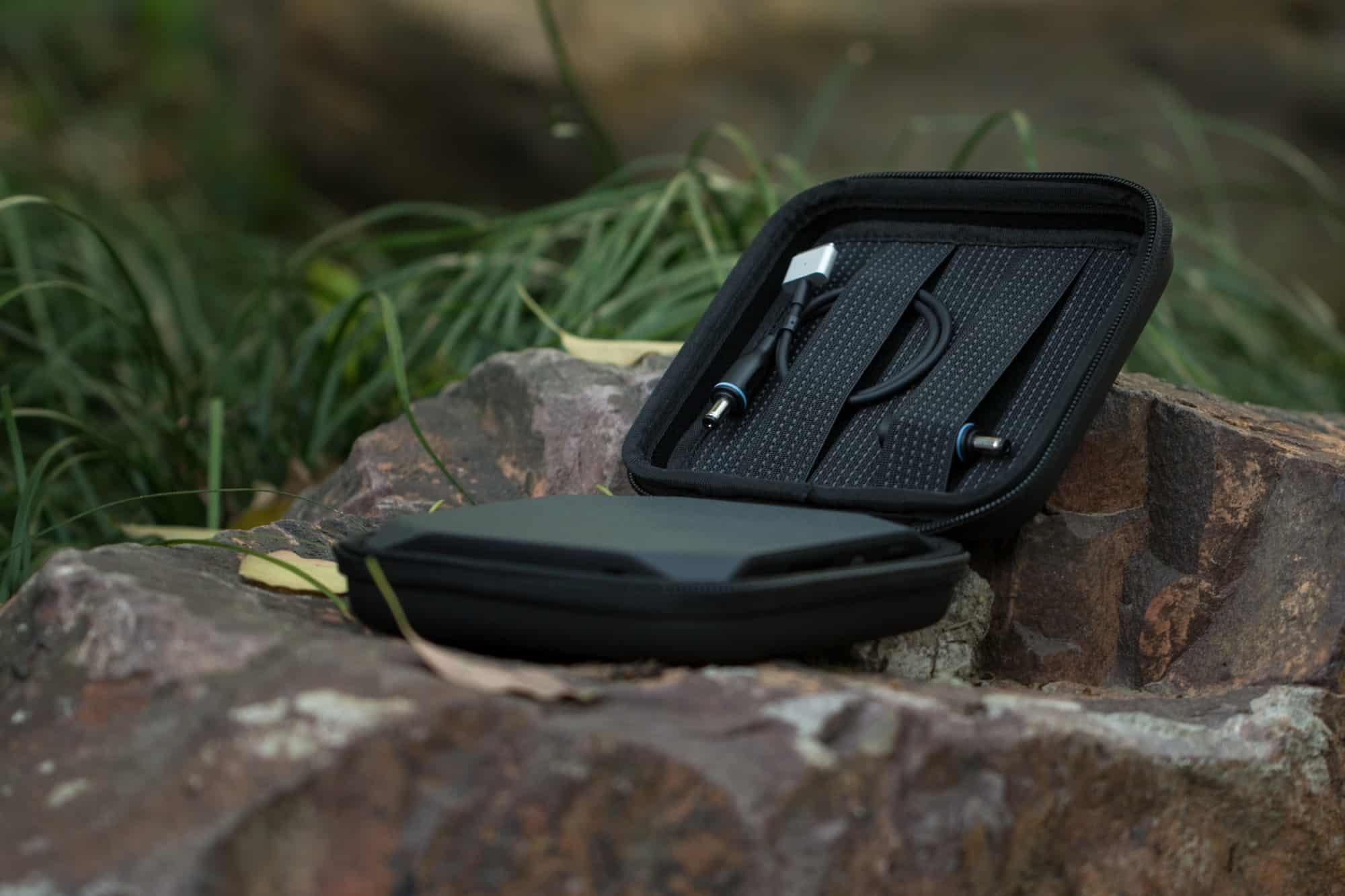 I reviewed the Omni 20+ bundle, which includes the Omni 20+ 20000mah charger, protective case, and rapid charger. This is the "premium" bundle from Omni. You can also purchase the Omni 20+ on its own, without the optional accessories, for around $50 less.
Is the bundle worth the upgrade? For most people, yes, it is.
Most importantly, the bundle comes with a rapid charging wall charger, as well as international plug adapters. With this, you can fully charge the Omni 20+ in around 6-7 hours (in my case, it charged from 14% to 100% in around 5.5 hours).
The standard (non-bundle) version doesn't include a wall charger, which is a letdown for a device at this price point. The standard Omni 20+ comes with a USB C to USB C cable, as well as a USB-A to USB C cable, so you may be able to use an existing charger to charge this power bank. Honestly, though, I'd like to see a charger included with the base device. 
The travel case is also a nice upgrade. It feels quite durable, and should stand up to substantial pressure. The top of the case seems to be almost half an inch thick, and reinforced with multiple layers of hard plastic and softer stretch bands. Oddly, the bottom of the case is much thinner, and gives in more easily to external pressure.
Overall, the case seems solid. I'm confident that it would protect the Omni against pressure, for example when it's stored in a suitcase or backpack. It would likely soften the blow from an accidental drop, as well, although I'm not quite confident enough to test that theory.
One downside of the case is that it only houses the device itself, without much room for cables or accessories. There are stretchy fabric strips running horizontally on one side of the case's internal chamber. You can push cables through these strips for storage, but there isn't much space. You can fit the two included USB cables, but that's about it.
Bottom Line
The Omnicharge Omni 20+ is a powerful, versatile power bank. With it, you can charge just about any of the devices you're carrying, even at the same time. The pass-through charging feature also means that you can charge the Omni itself while powering your devices, which reduces the need for a bunch of different chargers.
That said, it's also a ~$200+ power bank in a market flooded with sub-$50 models. Whether or not this device is worth the cost really depends on your use cases for it. If you want the highest capacity for your money or simply need a more budget-friendly device, there are better options for you on the market.
If you want or need every type of charging output on a single power bank and price isn't a concern, however, you really can't go wrong with the Omni 20+.
Buy on Amazon
---
Images via Omnicharge