For many travellers, the need to travel with a laptop has dramatically decreased. As smartphones have become more powerful, most of the tasks that required a kilogram or two of laptop a few years ago can now be done with that little device in your pocket. For watching movies or anything else requiring a larger screen, tablet computers like the iPad Air are generally cheaper and lighter.
Still, there are times when you just can't beat a laptop of some sort. If you work while you travel, you'll quickly hit major limitations with any device not running Windows, MacOS or Linux. Even if you don't, writing large amounts of texts, editing photos and video, or most other tasks that are more about creating content than consuming it, are much easier on a laptop than anything else.
We've checked out dozens of laptops, of all shapes, sizes and configurations, to come up with what we believe are the best options for travellers in 2017.
Best Laptops
As has been the case for a while, 13″ machines offer the best combination of size, weight, usability and price for travellers. There are a few decent 12″ and 14″ options out there, but none that cross the line from "good" to "great".
All three of our picks for the best travel laptops of 2017 are upgraded versions of already-excellent models. Shave some weight here, add the latest processors there, cram in more storage, improve the battery life and away you go. These machines run the full price range, from under $700 to over double that, but they have one thing in common: they're all excellent laptops for travellers.
Asus Zenbook UX330UA
What's this? A slim, attractive Ultrabook with plenty of memory and storage and no real design flaws, for under $700? Apparently so.
The Asus Zenbook UX330UA is a remarkably good, attractive laptop for the money. The base model has 8GB of memory, 256GB solid state drive and boasts excellent battery life of  9-12 hours under normal conditions. It's also just half an inch thick and weighs well under three pounds. It has a good 13″ screen, decent speakers and plenty of processing power.
There are two display options, HD (1920×1080) and, for a little more, Quad-HD+ (3200×1800). Even though the price difference isn't much, stick with the lower-resolution version unless you really want the high-res model for some reason. You'll get better battery life, and HD resolution on a 13″ screen is a good balance.
The laptop has a useful mix of ports — one USB-C, 2 standard USB 3.0 ports, an SD card slot, and micro-HDMI for connecting to a TV or monitor if you've got one in your Airbnb apartment. There's also a fingerprint sensor built into the trackpad, which saves typing in passwords all the time.
So, are there any downsides? Yes, but nothing major. The touchpad, while it works fine, is a bit spongy. Unlike more expensive competitors, you can't charge from the USB-C port, or run a monitor from it, and it's not the absolute thinnest and lightest Ultrabook out there.
Asus has been making "best for the price" Zenbooks like this for a few years now, and the UX330 continues the trend. No other manufacturer is making $700 laptops that we'd be happy taking on the road. We're not quite sure how the company keeps the price so low — but we're very happy it does.
With plenty of positives, and very few negatives, the UX330UA is easily our pick for the budget-conscious traveler.
Dell XPS 13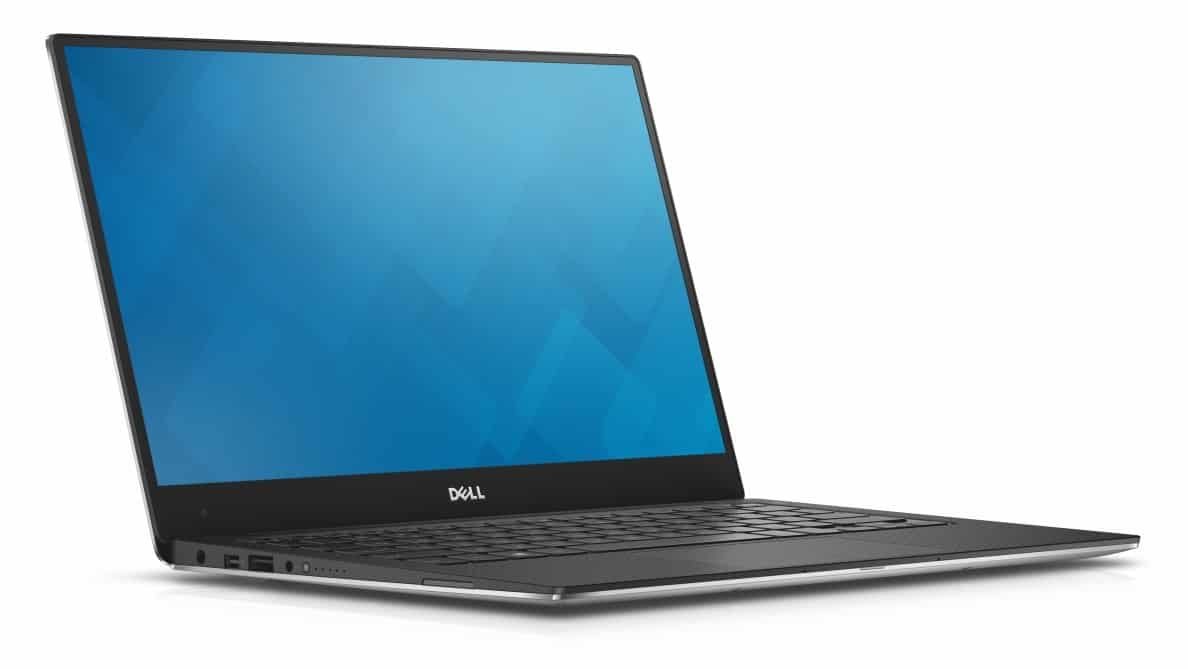 We reviewed the early-2015 version of Dell's XPS 13, and were very impressed by it. The company continues to update the specifications as time goes by, giving it the latest CPUs, a glass trackpad, better battery and even faster solid state drive… and in the process, turned what was already an excellent machine into probably the best travel laptop out there in early 2017.
Dell  has managed to squeeze a 13" screen into an 11" body, so it's easy to fit the laptop into a small daypack. It's small, light and for under $1100 you can configure a machine with 8GB of RAM, a 256GB drive and up to a theoretical 15 hours of battery life.
It's super-quick, and now that the XPS 13 has been out for a while, a few bugs that annoyed some early customers have been squashed to ensure a solid, reliable experience.
There are two display options, a non-touch FHD version and a more-expensive QHD+ touchscreen model. The latter has a much higher resolution to go with its touch support, but unless you desperately want to be able to put greasy fingerprints all over your screen, we'd suggest putting the extra money towards a plane ticket.
The XPS 13 is extremely thin, but an aluminum and carbon fibre body means it's still durable enough to handle the inevitable knocks. The laptop comes with a 12 month next-business-day warranty, and you can add accidental damage cover for liquid spills, drops and power surges – all of which are depressingly likely on the road.
It's not completely perfect. The webcam is in a strange position that means you'll want to shave your nose hairs before Skyping with your parents, and we'd prefer the machine could come with more than 8GB of memory, but for most travellers, both of those things will be minor inconveniences at best, in what is otherwise a fantastic laptop.
Apple Macbook Pro
Whether you're a fan of Apple equipment or not, the latest 13" Macbook Pro is an impressive piece of hardware. At three pounds (1.37 kg), it's much lighter than previous models, and you're no longer making a significant weight compromise by choosing it.
The 2560×1600 screen is excellent, and remains one of the best screens you'll find on any laptop. The CPU options are significantly faster than on other Macbook models, using the latest Skylake processors.
The MBP comes in two versions — a higher-end version with a customisable touch bar and fingerprint sensor, and a less expensive, touch bar-free model. We could take or leave the touch bar, but the other extras (better graphics card, faster memory, extra ports) are useful for those with more demanding requirements. Memory, CPU and storage can upgraded at purchase, but not afterwards.
There are two USB-C Thunderbolt ports on the cheaper version of the Macbook Pro, and four on the more expensive model. That's a useful number, but other than a headphone jack, there are no other connectors. Gone are the SD card slot and USB-A sockets of previous models, so sadly, most users will need extra dongles and accessories to get the job done.
At 10 hours, battery life has sadly dropped from previous models, and there's ongoing debate about how likely users are to see anything like that under normal use.
You'll pay just under $1500 for the non-touch bar version with 8GB of RAM and 256GB of storage, climbing to a whopping $2899 for the touch bar model with all the upgrades. That's noticeably more than equivalent Windows machines, and a price hike from the previous generation.
So, why the Pro rather than the Air or Macbook? It's simple — you get a lot more bang for your buck. The Air, so beloved of travellers for years, is now very dated. It hasn't received a significant update in some time, and the screen resolution of 1400×900 is inferior to any similarly-priced laptop on the market.
Even the size and weight, long the Air's selling points, have been undercut by many competitors. It's now an obsolete machine, and we expect it to be discontinued by Apple within the next year.
The 12″ Macbook is super-thin and light, and at first glance, should be the obvious choice for travel. It's let down, however, by poor performance and the odd decision by Apple to equip it with a single USB-C port to handle everything, including charging. If you want to use your existing USB cables, or plug anything in while it's charging, you'll need to carry extra converters and accessories.
Given the limitations, and that it retails for a similar price to the low-end Macbook Pro, it's hard to recommend unless you don't care about anything except the weight.
While we're not as keen on the latest version of the Macbook Pro as previous models, if you're after a good Apple laptop in 2017, your options are limited. For most Apple-loving travelers, especially those who work from the road, the MBP is still where it's at.
Best Hybrids
A relatively new addition to the computing scene, hybrids (also known as "convertibles") seek to combine the best features of both laptop and tablet computers. In theory, the machines should be powerful and comfortable enough to use as a full-time work computer, yet easily switchable to an entertainment device as needed.
They all have tablet-style touch-screens, some of which detach entirely from the base, others of which fold back 360 degrees, while still others clip into a keyboard accessory as needed.
Most of the earlier versions of these machines were failures — they were too heavy, too expensive, were under-powered, had weird bugs or, if you were particularly unlucky, all four. In the last year or so, however, a few exceptions have hit the market that are actually worth buying.
If you want a machine that's as useful for getting real work done as reading a book or binge-watching your favourite TV shows on a long train ride, here are our top picks for 2017.
Lenovo Yoga 900
Lenovo has been one of the leading companies in the hybrid computing space for a while now, and that experience has paid off with the Yoga 900. The "watchband" hinge between the screen and base has been seen in a few other models, and this redesigned version is great — the screen stays firmly in place when in laptop mode, but it's easy to move it when switching to tablet, tent or stand configurations.
At 1.29kg (2.8lbs), the Yoga 900 is a little heavier than you might like, but it's lighter than a Macbook Pro, and not much more than our other recommended laptops. For the convenience of having a quality work and entertainment option in a single device, it's barely a compromise at all.
Unlike much of the competition, the machine has more than enough storage and computing power for almost any task. It has the latest Skylake i7 processors, 8 or 16GB of RAM, 256 or 512GB of storage, and has a 3200×1800 display. You'll get around nine hours of battery life, and it has a full range of ports (including four USB sockets of various types).
The display is covered in Gorilla Glass from end to end, and being able to fold the machine into almost any configuration makes it much easier to balance it on an airline tray table or other cramped space when watching movies or flicking through a book.
It's also surprisingly well-priced for a hybrid of this quality, even in our recommended 8GB RAM/256GB storage configuration. If you're looking for a no-compromise work and play device for your next trip, the Yoga 900 is an excellent choice.
Microsoft Surface Pro 4
While machines like the Yoga 900 and Spectre x360 are ideal if you'll be using them as laptops much of the time, they're both quite heavy compared to a tablet. Even when folded into 'tablet mode', you're still carrying around the weight of the base unit at all times.
Microsoft's Surface Pro 4 takes a different approach, with the internals of a fully-featured Windows laptop inside a normal (albeit large) tablet. The cover doubles as a keyboard and stand when you want to use it for work, but can be removed in seconds if you don't need it. As a result, this is the lightest hybrid on the market that's ideal for entertainment, yet still appropriate for hours of serious work when needed.
With a 12.3″, 2736×1824 touch display, the latest Skylake CPUs, and a proper port selection including USB and a card reader, it's a legitimate competitor to any travel laptop — but weighs a mere 786 grams (1.7lbs). The barely-optional 'Type Cover' (keyboard/stand/cover) adds an extra 292 grams/0.64 lbs, but even the combined weight is still noticeably lower than other hybrids.
The Surface Pro 4 is ideal for graphic artists, with proper stylus support and shipping with the 'Surface Pen' in the box. People who've switched to this machine tend to rave about it, and as long as you're happy to spend the money on an appropriate configuration (we'd suggest the i5 CPU / 8GB RAM / 256GB storage version), you'll end up with an excellent multi-purpose travel computer. It's easily one of the top hybrid options of 2017.
HP Spectre x360
If you'd really like a hybrid, but can't quite spring for the Surface Pro 4 or the Yoga 900, our final recommendation will save you a bit of cash, with few compromises. The HP Spectre x360 is typically at least a couple of hundred dollars cheaper than the other two options, while still remaining highly-versatile and with plenty of performance.
The only concern with the x360 is its weight — at 3.2lbs / 1.44kg, it's quite heavy for a travel laptop of any description, and relatively thick in tablet mode. If you're happy with that, however (and let's face it, it's still lighter than a Macbook Pro), you'll be rewarded with a an attractive, reliable and well-performing machine, that's equally useful for work and play.
Even the base 1920×1080 touchscreen on the Spectre is bright, with great contrast and accurate colours, and there are two other, higher-resolution options if you'd prefer. You'll get excellent battery life, likely exceeding ten hours of even reasonably heavy use, and can pick and choose your configuration options for CPU, memory and storage — that's not always common for HP machines.
The built quality is impressive, both keyboard and trackpad are reliable and enjoyable to use, and even the speakers are pretty decent for a laptop. Honestly, other than the weight, there's very little not to like about this machine, and the price is exceptional.
Check out the latest pricing before making a final decision about the version you buy, but ensure you get at least 8GB of RAM and a 256GB drive. If there's little cost difference between the i5 and i7 CPUs — and often there's not much in it — go for the latter, but otherwise the i5 will be fine.
For those on a budget, the Spectre x360 is an excellent choice. As a result, it's one of our travel hybrid picks of the year.
All product images via respective manufacturers. Main image via HP.