South Korea is a wonderful country to travel through. Whether you're there for incredible food or fascinating history, the 24-hour buzz of the cities or dramatic landscapes and beauty of the national parks, it's an incredibly rewarding place to visit.
From language to culture, technology to transport, many aspects of life in the country don't work quite the same as they do elsewhere in the world. That's part of what makes it so interesting, of course, but it does mean that you'll need to do a bit more preparation for your trip than usual.
A big part of that prep comes down to being connected: this is one country where a phone with a working data connection, loaded with the right set of apps, makes a big difference to your trip.
While free Wi-Fi is very prevalent in South Korea, including in metro stations, on buses and trains, and in virtually every cafe and restaurant you'll come across, it's still not everywhere even in the cities. You can probably get by without a local SIM if you're only visiting major centers, but you'll likely want one elsewhere.
With that in mind, here's everything you need to know about buying a local SIM card in South Korea.
Need travel insurance for your time in South Korea? We currently use HeyMondo, thanks to its comprehensive coverage options, competitive pricing, and the ability to buy or renew a policy while outside your home country. Residents of most countries get a discount with this link.
Companies
---
We recommend LG U+ for travelers who need a phone number
A South Korea eSIM is often a cheaper option if your device supports it
---
There are three cell networks in South Korea: LG U+, SK Telecom, and KT. You'll get excellent LTE coverage in any major town or city with all providers, and shouldn't have much of a problem with service anywhere unless you're heading well off the beaten track.
Several resellers also sell SIMs that use one of these three networks, typically with slower speeds and cheaper prices. There's often a delay of a few hours between buying a physical SIM from one of these companies and having it start working, however.
That delay can cause problems when you first arrive in the country and want to use your phone to find your hotel. That's especially true because Google Maps is very limited in South Korea, so my usual approach of downloading offline maps ahead of time isn't as useful there.
Unlike many parts of the world, I'd recommend buying your South Korean SIM at the airport when you land. This is simply due to the language barrier and registration/activation challenges that you'll find when buying elsewhere, which can be significant.
While you may find someone who speaks enough English at a phone store to help you out in touristy parts of Seoul like Hongdae or Myeongdong, there are no guarantees, and it's much less likely elsewhere in the city and country. At the airport, however, staff are very used to registering SIMs for foreign visitors.
Apps and Phone Numbers
South Korea is a very high-tech country, but that tech won't typically be what most overseas tourists are used to. This is most obvious with smartphone apps: local versions like Naver Map (navigation), Papago (translation), and Kakao T (taxis) work much better than the international equivalents.
If you're confused about making payments, how taxis and T-Money cards work, which apps to use, or a bunch of other logistical stuff, I wrote a guide to all that as well.
This also plays out when it comes to connectivity. While most travelers these days can get by with data-only SIMs, you may have more need for a phone number in South Korea. Most of the taxi apps require a local number (especially if you want to pay by card in the app), and popular restaurants operate a waitlist and call or text you on a local number when a table is ready.
To that end, you'll find some SIM card providers offer tourist SIMs with data and a phone number for incoming calls and texts at the same price as data-only versions. SIMs with outgoing calls and texts will typically cost more to buy and operate, and may have additional registration requirements as well.
Whether you will need a phone number really depends on where and how you travel in the country. If you can get wherever you need to go on public transport, and are happy to find somewhere else to eat if there's a waitlist at your preferred spot, you can likely get by without one.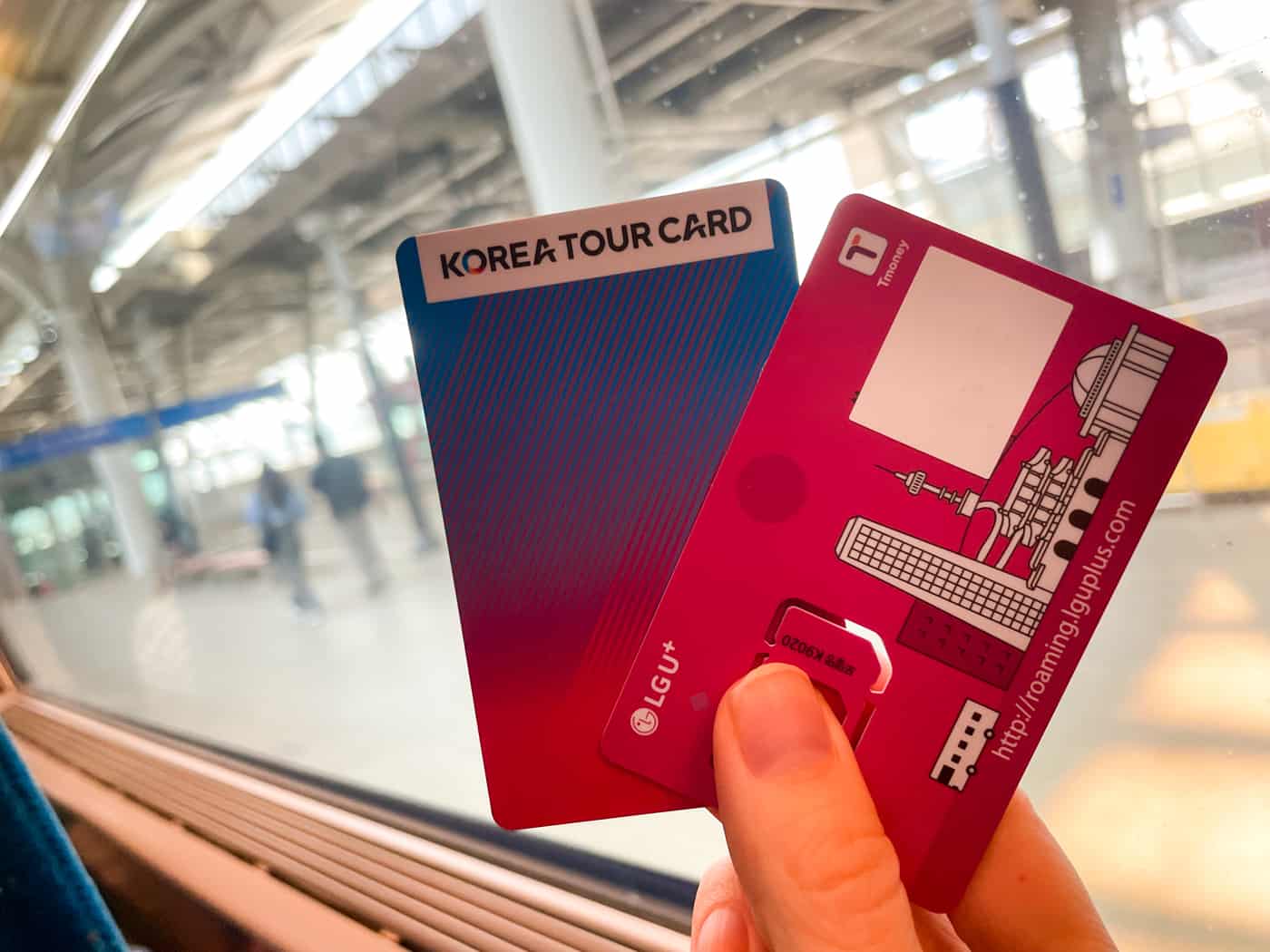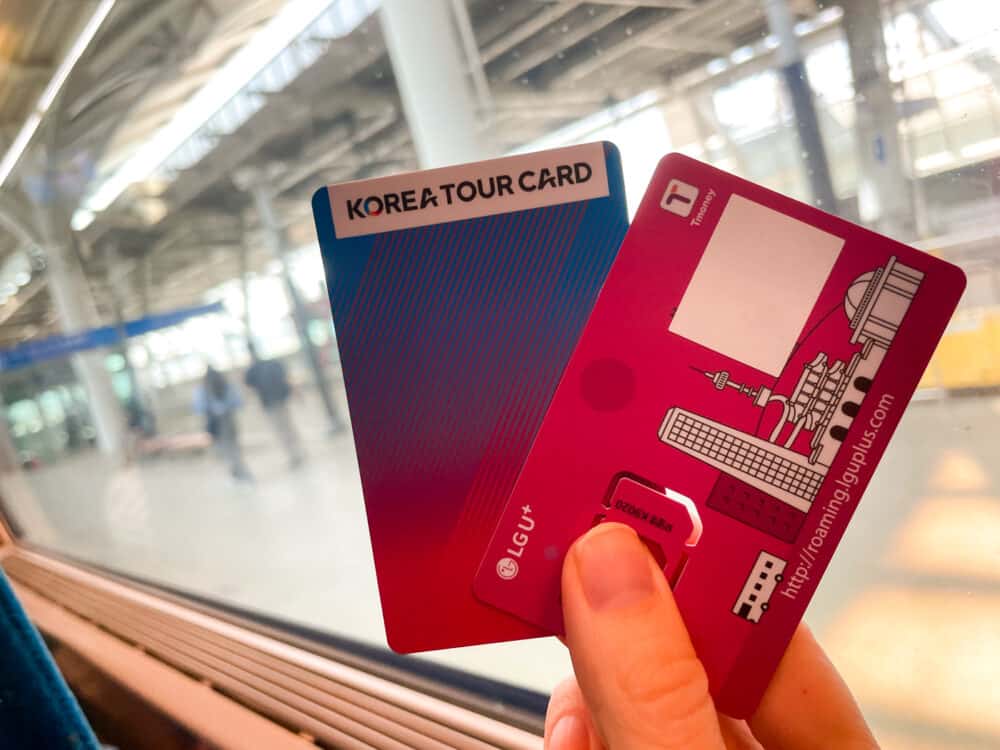 After endless research, I opted to buy an LG U+ SIM card online a few days before I arrived, and picked it up at Incheon airport. Doing it beforehand is cheaper than buying one at the counter, and you can choose to pay when you order or when collect it, whichever you prefer.
It's essentially the same price whether you get it direct from LG U+ or through an agent: I tried to go direct, couldn't get my card to work on their website, and ended up just using this reseller instead. You pick the card up from the same LG U+ kiosks at the airports in Seoul or Busan either way.
I went for this SIM because it came with both a local number for incoming calls and texts, and a T-Money card that I could top up and use on the metro, bus, and taxis throughout the country, as well as to pay for things at convenience stores.
My partner went for a data-only eSIM with aloSIM instead. It was significantly cheaper, so if you have a recent iPhone or other supported device, don't think you'll need a phone number, and have moderate data requirements, it's definitely the way to go. Use the code TMA to get a discount.
In the end, I didn't need to call a taxi during my time in South Korea, and was only asked for a phone number a couple of times, both when ordering food from kiosks at a restaurant. For my particular situation, then, I could have made do without it and just gone with AloSIM as well.
So, the bottom line: if you need a local phone number and/or a physical SIM card, get it from LG U+. If you have an eSIM-capable device and can get by just with data service, go with aloSIM.
How to Buy a Prepaid SIM Card in South Korea
---
As mentioned above, unless you're going with an eSIM (from aloSIM or a different company), your best bet is to order your SIM card in advance and pick it up at the airport when you arrive in the country.
Our flight landed at Incheon Terminal 1 around 7:30pm, and by the time I got to the LG U+ counter in the arrival hall an hour later, there was no line. If you're also arriving into T1, there are two counters (you can use either one): between exits 6-7 and 10-11. In Terminal 2, the counter is between exits 4-5.
Collecting the SIM was simply a matter of showing the order confirmation on my phone: because I'd paid in advance, there was nothing else to do except watch the staff member confirm my order, switch my usual SIM out, and check the new one worked.
You'll be given the plastic card that held your new SIM: keep it somewhere safe, because it's also the T-Money card that you'll use on public transport and elsewhere. It comes in a plastic sleeve with a SIM card extraction tool tucked in the corner: a nice touch. Your phone number is printed on the card as well.
If you're going with the aloSIM eSIM instead, just buy it before you head to South Korea (or when you land, using the free airport Wi-Fi) and activate it before heading into the city. It's straightforward and only takes a couple of minutes, with detailed instructions provided after purchase.
Prepaid SIM Costs
---
While almost certainly much cheaper than roaming with your carrier from home, local prepaid SIMs are noticeably more expensive in South Korea than many other parts of Asia. For 10 days of unlimited* data and free incoming calls and texts, you'll pay 35,000 KRW (~$27 USD).
Why the asterisk? Like many unlimited plans, there's a limit on how much high-speed data you get. In this case it's 3GB per day, which was more than I ever came close to using. If you do hit the limit, though, you'll have your speed cut back to a still-usable 5Mbps until midnight.
Several other options were available, ranging from five days for 25,000 KRW to 60 days for 130,000 KRW. If I'd needed outgoing calls and texts, I'd have needed to specify that when collecting the SIM card and topped up with extra credit in advance.
Domestic calls cost around 265 KRW (20c) per minute, texts are 55 KRW (4c) each. International call rates vary by destination, but I'd personally use WhatsApp, Google Voice, or similar instead.
As mentioned earlier, if you only need data, and not huge amounts of it, you'll save money with that aloSIM eSIM instead. My partner bought 5GB of data valid for 30 days for $15 USD. Options range from 1GB/7 days for $5, through to 10GB/30 days for $27.
Topping Up
---
It's possible to extend the validity of your SIM and add extra data and/or call credit on the LG U+ site. You'll need your phone number and the contract number on your receipt, so keep both of those to hand if you think you might need to top up. Prices are the same as when you buy the initial package.
If you're using aloSIM, you can just buy another eSIM package if you run out of time or data, and switch to the new one on your phone. Again, prices are the same as buying the initial package.
Coverage and Data Speeds
---
LG U+ coverage was extremely good anywhere I tested it. Whether I was underground on the Seoul metro, deep inside a tunnel on a high-speed KTX train heading for Gyeongju, or hiking up a mountain in Seoraksan National Park, I had full LTE coverage virtually the entire time.
AloSIM also had very good coverage. My partner didn't notice any service drops or slowdown during our travels in any of the above areas during our two weeks in the country.
Speeds with LG U+ were very impressive. South Korea has a reputation for some of the fastest internet speeds on the planet, and it didn't disappoint.
Remarkably, aloSIM was even faster: I don't think I've seen higher LTE speeds in all the years I've been running this site! As mentioned above, many resellers heavily throttle the speeds of their SIMs and eSIMs, but aloSIM (at least in South Korea) clearly doesn't.
Whichever of these two options you go for, you won't be waiting around for things to load!
---
Check out our guides to buying SIM cards in many other countries here.