I don't usually put a lot of effort into researching travel logistics when visiting new countries these days. The same basic set of apps works in most parts of the world, and since I hardly ever need a local phone number, a cheap data-only eSIM is my go-to approach for internet access almost everywhere.
My debit and credit cards from home are widely accepted around the world, along with Apple and Google Pay; where they're not, cash is usually king anyway. Public transport is more of a mixed bag, but even then, buying tickets in cash or by tapping a debit card usually works.
And then I went to South Korea.
Many aspects of traveling there are quite different, for a variety of reasons. Apps like Google Maps don't work well due to legal restrictions on overseas companies, and local apps for things like translation and taxis often work better than the global ones.
A local phone number is necessary in certain situations, and makes other things easier, and a comparative lack of spoken English (especially outside tourist areas) means you'll likely be more dependent on your phone for everyday communication than usual.
Card payments are widely (although not universally) accepted throughout South Korea, to the point where many smaller stores won't have much or any cash. That can be a problem for tourists, since paying with an overseas card is a bit of a minefield.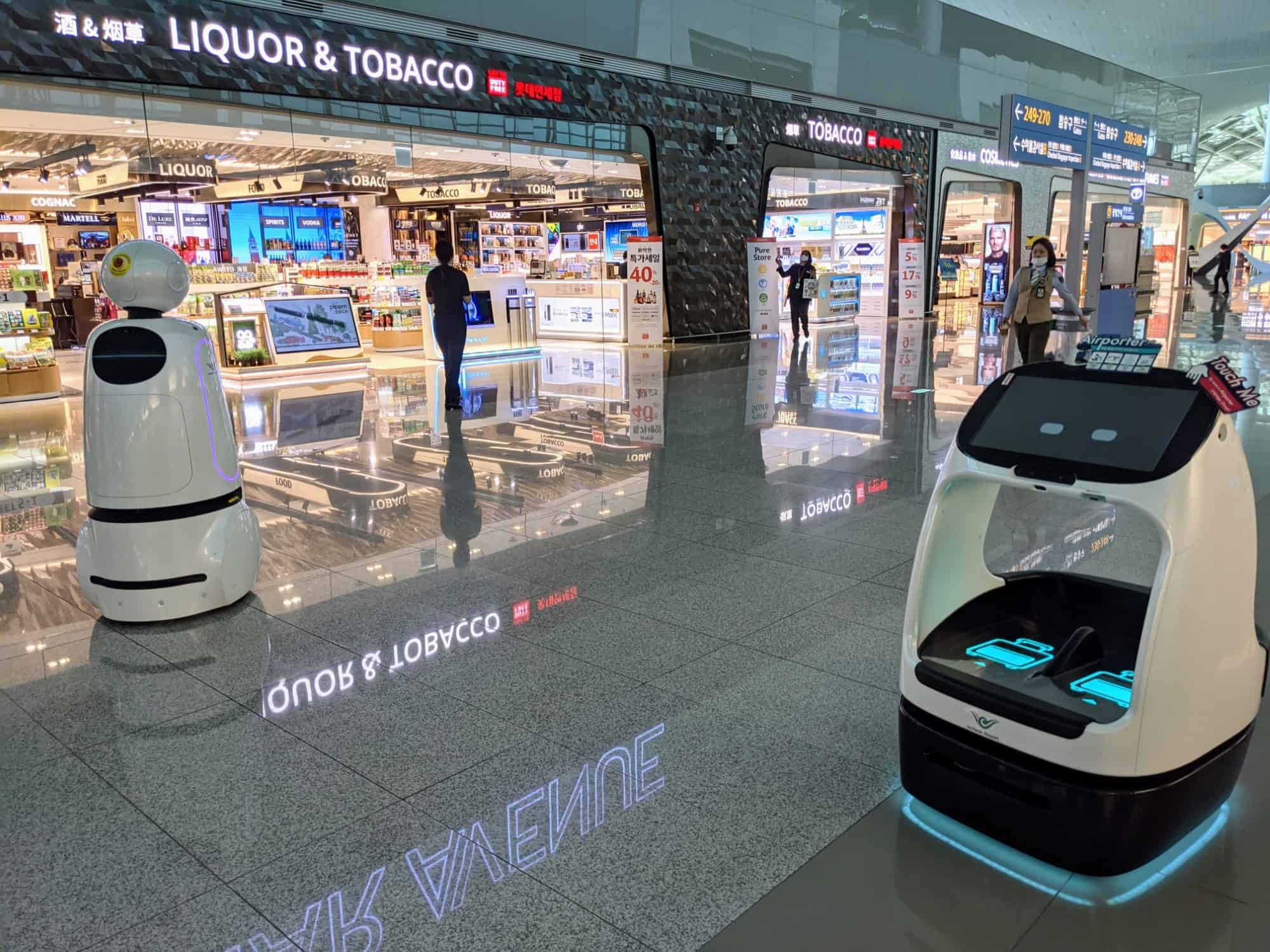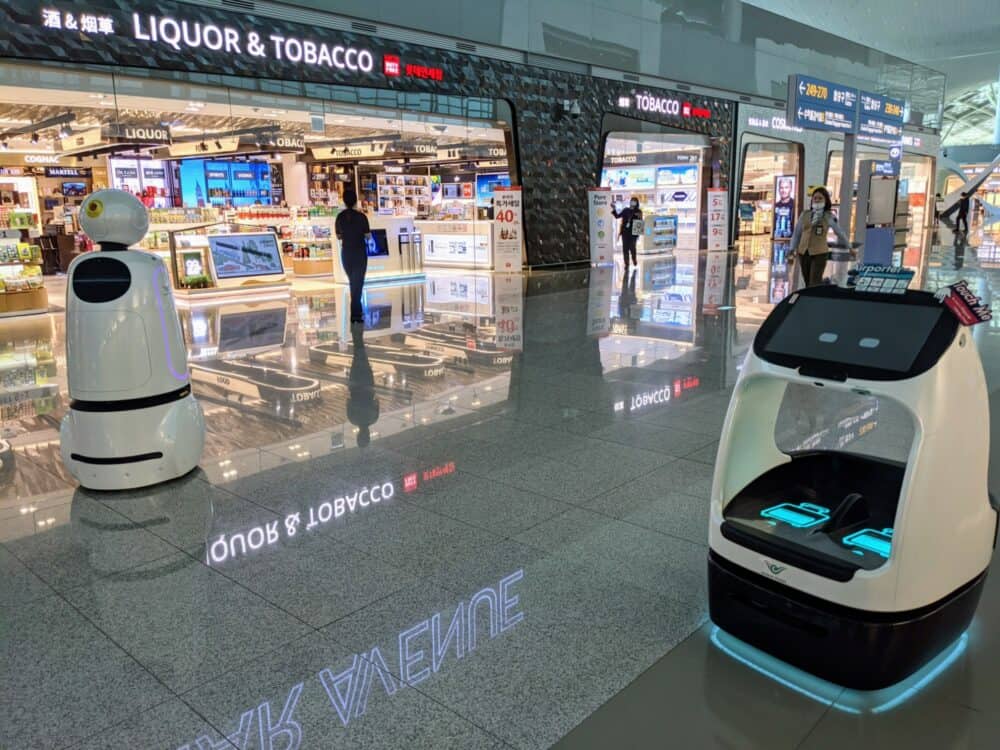 Public transport is efficient and well-integrated throughout the country, and although you can buy single tickets with cash, it's significantly easier (especially on buses) and a little cheaper to use a T-Money card instead. Which, of course, means you need to have and know how to use one of those cards.
Oh, and then there's the whole thing with luggage trackers.
All in all, from a tech and logistical perspective, there's more effort required for travelers to get set up in South Korea than many other countries. Once that's done, though, you'll find most things fairly straightforward, and the travel itself extremely rewarding. I loved my time there, and can't wait to go back!
My hope with this guide, then, is to help you avoid some of the hours of research that I ended up doing before my trip, and some of the pitfalls I encountered after I landed. It's up to date as of my last trip in mid-2023, but things change all the time: if you find anything that needs correcting, please let me know!
Right, lets get into it.
Staying Connected in South Korea
South Korea is a connected country. You'll find Wi-Fi in metro stations and onboard trains and buses, and get cell service everywhere, even underground or in long road and rail tunnels. Almost every cafe, restaurant, shopping mall, and department store has free Wi-Fi advertised and available.
As a result, if you're staying only in Seoul or other large cities, you could choose to just use Wi-Fi, ducking in and out of coffee shops and metro stations whenever you need to check directions or send a message. It'd be frustrating, at least for me, but manageable enough for a short stay.
Outside the towns and cities, though, it's harder to stay connected using Wi-Fi alone. If you're in the country for more than a few days or visiting smaller/more rural areas, you'll want cell service of some description.
I wrote about my experiences buying and using a South Korean SIM card here, but to summarize, you've basically got three options:
an international data-only eSIM, if you have a recent iPhone or other supported device. The cheapest I found was from aloSIM, with prices from $5 to $27 USD depending on how much data you need and how long you need it for. My partner went for this option: it was fast and reliable, and she was very happy with it.
a SIM or eSIM from one of the local cell companies. This is more expensive than the aloSIM option, but it comes with a local phone number, something that can be more important for travelers in South Korea than in many other countries. I went with LG U+: prices range from ~$20 to $100 USD depending on how long you need it for.
A portable Wi-Fi hotspot with data that can be shared among one or several devices. Several companies offer these, including LG U+: you'll typically pay around $4 USD per day for them, collecting them at the airport and dropping them off before you leave. They're a good option if you have a locked phone that can't use a different SIM/eSIM, or for a group that's traveling together, but are somewhat expensive otherwise.
Unless you're using an eSIM that's ready to go as soon as you land, you're better off buying your SIM or collecting your Wi-Fi hotspot at the airport. Unlike in other countries, it's relatively difficult to find someone who can help you in a phone store: English isn't widely spoken outside tourist areas, and the SIM registration process for foreigners is different to that for locals.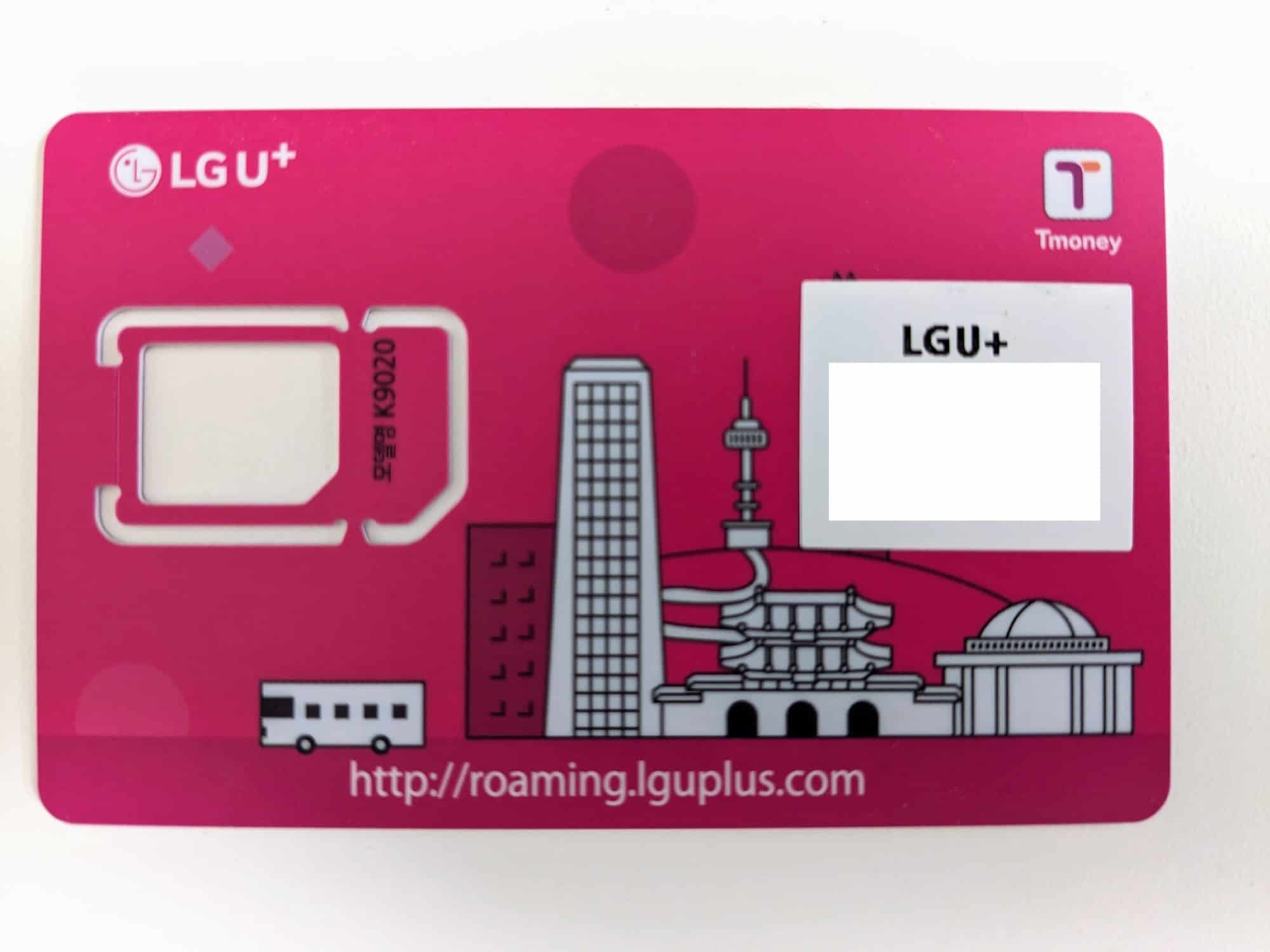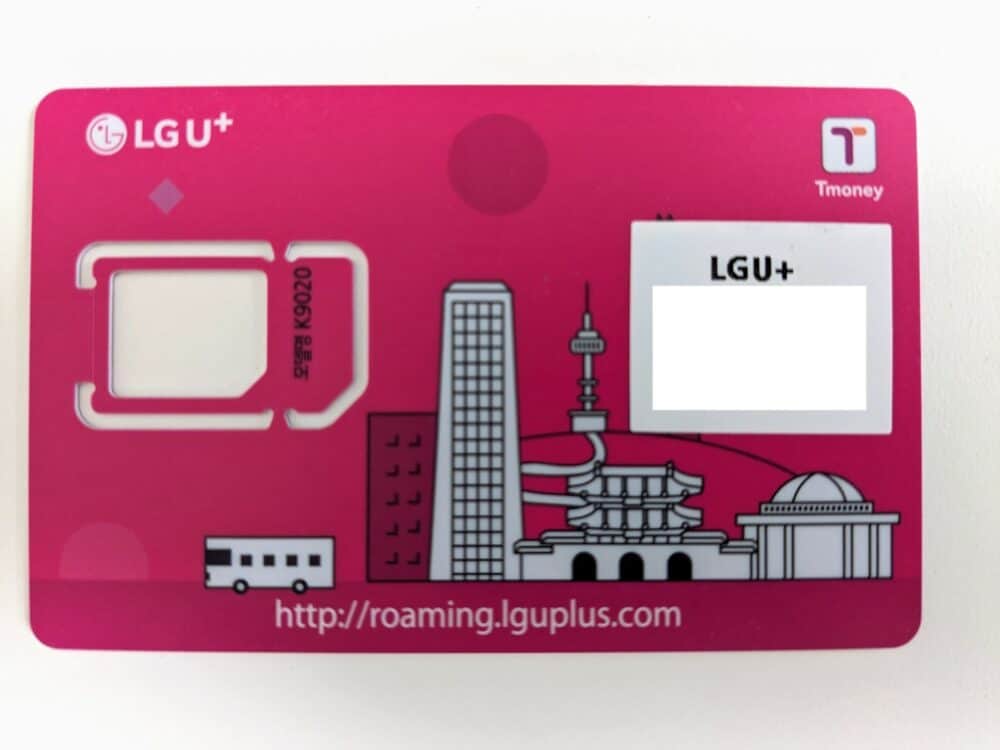 Depending on how you travel, you may find more of a need for a local phone number than in other countries. It's common for popular restaurants to operate a waitlist, either via a machine at the entrance that takes your details or a human who does the same.
Either way, you'll receive a text or call when your table is ready…assuming you're using a local number. While it's not impossible to find machines or people that will accept an international number, it's a lot rarer. If you don't have a way of receiving texts or calls at all, well, good luck; it's probably time to look for somewhere else to eat.
Likewise with a few of the recommended apps: in some cases you'll need a local phone number to sign up for them, or at least to use all of the functionality. One of the taxi apps, for instance, will let you sign up with an international number, but won't let you add a credit or debit card. You'll need to pay the driver directly with cash, T-Money, or (perhaps) an international card instead.
All of that said, although I bought the above LG U+ SIM that came with an inbound phone number (i.e., it could receive calls and texts but not make them), I rarely used it.
In the end I didn't need to take a taxi anywhere in the country, and was only asked for a local number a couple of times while ordering takeaway food from a touchscreen kiosk. In both cases, I could have ordered at the counter, albeit with some likely language challenges along the way!
At least for the way I travel, then, next time I visit South Korea I'll likely do without a local number, and save some money by getting that data-only eSIM instead.
Power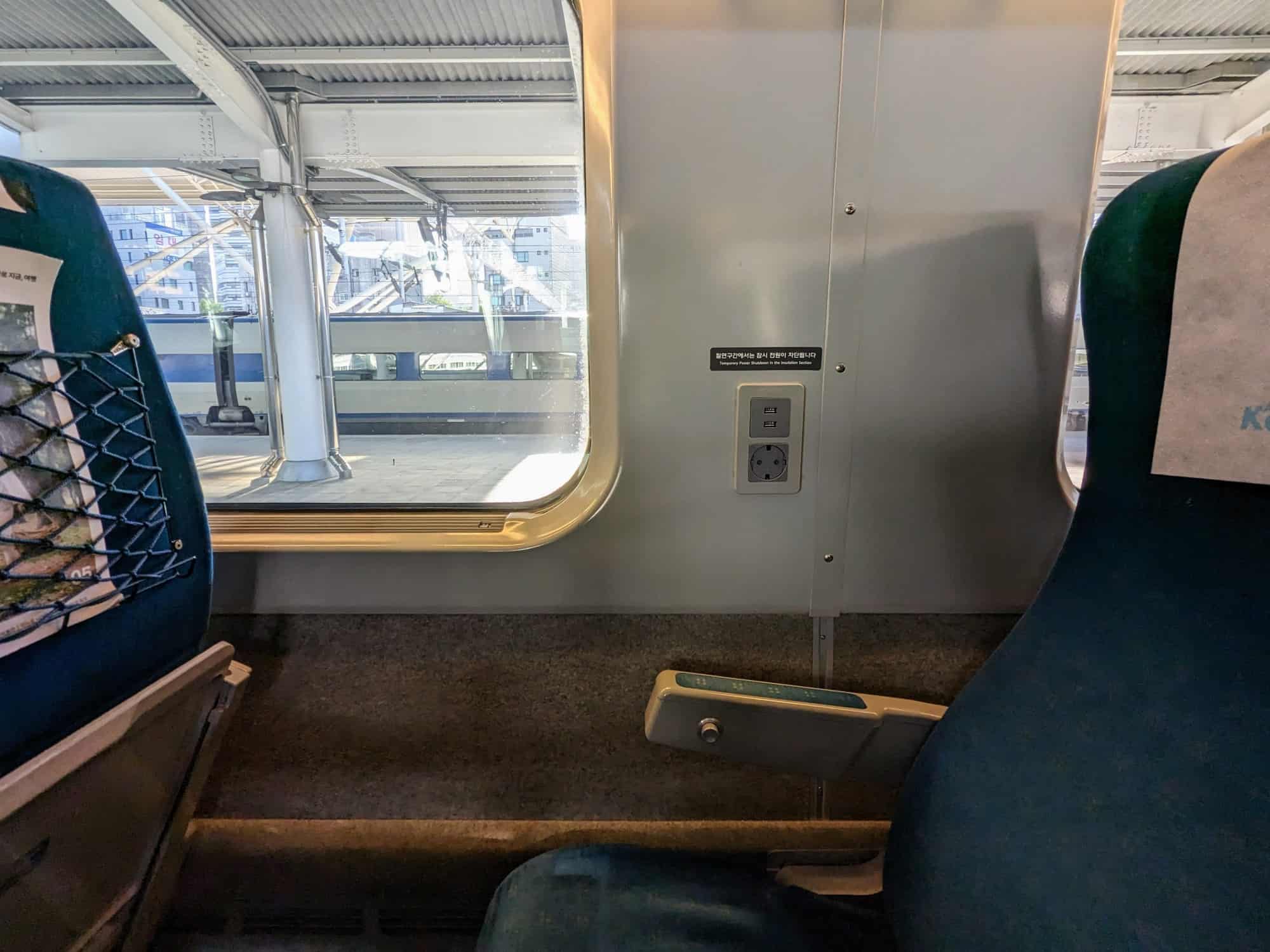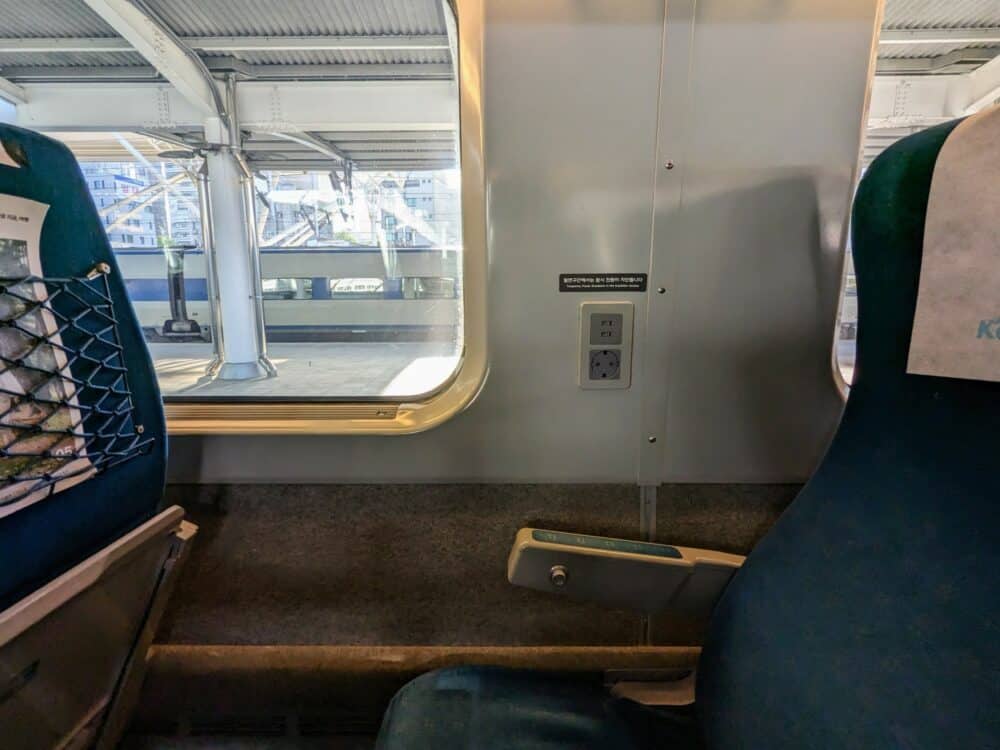 Just a quick note on power and charging, because there's not a lot to it. Wall outlets in South Korea are the usual round two-prong type that you find in much of Europe and Asia.
Voltage is 220 volts, so if you're used to using 100-120v (e.g. in the United States), check your devices and chargers to make sure they can handle the higher voltage. Likewise, if you use a different power outlet in your home country, be sure to pick up a travel adapter before you head to the airport.
You'll find wall outlets and USB sockets on KTX trains, and it's not all that unusual to find at least USB sockets on some of the long-distance buses as well.
Apps You Need to Download (and Apps You Probably Don't)
While South Korea is a very technologically advanced country, that technology doesn't always come in a form that foreign visitors are used to. That's especially true for smartphone apps where, for a number of reasons, you'll want to download some new ones before you arrive.
That said, I've seen some fairly ridiculous lists of "essential" apps for South Korea floating around: you don't need to install dozens of new apps on your phone to travel effectively in the country. In reality there are maybe five or six that you'll use regularly, and a couple of others that might be useful now and then.
Note that I'm writing this in mid-2023, when pandemic-related travel restrictions have been removed and the need to apply for the K-ETA travel authorization has been suspended. There were a bunch of tech and app-based requirements that went with those that you currently don't need to worry about.
As I mentioned above, legal restrictions on overseas-owned companies means that your usual navigation apps from the likes of Google and Apple aren't all that useful.
With Google Maps, for instance, you'll only get shown public transportation directions. No driving, no walking, no cycling. It doesn't matter if your destination is a three minute walk away, you'll be told you need to take a bus or train to get there.
Enter the local competition. Naver Map and KakaoMap are the two most popular, and while it's very obvious that both have been designed for a Korean audience, you'll still be able to use them as a foreigner. I preferred Naver and used it most of the time, but found that KakaoMap (below) still had its uses.
You'll get accurate walking and driving instructions, for a start, and the public transport info is more detailed as well. You'll be given precise walking distances within a subway station, for instance, and exactly where you need to enter or exit it. In large, busy stations, you'd be surprised how much difference that makes.
There'll likely be hundreds, if not thousands, of reviews of anywhere you're thinking about going, and while most of them are in Korean (there's no inbuilt translation), the photos and average star ratings are still useful.
There's no offline navigation support, at least not that I could find. Given how widespread cell service is, that's unlikely to cause many problems if you have a working SIM, but might do if you don't.
While I generally found Naver a little easier to use as a non-Korean speaker, KakaoMap wasn't far behind. It was also better at certain things than Naver, so I'd suggest having both on your phone and switching between them as required.
With KakaoMap, you'll be shown the potential cost of your public transport journey in advance. Whether you'll just be taking the metro a couple of stops or traveling halfway across the country by different modes of transport, the estimated price always seemed accurate.
When there's a choice (e.g. different types of bus going to the same place), it defaults to the cheapest option.
I also found that outside Seoul, the estimated arrival times for a given bus service better matched reality. In Seoraksan National Park, for instance, Naver steadfastly stuck to the half-hourly schedule, while KakaoMaps seemed to actually track the bus and tell me how far away it really was.
One thing to note with both Naver and KakaoMap, mind you, is that searching for the English names of landmarks, restaurants, hotels, and so on doesn't work especially well.
There are multiple ways that Korean characters and words can be represented in English, so the spelling of e.g. a hotel from your booking confirmation may not be the same as how it's shown in your navigation app.
To make things harder, the search function in both local apps doesn't seem to include many or any of these variations: often, if you don't spell something exactly how it's shown in the app, it simply won't appear in your search results.
After a while, I found the best way to deal with this was to search for the place name in Google Maps, take note of nearby landmarks and street names, and then scroll around Naver or KakaoMap until I found the same place. Sure enough, whatever I was looking for would be right there, just spelled slightly differently.
Papago (Translation)
While you can get by with Google Translate and it works reasonably well, I found local translation app Papago did a slightly better job. It's made by Naver, but unlike the somewhat chaotic interface for the company's navigation app, Papago is refreshingly simple.
It can translate written or spoken phrases, images, or photos that you take in real time. There's also a two-way conversation mode, where each person taps a microphone icon to speak and the app translates in both directions.
Functionally then, it's not all that different to Google Translate. It's just the little things that make the difference, like being able to toggle honorifics on and off, and the inclusion of useful phrasebooks and flash cards for those looking to learn more of the language.
You can download offline packs for a few of the supported languages (including English and Korean), so you'll still be able to translate without an internet connection. At time of writing, Papago supports around a dozen languages when you're online, and four when you're not.
Uber / UT (Taxis)
While Uber's ride-sharing service is banned in Korea, the company's app still works as a way of hailing a standard taxi. Branded as UT (the icon on your phone app will change when you're in the country), it works in a superficially-similar way, with fixed fare estimates at the time of booking.
The biggest benefit for tourists, especially those who already use Uber elsewhere in the world, is that it's easy to add and use international cards for payment. That's not the case with local apps like Kakao T (below), and given the price is about the same, will be enough of a reason for many visitors to go with UT.
Drivers need to be set up for UT, however: some have UT branding on the vehicle, others don't. That's not much of a problem in Seoul, where there's typically no shortage of drivers, but is more likely to be an issue elsewhere in the country.
Free, iOS and Android
Kakao T (Taxis)
The main taxi hailing app in Korea, Kakao T is where you'll find the most taxis available, and may be your only app-based option in smaller towns and cities. It works well if you're a local or longer-term resident, but due to difficulties with registering international payment cards, isn't as convenient for short-term visitors.
That's not to say you can't use it, only that you can't pay with a card in-app. Instead, you'll need to swipe left and choose the "Pay to driver" option when ordering your cab, then use a payment method that the driver supports. That could be cash, credit or debit card, or T-Money card: just ask (or show) the driver when you get in.
The app itself is minorly annoying with the amount of information and permissions required to create your initial account, but once it's setup, you've got a lot of choices. You can do everything from hailing taxis and buying bus tickets to renting bikes, cars, and parking spaces.
In theory, at least: without the ability to pay with a Korean card, many of those other features won't work.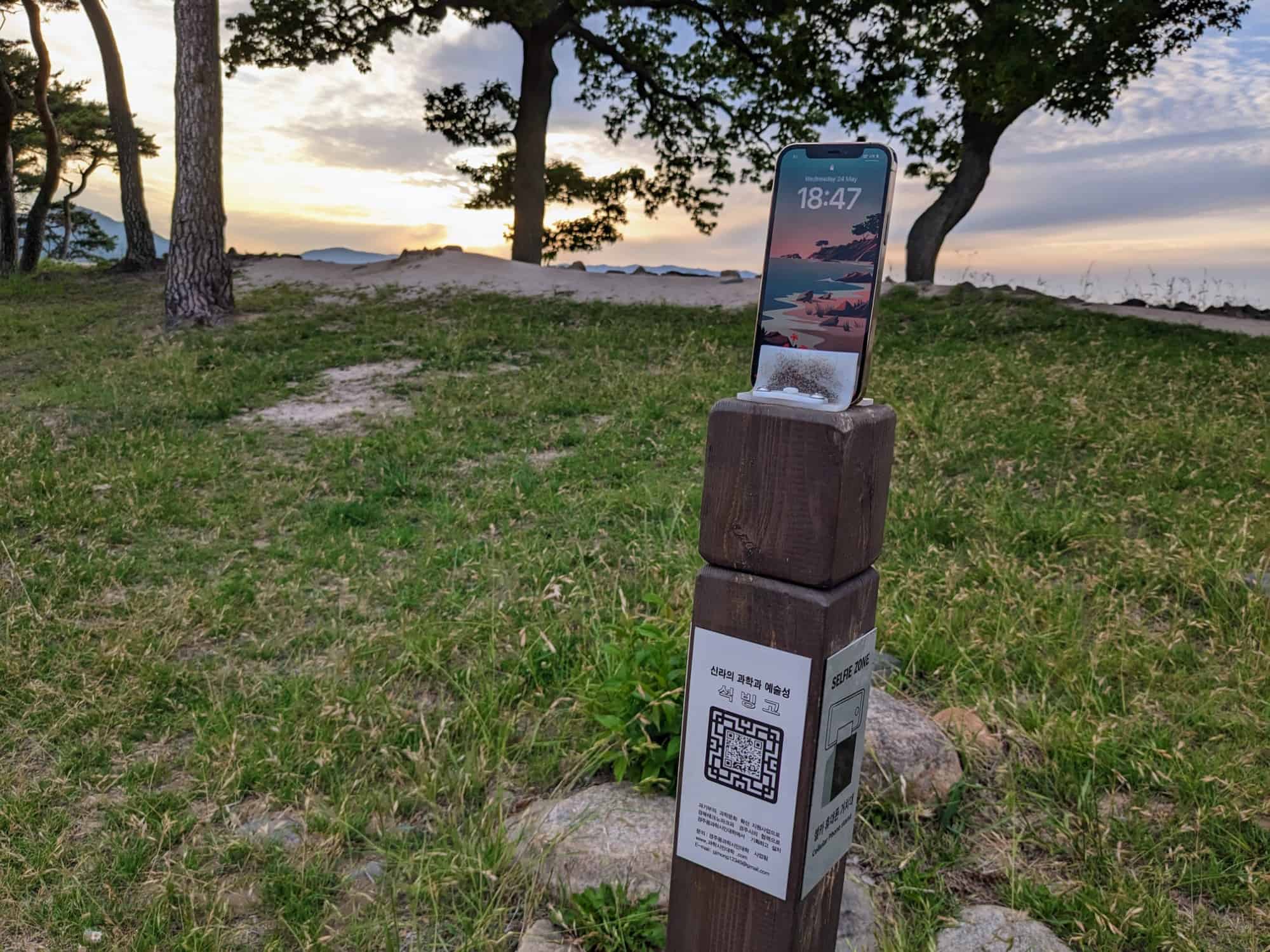 MangoPlate (Dining)
Google Maps, Naver, and KakaoMap all have the ability to review restaurants (and anything else) built in, so you don't need a separate app to help figure out where to eat each day. Still, MangoPlate is dedicated to the cause, and has a few features that you won't find in the general navigation apps.
I liked having popular neighborhoods listed right when I opened the app; not only did it help me figure out which parts of the city had the best food, but when I was staying in one of those areas, I could quickly skim for good options even if I didn't really know what I felt like eating.
As well as those area-based ratings, the app also has themed lists: the hottest bakeries in Seoul, for instance, or the best places for take-out gimbap. There are even "food tours", which highlight popular restaurants around a neighborhood and recommend what to eat when you're there.
The user reviews themselves are, unsurprisingly, almost entirely in Korean, but there is a translation option beside each one that will at least give you some idea of what the person thought. If it's not making a lot of sense (the translation isn't amazing), just go with the average rating at the top.
XE (Currency Conversion)
I've used the XE currency conversion app for many years, and the associated website for even longer. It's a simple way of converting between two or more currencies, and I keep a widget on my home screen to make what is already a pretty quick process even faster.
South Korea was no different in that regard, and while it wasn't hard to do a rough conversion in my head between Korean Won and e.g. US dollars, I often double-checked larger purchases just in case.
There's not much to using the app: install it, choose the currencies you'd like to convert between, and type in an amount in any of them to instantly give the value in all of the others. The widget gives the current exchange rate for any currency pair, so I just set mine to KRW and USD throughout my trip.
You don't need to be connected to use the convertor: it remembers the exchange rate from the last time it synched, and then updates whenever you're back online.
AirVisual (Weather and Air Quality)
I usually look for local weather apps when I'm in a country for a while, since they're typically more accurate than the big global versions. I couldn't find a locally-developed one that I liked for Korea, however, so in the end I settled on AirVisual.
The forecasts seemed accurate during my time in the country, with current information and seven days of predictions available. I also used it for its primary purpose: air quality measurements. Parts of South Korea, especially Seoul, don't always have great air quality, and I wanted to know what lay in store before planning a big day exploring the city.
As the name suggests, the app gives a quick visual representation of the current air quality, with a little colored icon and PM2.5 number. Anything under 50, for instance, showed a smiling face on a green background. At the other end of the scale, 300+ showed a face wearing a full gas mask. You get the idea.
Weather forecasts also have an estimated air quality range as well: hourly for the next three days, and a daily average for the rest of the week.
Apps that I saw mentioned regularly online before I left for Korea but never found a use for while I was there include:
the official Visit Korea app. It has a bunch of general tourist information and things like weather forecasts and exchange rates, but there was nothing that I couldn't find in more detail elsewhere.
Kakao Talk. It's the local equivalent of WhatsApp, Line, or other chat services. If I had local friends, I'd likely have needed to use this, but as it was I just used email or the inbuilt messaging tools on e.g. Booking.com for hotel reservations.
Korail. While I did take a couple of KTX trains around the country, I just booked and checked them on the website. The app was slow and buggy, and while I could eventually retrieve an existing reservation on it, it took forever. Given that experience, I wasn't interested in trying to book new tickets using it!
T-Money Cards: How to Buy and Use Them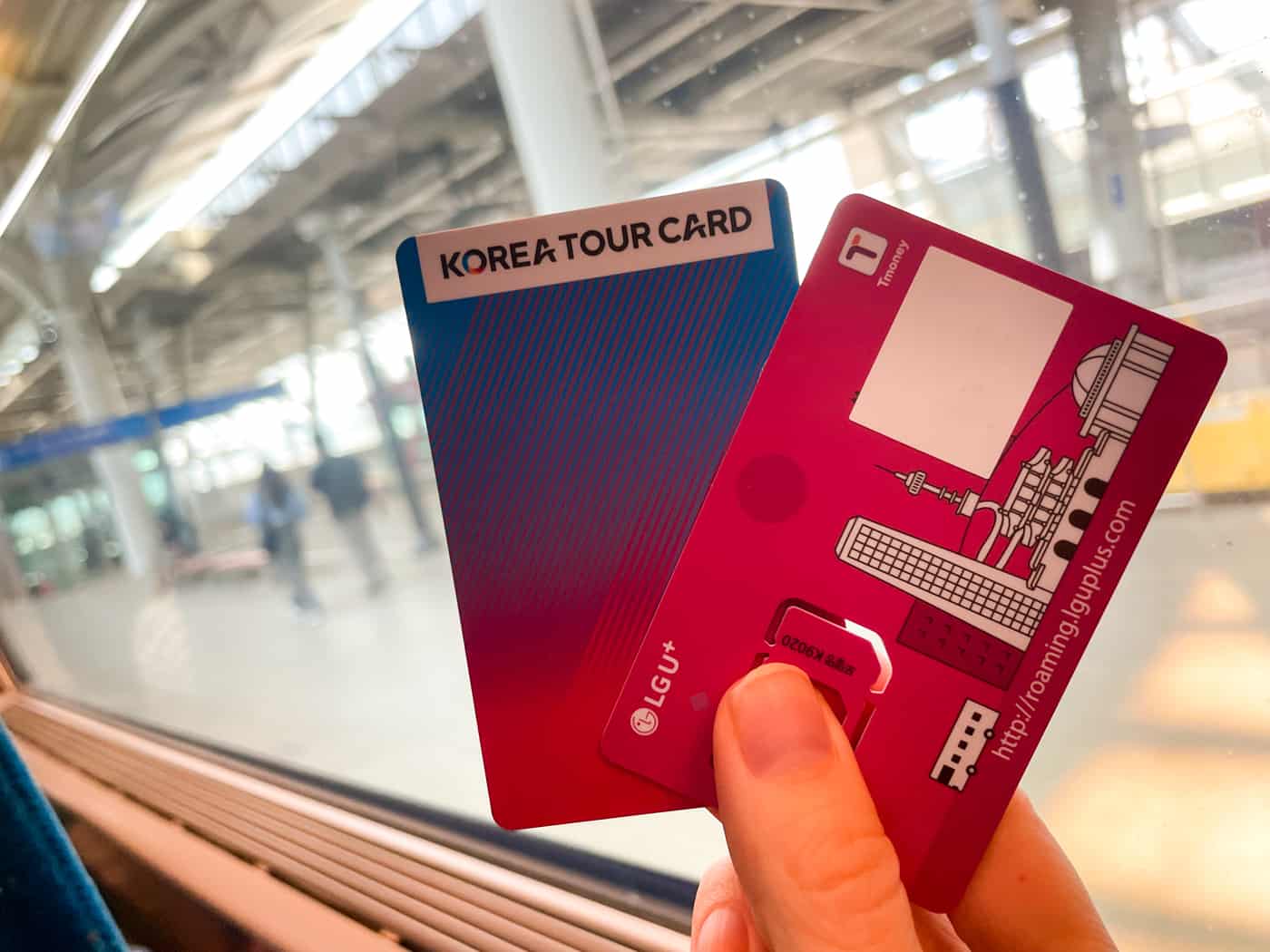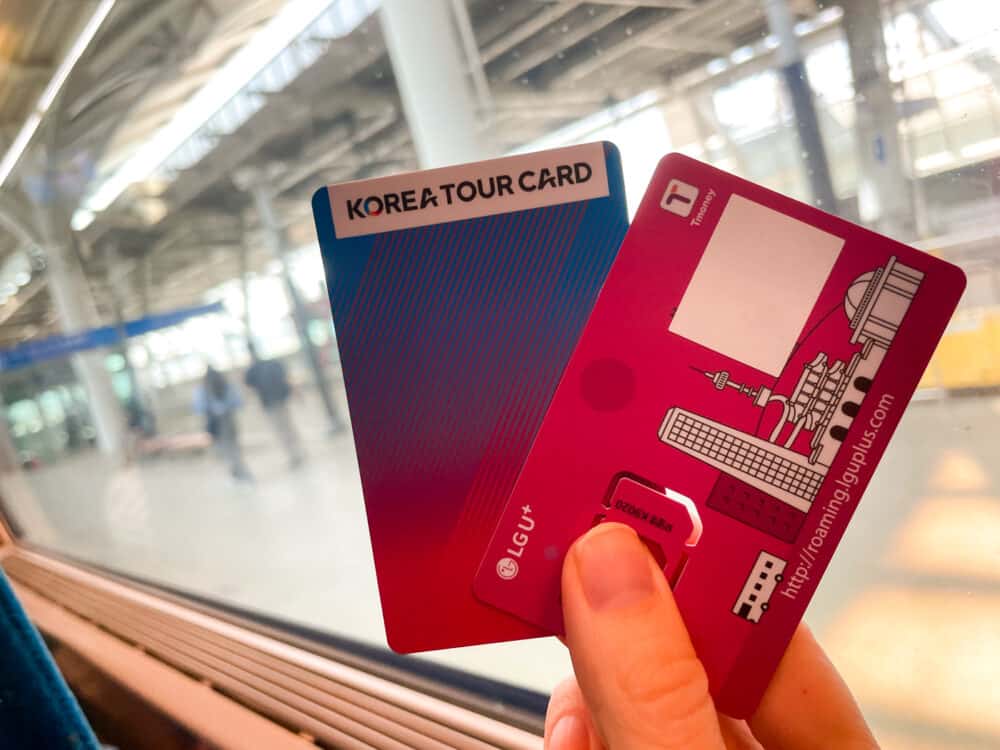 Outside rush hour, taking public transport in South Korea is generally a pretty great experience. That's especially true in Seoul, where the metro goes almost everywhere, buses cover any gaps, and you won't pay much no matter where you go.
While it's possible to buy single tickets for the metro and pay in cash for buses, I'd highly recommend not doing that. Instead, pick up a T-Money card, load it up with credit, and then use it to pay for everything from public transport to taxis, convenience store snacks to random things from vending machines.
On public transport, you just tap the card on the reader at the turnstiles or at the front of the bus and continue on your way. You'll save a bunch of time, and a little bit of money, every time you use it: I found it incredibly convenient, especially because it works almost everywhere in the country.
I used mine on the metro and buses in Seoul, buses in and around Gyeongju, and even the bus that runs between Sokcho and Seoraksan National Park. It doesn't work for intercity buses or trains, though: you'll need to pay for those online or at the ticket counter directly.
To actually buy your T-Money card, you've got a few options. The easiest for most tourists is to pick one up at the airport when you fly in. Grab it from the vending machines beside the ticket barriers for the all-stops airport train, then add credit at the top-up machines stationed nearby.
Failing that, you can also buy them at convenience stores at the airport or anywhere in the country, and some of the major metro stations also have vending machines like those at the airport. I got mine free with my local SIM card, and just needed to top it up before leaving the airport.
The card itself costs 2500-4000 KRW, and rides on the metro cost 1250 KRW if they're less than 10km. You'll pay 100 KRW more for each 5km beyond that, but other than going to and from the airport, traveling that far is pretty rare.
Topping up is a similar experience: you can do it at the machines at any subway station, or at a convenience store. Note that you'll need to pay in cash: cards aren't accepted for T-Money topups.
You can get a refund of any remaining credit (although not the cost of the card itself) from vending machines at the airport and subway stations. Just make sure you've got less than 20,000 KRW on the card at the time, otherwise you'll need to go to the main office in Seoul Station to do it.
Cash? Card? Apple or Google Pay? The Answer Is Maybe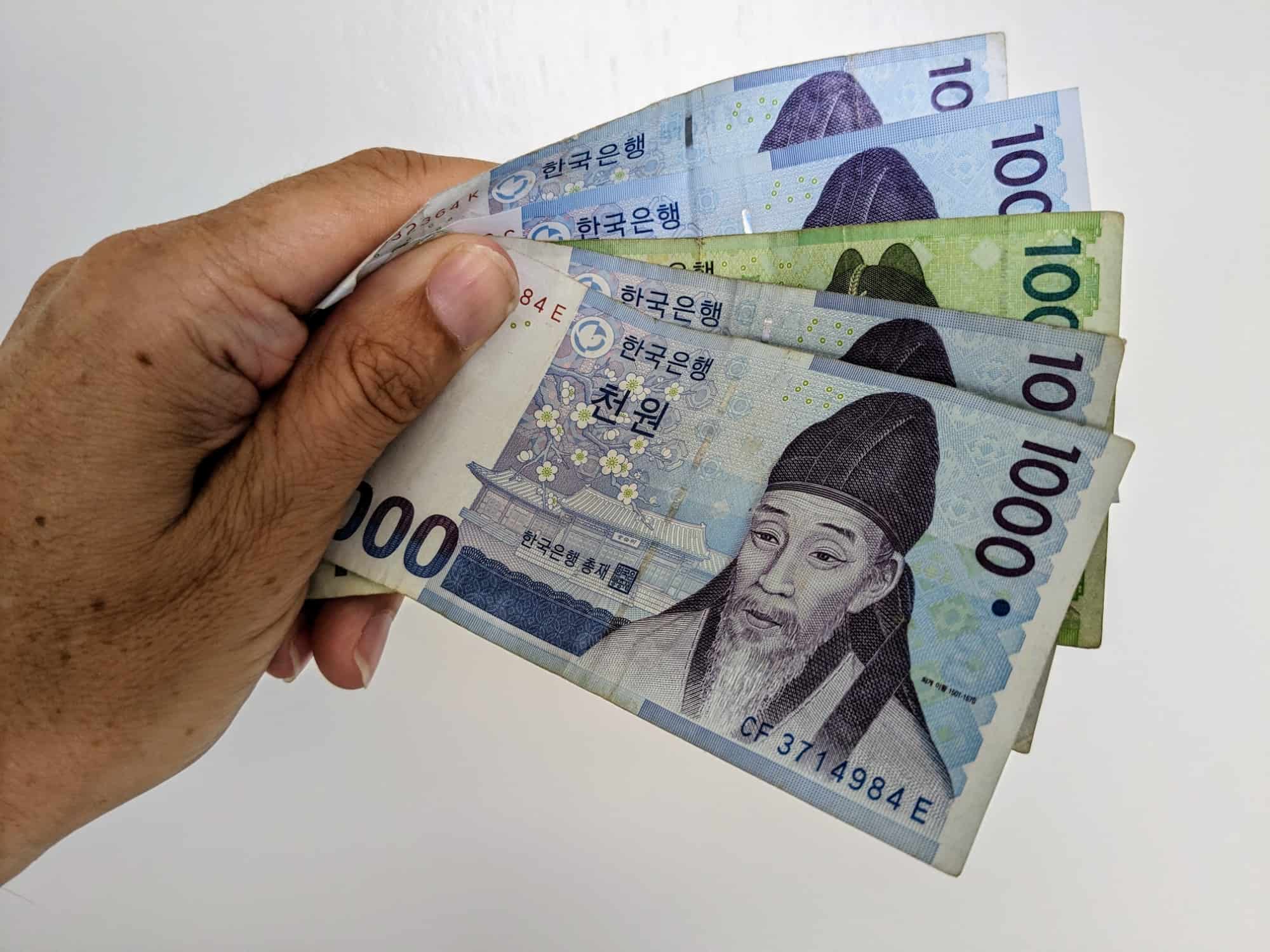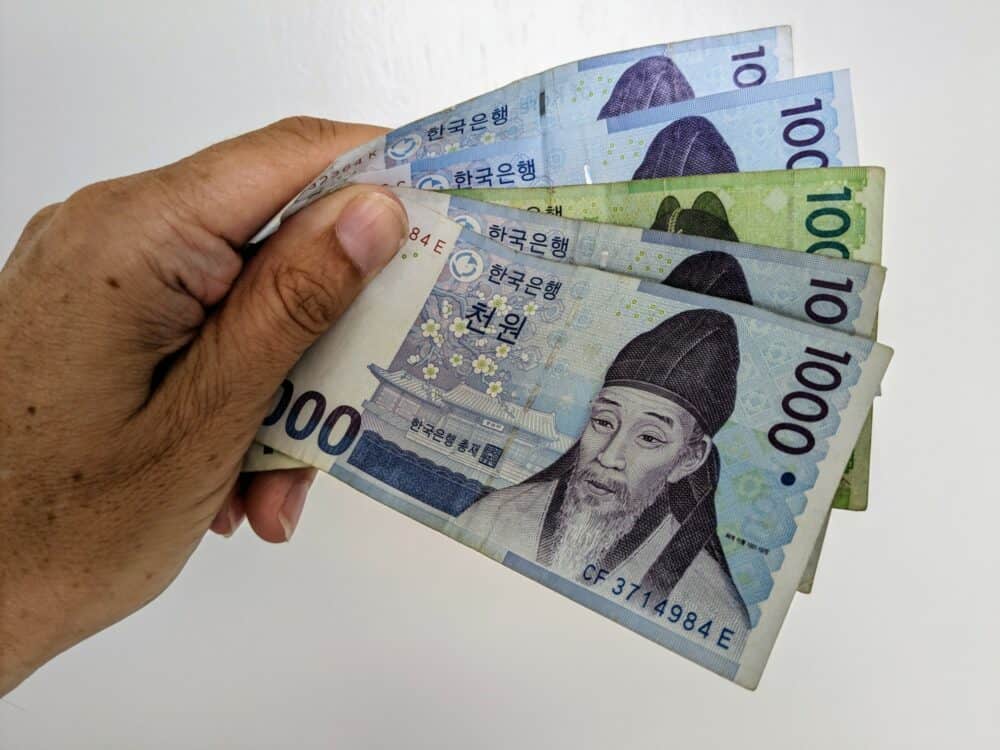 Other than topping up your T-Money card and paying street vendors, South Korea is largely a cashless society. Locals use cards or their phones to pay for everything, and if you're used to doing the same thing yourself at home, this probably sounds great.
Not so fast. While locals can definitely pay for pretty much anything with their debit or credit card, the same often doesn't apply to tourists.
On a technical level, at least as far as I understand it, most card terminals in Korea are set up only for chip+signature payments. That's when you tap or insert your card, sign on the screen with a little stylus, and away you go.
If you're from the US, there's a chance that this approach might work for you: it's similar to how things work back home. If you're from Europe or elsewhere in the world, though, where the norm is chip+PIN, welcome to a world of payment pain.
Many of those banks require you to enter a PIN to authorize a payment, especially when the card has been inserted into the terminal. Because there's no mechanism on many South Korean card readers for entering said PIN, the vendor will try to bypass this…and your bank will fail the transaction.
Does this happen every time? No, just most of them. I had four different cards (VISA and Mastercard, debit and credit, from multiple countries), and it was anyone's guess as to which one might work. Often the answer was "none", and I was left offering to pay in cash and hoping the vendor would accept it.
In touristy areas, people are pretty used to foreign cards not working, so are more likely to accept cash and have enough change for smaller purchases. Elsewhere, it's not impossible you could end up in a situation where there just isn't a way to pay for something. Hopefully that's a souvenir and not the large dinner you just ate!
Oh, and if you're thinking you'll use Google Pay or Apple Pay instead, you're likely out of luck there too. Google Pay doesn't exist, and Apple Pay is only just starting to make an appearance. My partner was able to use it exactly once in a convenience store: look out for the logo, but don't plan to rely on it.
No Luggage Trackers for You
Finally, let's talk about using luggage trackers. Or more accurately, let's talk about not using them.
With travel chaos and lost luggage on the rise post-pandemic, many people have started dropping little luggage trackers like AirTags and Tiles into their checked bags. My partner and I started using AirTags last year, which came in handy when we arrived in Vietnam one evening and our bags were still in Thailand.
If you're thinking about doing the same for your trip to Korea, however, think again. Due to those strict rules about mapping and location tracking that I mentioned earlier, overseas companies like Apple and Tile can't enable the location-tracking features of their products.
Fire up "Find My" in Korea, for instance, and you'll see… well, nothing, probably. What you definitely won't see is the location of your AirTag, or your phone if you left it behind somewhere. Both will start showing again as soon as you leave the country, but not while you're there.
The only possible exception to this is the Samsung Galaxy SmartTag, since it's from a Korean company. If you already have a Samsung Galaxy phone and are looking for a compatible luggage tracker anyway, then maybe it's worth considering. Otherwise, I guess it's time to resign yourself to a little more uncertainty in your life.
Got any other tech questions about traveling in South Korea? Leave them in the comments below and I'll do my best to answer them!
---
Image of T-Money cards being held in hand via Lauren Juliff. Other images via author