Working from home or other non-traditional work environments has its benefits, but good posture isn't often one of them. Hunching over a low table, lounging on a couch, or simply using your laptop at odd angles for long enough can lead to neck, wrist, and back pain. Do it long enough, and repetitive strain injuries become a problem as well.
One of the simplest and most cost-effective ways to combat RSI is by using a properly-adjusted laptop stand. A good one will help prevent pain, improve your posture, and as an added bonus, increase airflow to stop your laptop from overheating. A hot laptop is a slow laptop!
Laptop stands come in all sorts of shapes, sizes, and prices. We've pulled together our pick of the current crop in 2023, depending on where and how you plan to use them, the features you need, and your budget. If there's one thing our experiences have shown, it's that they're definitely not all the same!
Best for a Home Office: uGreen 360
Dimensions: 11 x 8.8 x 3.0 inches
Weight: 3.3 pounds
Elevation: 2.2-15.1 inches
Compatible with: Most laptops with up to 17-inch screen
Best Travel Laptop Stand: The Roost
Dimensions: 1.2 x 13 x 1.3 inches
Weight: 5.8 ounces
Elevation: 6-12 inches
Compatible with: Laptops with front edge less than 3/4-inch thick
Sale
Sale
What to Consider When Choosing a Laptop Stand
Is It Adjustable?
Your laptop should be set up with the top of the screen at eye level. Screens placed below your eye line can result in neck and back strain, especially if you work that way all day. A laptop stand with a good degree of adjustability provides much more flexibility about how you set up your workspace.
Is It Portable?
If you only work in one designated area, you don't need to worry so much about portability. You probably want to look for something less portable, in fact, since those stands are generally more stable and sturdy.
Will you want to move your laptop stand from one room to another in your home? Do you often switch between the office, bedroom, and dining room table? If you want to be able to move your work area while still staying comfortable, a portable laptop stand is more appropriate.
If you plan on taking your laptop stand out of the house to work in coffee shops or while you're traveling, consider the weight of the stand and whether it can fold down to fit in your backpack or suitcase. We've included a lightweight, travel-appropriate model below.
How Much Does It Cost?
Laptop stands come in a range of prices. If you plan on using one regularly, it's worth spending more for extra features and durability: you'll definitely notice the difference. If you only need one for a few weeks or think you'll only use it occasionally, on the other hand, you can likely get away with a budget model.
Does It Meet Your Technical Requirements?
Before making any decision, ensure the laptop stand fits the dimensions of your computer. Most stands are made to accommodate anything up to at least a 15″ laptop, but double-check the details. They'll also have a maximum weight rating, so make sure your laptop is well under that.
Consider how you'll use your laptop when it's on the stand. Some people prefer to work directly on their laptop, utilizing the built-in keyboard and trackpad. If that's the case for you, make sturdiness a top priority. The last thing you need is your laptop bouncing around every time you press a key.
If you plan to use an external keyboard, sturdiness isn't so important as long as the stand can securely hold your laptop. Look for a stand with a mouse pad tray (we recommend one below) if you're short on desk space or plan to use your laptop while standing up.
If you're using your laptop as a secondary display, the stand's vertical height needs to be adjustable so you can line up the top of the screen with the top of your main monitor.
Best for a Home Office: uGreen 360
If you'll be using your laptop stand in a dedicated office space, it makes sense to swap a degree of portability for extra stability and features .With that in mind, our home office pick is the uGreen 360: I've been using one for a while now, and it's proven a useful and reliable addition.
The sleek aluminum design is as sturdy as it is attractive: I've had no concerns about my laptop moving around or being in danger of toppling off the tray when I bump the desk. The hinges on both stand and tray are very firm, requiring a bit of force to move and staying solidly in whatever position you choose.
There's plenty of height adjustment on offer (I had no problems raising the level of the laptop screen to match my monitor), and the tray angle moves from horizontal to vertical and anywhere in between. When the tray is fully horizontal, my 14″ laptop barely moves as I type: always a good sign.
Larger laptops would likely move around more, though, as they'd overhang a bit on each side of the tray. I'd suggest using an external mouse and keyboard if you have anything larger than a 15″ laptop, rather than doing your typing on the laptop keyboard.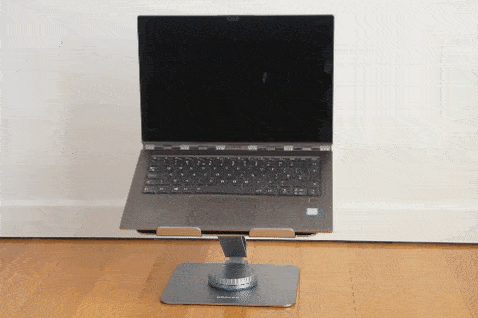 The stand's party piece is its ability to swivel through 360 degrees, so you can easily turn your screen to show it to someone standing beside or in front of you. I was impressed with how well this worked: I could rotate it easily with one hand, without having to brace the bottom of the stand at all.
If that's not a feature you plan to use, you can also lock the swivel mechanism in place so it can't be moved.
The tray has several diagonal cutouts to aid with airflow, helping your laptop run cool even when you're pushing it hard. Soft, grippy pads at the top and bottom of the tray help keep the laptop in place without scratching it: there are similar pads under the base to grip and cushion your desk or table.
All in all, I really like this stand. It costs a little more than some of the others on this list, but you get a lot for your money. If you don't plan to take it outside your home or office, it's my top laptop stand pick right now.
Pros
Sturdy
Attractive
Swivel base
Good height adjustability
---
Buy on Amazon
Best for Adjustability: Executive Office Solutions
If you're after a stand with the maximum amount of adjustability, look no further than this Executive Office Solutions offering. With fully adjustable legs and tray that lock into place exactly where you want them, you've got more flexibility than most about how and where you work.
You can change your setup at any time, and the stand collapses down if you want to move it between rooms or pack it away when it's not being used. Non-slip rubber feet help prevent the stand from sliding around, while the tray's textured surface and wide lip stop the laptop itself from moving.
This model also comes with a clip-on tray designed for an external mouse, and a pair of USB-powered fans built into the tray to draw heat away from the laptop. The only real downside is that the stand can move around a bit at maximum extension, especially when typing on heavier laptops.
Pros
Highly adjustable
Easy to set up and take down
Clip-on mouse tray
Inbuilt USB fans for cooling
Cons
Can move around when fully extended and/or with heavier laptops
---
Buy on Amazon
Best for Travel: The Roost
A travel laptop stand needs to be lightweight and compact, yet sturdy enough to securely hold your laptop. The Roost Laptop Stand is all of those things, and I've been happily using one for many years.
It adjusts to give you between six and 12 inches of lift, while weighing less than six ounces. The stand is fully collapsible, folding up to 1.3″ in diameter and just over a foot long, so it's easy to fit into your bag whether you're heading to a coffee shop or the other side of the world.
The rubber feet keep the stand secure even on slippery tabletops, and the front clamps hold the laptop (or tablet) in place surprisingly well. Height adjustment is handled via a pair of clips: simply press them down, adjust both legs, and let the clips click back into place.
The Roost is more expensive than some of the other travel-sized laptop stands out there, and that's for one main reason: its durability. I wasn't kidding when I said I'd been using one for a long time: I picked mine up in 2016, and it's still going strong despite mostly living in a backpack ever since.
Although I've found the Roost to be fine for daily use at home as well, a travel laptop stand is really designed for when you're on the go. If you're looking for a laptop stand that won't ever leave your house, you may want to opt for one that has a bit more heft and adjustability to it as above.
Pros
Small and lightweight
Durable and well-made
Very quick to set up and take down
Cons
Relatively expensive
Limited adjustability
---
Buy on Amazon
Best on a Budget: Leeboom Adjustable Laptop Stand
A cheap laptop stand won't do anything fancy, but it's certainly better than using nothing at all. If you don't know how much you'll use it or a more expensive option isn't in your budget right now, you can pick up the Leeboom adjustable laptop stand for the price of a few cups of coffee.
It's adjustable through seven different positions that hold your laptop at various angles between 15 and 45 degrees. Non-slip silicone pads prevent scratches and stop your laptop from sliding around, and the hollow design ensures plenty of ventilation.
The stand folds down nice and small in a similar way to the Roost (above), and comes with a soft pouch to store it in. Combined with the 0.6-pound weight, the stand is appropriate for use both inside and outside the house, and takes up minimal room when you don't need it.
It's not the most feature-packed laptop stand on the market, and won't last a lifetime, but it does the job well and costs very little. Sometimes, that's all you need.
Pros
Very inexpensive
Good adjustability
Cons
Basic features
Questionable longevity
---
Buy on Amazon
Best Laptop Floor Stand: Viozon Floor Stand
If you don't have room for a dedicated desk, but don't want to work from your kitchen table, a laptop floor stand is the way to go. These provide maximum flexibility about where and how you work, whether that's in bed, on the sofa, or just pulling up a chair anywhere you can find a bit of space.
We considered a few wheeled models in this category due to the ease of moving them around, but they were all a little too flimsy for our liking. In the end we settled on the Viozon Floor Stand, thanks to its sturdy base and solid construction.
Available with a black or wood tray that's an inch and half thick, the Viozon is a relatively simple affair. That's a good thing with stands like these as there's less to go wrong, especially if you're regularly moving or assembling and disassembling it.
A central aluminum pole sits overtop a pair of wide, angled feet that help ensure the stand doesn't move around while still being easy to fit under a chair, bed, or couch. Rubber pads on the bottom protect your floorboards, and also help ensure there's no chance of sliding.
You can adjust the height of the tray to sit anywhere between 30-90cm (roughly 12-35″), which handles most seated or reclining positions. At nearly 21″ wide, the tray has more than enough room to use a mouse with all but the largest laptops if you want to. The maximum weight rating is 17.6lbs.
The only caveat with the Viozon is that it's not intended to be used as a standing desk (for adults, at least,) and doesn't extend high enough for that purpose.
If you're looking for a laptop floor stand that you can use while standing upright, or that's a more portable option for taking outside the house, check out the AmazonBasics Adjustable Workstation instead: reasonably priced and quick to fold up and down, it extends all the way up to 55″.
Pros
Sturdy
Flexible usage options
Plenty of height adjustability
Room for a mouse as well
Cons
Doesn't extend far enough for use as a standing desk
---
Buy on Amazon
Best Padded Lap Stand: Lapgear Home Office Pro
Padded laptop stands are fairly inexpensive. They won't replace a long-term workspace, but will keep you more comfortable if you end up doing a bit of work from your bed or couch. Just don't make working in these positions a regular habit!
The Lapgear Home Office Pro has plenty of room for a 15.6″ laptop, with space left over for a dedicated mouse pad. There's also a slot to hold your smartphone. Cushioned both underneath and along the front edge, it's more comfortable than many other similar models.
The elevated rear cushion provides a better viewing angle and also allows for a reasonable amount of airflow. Compact enough to store easily, it's easy to move the desk from room to room in case you get motivated to double your daily step count by switching from the bed to the couch.
A lap tray like this can also be used to prop up an iPad or notebook, making it a versatile investment. If you're working from a car or bus, a padded stand adds some stability to your makeshift workspace while keeping a hot laptop off your legs.
The only potential downside is that the cushioning material on the bottom of the lap desk can spread out after extended use, making it less comfortable on the knees over time.
Pros
Enough room for both mouse and laptop
Slot for a smartphone
Easy to move and store
Cons
Cushioning material can spread out over time, making it less comfortable
---
Buy on Amazon
Best For the Sofa: Able Life Swivel TV Tray Table
A couch laptop stand lets you create a sturdy workspace from the comfort of your couch. Again, this isn't meant as a long-term or full-time solution but will do the trick if you don't have anywhere else to work from, or just want to spend some of your "office" hours in a comfortable chair or sofa.
The Able Life Swivel TV Tray Table is a sturdy option with height adjustment from 24 to 32 inches. That's important, since it lets you comfortably accommodate a much wider range of people and couch types than fixed-height models.
The stand has a pair of flat, 18″ wide feet designed to sit underneath the front and back legs of your sofa. They're also adjustable, anywhere from 25-35 inches, which easily covers the depth of most couches. Much more stable than a typical lap desk, it's a far better approach for regular use.
The oversized 20×15″ tabletop provides plenty of space for even large laptops, with enough room alongside for a mouse if you use one. You can even add an optional cup holder, so your all-important coffee doesn't end up on the floor. The steel frame can support up to 30 pounds of weight.
The desk section swivels through 360 degrees, so it can easily be swung out of the way when you're not using it or while getting up and down from the sofa. This also means the stand can be mounted on the left or right hand side of virtually any chair or couch.
Bear in mind that a couch laptop stand only provides a flat surface to work on, and doesn't offer any ergonomic support beyond the tray height adjustability. If you want to lift the display up to eye level or angle your laptop keyboard, you'll need to add one of the portable laptop stands we mention above.
Pros
Sturdy
Good height adjustability
Plenty of room for large laptops, even with a mouse
---
Buy on Amazon
🏠 Looking for more gear to help you work from home? We compiled a list of our favorite products that will improve your workspace, increase your productivity, and make you a happier remote worker.
---
Have you come across any other laptop stands you particularly like? Let us know about them in the comments!
Main image via Nate Grant, other images via Amazon