Whether you're a digital nomad on an endless road trip or an office worker caught between destinations, sometimes your workspace ends up outfitted with 4-wheel drive instead of a swivel chair.
Working out of your vehicle doesn't have to mean terrible internet, low battery warnings, and sweat-soaked t-shirts. With the right tools, you can get your work done in comfort anywhere from the Walmart parking lot to a scenic overlook in the mountains.
We've got 13 essential tips and tools for remote working from a car that'll help you power your devices, get connected, keep cool, and stay comfortable while you do it.
Dealing With Power
Precharge Your Devices
Keeping your gear powered during a long day on the road can be a challenge. Power outlets are often hard to come by, so it's worth making the most of them when they're available.
If you're starting the day in your house or a hotel room, make sure you've fully charged all your gear overnight. It's slower and harder to charge your devices in the car, especially if you've got a few with high power needs.
If most of your gear charges over USB, a good multi-port wall charger is inexpensive and lets you plug everything in at once.

Use a Good Car Charger or Power Bank
If your car has built-in sockets for charging your USB devices, be sure to check they can put out enough amperage to power the gear you're carrying.
Especially on older vehicles, these inbuilt ports may max out at as little as 0.5amp (2.5W). That's not enough to charge modern smartphones and tablets at full speed, and sometimes not enough to charge them at all.
If your ports don't cut it (or don't exist), you've got a couple of options. Third-party USB car chargers plug into the accessory port/cigarette lighter, and good ones can put out enough power to charge several devices at full speed.
If you don't want to leave the car turned on to charge your gear, pick up a high-capacity power bank instead. Also known as portable batteries, they'll let you charge your devices no matter where you are.
There are even options that can charge your laptop along with your mobile devices. Check out our recommendations for the best portable batteries for travel for full details and comparisons.
Plug In a Power Inverter
To keep your laptop charged in your car all day, you're going to need more power than what most USB sockets can put out. That's where power inverters come in. These devices turn the 12v from your car cigarette lighter into the 110v mains power your laptop is expecting.
The BESTEK Car Inverter has a pair of 110v outlets, along with a single USB C PD port and two USB-A ports for charging smaller devices at full speed.
Relatively compact and inexpensive for what it offers, it'll fit easily in most glove compartments when you're not using it.
Stay Connected
Working from your car offers you the mobility and flexibility a regular office can't, but it also poses several connectivity challenges. Weak signal areas and dead zones are a real problem, especially if you're relying on phone calls or the internet to get things done.
Check Coverage Areas and Data Speeds
If you know where you're going, check your cell provider's coverage map ahead of time. It'll usually give you a good idea of where you can expect service, and help plan around any dead spots or low-signal areas.
Make sure your data plan is large enough to cover the kind of work you'll be doing. Don't forget that even so-called "unlimited" plans often slow down once you hit a certain threshold.
Once you've found a likely-looking spot to work from, take a minute to check data speeds before getting set up. The signal strength icon on your phone or hotspot isn't reliable, so use apps like Speedtest.net to get the real story.
Check both upload and download speeds. If you're using a VPN back to head office, or you're a graphic designer who needs to send large files to clients, upload speed is just as important as downloads.
If your connection isn't fast enough for your needs, keep driving or save the high-bandwidth tasks for your pitstops rather than fighting with slow internet for hours.
Improve Your Cell Service
Dead zones and weak signal are a real problem when you're working from the car. Although on the pricey side, a cell signal booster does what the name suggests, so you're less likely to miss a call while in the middle of nowhere.
There are a few options out there, but the weBoost Drive 4G-X Cell Phone Booster Kit is a good example. Compatible with all US carriers including AT&T, Verizon, T-Mobile, and others, it supports up to four devices at once.
Boosting both incoming and outgoing signal, you'll get better data speeds and fewer dropouts and missed calls. In low-signal areas, you'll also get longer battery life, since your phone isn't constantly struggling to maintain a connection.
Use a Wi-Fi Booster
While cell data will often get you by, there'll be times when slow speeds and large file sizes have you headed for the nearest Wi-Fi network. Use a Wi-Fi range extender to boost the signal from a truck stop, cafe, or nearby store.
An extender like this will help you see a Wi-Fi network even when you're parked quite a distance from the source, so you never have to spend another afternoon inside a noisy McDonald's just to get some work done.
The Panda PAU07 is a good starting point, since it's inexpensive, compact, and has dual-band support. Installation is straightforward, although it's only officially supported for Windows and Linux laptops.
For other options, including those that work with the latest Macbooks or multiple devices, check out our full list of the best Wi-Fi extenders for travel.
Consider a Mobile Hotspot
If you're traveling over a wide area, you'll likely find places where your usual cell carrier has poor (or no) service, but there's plenty of signal with a different company.
Rather than just put up with it, invest in a mobile hotspot or dual-SIM phone. Stick a prepaid SIM card from a different carrier inside, and you've instantly got better service in more places.
We rounded up the best unlocked mobile hotspots for a variety of different needs. Unlocked hotspots are better for those spending a lot of time on the road, since they let you switch out SIM cards from different carriers as needed.
Complete Your Work Offline
While it often feels like we need to be connected to get anything done, that's not always the case. Consider tasks you could complete offline, and save them up for the times you don't have internet.
Is there any writing, editing, or brainstorming you could do without Wi-Fi? Many apps work largely or entirely offline by default, while web tools like Google Docs, Sheets, and Slides offer an offline mode so you can keep working even in dead zones.
Beat the Heat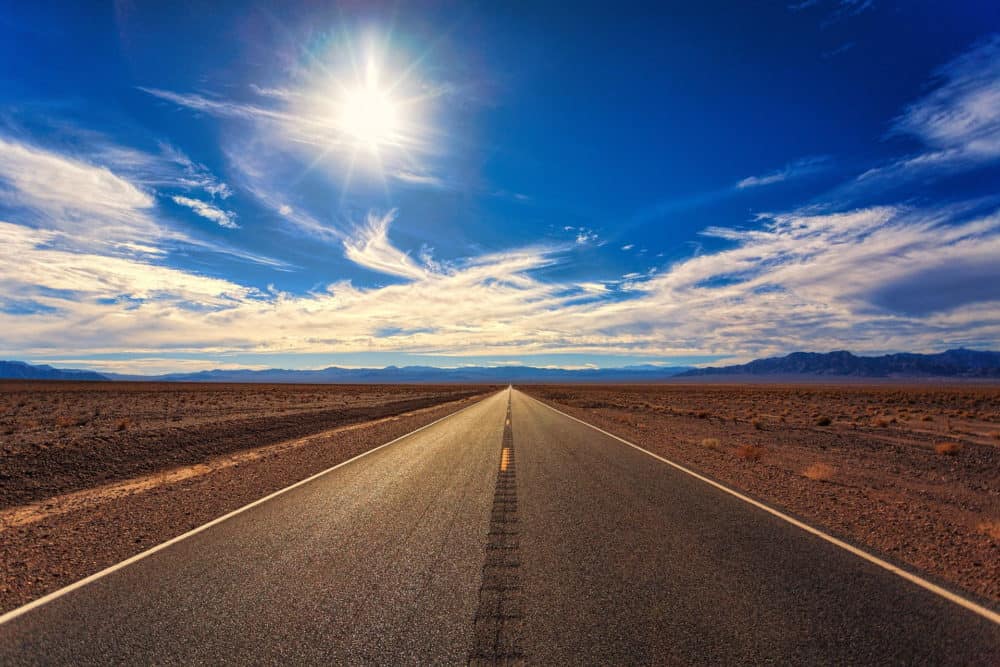 Make sure both you and your devices don't overheat in hot weather. Devices are susceptible enough to overheating without being in direct sunlight for long periods of time, and chances are you won't enjoy it much either.
Avoid Direct Sunlight
Move your electronics out of the sun, and look for a shaded area to work from. If the sun is unavoidable, at least cover your window with a shirt, blanket, or towel.
Glare can be a problem in the sun too. If you encounter this problem often, it's worth investing in an anti-glare screen protector for your laptop.
Get a USB Fan
If you don't want to be running the car's a/c for hours, use a portable USB-powered fan to help keep things cool.
This compact KEYNICE USB desk fan has four-inch blades and a six-inch frame that can be adjusted to face in any direction. It can stand on its base or be clipped onto anything under about 2″ thick.
The five-foot cable plugs into your laptop, portable battery, or car USB socket, making it easy to use no matter where in the vehicle you're sitting. It's a simple, low-cost solution.
Manage Your Comfort
Use a Lap Desk
Sitting with a computer perched in your lap for hours is hot and uncomfortable, and it's even worse in the cramped interior of a car. A simple (and small) lap desk helps with both of these problems.
Go for a model that's padded underneath, and not so big that it's hard to stow or move around. Not only is it more comfortable, you'll be far cooler when you don't have a hot laptop pressing into your legs!
Watch Your Posture
Since space in a car is so limited, you'll need to pay extra attention to your posture. Bad posture can lead to negative health effects, including back and neck pain and overuse injuries. Lack of a proper desk is likely to make you hunch over, and the confined space makes it hard to stretch out and keep the blood flowing.
Enter this laptop wheel desk, which hooks onto your steering wheel and lets you type comfortably on a flat surface. It's small enough to stow in a footwell when not in use. If you prefer to sit in the back while you're working, versions are available that hook over the seat in front instead.
Laptop desk or not, ensure you take regular breaks to stretch and change positions. Your body will thank you!
Get an Electric Cooler
Tired of drinking tepid water and drowning in fast food wrappers after a day on the road? Invest in an electric cooler to keep your brain fueled and dehydration at bay.
The K-Box Electric Cooler can run from a wall socket or the car cigarette lighter, and holds plenty of food and beverages. Different sizes are available, but as an example, this 48-quart version stores up to 60 cans of soda, or a few 2-liter bottles alongside a bunch of healthy snacks.
Maintaining a steady 40°F (4°C), it comes with a removable divider to keep your drinks and snacks organized. As a bonus if you're on the road in winter, the K-Box can do double duty as a warmer as well.
---
Got any other tips and tricks for working out of your car? Drop them in the comments! ?
Images via Alex Jumper (main image), jplenio (sun and road), Amazon (product images)