Albania isn't the first country that comes to mind when thinking of popular European destinations. So why go there?
If you're interested in exploring countries in eastern and southern Europe, it's very central, being just north of Greece and east of Italy. Americans can stay for up to a year without a visa (many others get 90 days on arrival), and the US dollar stretches a long way.
I've been in Tirana, the capital and largest city in the country, for a few weeks and I've been impressed so far! It's clean and safe, the people are fantastic, there's good infrastructure, and it's quite an affordable destination.
Need travel insurance for your time in Albania? We currently use HeyMondo, thanks to its comprehensive coverage options, competitive pricing, and the ability to buy or renew a policy while outside your home country. Residents of most countries get a discount with this link.
Companies
---
We recommend Vodafone for most travelers
An Albania eSIM is often the best option if your device supports it
---
Prior to arriving, I did plenty of reading about the major mobile carriers in Albania.
Vodafone is the largest, oldest, and generally most-expensive player in the market. It has 3G coverage throughout much of the country, with 4G in Tirana and most other cities.
Telekom Albania (commonly called T-Mobile Albania), is the second-largest carrier in the country. It tends to be little cheaper than Vodafone, with similar coverage.
ALBtelecom is the smaller, scrappy carrier that commonly has incredible specials to try and gain market share. It has 4G in Tirana and many other cities.
Yes, all three offer pre-paid plans!
Some of the articles I read online were a little dated, so I did what I always do: ask locals what they use and why.
My cab driver (there's no Uber here) used ALB because of the price. He had no complaints about the service, but he never leaves the big city. My Airbnb host used Vodafone because it's the oldest, and had always been reliable for him in and out of Tirana.
Lastly, a guy I met in a coworking space recommended Vodafone over Telekom because he's had better experiences using his phone as a hotspot with Vodafone whenever his wired internet flakes out.
Armed with this info the decision was clear. Unless I was hit with sticker shock, I was going with Vodafone.
While this article is about buying physical SIM cards, if you have a recent iPhone or other supported device, the best way to get connected in Albania may be to buy an eSIM instead.
We've written an explainer of what eSIMs are all about if you're not familiar with them. Because they're software rather than a plastic card, you can buy before you leave home, avoid the hassle of kiosks and phone stores entirely, and get connected as soon as you land.
These days, we use
aloSIM
: easy to buy and set up, it's a simple, low-cost way of staying connected when you travel. You'll get a discount on your first purchase with the code
TMA
.
How to Buy a Prepaid SIM Card in Albania
---
Finding a Vodafone shop (or either of the competitor's shops) isn't hard. They are everywhere, including just outside of baggage claim at the airport.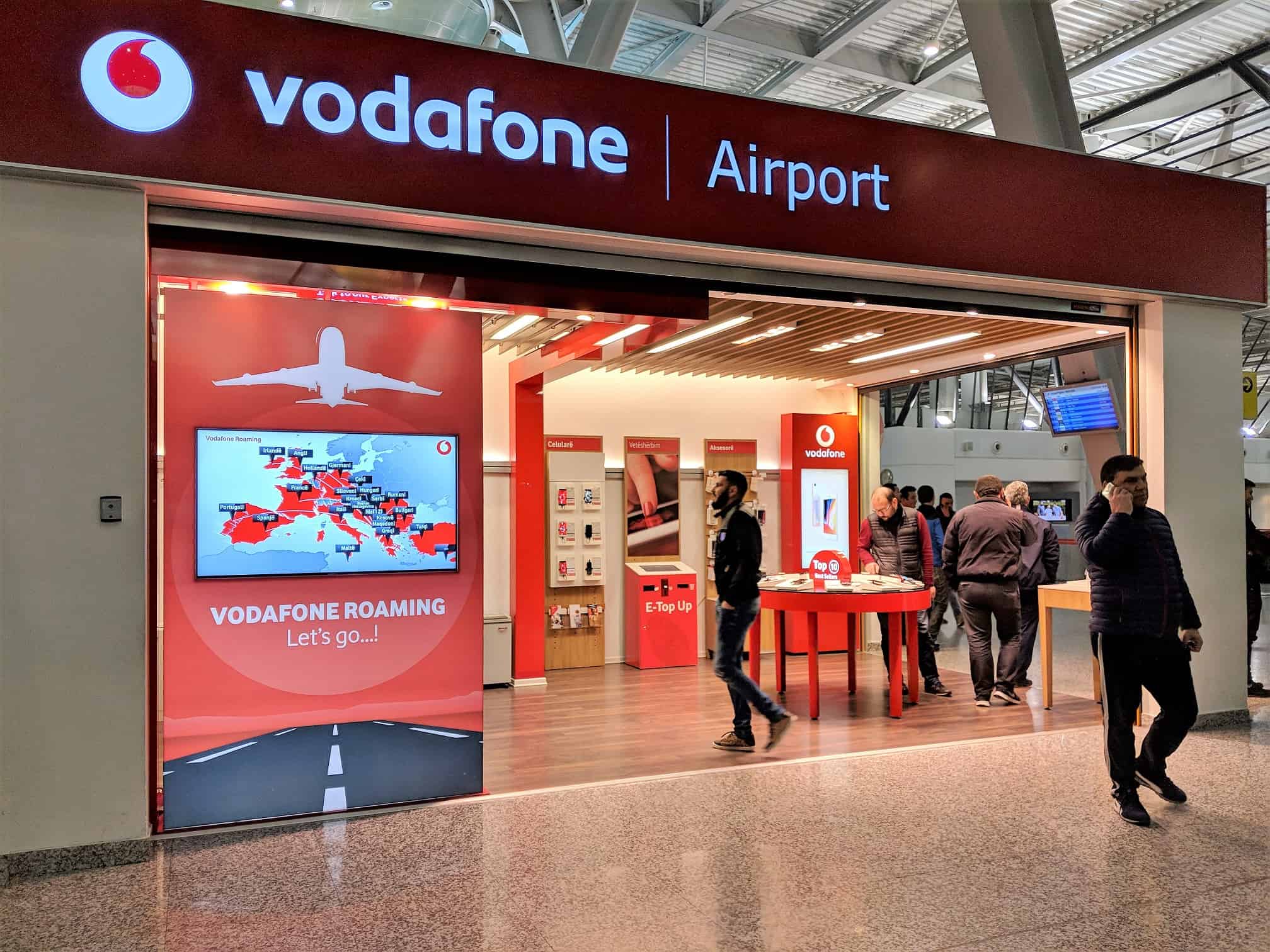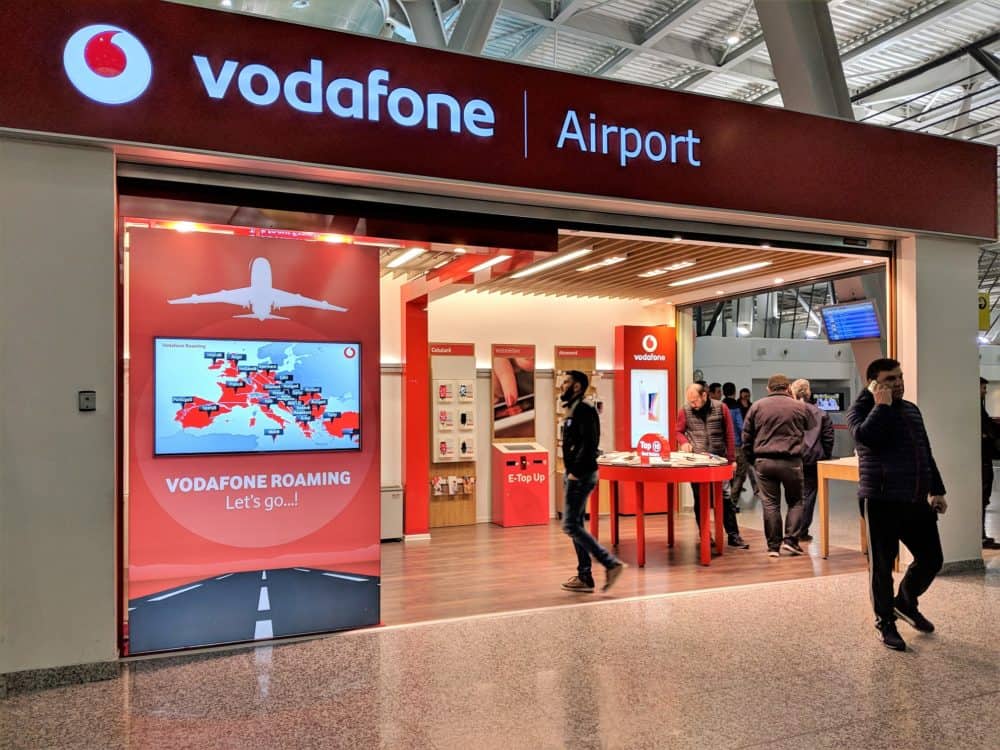 Since I did my final research outside of the airport, however, I ended up buying my SIM card in town. A quick look on Google Maps showed almost two dozen shops in the city center, but there are loads more not on the map.
I walked into the store nearest to my Airbnb. Both people working there spoke broken English and had some signage that helped to seal the deal.
Can't be bothered with the hassle of buying a local SIM in Albania? OneSIM topped our international SIM card comparison.
It offers phones and SIM cards that work in 200 countries, have free incoming calls, save up to 85% on roaming fees, and can be sent out ahead of time to let you hit the ground running.
Find out more here.
Prepaid SIM Costs
---
Vodafone offers daily, weekly, and monthly prepaid plans in several different increments.
If you're in the country for three weeks or less, Vodafone offers a useful tourist SIM with 35GB of data, plus unlimited domestic minutes and texts, for 2000 Lekë (roughly $19.) You can also roam with this package elsewhere in the western Balkans.
The Vodafone Smart plan offers a solid mix for those staying longer in the country, with thousands of domestic texts and calling minutes, 400 international texts, and 22GB of data. It lasts for 30 days, and costs 1600 Lekë.
Several other weekly and monthly packs are also available, and may suit you better if you're only in the country for a short time or don't expect to use much data. Offerings change regularly in response to competition, but that said, plans from the previous month were still being shown in store, and the differences were negligible.
I'm also a happy customer of Google Fi (the company's awesome cell service), but when I reviewed the prices at Vodafone, it was a no-brainer. I could get four times as much data at the same cost as Fi, plus a local Albanian number, and likely better LTE coverage. Decision made.
The setup and checkout process at the Vodafone store was painless. The SIM card was free, and I even got to pick my phone number. They handed me a stack of new, sealed SIM card packs, each with a sticker with the corresponding number attached, to choose between.
I needed my passport, as a US driver's license or Global Entry ID card wouldn't suffice. I also had to sign a piece of paper from the carrier, written in Albanian.
After asking the staff for help with translation, I learned it basically said I wouldn't use the service in an illegal manner or attempt to resell it. I also had to pay cash, as credit cards weren't accepted at the store I went to.
Topping Up
---
Kiosks are available in each store for topping up, and you can also use them to add incremental voice/text/data if you run out before your package expires.
Coverage and Data Speeds
---
So far, I've not left Tirana (there's a surprising number of things to do here) but I've wandered and jogged all over town. Whether I'm deep in downtown, or in the middle of the biggest park (which is large and very nice,) I've always had blazingly-fast LTE coverage.

The only exception to date has been when I've been in lower levels of shopping malls or business buildings, which I'd expect. I'm excited about exploring the rest of the country, and given I went with the company with arguably the best coverage, I'm confident I'll fare well.
---
Check out our guides to buying SIM cards in many other countries here.