With thousands of years of history, exceptional weather, and great food, Greece offers visitors an experience that's hard to beat. I've visited several times over the years, and every time I end up wishing I'd stayed longer.
In this land of grilled meat and feta cheese, staying connected is almost as easy as putting on weight. SIM cards are easy to purchase, and costs can be reasonably low if you buy the right package.
Here's what you need to know.
Got travel insurance for your Greece trip yet? A good policy can cover you for all kinds of sticky situations, from medical emergencies to canceled flights, theft, lost luggage, and more. We've been using
World Nomads
for over a decade.
Companies
---
We recommend Vodafone for most travelers
---
There are three cell networks in Greece, operated by Cosmote, Vodafone, and Wind. Various resellers also offer service on one of those three networks.
Cosmote has the widest coverage and fastest data speeds, while Wind offers low prices in a small coverage area. Vodafone is somewhere in the middle on speed, coverage, and price.
I've used Vodafone in Athens and elsewhere in the past, but was sticking to the western side of Greece on this trip. Starting with a few days on Corfu, my route then took me to and between smaller islands further south in the Ionian Sea on a week-long sailing trip. After checking the coverage map and availability of stores to purchase the SIM and credit, I went with Vodafone.
How to Buy a Prepaid SIM Card in Greece
---
Buying a Vodafone SIM and getting service was very straightforward, at least on Corfu. You'll likely have a similar experience anywhere in Greece that sees enough tourism for English to be widely spoken.
There are a couple of Vodafone stores close to each other in the downtown part of Corfu Town, and I visited the one beside San Rocco square. It's a small store, but given its location, it sees plenty of tourists.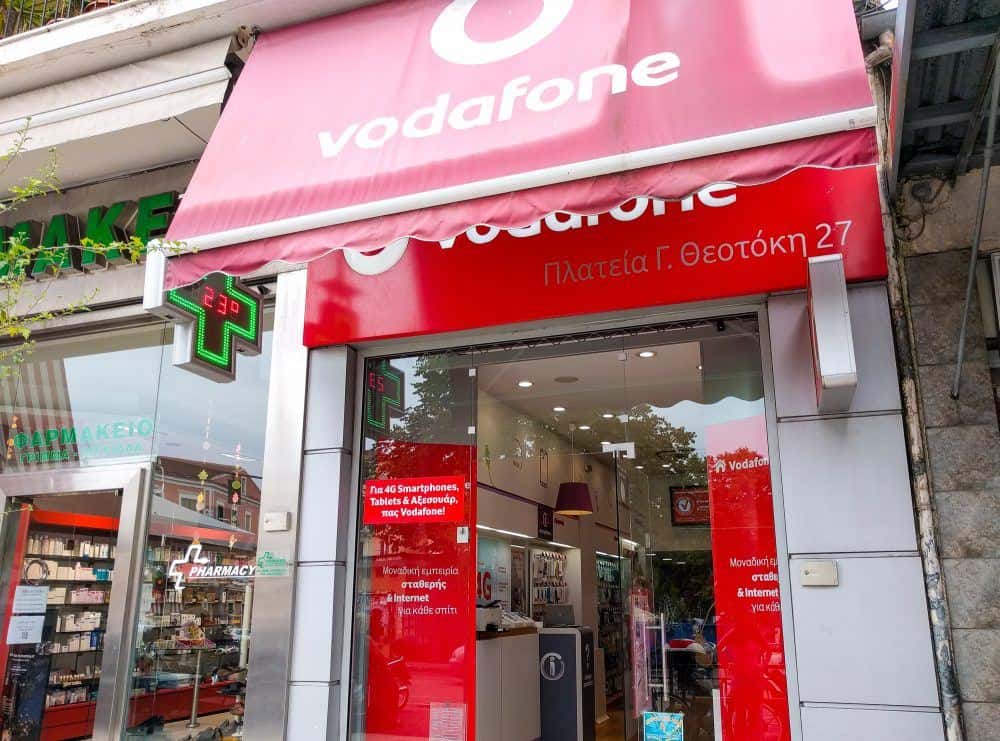 The staff member asked what I wanted, and offered a few options for my two weeks in the country. Note you'll need your passport to buy a SIM from a Vodafone store, and the staff will take a photocopy of it.
As soon as I'd finished swapping SIM cards, I received a few text messages from Vodafone, and data started working immediately afterward. The entire process took less than five minutes.
Prefer to spend your vacation sightseeing instead of buying SIM cards? Grab one in advance to stay connected in Greece and across Europe.
This Orange SIM includes 20GB of data, 1000 international texts, and two hours of international calls. The price includes US delivery, and it's valid for two weeks in 30 European countries. Use the code SIMOFF20 at checkout to get 20% off!
Other options are available if you're traveling for longer, need a portable hotspot, or want a different mix of calls, texts, and data. You can also get affordable eSIMs for recent iPhones and other supported devices. No matter how you do it, you'll be connected with a minimum of fuss before you've left the airport.
Prepaid SIM Costs
---
The SIM card itself costs five euros (with no credit) in store, and you'll need to top it up with a minimum of €10 before you can use it. The default package has 250 minutes of calls and 500MB of data, valid for a month, which costs €8.50.
Top-up vouchers come in €10, €15, €20, and €30 varieties, and a 12% tax is charged on them, which means that your (eg) €10 top-up will only add €8.93 to your balance.
Confused yet?
If you need more data than the default package offers (and you probably will, if you're staying in the country any length of time,) there are a few options for adding more:
4GB valid for a week, for 5€
1GB valid for a day, for 1€
3GB valid for a day, for 1.50€
5GB valid for a weekend, for 3€
12GB valid at night (8pm to 8am) for a month, for 7€
A summer promotion giving unlimited data for 30 days, for 9.90€
So, if you're in Greece for a month and want calls, texts, and unlimited data, you'll pay a total of €30. That's the SIM card itself, plus €25 worth of credit to pay for the default calls and data package plus the extra data.
If you'd prefer to mix and match the various daily, weekend, or night-time data packages instead, I'd suggest adding enough credit to cover your expected needs at time of purchase. After that, activate the various packages as needed either on the website, via the My Vodafone app, or by calling 1252.
If you only need data, though, there's a better option. Vodafone's awkwardly-named Giga WiFi on the spot offers some of the best-value data in Greece, where you'll pay 4.95€ for 10GB of data or 9.95€ for 40GB, valid for a month. You'll need to ask for this specifically, as it's a different, data-only SIM that doesn't include calls or texts.
Tourist-specific packages are also available, some that are data-only, and others that include a number of calling minute to international destinations. The exact details and prices change regularly, so just take a look at the current information and compare it to the standard prepaid pricing at the time.
It's always worth asking about current promotions before you start: as with the summer unlimited data promotion mentioned above, these can offer much better value, especially for heavier data users.
We've started to get a few anecdotal reports (see the comments below) of Vodafone stores in heavily-touristed areas refusing to sell anything except the most expensive prepaid packages to visitors. If that happens to you and the staff member won't budge, just walk out and choose a different provider instead.
Topping Up
---
You can buy top-ups at any Vodafone store (store locator here), as well as thousands of kiosks, service stations, and supermarkets across the country.
Coverage and Data Speeds
---
While there are several parts of Greece where you'll see 4G/LTE service with Vodafone, they're predominantly in the major cities. You may happen to find it elsewhere on both the mainland and islands, but don't count on it.
Coverage and speed were surprisingly variable on Greece's western coast. Despite having the largest population, Corfu Town had the worst reception and speed. I had minimal service in much of the old town, probably due to the stone buildings surrounding me, but things improved elsewhere.
Further down the coast, things improved dramatically. On the mainland, and while sailing between Lefkada, Ithaca, Meganisi, and other islands, I had reliable HSPA+ service and generally good speeds whenever I checked. I'd occasionally get LTE, and rarely saw it drop back to 2G, but never lost signal anywhere.
4G/LTE service was much more common in Athens, with the faster speeds that go with it.
EU Roaming
---
Greece is part of the European Union, so EU roaming regulations apply. These "roam like at home" rules ended roaming charges across much of Europe in 2017, letting you use a SIM card from any EU country across all the others at no extra charge.
There are some exceptions and limits, however, especially with large data packages. Double-check the exact details at time of purchase.
---
Check out our guides to buying SIM cards in many other countries here.