Virtually unknown to all but intrepid travelers until quite recently, Oman is starting to open up to tourism. And what a gift that is to the travel world: the country is a delight for the senses.
All mosques, souks, and small towns, Oman is the Arab world without the opulence of the rest of the region, offering a glimpse of Bedouin hospitality and tradition with a fierce sense of national pride.
Believe us: you won't want to keep your discovery to yourself. If you'd like to share your Oman experiences in real-time, here's all you need to know about buying a local SIM card and staying connected during your stay.
Companies
---
We recommend Ooredoo for most travelers
Consider Omantel if you'll be visiting more remote parts of the country
---
There are two providers in Oman: state-owned Omantel, and Qatari operator Ooredoo. Omantel has the best coverage and speeds, and the majority of customers.
Even so, if you expect to use a fair amount of data or Oman is your first stop in a trip around the region, Qatar-based operator Ooredoo is your best bet. Its tourist SIM offers more data than Omantel, and it has better roaming pricing in neighboring countries as well.
If you want the highest speeds and greatest coverage, though, Omantel's tourist package is still reasonably priced and fits most requirements. It's just not as good value as Ooredoo's offering.
If you have a recent iPhone or other supported device, it's also worth considering an Oman eSIM. Prices are comparable, without the hassle of having to find, buy, and swap out physical SIM cards.
How to Buy a Prepaid SIM Card in Oman
---
Omantel, Ooredoo, and reseller Renna all have 24-hour booths in the arrivals hall at Muscat's international airport, making it easy to buy a SIM card even before you've really set foot in the country.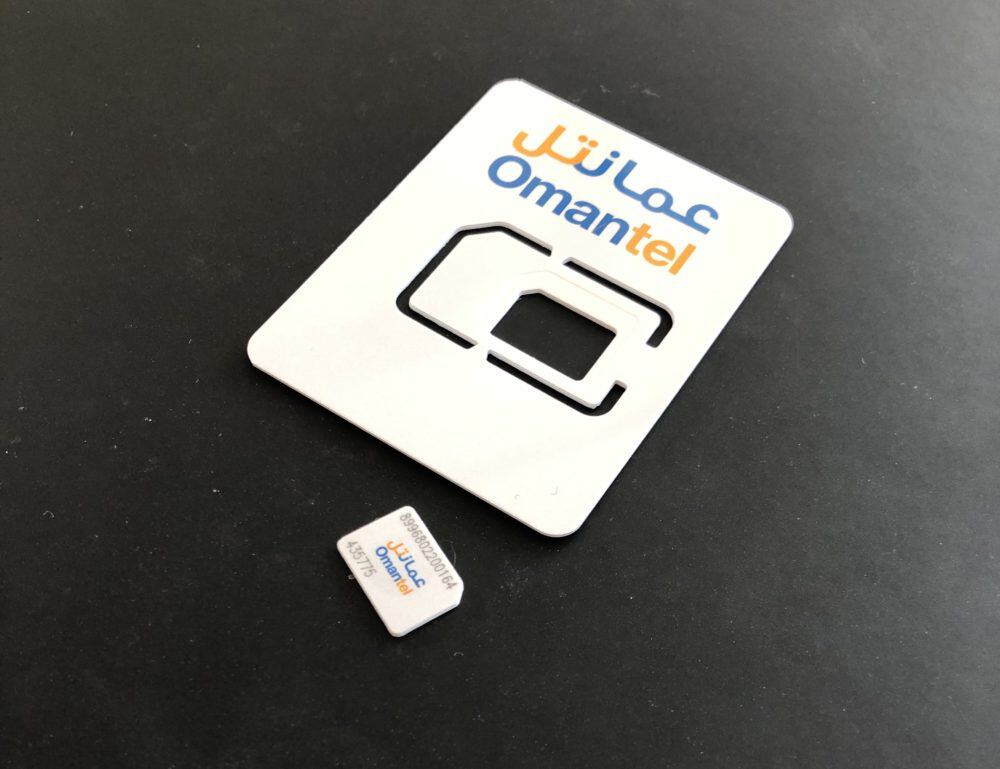 To sign up, you'll need your passport and a method of payment. I wasn't asked for a local address, though I've heard it's sometimes required. If so, your hotel details should work just fine.
The staff member spoke perfect English and took care of everything, entering my information and taking a photo of my passport on a tablet. I paid cash, though international credit cards are also accepted.
Can't be bothered with the hassle of buying a local SIM in Oman? OneSIM topped our international SIM card comparison.
It offers phones and SIM cards that work in 200 countries, have free incoming calls, save up to 85% on roaming fees, and can be sent out ahead of time to let you hit the ground running. Find out more here.
If you have a recent iPhone or other supported device, a prepaid eSIM is also a good alternative, often at surprisingly cheap rates.
Prepaid SIM Costs
---
At the time I visited, Omnatel and Ooredoo had quite similar offerings for visitors. I signed up for Omantel's Tourist Pack, which offered 2GB of data, 50 domestic minutes and texts, plus free WhatsApp usage. Valid for 10 days, the pack cost OMR 5 ($13).
That was enough for my five days in the country, but if you need more, there are several options to add it via "Hayyak" prepaid packs. Details as follows:
2GB of data valid for 7 days costs OMR 3
1.5GB of data valid for 30 days costs OMR 3
2GB of data valid for 30 days costs OMR 4
4GB of data valid for 30 days costs OMR 6
10B of data valid for 30 days costs OMR 10
18B of data valid for 30 days costs OMR 15
Each pack comes with a certain number of national calling minutes as well.
If you're traveling elsewhere in the region (say you're heading to neighboring UAE for a few days) and don't want to keep buying local SIMs in each country, it's best to buy a roaming package ("Jawazak") while still in Oman.
These passes start at OMR 3 for 500MB, valid for a day in Gulf Cooperation Countries (GCC). You can also pay OMR 6 for 1GB valid for three days, or OMR 9 for 2GB valid for a week.
You can also sign up for a roaming package while abroad by calling a special number, but you'll need a minimum of OMR 2 in your account to do it.
Since my visit, Ooredoo has improved its tourist SIM offering, and it's now the option I'd go for. It comes in two varieties, the first valid for 10 days and providing 4GB of data for OMR 5. The second costs OMR 10, lasts 15 days, and offers 10GB of data. Both packs also include 50 calling minutes and 50 texts to either domestic or international numbers.
Ooredoo also has better-value roaming packages, offering a one-day pass for OMR 4 that gives 1GB of data in the GCC, a three-day 2GB pass for OMR 6, or a one-week 3GB pass for OMR 10.
Topping Up
---
Topping up can be done online on the company website or app, and international credit cards are accepted.
If you'd rather use cash, you can do so at an official store, of which there are several in Muscat and elsewhere.
Coverage and Data Speeds
---
Even though the internet is somewhat censored in Oman, it didn't seem to affect Omantel's data speeds. 4G/LTE downloads were up over 60Mbps around the country, from Muscat to Sohar, with upload speeds around half that.
Note that Skype and Whatsapp calling services are blocked and officially illegal. As with most such censorship, using a VPN will circumvent it, but you do so very much at your own risk.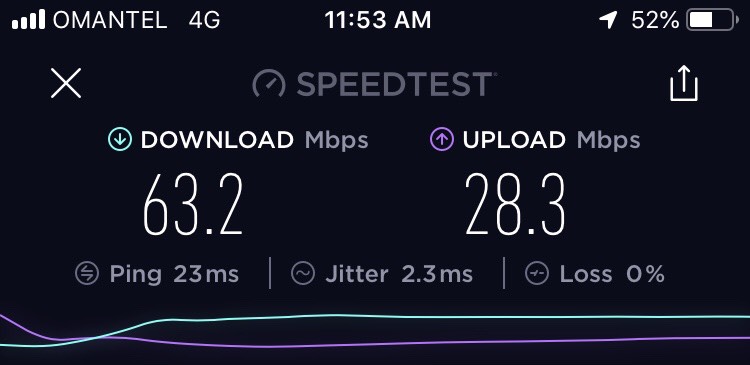 ---
Check out our guides to buying SIM cards in many other countries here.
Images via Robert Haandrikman (feature photo).