The Philippines is a fascinating place, consisting of 7,000 islands and maintaining a rich culture that blends together its indigenous heritage with that of its American and Spanish former colonizers.
The influence of those colonizers remains apparent today: the country is deeply religious, with over 90% of the population subscribing to Catholicism thanks to the Spanish influence. Likewise, one of the country's two official languages — alongside Tagalog — is a variant of American English.
On July 4, 1946 — by no coincidence lining up with American Independence Day — the United States granted the Philippines independence but retained influence and military bases in the nation.
Today, the Philippines is known internationally for its complex history, cultural assets like Intramuros, well-developed areas like the Bonifacio Global City, and beautiful islands, from luxury resorts on Boracay to the island hopping opportunities around El Nido.
Need travel insurance for your time in the Philippines? We currently use HeyMondo, thanks to its comprehensive coverage options, competitive pricing, and the ability to buy or renew a policy while outside your home country. Residents of most countries get a discount with this link.
Companies
---
We recommend Globe for most travelers
Consider Smart as an alternative
A Philippines eSIM is often the best option if your device supports it
There are three main telecom companies that offer SIM cards in the Philippines, and getting up and running is a fairly easy process regardless of which one you choose. Generally speaking, Globe has affordable prices and better coverage in the places that international tourists visits, so it's our top pick.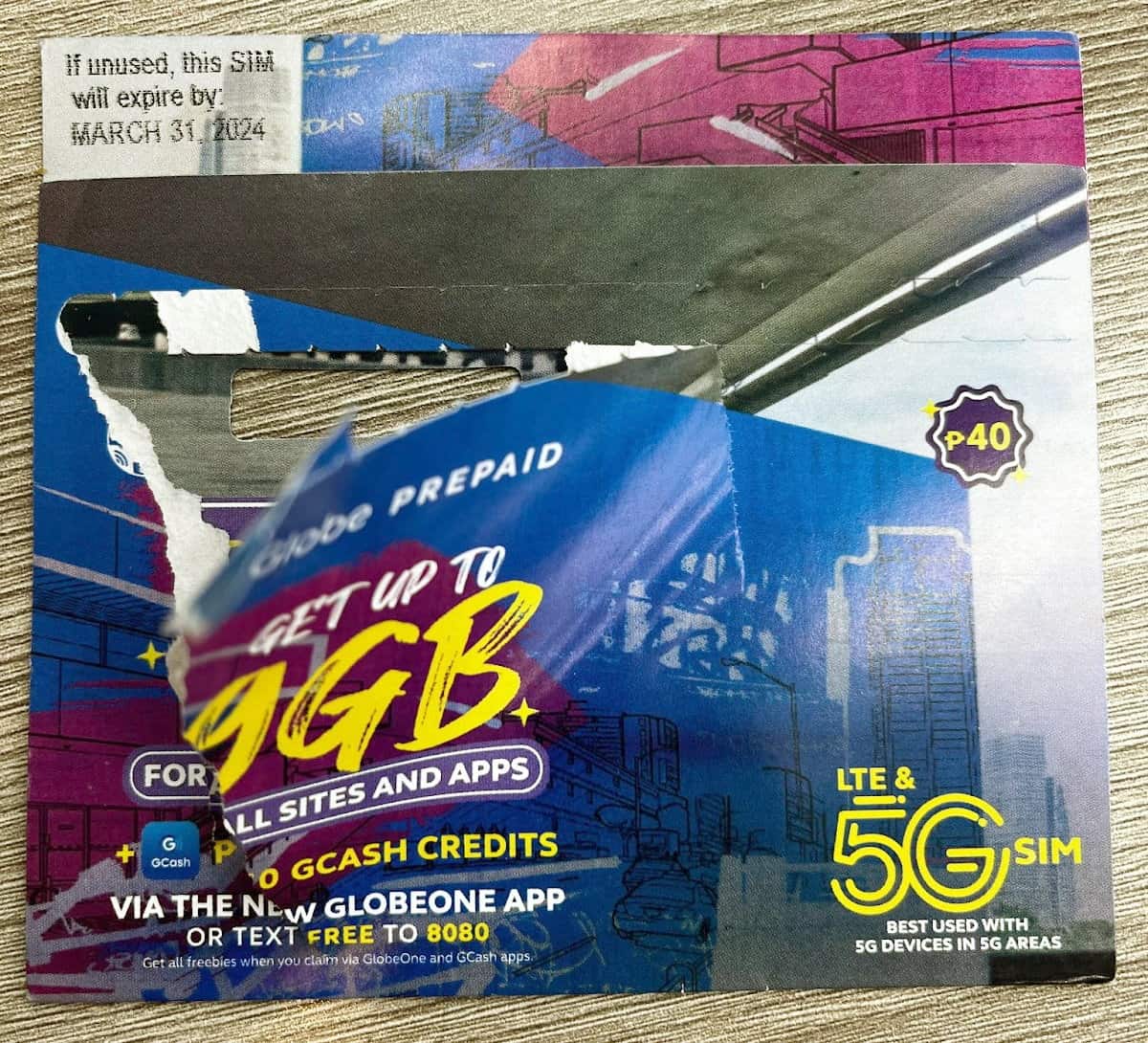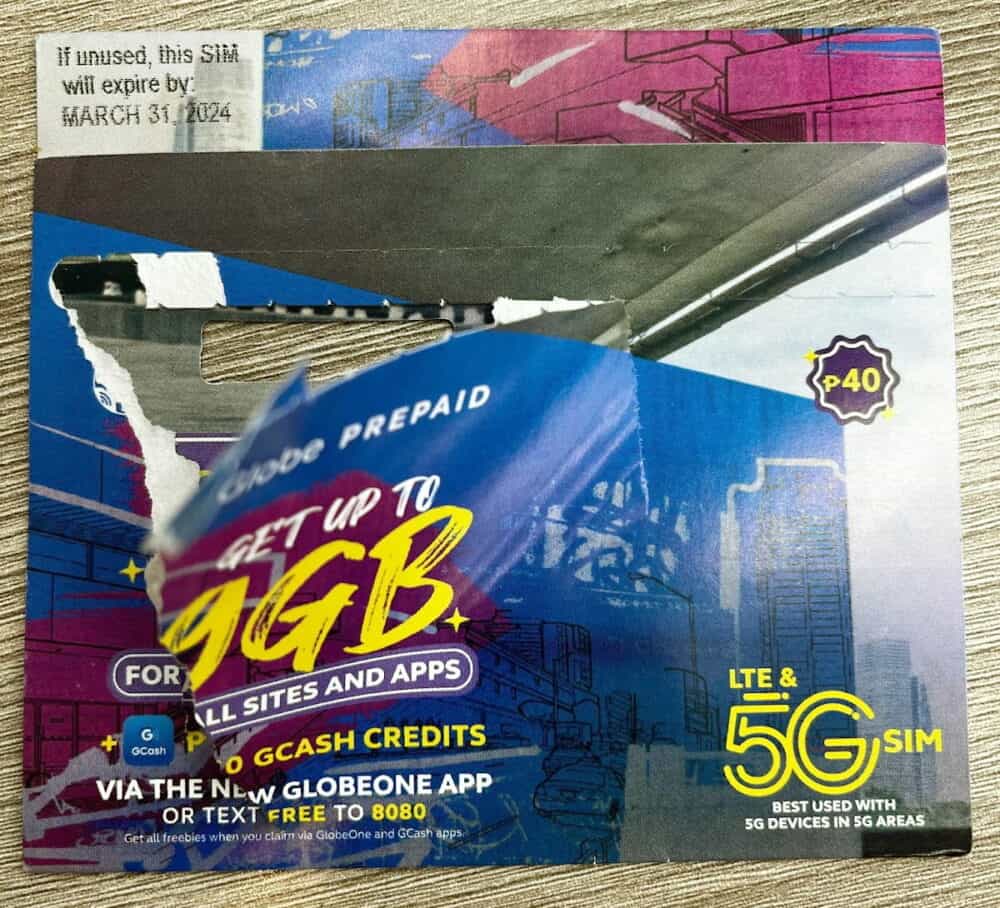 If you're having trouble finding a Globe SIM for any reason, Smart, the other major carrier, is also a good option. Depending on exactly where you're going, it may even have better coverage than Globe. We wouldn't bother with the other telecom company, Dito, because it's new and has very limited coverage.
There are also a couple of resellers on the above networks, but there's little reason for most international visitors to bother with them.
While this article is about buying physical SIM cards, if you have a recent iPhone or other supported device, the best way to get connected in the Philippines may be to buy an eSIM instead.
We've written an explainer of what eSIMs are all about if you're not familiar with them. Because they're software rather than a plastic card, you can buy before you leave home, avoid the hassle of kiosks and phone stores entirely, and get connected as soon as you land.
These days, we use
aloSIM
: easy to buy and set up, it's a simple, low-cost way of staying connected when you travel. You'll get a discount on your first purchase with the code
TMA
.
How to Buy a Prepaid SIM Card in the Philippines
The easiest way to obtain a SIM card is to buy one from any 7-Eleven as soon as you arrive in the country, most likely in a hub like Manila or Cebu. Most of the time, you will be able to easily find 5G SIM cards at an affordable rate.
However, due to the SIM Card Registration Act enacted in late 2022, availability of SIM cards was a problem when I visited early the following year. As a result, when I started my search, several 7-Elevens I visited didn't have any in stock.
Instead, I went with a small Airalo eSIM plan that lasted until I could find a store that actually had a SIM card it could sell me. If you know where you'll be staying far enough in advance, you can avoid this hassle by pre-purchasing a SIM from Globe's online store on the Lazada or Shopee marketplace sites, and getting it posted out.
You won't need to bring your passport or other form of identification with you to buy the SIM, but you will need it (along with a WiFi connection) to register and activate it on your carrier's SIM registration portal. This is thanks to those aforementioned new regulations, but is a simple-enough process.
From your phone or laptop, you'll need to enter details such as your name and gender, and upload a photo of yourself and your passport. If all goes well, you'll be instantly approved and receive a text message from your carrier to confirm the successful registration.
Note that as part of the new registration rules, if you entered the country on a tourist visa, your SIM card will expire after 30 days. If you get a visa extension, you can likewise extend the validity of your SIM card, but it doesn't happen automatically.
We'd assume you'd be able to get your SIM extended if you took your new visa details to a carrier store (often found in shopping malls), but haven't been able to get a clear answer as to whether it's also possible online or via some other method. If you know the exact details, feel free to leave a comment!
Can't be bothered with the hassle of buying a local SIM in the Philippines? OneSIM topped our international SIM card comparison.
It offers phones and SIM cards that work in 200 countries, have free incoming calls, save up to 85% on roaming fees, and can be sent out ahead of time to let you hit the ground running.
Find out more here.
Prepaid SIM Costs
If you buy your prepaid SIM at a 7-Eleven, the cost is around 50 Philippine pesos (around $1), which is the same as via the Lazada and Shopee online shops. The main reason to use the online stores is the convenience of knowing your SIM has arrived at your hotel before you even land in the country, although it's not exactly hard to find a 7-Eleven either.
If you do go the online route, be sure to use the official stores for both carriers! There are plenty of unofficial and unreliable listings on both the Lazada and Shopee platforms. The government crackdown on SIM registration means it is not worth saving a couple of bucks to risk your SIM randomly being deactivated while you're out exploring the city or lounging on the beach.
Once you've completed your SIM registration, assuming you purchased a Globe SIM card, you can get a running start with 5GB free for three days. Just text "FREE" to 8080. The convenience store staff may say you have to download the app to get this promotion, but you don't: sending that text is sufficient.
Note that you can't use that promo code until after you've completed your registration, so be sure you have access to a WiFi connection to complete that first.
Topping Up
Assuming you have a trip longer than three days, or plan to take advantage of the 5G connectivity to stream a lot of of Netflix, topping up and purchasing a new call, text, and data pack is easy. The best way is to head back to a 7-Eleven and use one of the CLiQQ e-Money terminals found inside.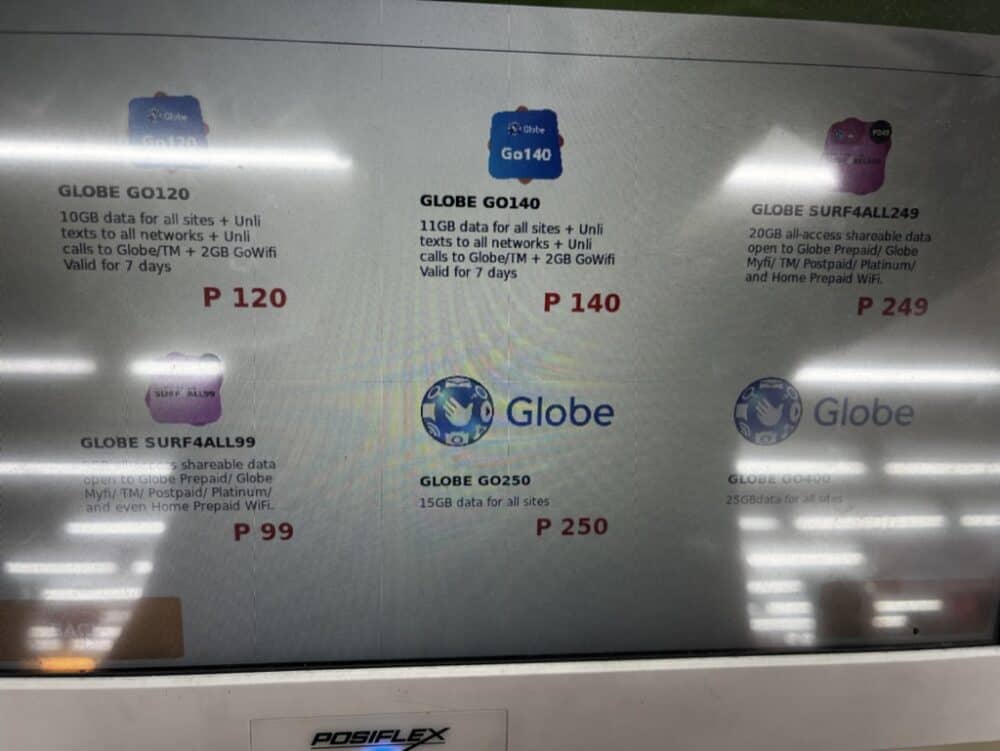 These touchscreen terminals let you to easily top up your phone credit and buy a new package. If you have any trouble, you can speak to the store cashier to get help. You can also do it via the GlobeOne app in the iOS App Store or Google Play Store, although obviously support is a bit harder to come by there.
As you can see in the above photo, there are a range of different package options available, and none are particularly expensive. They typically last between three and fifteen days, and either include unlimited domestic calls and texts as well as a certain amount of data, or just a given amount of data.
As a helpful reader pointed out in the comments (thanks, Julian!), you can also buy scratch cards in various amounts for both Globe and Smart, both from 7-Eleven and many other outlets. Once you've topped up (or added "load", as it's called in the Philippines), you can choose a new package from your phone.
Either use the carrier app if you have it installed, or dial *143# for Globe or *123# for Smart to see the list of packages and subscribe to the one you want.
Coverage and Data Speeds
---
Data speeds and cell coverage will vary immensely depending on your travel plans. In metro Manila, you'll have access to high speed 5G connectivity most of the time, sufficient for streaming high definition video.
If you plan to go island hopping in remote areas, however, you may well have no connectivity at all. Below you can see coverage maps of metro Manila and El Nido to see what I'm talking about. Around Manila, 5G coverage is readily available, while in El Nido even 4G coverage isn't guaranteed.


As should come as no surprise, cities are obviously better connected than remote islands! Basically, if you're planning to relax on the beach but want some digital entertainment handy, consider downloading your movies and e-books before you head out of the city.
Having said that, the 5G on offer is perhaps in name only. Despite having a 5G signal in metro Manila, testing the speed resulted in around 30Mbps speeds. I've often had similar speeds in countries without any 5G connectivity at all, so it's nothing to write home about in my experience.
Even so, this kind of speed is plenty fast enough for most people's needs, especially while traveling, and of course your accommodation will often be able to provide you with a WiFi connection as well. Whether it's any quicker, of course, is another question entirely!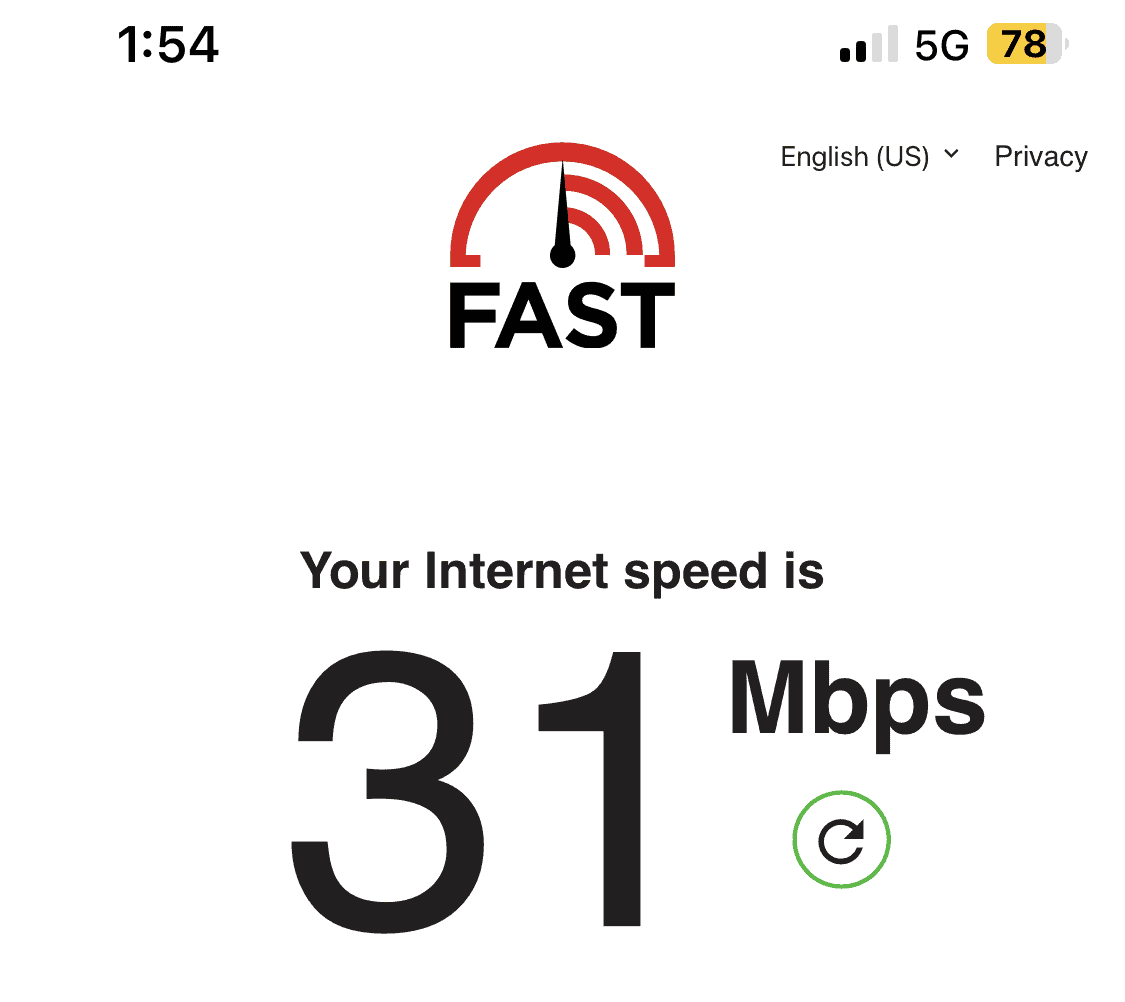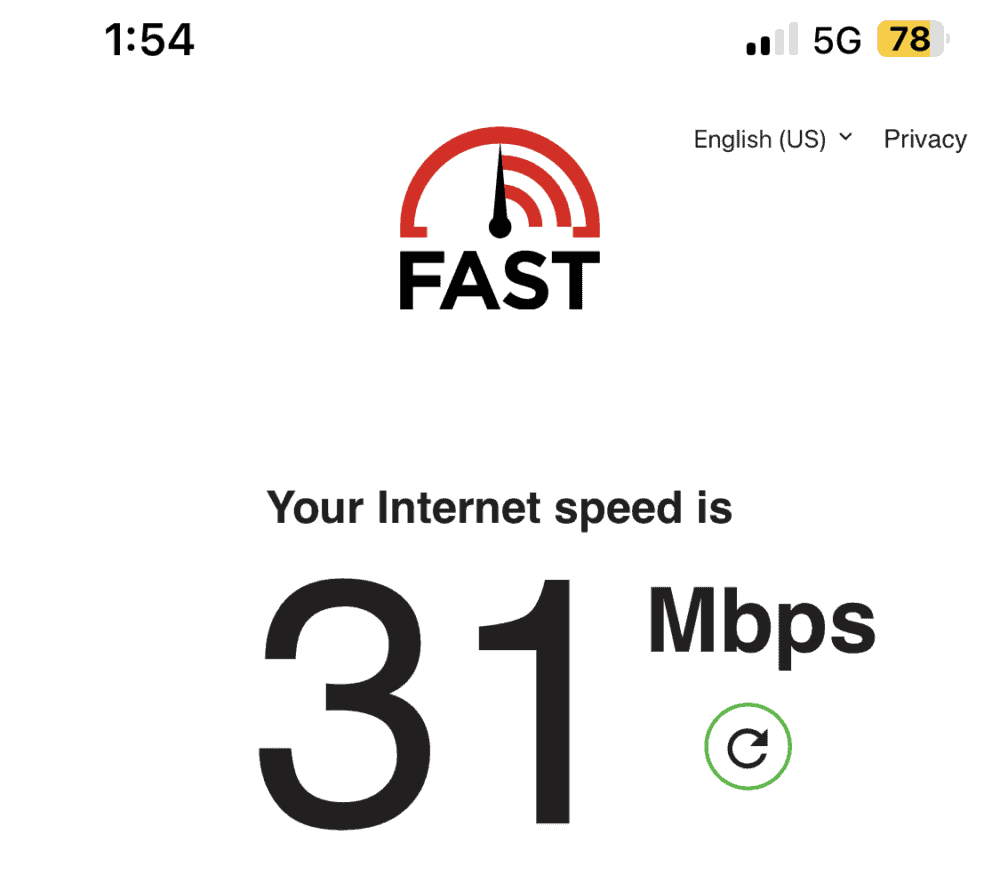 ---
Check out our guides to buying SIM cards in many other countries here.
Main image via travelwild/Shutterstock.com, other images and screenshots via author