We've been writing about the challenges of staying connected while traveling for over a decade on this site, and the story has changed a lot over that time.
For years, buying local prepaid SIM cards in whatever country you were visiting was by far the most budget-friendly option, especially if you use a fair amount of data (and who doesn't these days?).
Roaming was typically too expensive for anything other than short vacations, and international SIM cards, while costing a bit less, still weren't exactly affordable.
These days, roaming within regions like North America or the European Union has typically become much cheaper or even free. Depending on where you're going, and how much connectivity you need while you there, you may not need to do anything except check roaming prices with your usual cell company.
If you're going further afield, though, roaming costs can still get extremely high. That's where eSIMs can help. We've talked about the benefits of eSIMs for travel in the past, but also the downsides: mainly, that most cell companies don't offer a prepaid eSIM option, to tourists or anyone else.
Seeing an opportunity, companies like Airalo have stepped into the gap. They've created a marketplace of eSIM data packages for almost everywhere in the world, aimed at travelers who'll be in the country or region for a few days or weeks.
Being able to pay a few bucks for a bunch of data that works as soon as you arrive somewhere new, and doesn't require finding a store or swapping SIM cards, sounds like many travelers' dream scenario. How well does it work in practice, though?
With international travel finally back on my agenda, it was time to find out.
So What Is an eSIM Anyway?
Let's start by talking about what an eSIM actually is. Standing for embedded Subscriber Identity Module, it replaces the traditional piece of plastic that you stick into your phone with an integrated chip.
Since you can't physically replace the chip when you want to get service from a different company, eSIMs use the concept of a "profile" instead. These profiles, essentially just the configuration information that tells the eSIM how to connect, are downloaded to your device and activated as needed.
Typically, you can have a number of different profiles downloaded to your device, but only one active at once. It's completely independent of any physical SIM card that you're using, so you can use both physical and embedded SIMs at the same time, or just one or the other.
That's assuming your device supports eSIM in the first place. All of Apple's phones from the iPhone XR/XS onward do, along with recent cellular-enabled iPads. The US versions of the iPhone 14 and 15 only support eSIM, in fact: a surprising move that's not ideal for international travelers.
Google's Pixel range has also offered it for the last few years, as do several of Samsung's high-end phone models. Airalo maintains a full list, including a smattering of Android devices from other manufacturers.
Note that just as with physical SIM card slots, your eSIM needs to be "unlocked" — that is, it hasn't been restricted so that it can only be used with a single cell carrier. If you're not sure if your phone is locked or not, just contact the company you bought it from.
Getting Set Up
While you don't have to buy, download, and set up your eSIM profile before arriving in a new country, I'd generally suggest you do.
The process doesn't take long, but it's something I'd personally prefer to do ahead of time rather than wrestling with the airport Wi-Fi while I wait for my bags to arrive. That way, you can just switch your phone on once you've landed, enable the eSIM profile, and be connected straight away.
In almost every case, the eSIM profile doesn't activate until you arrive at your destination (or more specifically, when your phone is able to connect to whichever carrier Airalo has partnered with in that country). Because of that, there's no harm in getting set up early.
Airalo's approach is pretty straightforward. The website has a list of over 190 countries and regions where service is available; you can either scroll around or type into the search box at the top. By default you'll be shown local (ie, single country) options, but there are tabs for regional and global packages if you think they'll suit you better.
Trip 1: Cambodia
I've now used Airalo on a couple of different trips. The first was to Cambodia, where Airalo had three data packages available, ranging from 1GB valid for a week for $4.50 to 5GB valid for a month for $13.50. Given that roaming with my usual cell provider would have cost a hilarious $6500 per gigabyte, it seemed like… quite the saving.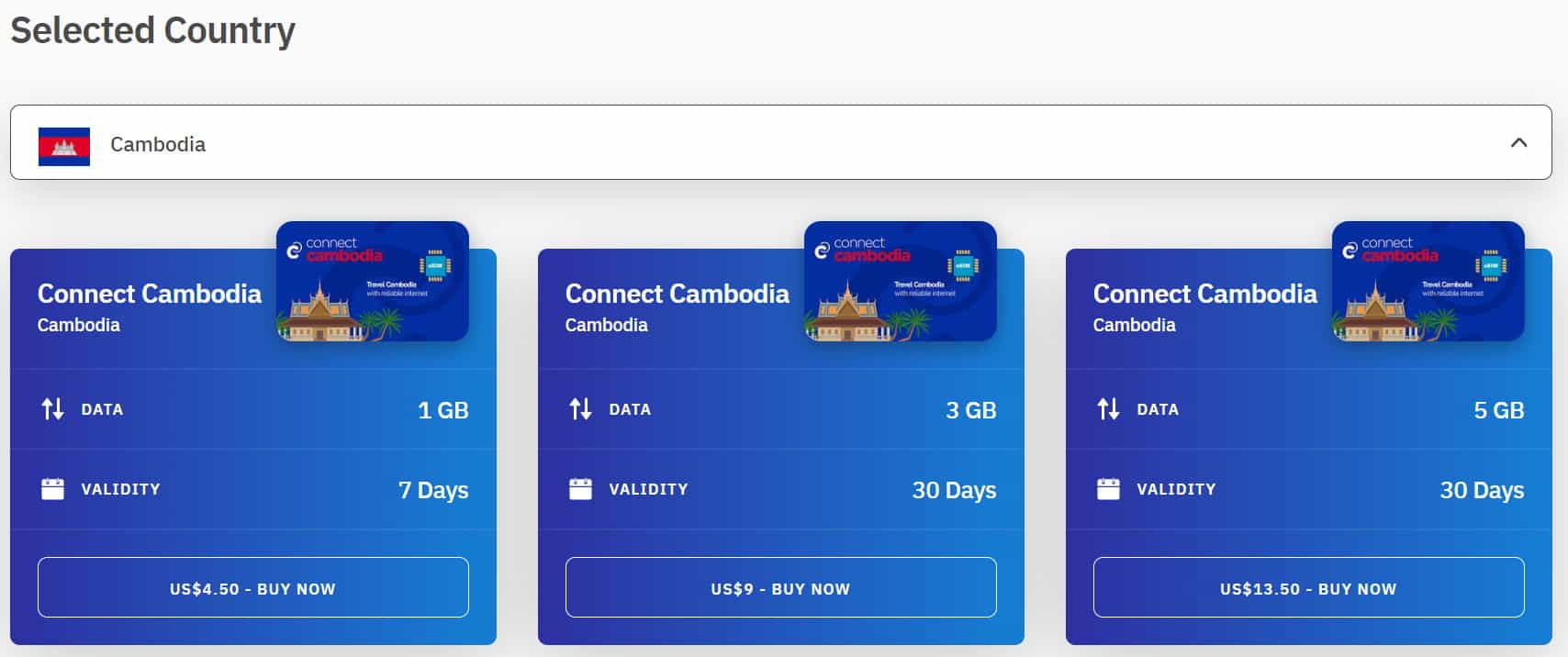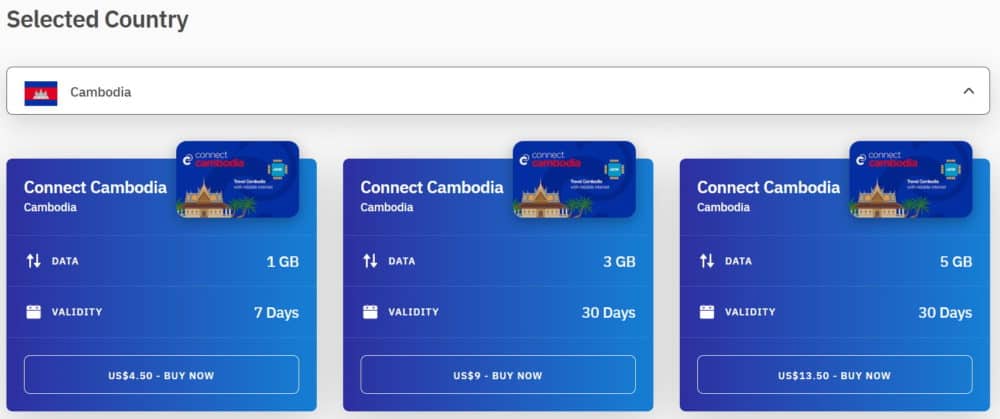 A couple of days before departure, I went to the Airalo site and purchased the 1GB/1 week pack. That way, I'd be connected on arrival with enough data to cover anything I needed to do in the first few days, and could then buy a local SIM at my leisure to cover the remaining few weeks I'd be in the country.
The process was straightforward, first creating an account, and then paying for the data package. The account came in handy later, since it let me log in and see how much data I'd used, how long until the pack expired, and so on. You can also renew or top up an existing profile, or buy a new one as needed.
You also get what the company calls "Airmoney" with each purchase; essentially a 5% credit towards future spending. It's not going to be the difference between buying service from Airalo or not, but if you're a regular user, it's a useful little discount.
Once you've purchased your profile, it's time to install it on your device. The exact approach varies somewhat both by device and profile, but Airalo has detailed instructions available for both Android and iOS.
It's not a long or complicated process, but there are a few steps to follow in order, so give the instructions a once-over before you start. You'll need a stable internet connection as you do this, since you need to download the profile to your device.
In my case, using a Google Pixel 4a running Android 12, I went to Settings – Network and Internet – SIMs – Add More, chose "Download a SIM instead", and then scanned the QR code provided by Airalo after purchase. I then changed the APN name as per the instructions (you don't always have to do this, but it's relatively common), and that was it.
After the setup process was complete, I toggled the "Use SIM" option to off, since there was no need to have it active before I arrived in Cambodia. As mentioned above, in theory it shouldn't matter — the pack shouldn't have activated until I was in the country — but why risk it?
How Well It Worked
As the plane landed at Phnom Penh airport and slowly taxied towards the terminal, I flicked my phone out of flight mode, enabled data roaming as per Airalo's instructions, and turned the eSIM back on. By the time I emerged from the airbridge a few minutes later, I had full signal and notifications were already starting to pop up.
In terms of convenience, you can't really ask for more than that. Service was with Smart, one of the main providers in Cambodia, and it was strong and reliable all through the airport, on the drive into the city, and during my wanderings around Phnom Penh over the next few days.
My partner also bought an Airalo eSIM pack (the 5GB/30 day version), and continued to use it all over the country, from Kampot and Kep in the south to Siem Reap and Battambang in the north, and everywhere in between. LTE data speeds were good: faster than a physical Cellcard SIM in Phnom Penh, and comparable elsewhere.
As mentioned, using the account I created during the setup process, it was a matter of a few seconds to see how much data I'd used and exactly when the pack expired. Airalo has an app that provides the same functionality as its website: there's no real need to install it, but it works well enough if you do.
Trip 2: New Zealand
Convinced that Airalo's service actually worked, I decided that I'd at least consider using it again on a trip to New Zealand. This time I waited to see what the prices and packages looked like for local SIM cards at the airport: as it turned out, Airalo was the cheaper option for the length of time I'd be there.
With several people in front of me in the line to buy duty free alcohol, I connected to the airport Wi-Fi, picked one of the available options on the Airalo site, and completed both purchase and setup before I got to the counter.
I went for a 15 day/2GB pack that cost $8.50 USD. That turned out to be more than enough, since I was within Wi-Fi range for most of the 11 days I was in the country.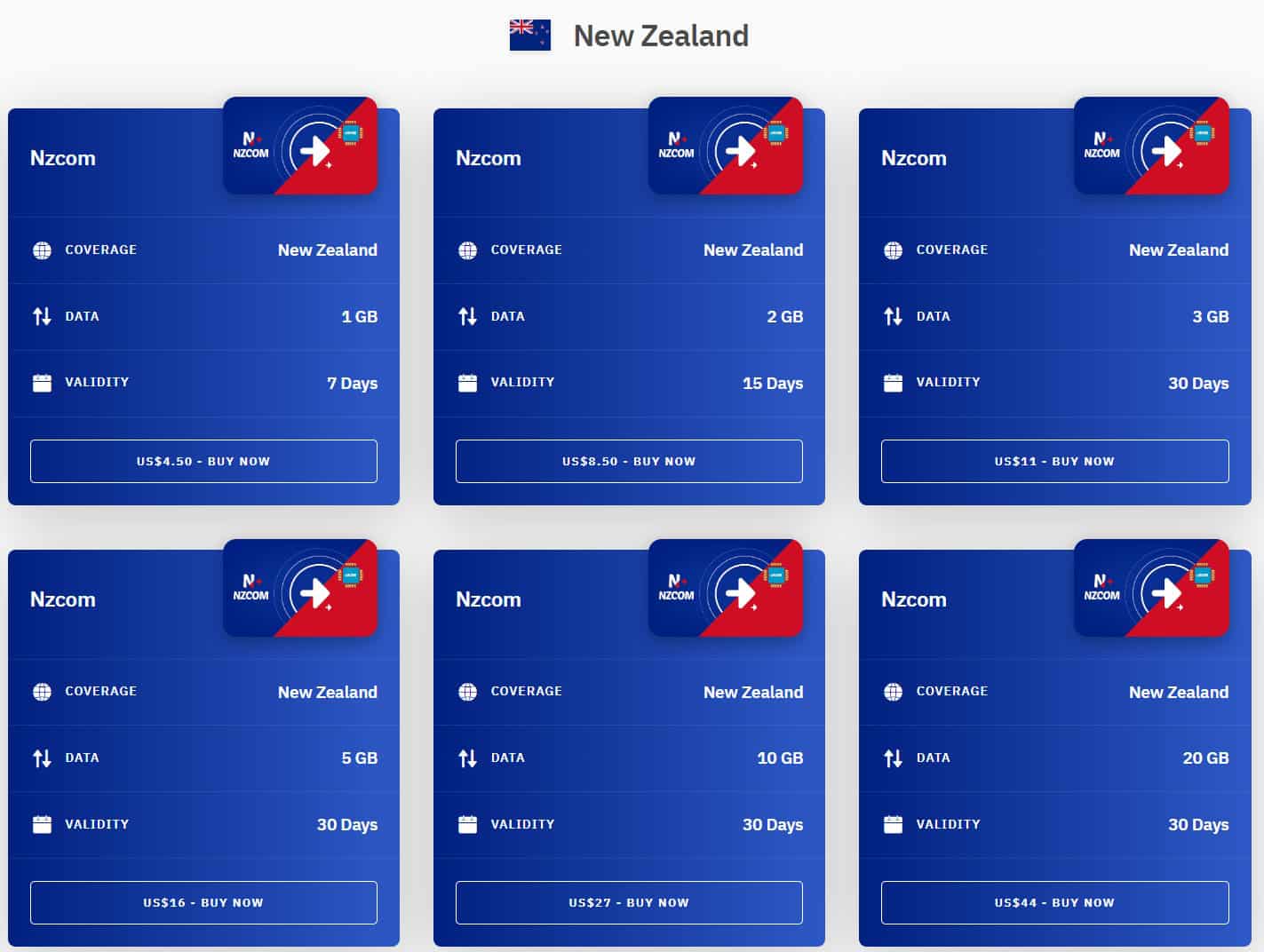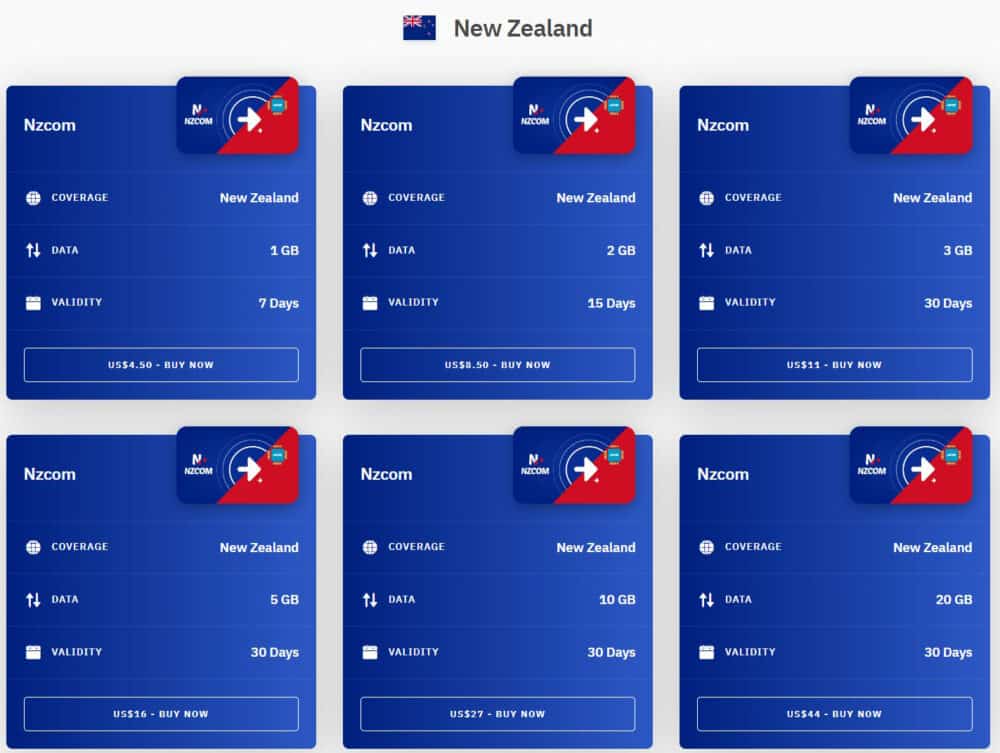 How Well It Worked
After my purchase was confirmed, I followed the on-screen instructions to configure my APN settings, then reboot the phone, and had service before leaving the terminal. I'd upgraded my phone since the previous trip, to a Google Pixel 6a running Android 14, but the process was largely the same as before.
Using the One NZ network (formerly Vodafone), I had service almost everywhere I went around the South Island. The only time it dropped out was towards the end of a hiking trail in rural Mid Canterbury, but my Dad didn't have signal on a different network either. Blackspots aren't hard to find in New Zealand!
Downloads were very good, essentially the same as when using a local SIM. Upload speeds were a more hit and miss: sometimes they were pretty good, other times they were comparatively slow. They were always quick enough to make voice calls, though, and usually fine for video: I just expected more consistency!
Any Downsides?
So, are there any downsides to using Airalo's prepaid travel eSIM service? The answer is: it depends, but for most people, probably not.
Airalo's Cambodian and New Zealand eSIM profiles, like most of the packages it offers, don't come with a local phone number: they're data-only. This doesn't mean that you can't make calls — I was calling and texting people on WhatsApp every day, and made a call to a standard phone number using Google Voice as well — but it does mean that people can't call you on a local number.
How much this matters will depend entirely on where and how you're traveling. In many parts of the world, email, WhatsApp, or some other internet-based approach is the preferred contact method anyway, and your chances of receiving a phone call or text you care about is vanishingly small.
A partial workaround is to enable call/SMS roaming (not data roaming!) on your normal home SIM, and use the eSIM for data. You shouldn't be charged anything for roaming unless you send a text or make/receive a call, but you're still contactable by phone if it's absolutely necessary.
If having a local number is vital for your travels, Airalo does offer it in a few countries: just check the detail of whatever package you're looking at. If it says "Data and Voice", you'll get a phone number to use. If it says "Data Only", you won't.
Cost and Verdict
All in all, I was impressed with Airalo's eSIM service. Especially given how unpredictable travel can be at the moment, having a fast, reliable, and affordable internet connection available within minutes of touching down in a new country is genuinely valuable to me.
Speaking of affordability, it's worth delving into that in a little more detail. If I'd wanted service with Airalo for my entire month in Cambodia, the best option would have been the 5GB/30 day package for $13.50. By comparison, a local SIM with 30GB of data (and a phone number), valid for 35 days, cost $6 at a Cellcard store in downtown Phnom Penh.
In New Zealand, you'd pay $27 USD for 10GB of data valid for a month. A local tourist SIM costs $44 NZD (~$27 USD) at the airport with that same 10GB of data, plus unlimited domestic calls and texts and 200 minutes of international calls to certain destinations.
As a first-time user, you can get 15% off your Airalo purchase with the discount code DEC15 (and 10% after that, with the code DEC10), which in New Zealand actually makes it cheaper than buying a local SIM even for longer stays.
That's not always the case, though, as you can see in Cambodia. In those situations, if saving money is the priority, you'll need to wait until you're somewhere you can buy a local SIM instead. Sometimes that's the airport you're flying into, while elsewhere it'll be whenever you get into town afterward.
Unless you're a heavy data user, though, the price difference is far less than it used to be. In many parts of the world, you can get enough data to do everything you need to as a traveler (navigation, web browsing, staying in touch with friends and family) for under $25/month, ready to go as soon as you arrive.
The price/convenience gap narrows even further if you're only in a country for a few days. Chances are you'll pay under ten bucks for a week of service and a gigabyte or two of data, which is often no more than you'd pay for a local SIM. Without, you know, actually having to go and buy one. Most people have better things to do on vacation than hunting down SIM cards!
So, the final word. If you have a phone with eSIM support, Airalo provides an easy, effective, and relatively inexpensive way of staying connected in much of the world. I'll be using it again.
---
Images and screenshots via author