Someone told me recently that in the list of the most read books of all time, Dracula is second only to the Bible.
While it seems that "fact" is completely false (it did come from a Romanian in the tourist industry,) the book certainly hasn't done any harm for Romania.
Transylvania continues to draw tourists in search of the bloodthirsty vampire. While they arrive for him, they stay because of the impressive mountain scenery and idyllic towns such as Brasov and Sibiu.
However, most visitors still enter through the country's capital Bucharest — and it's a very easy place to get connected.
Need travel insurance for your time in Romania? We currently use HeyMondo, thanks to its comprehensive coverage options, competitive pricing, and the ability to buy or renew a policy while outside your home country. Residents of most countries get a discount with this link.
Companies
---
We recommend Vodafone or Orange for most travelers
A Romania eSIM is often the best option if your device supports it
---
There are four cell networks available in Romania, although you're most likely to only notice the two larger companies, Orange and Vodafone.
These two currently cover 95% of the population, with 3G and 4G/LTE available on pre-paid packages in most major cities and often when traveling between them.
Both Orange and Vodafone offer a number of packages suitable for short-term visitors to the country. For less than $10 you'll have plenty of calls, texts, and data that last up to a month.
I purchased a Vodafone SIM when arriving in Bucharest, simply because it was recommended to me by a friend already living in the city.
The majority of people I know here are also using Vodafone, although Orange is actually the market leader according to the latest statistics. Either way, there's little difference between the services they offer.
While this article is about buying physical SIM cards, if you have a recent iPhone or other supported device, the best way to get connected in Romania may be to buy an eSIM instead.
We've written an explainer of what eSIMs are all about if you're not familiar with them. Because they're software rather than a plastic card, you can buy before you leave home, avoid the hassle of kiosks and phone stores entirely, and get connected as soon as you land.
These days, we use
aloSIM
: easy to buy and set up, it's a simple, low-cost way of staying connected when you travel. You'll get a discount on your first purchase with the code
TMA
.
How to Buy a Prepaid SIM Card in Romania
---
Most convenience stores and newsstands sell SIM cards. Due to the number of dedicated phone shops around the major cities, though, there's little point in using them.
All shopping centers (of which there are many) will have a Vodafone and Orange shop, often two of each. If you're looking for English-speaking staff, these stores are usually the most reliable. No ID is required for purchasing a SIM card in Romania.
Simply ask for a new SIM. There will often be a pile of them, ready and waiting for you to choose your preferred number. While activating the SIM is relatively straightforward, the staff at Vodafone have insisted on doing it for me each time.
Make the most of this help to ensure your credit is used to activate the package that suits you best.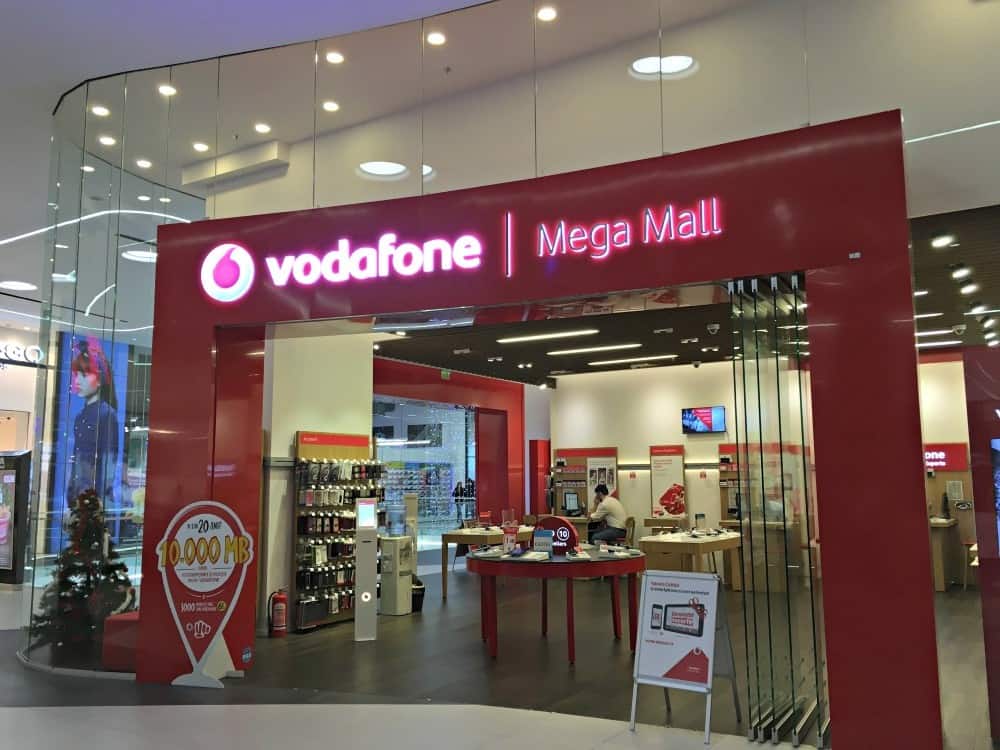 If flying into Bucharest, the airport does not currently have a Vodafone or Orange shop onsite. SIM cards are available from the convenience stores inside, however.
However, with free Wi-Fi so readily available at the airport, shopping centres, cafes, and even some petrol stations, it might be worth waiting to visit one of the dedicated shops to ensure you receive the best deal.
Again, there are so many in the major cities that it's unlikely you'll be staying further than walking distance away from one.
Prefer to spend your vacation sightseeing instead of buying SIM cards? Grab one in advance to stay connected in Romania and across Europe.
This Orange SIM includes 20GB of data, 1000 international texts, and two hours of international calls. The price includes US delivery, and it's valid for two weeks in 30 European countries. Use the code SIMOFF20 at checkout to get 20% off!
Other options are available
if you're traveling for longer, need a portable hotspot, or want a different mix of calls, texts, and data. No matter how you do it, you'll be connected with a minimum of fuss before you've left the airport.
Prepaid SIM Costs
---
A standard Vodafone SIM costs €6.20 which includes €5 of credit.
Service is very inexpensive in Romania, with large data caps. A couple of sample bundles include:
1000 domestic minutes or texts, 100 international minutes or texts, and 30GB of data for €5, valid for 28 days
2000 domestic minutes or texts, 1000 international minutes or texts, and 80GB of data for €8, valid for 35 days
2000 domestic minutes or texts, 1000 international minutes or texts, and 100GB of data for €10, valid for 42 days
Staff in the Vodafone shop will be able to help you choose the best package for you and set it up. You'll then pay the total cost: the price of the SIM, plus the credit required for your chosen package.
Note: Costs are quoted in Euros but require payment in the local currency, leu. The conversion rate includes a 19% value-added tax.
Topping Up
---
Top-ups can be bought from Vodafone shops or newsstands and convenience stores. Vodafone is the only network in Romania that currently allows online top-up via international credit cards.
Coverage and Data Speeds
---
Vodafone coverage in Romania has been excellent. 4G/LTE is available and very reliable in Bucharest and other major tourist cities like Brasov.
Even when driving through the mountains it was rare to lose phone signal. I was surprised to see 4G/LTE available at the highest point of a recent journey through the mountains.

EU Roaming
---
Romania is part of the European Union, so EU roaming regulations apply. These "roam like at home" rules ended roaming charges across much of Europe in 2017, letting you use a SIM card from any EU country across all the others at no extra charge.
When it comes to roaming elsewhere in the EU with a Romanian SIM, though, beware. The low price of cell service in Romania has allowed mobile companies to remove EU roaming from many of their packages, and reduce data allowances on others. Vodafone is no exception, so be sure to double-check the details at time of purchase if you plan to roam.
---
Check out our guides to buying SIM cards in many other countries here.
Main image via Marius Mitea