From humble beginnings back in 2014, OnePlus has built itself an enviable reputation for releasing smartphones with high-end specs at mid-range prices. None have been without their flaws, but they've all offered great performance and value, and we've long suggested readers consider them when buying a new device.
The OnePlus 6 was released back in May, again offering top-of-the-line components at a price that while not exactly cheap, is considerably less than much of the competition. It seemed to offer a lot for travelers, so I was happy to take a look when the company reached out to offer a review sample.
Since buying a Google Pixel 2 since late last year — a phone I called the best Android smartphone for travel at the time — though, my phone expectations have been extremely high. Sure, the OnePlus 6 has impressive specs, but as we've seen many times in the past, those alone aren't enough to make a great device.
I used the OnePlus 6 as my primary phone for two weeks, testing it in a range of different ways to see whether it's really as good as it looks on paper. Settle in, this'll be a long one.
Basic Specs
As always with OnePlus devices, the specifications are about as good as you'll find in any smartphone regardless of price. There's a Snapdragon 845 chipset inside, the fastest currently available, and either 6GB or 8GB of high-speed RAM and 64-256GB of storage. I tested the 8GB / 128GB model.
The dual rear cameras are 16MP + 20MP, lined up one below the other, with the fingerprint sensor immediately below them both. The glass back looks and feels gorgeous, but at the cost of durability. It'll take less to crack it than metal or plastic, and is more slippery as well.
In an increasingly common move, there's a notch on the front which holds another 16MP camera, the notification light and earpiece speaker, and sensors required for facial recognition. It's reasonably narrow as notches go, and doesn't dominate the top of the screen like we've seen with some other devices.
Charging is handled via a USB-C port, and thankfully there's a headphone jack as well. That comes at the cost of waterproofing, though. While OnePlus says the phone can handle "everyday occasions, such as rain or an accidental drop in a puddle," there's no official IP rating.
All OnePlus devices have supported two SIMs, but this is the first time that both slots allow LTE data use. That typically won't matter much on the road, since you'll likely be using a local SIM for your data needs and keeping your home SIM just for texts and the occasional call, but dual-SIM support of any sort is useful regardless.
Both SIMs are active simultaneously — I tested this by sending texts to both numbers, and both arrived immediately. You can choose which ones have data roaming enabled, and which one is the default for data, and outgoing calls and texts.
Speaking of LTE data, the North American/European version of the OnePlus 6 supports 25 LTE bands. That's about as good as it gets right now and means you've got a pretty good chance of getting 4G/LTE data speeds in much of the world. The days of LTE support being limited to the region you bought your phone seem to be finally coming to an end.
The 6.28″ display has a 19:9 aspect ratio, making it longer and narrower than earlier generations of smartphone. That, plus the relatively slim bezels, means it's easier to hold and use in one hand than the size alone might suggest, but make no mistake, it's still a big phone.
The OnePlus 6 is 0.3″ / 7.75mm thick, and weighs 6.2 ounces / 177 grams. That's pretty much ideal, since it feels solid in the hand without being too heavy, and stays slim enough to fit comfortably into the side pocket of most pairs of trousers.
There's a standard volume rocker on the left-hand side, while the right side holds the power button and a physical three-way slider (ring/vibrate/silent) that's hardly ever found on current Android devices.
Available in three colours (two variants of black and a bright white), it comes with a transparent case that covers the back and sides. OnePlus sells a range of other slimline cases in various attractive colours and styles, and given that glass back, I'd highly recommend using one.
You may also want to look at third-party options that give better protection for the front glass. The lip on the OnePlus cases barely protrudes above the screen, so there's still a decent chance of damage if you drop it on a rough surface. At least OnePlus preinstalls a screen protector on the front glass, a nice touch that more manufacturers should learn from.
Screen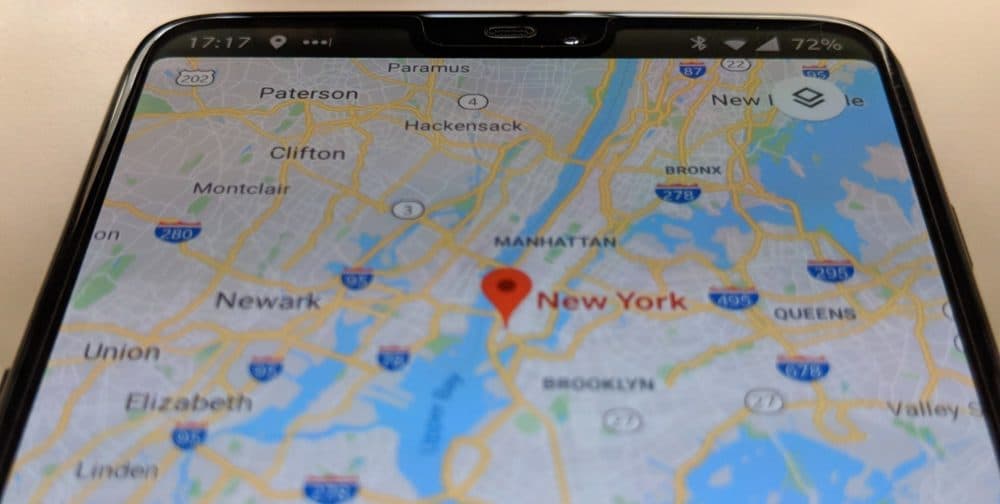 The screen on the OnePlus 6 is big, bright, and colorful. The default color mode will be fine for most users, but you can calibrate it to a range of other color profiles or set your own. The pixel density isn't as high as that of some other similarly-sized phones, but I didn't notice any lack of clarity in daily use.
I've never liked the notch on any of the phones I've played with, and expected to find it jarring and annoying on this device as well. I did, for about two hours until I got used to it and largely forgot it was there. OnePlus has made some sensible decisions with it, moving the clock and notifications to the left of the notch, and battery and signal strength to the right.
Notch-aware apps can use that space as well, but if it bothers you, you can stop them from doing so and turn the entire section black. It'll happen by default when viewing photos or playing video full-screen in landscape mode, which is exactly what you want. Honestly, despite being an avowed notch-hater, its presence was a complete non-issue for me. Yes, I was surprised.
I was very impressed with the screen in general, but one noticeable omission is an always-on ambient display. I've really grown to like the dim clock, weather, and notification icons that show on my Pixel 2 when the screen is off, especially at night when I can see what the time is without lighting up the entire room.
Apparently that feature was available in pre-release versions of the OnePlus 6, but removed when it shipped due to battery life concerns. Sure, you can still get the ambient display to show by lifting the phone, but it's not the same. Even if it does do nasty things to the battery, it'd be nice to have the option.
Software and Performance
This was my first time using OxygenOS, OnePlus's custom take on Android. Unlike many other manufacturers (hello, Huawei and Samsung), the company doesn't feel the need to make major changes to the stock experience, and it's a better operating system because of it. Sure, you can still customize the hell out of it if you want to, but if you've used Android before, OxygenOS will feel very familiar.
Based on Android 8.1 (the 9.0 update is due in the near future, but hadn't shipped at review time), using OxygenOS 5.1 on the OnePlus 6 was an incredibly smooth experience. Scrolling was buttery-smooth, opening and switching between apps felt instantaneous, and I couldn't get the phone to stutter no matter how hard I tried.
Even games like Asphalt 9, renowned for bringing lesser devices to their knees, performed flawlessly. There's a gaming mode that turns off notifications and limits data usage of background apps, but it doesn't do much else to affect performance, because it doesn't need to. Whatever complaints anyone might have about this phone, speed definitely won't be one of them.
There's a dark theme option, which applies to both the system interface and included apps, and it looks great. I switched over just to test it out, and never switched back. Standard features like night mode and gesture support are built-in, along with a reading mode that switches the screen to black and white and tweaks the brightness and clarity.
I noticed during testing that notifications for things like email and messages were coming through much later on the OnePlus 6 than on the Pixel 2 sitting beside it. After a bit of digging, it became clear this was due to the aggressive battery saving enabled by default — switching off "battery optimization" for the apps in question solved the problem.
I don't have a problem with this approach, since it stops over-excited apps from draining your battery unnecessarily. , It needs to be a bit more obvious to casual users that this is what's happening, though, and how to change it.
About the only thing I missed from the Pixel 2 was the Google feed that shows up when you swipe right. Over time it's learned to show the kinds of things I'm interested in, and has become genuinely useful. On OxygenOS, that screen feels like a missed opportunity, just showing some basic stats, recent apps, and simple memos.
You can add shortcuts and widgets to your heart's content, but you can do that on the main screens as well, so it's not much to get excited about.
Camera
If I was going to sum up previous OnePlus phones in a few words, I'd say something like "great specs, shame about the camera." Photo quality has long been the Achilles heel of these devices, especially in low light, so I was very interested to see if anything had changed with this model.
After snapping several dozen photos in a variety of settings, and comparing them to the same shots on the class-leading Pixel 2, it's fair to say the results have been largely (but not entirely) impressive. I haven't edited any of the images below — they're all as they came out of the phone.
Daylight
Fortunately my testing period coincided with a nearby balloon festival, so I had the perfect excuse to take plenty of photos. I've included a couple of representative samples below, along with urban shots taken on the type of grey, overcast day that can cause problems for phone cameras. Click the numbers to switch between them, and on any of the photos for a full-size version.
Low Light
Low-light performance is the bane of all except the very best phone cameras. That's also true to some degree for the OnePlus 6, but less so than in previous models.
There's clearly a lot of processing going on to try to make up for the limitations of the physical sensor. It'll often show up as visible noise in particularly dark areas of the photo, but you'll usually get a brighter, more usable photo as a result.
Overall you're unlikely to be winning many photography awards for your night shots, but you've got a decent chance of taking something you'd at least be happy sharing with your friends.
Portrait
I'm not going to go into too much detail about the Portrait mode, because it's not particularly different to that found in other cameras. The OnePlus 6 does a good job of separating subject from background, and in a nice touch, actually tells you when you're too close or far away.
The blur effect works as expected, and you'll be able to get some more interesting, better-looking photos as a result. There's also a "bokeh" effect that lets you add light effects, including stars and hearts, to your shots. No, I don't know why you'd choose to do that either, but it's there if you're so inclined.
OnePlus has worked on improving its camera quality, and it shows. In well-lit conditions, you'll get results close to those of premium devices from Samsung, Google, and Apple. You'll notice more of a difference in low light or at night, but in my experience at least, it's rare for a photo to be bad or unusable.
Sure, shots are likely to be a bit more processed than you'll see from other devices, but for many people, that may not be a bad thing if it results in subjectively better images.
While you'll still get better shots overall from class-leading devices like the Galaxy S9, Pixel 2, or iPhone X, few travelers are going to be disappointed with the photos coming out of this phone, and some will undoubtedly choose to leave their main camera at home as a result. That simply hasn't been the case with previous models.
The camera app itself is particularly good, giving a few useful options by default without over-complicating everything. If you want all the manual controls, though, they're available in Pro mode just a swipe away. HDR is on by default in other modes, and I'm struggling to think of a reason why you'd want to disable it.
Charging
Ever since the OnePlus 3, the company has included its own special Dash chargers and cables with its phones. A little larger than a standard USB wall charger, it moves some of the power management circuitry and associated heat buildup away from the phone itself.
The end result? Much faster charging. The company's marketing touts "a day's power in half an hour," which is an absolute godsend for travelers on short layovers or who quickly return to their hotel to freshen up. Since phone battery life is such an issue when you're traveling, I put a bit of time into testing out the OnePlus 6's charging approach.
Plugging the Dash charger and cable into a wall socket yielded impressive results. Starting at 15%, the charge level read 33% after ten minutes, 51% after twenty minutes, and 69% after half an hour. It slowed down after that to avoid damaging the battery, hitting 95% after an hour, and fully charged 74 minutes after it started.
So how does adding 54% in half an hour stack up? By way of comparison, my Pixel 2 added a little over 30% in the same period with its factory charger. Given the Google phone has a significantly smaller battery as well (2700mAh vs 3300mAh), that's a hell of a difference.
It must be said, though, that you'll only see those fast charging benefits if you're using the official Dash charger and its associated cable. Use a different USB charger or cable that you've got lying around, and charging reverts to much more typical speeds.
Using a 2.1 amp wall charger and starting again from 15%, charging speed halved. The battery read 24% after ten minutes, 33% after twenty minutes, and 42% after half an hour. After an hour, it had only reached 65%, and didn't get to full charge until just under two hours had passed.
The takeaway? If you want that super-fast charging when you're traveling, you'll need to pack your Dash cable and charger (and if you're heading overseas, probably a travel adapter as well,) and try very hard not to lose or break them.
There's no wireless charging, despite the glass back that would allow for it. OnePlus says that because Dash charging is so fast, there's no need for comparatively slow wireless charging as well. You can just top up for a few minutes when you need to.
I don't entirely buy that argument, but since most travelers won't be carrying a wireless charging pad with them and they haven't become particularly widespread in cafes and bars despite the media's breathless predictions of a year or two ago, it's not the end of the world.
Battery Life
Of course, charging is half the story, with battery drain being the other. In this regard, the OnePlus performs pretty well, averaging around 30 hours of moderate use.
My typical day would involve a few hours of listening to music via Bluetooth, using Google Maps for directions, taking a bunch of photos, and reading for an hour or two in the evening. In doing so, I'd typically take my phone off the charger around 8 am, and not have to put it back on again until around lunchtime the next day.
That's about what you'd expect from a phone in this price range in 2018, but plenty of devices get it surprisingly wrong. The OnePlus 6 thankfully isn't one of them, and based on my experience, I have no complaints about battery life.
That said, I'd still be packing a power bank (or at least that Dash charger) on long travel days since you'll typically be draining the battery more quickly than usual. That's especially true if you plan to indulge in a bit of gaming: the high specifications of the OnePlus 6 mean you'll get great performance regardless of which game you choose to play, but don't expect the battery to last forever when you do.
Security
OnePlus talks quite a bit about its Face Unlock technology, using it as justification for the phone's notch, among other things. I have mixed feelings about it: it's extremely fast and convenient, but the warning that it's "less secure than fingerprint and password" gives me pause.
Without the 3D facial scans and infrared sensors of the iPhone X's version, I don't particularly trust it to keep my phone protected from people determined to get into it. This isn't a criticism of the OnePlus 6 in particular, since I feel the same way about any non-Apple facial recognition on smartphones right now.
In the end, while I enjoyed the simplicity, I chose to disable it in favor of fingerprint and PIN security. When I'm crossing borders I disable fingerprint authentication on my phones as well, but that's a conversation for a different day.
The fingerprint sensor on the back of the OnePlus 6 is in a sensible place, and my finger always finds it straight away (especially when the phone is in a case, due to the cutout for the cameras and sensor). It's not as tall as that found on many other phones, however, and I have noticed a few more failed reads than usual. It's still rare, though, and the vast majority of the time, the screen unlocks immediately.
Warranty and Support
In the past, OnePlus wasn't particularly good at supporting its phones. Software updates would ship on an irregular basis, with no official timeframes for how long a particular device would receive them for, or how quickly it would get them.
The policy was rightly criticized, and the company completely changed tack a few weeks ago. It's now committed to a full 24 months of operating system updates and security patches from the release date of the phone, followed by a further 12 months of security patches only. These updates will be released every two months, and the new policy applies to the last several phone models, including the OnePlus 6.
That's a huge change, and a welcome one that turns OnePlus from one of the worst vendors for updates to one of the better ones.
The hardware warranty is in line with most other Android vendors, 12 months in the US, two years in the EU. Sadly for travelers, that warranty only operates in the country or region of purchase. If your OnePlus 6 stops working on the other side of the world, you'll need to deal with international shipping to and from (yuck), or wait until you get back for service.
Verdict
There's an awful lot to like about the OnePlus 6, and it's the best phone the company has made. An attractive device that feels great in the hand, the relatively narrow width ensures it stays usable despite the large screen.
The specifications are as good as it gets in 2018, with performance to match, and although the price of each successive OnePlus model keeps creeping up by a few dollars, it still represents very good value for money.
Travelers will particularly appreciate the dual SIM slots and wide range of supported LTE bands, not to mention the extremely fast charging speeds provided by the Dash charger and cable. The headphone jack is a welcome inclusion, especially for those who don't travel with Bluetooth headphones,
Resisting the urge to tinker or add a bunch of unnecessary software makes OxygenOS is one of the best non-stock Android versions out there, an approach that companies like Huawei and Samsung would do well to emulate. If you want to tweak things to your liking, though, you've got ample opportunity to do so.
Photo quality is good in well-lit conditions, and the standard camera app is better than most. Finally, the much-improved support policy means you can purchase with confidence, knowing you'll get software updates and security patches for years to come.
Of course, no phone is perfect. The lack of official waterproofing is a disappointment, and the switch to a more-fragile glass back without adding wireless charging is an odd move. Low-light camera performance, while improved from previous models, still isn't up there with the best, and if I'm being picky, it would have been nice to see one of those SIM slots double as a micro-SD slot as well.
Overall, though, the minor weaknesses of the OnePlus 6 are completely outweighed by its strengths. It's easily one of the best smartphones you can buy for the money, and most travelers will be extremely happy with it. The equivalent device from Samsung or Google costs hundreds of dollars more, and while you'll get a better camera for your cash, you won't get a great deal else.
To sum it all up in a single sentence: if I was in the market for a new smartphone to travel with today, the OnePlus 6 would be right up there on my shortlist.
Highly recommended.
Pros
High-end specifications
Blistering performance
Good value for money
Speedy Dash charging
Dual-SIM
Headphone jack
Camera quality in good lighting
Much-improved software update policy
Cons
Camera quality in low lighting
Glass back without wireless charging
No official waterproofing
Lack of always-on display
---
---
Images via author