While most of us have a decent computer setup at home or in the office, the ergonomics usually get worse when we're on the go. That certainly used to be the case for me: I worked from the road for years with little more than a laptop and a permanent crick in my neck.
I'm not sure why it took me so long to figure out that a few cheap upgrades would make a massive difference to both my productivity and comfort, but I really should have done it a lot sooner.
First and foremost was a decent travel mouse, which is what I'm talking about today. Paired with a good travel keyboard and laptop stand, I had the makings of a lightweight portable office that I could set up in under a minute.
Unless you're one of the few people who loves using a laptop trackpad, a good mouse is the best mobile work upgrade you can make. It's more precise, easier on your wrists and fingers, and at least with the better ones, more customizable to the way you work.
I've tested literally dozens of the things over the years, ranging in price from a couple of dollars to a couple of hundred, and everything in between. There's definitely a sweet spot when it comes to travel mice, both in terms of size and weight, but also with things like durability, cost, and extra features.
Most haven't survived more than a few weeks in my bag, or have other problems that have ultimately ruled them out. Of those that are left, these few are the ones I'd personally recommend for remote work, plus a dual-use option that works as well for mobile gaming as it does for spreadsheet scrolling.
Sale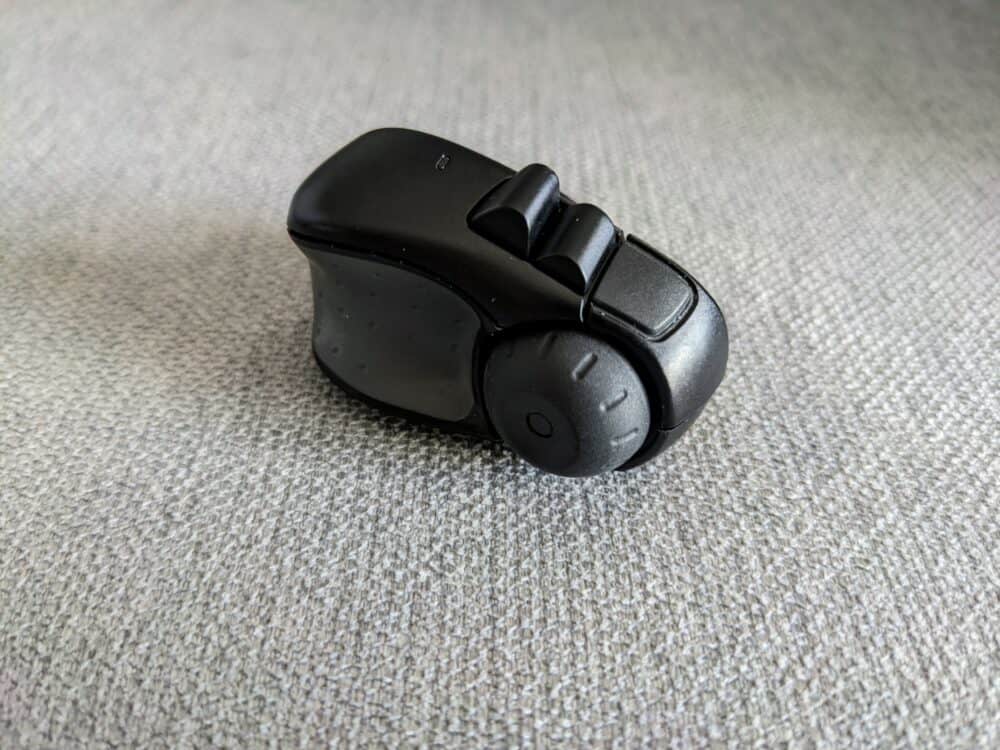 Sale
Sale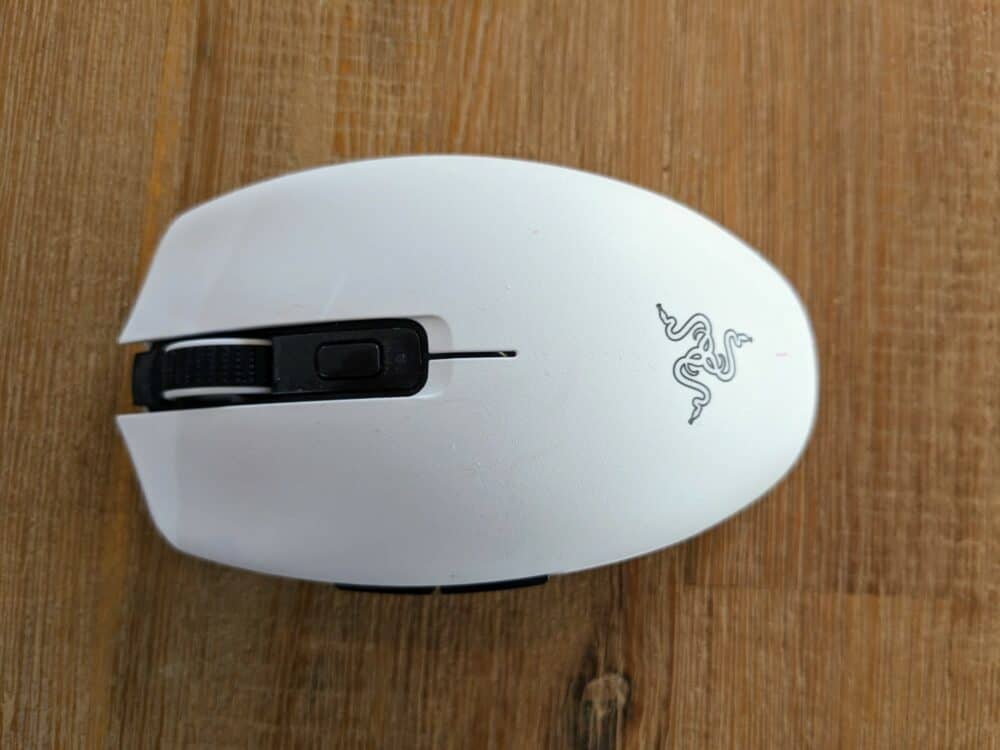 ---
Best Travel Mouse: Logitech MX Anywhere 3S
Logitech has been turning out high-quality computer accessories for decades, so it's no great surprise that it makes a range of impressive mice. Having tried most of them, it's easy to recommend the MX Anywhere 3S as the best of the lot for travel and remote work.
It's decidedly un-picky about where you use it: I've had no problem on anything from glass tables to shaggy sofas. The MX Anywhere is also built to last: I've used various models for years on the road, and despite the abuse they've received, they've all just kept on working.
Despite its small stature, the mouse doesn't skimp on features. It can connect via USB dongle (sold separately) or Bluetooth, and as with many of the company's mice, remembers up to three devices that you can easily switch between at the press of a button.
It works with all major operating systems, and has impressive battery life for its size. Logitech claims the MX Anywhere 3S can run for up to 70 days on a single charge, and that's pretty accurate: I only plug the USB C cable in every 6-8 weeks, even with heavy daily use.
A minute on the charger give two or three hours of use, which I've found particularly useful. The low battery warning always seems to come right when I'm in the middle of something, so I tend to give the mouse a quick charge at the time, then plug it in and walk away when I'm done for the day.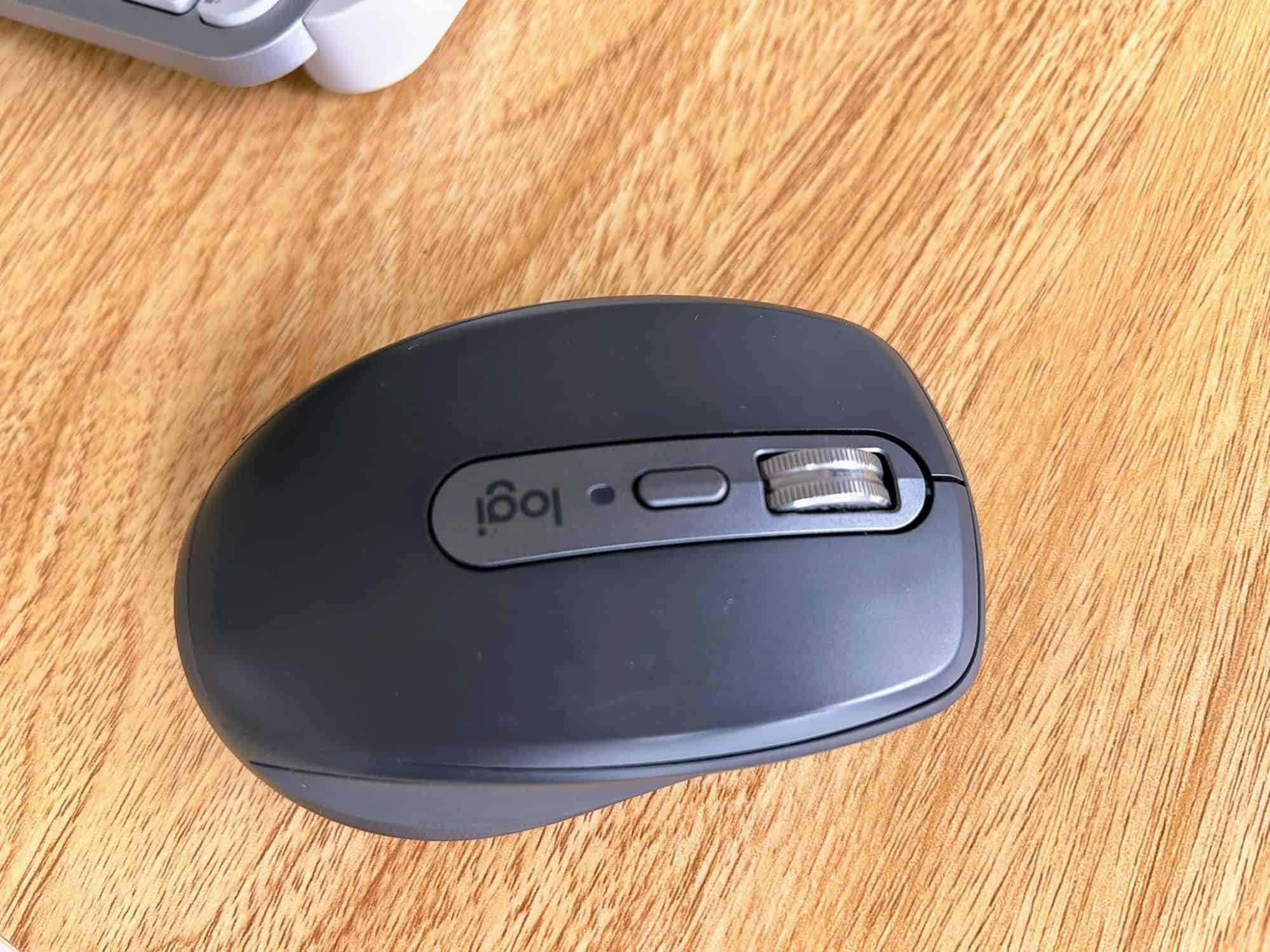 I've always loved the MagSpeed scroll wheel that comes with Logitech's premium mice, including this one. It lets you switch from standard line-by-line scrolling to freewheeling just by spinning the wheel more quickly. Moving up to 1000 lines at once, I often use this mode when working in large spreadsheets, and it's a real time-saver.
The Logitech Options+ software lets me customize what each button does, scrolling direction, and a bunch of other useful thing, and there are also app-specific button settings for popular applications like Photoshop, Final Cut Pro, Excel and others.
The software also enables Logitech Flow, which lets you switch between two computers just by moving the mouse to the edge of the screen, and copy images and text between them. I don't use this on the road for obvious reasons, but have found it super-useful in my home office.
Overall, the MX Anywhere 3S is a well-rounded travel mouse that's durable, versatile, and has an impressive feature set. Newly-compatible with macOS in this latest model, the only real downside is that it's more expensive than your typical mobile pointer, but you very much get what you pay for here.
Pros
Compact, travel-friendly design
"MagSpeed" rapid scrolling
Works on almost any surface
Rechargeable battery with long life
Cons
Above-average price
USB receiver sold separately
---
Buy on Amazon
Best Mini Travel Mouse: Swiftpoint ProPoint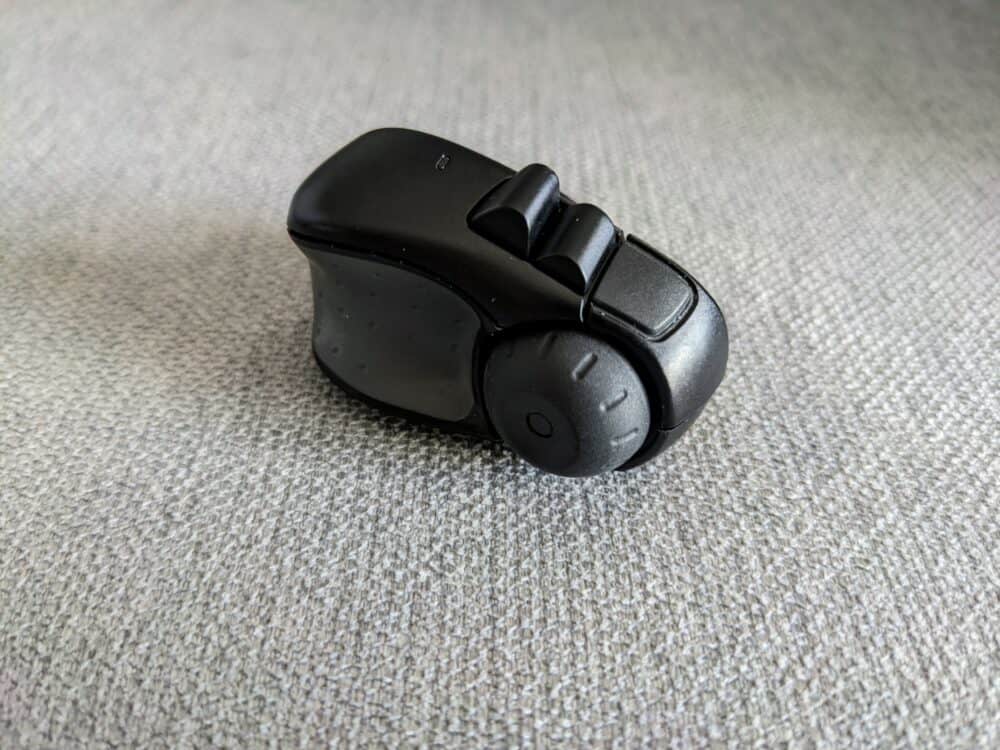 It only takes a quick glance at Swiftpoint's ProPoint to realize that it's not your average travel mouse. This thing is seriously tiny, far smaller than anything else I talk about here, and requires an entirely different approach to using it as a result.
Rather than the typical "claw" grip you use with larger mice, the ProPoint's design favors a "pen" grip instead. The new approach takes a little getting used to–I wasn't sure about it at all to start with–but it's a more ergonomic approach, and at least for me, became much more natural after a few days.
The mouse and software are compatible with Windows, macOS, and iPadOS, but if you don't need to configure it, it'll work with most other operating systems as well, including Linux and Android.
Extremely lightweight, the ProPoint weighs less than an ounce, and that smaller size and weight is very noticeable. After using it for a couple of weeks, I switched back to my usual desktop mouse for a day, and it felt ridiculously big and heavy by comparison.
The tiny size has opened up extra opportunities for me to use the mouse while traveling. It's small enough to use on the palm rest of my laptop, for example, or the few inches of space alongside it on my airline tray table.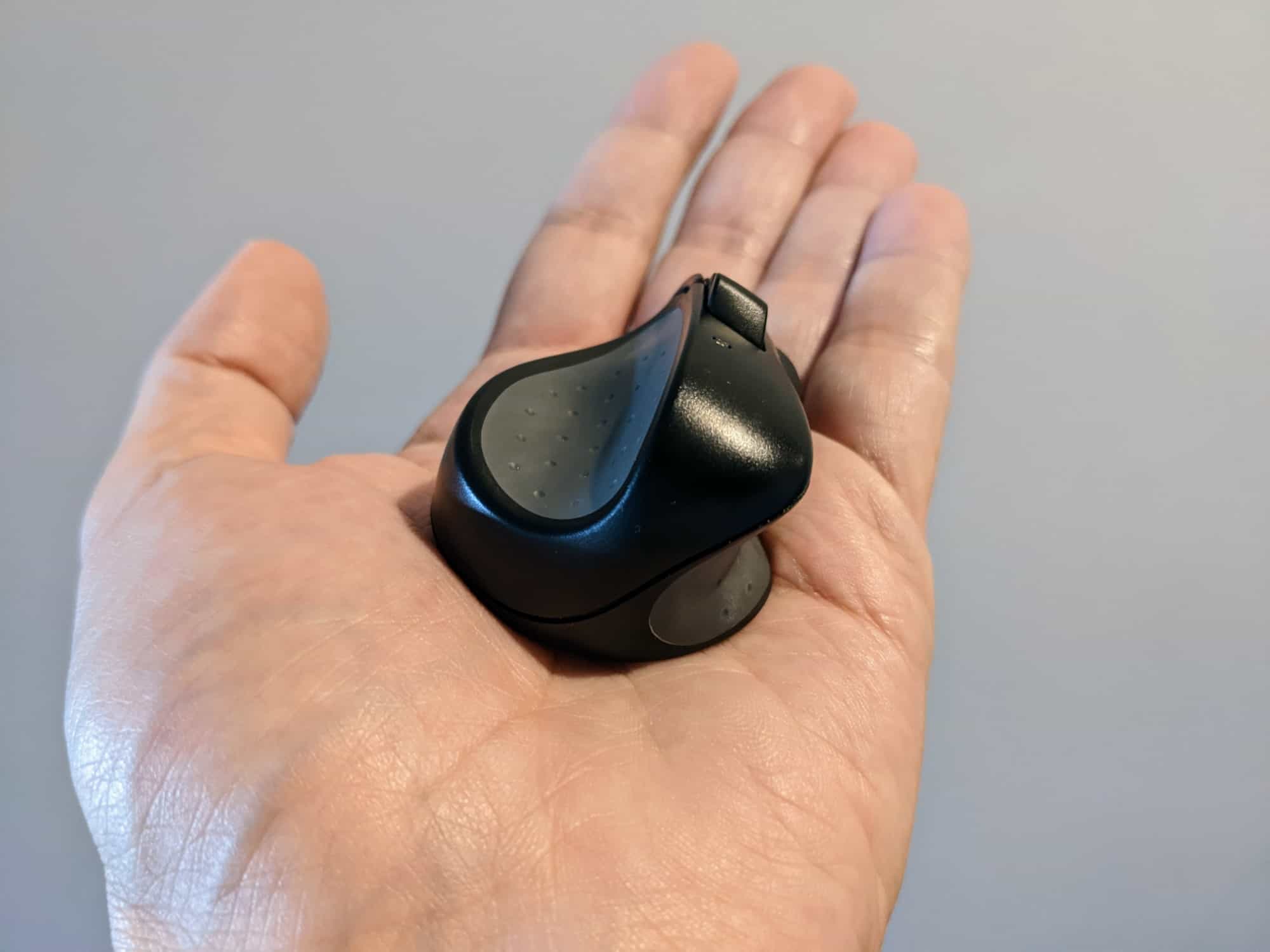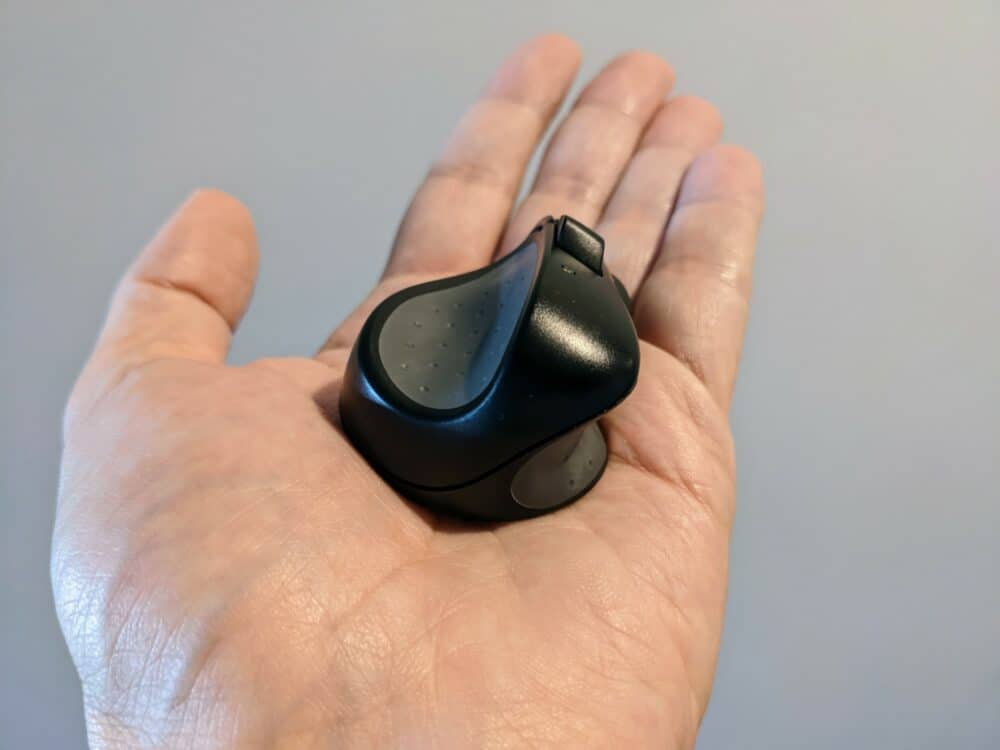 When not in use, the ProPoint and its USB charger/dongle live in a hard, protective carry case. That case definitely does its job: I used this mouse every day on my last trip, which took me through several countries and lasted nearly three months. It returned home with me without a scratch on it.
As small as it is, the ProPoint is packed with features. Pretty much everything is customizable, including the three buttons on the top, the side scroll wheel, and the actions that take place when you tilt the mouse to the right and click a button or move it in a given direction.
Move a slider on the bottom, and the mouse switches into presentation mode. Ideal for business use, this lets you hold the mouse in your hand and change slides at will, or activate a virtual laser pointer on-screen to highlight whatever you're talking about.
Battery life is pretty good: the company suggests you'll get up to two weeks from a charge, and that's about what I've seen in my experience as well. The mouse charges from a small USB dongle, which also doubles as a receiver if your computer doesn't have Bluetooth built-in.
All in all, it's remarkable just how many features are baked into this tiny travel mouse. It's an expensive option, and will take a little getting used to when you first start, but there's really nothing else quite like it on the market.
While I still prefer the size of the MX Anywhere 3S above, I've been surprised how often I've ended up packing my ProPoint instead. On any trip where space and weight is an issue, especially anything where I'm traveling carry-on only, it's now my go-to option. Read my full Swiftpoint ProPoint review for more.
Pros
Extremely small and light
Compatible with most computers and devices
Presentation mode, including virtual laser pointer
USB charger doubles as a wireless receiver
Cons
Small size and pen grip means it takes a few days to get used to
Expensive
---
Buy on Amazon
Best Cheap Travel Mouse: Microsoft Bluetooth Mouse
As perhaps the only genuine household name on this list, I probably don't need to explain Microsoft to you. Known for excellent hardware and software, the company's Bluetooth Mouse is its simple answer to the growing need for portable mice at affordable prices.
Compared to the Logitech MX Anywhere 3S above, the Microsoft Bluetooth mouse is a basic model. It doesn't have any of the fancy features or bells-and-whistles, but it does what it's supposed to do well. Striking a nice balance between comfort and portability, and is available in five different colors.
As the name suggests, the mouse connects to other devices via Bluetooth, and has a Swift Pair feature for Windows that allows for rapid Bluetooth pairing. It uses the newer Bluetooth 5.0 LE, which improves both speed and range, but is backwardly-compatible with devices running older Bluetooth versions.
There's no USB dongle or physical cord needed, which is definitely a useful feature for portability. That said, some people prefer to have a mouse with both options, and this particular mouse only works with Bluetooth.
As a Microsoft product, this mouse works best with Windows machines, although it should work with most devices that use Bluetooth. Some macOS users have reported compatibility issues, however, particularly with older MacBooks.
The biggest downside of this mouse is that clicking any of its buttons wakes up the mouse, even if it's powered off. This means that if it's stored in a backpack or briefcase and gets jostled around, it may turn itself on, draining the battery.
Pros
Comfortable, compact design
Choice of 5 colors
Cheap
Cons
Accidental mouse clicks can wake up the mouse while it's stored
Doesn't work with some Mac products
---
Buy on Amazon
Best Travel Gaming Mouse: Razer Orochi V2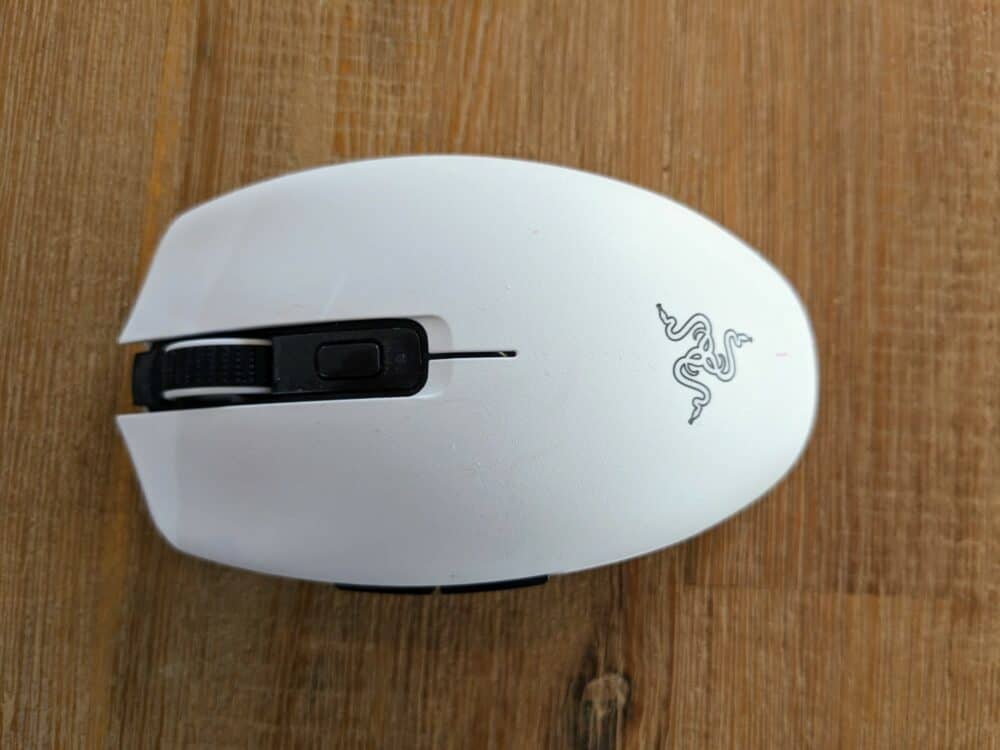 Looking to play a few games of Baldur's Gate 3 or Call of Duty: Modern Warfare III while away from home? The Razer Orochi is my current pick for a portable gaming mouse, packing impressive performance into a surprisingly compact package.
After much research, it's the mouse my partner decided to buy for a number of reasons. Its diminutive size and light weight perfectly suited her small hands, and she was looking for a mouse that could do double duty for both gaming and work, at home and on the road.
I've "borrowed" it regularly while we've been traveling, and even though I've got larger hands and different gaming needs, it's fair to say that the mouse has well and truly delivered on both of our expectations.
With an 18,000 DPI sensor and five customizable buttons, the Orochi holds its own with many full-size gaming mice. The buttons have just the right amount of firmness, at least as far as I'm concerned: I don't press them accidentally, but they're not so hard that I feel like I have to force them.
It's also a perfectly good mouse for getting proper work done, something I had quite a bit of practice with when I accidentally forgot my mouse on a recent trip. I missed the high-speed scrolling of my MX Anywhere, but that was about it: in terms of comfort and reliability, I had no complaints at all.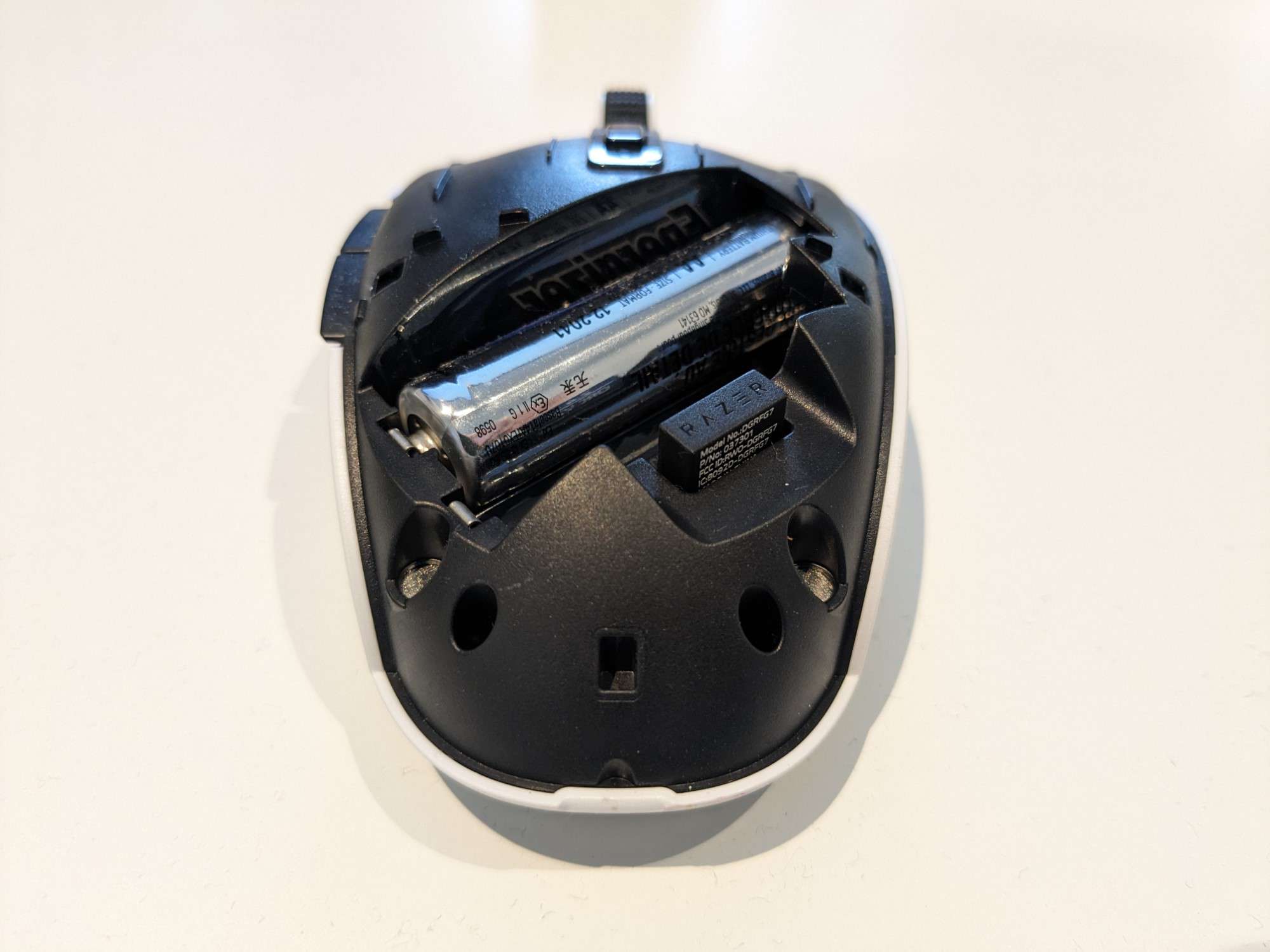 The mouse is powered by a single AA (included) or AAA battery, which provides up to a ridiculous 950 hours of use. I haven't sat down and timed it, but it wouldn't surprise me if that number was accurate: after a few months of use, it's still using the original battery it came with.
You can use either Bluetooth or a USB dongle to connect: the latter lives in a little compartment inside the mouse body when not in use, and in return for a shorter battery life, ensures less latency for fast-action gaming.
My partner uses a MacBook Pro, and the mouse works perfectly with it. The Razer configuration software, however, not so much: for some inexplicable reason, the app is Windows-only. At least settings changes are saved to the mouse itself, so there's been no problem with changing settings on my laptop and having them reflected on hers.
Reasonably priced, with good performance, great battery life, and enough durability to handle the knocks and bumps of extended travel, this is a great "do it all" mouse for both work and play.
Pros
High DPI
Small and light
USB dongle included, or use Bluetooth
950 hour battery life
---
Buy on Amazon
---
What to Look For
Just like when traveling with a human, choosing any kind of gadget to become your constant travel companion requires some compromises. With that in mind, and after many years of lugging travel mice around the world myself, here's what I've found to be most important when deciding what to buy.
Size, Weight, and Portability
The majority of computer mice aren't gigantic; most of them have to fit underneath a regular human hand, after all. However, every traveler knows how vital the size of ANYTHING is when you're trying to fit all your belongings, including a laptop and mouse, inside a little carry-on bag.
Therefore, for most people, the lighter and smaller the mouse is, the better. To a point, at least: the mouse still needs to be comfortable when you're using it. If you have larger hands and find small mice uncomfortable, don't go for the absolute tiniest model on the market.
For travel in particular, it's worth looking for a mouse that works on any surface, since you really don't want to be carrying a mousepad as well. As a general rule, laser mice are best for this purpose, since they're typically better at handling uneven and reflective surfaces.
Connectivity
In general when it comes to travel tech, wireless is better than wired. The obvious reason is greater comfort and convenience: you don't have to worry about cables getting in the way while trying to use your devices on a cramped plane or train tray table.
But cables aren't only annoying, they're also a common point of failure. Contact points are always weak points when it comes to cables, and mice are no exception, especially right where the cable enters the main body of the mouse.
Carrying a wired mouse in your bag increases that wear and tear, even if the cable is retractable. Finally, it's much easier than you might imagine to get caught up in the cable as you stand up from a table and accidentally drag your laptop off onto the floor. Trust me, I've seen it happen!
With that in mind, I'm no longer recommending any wired travel mice. Even with the need to charge or swap batteries every few weeks or months, the compromise just isn't worth it.
Wireless
Turning to wireless, you've got a couple of options: radio frequency (RF) and Bluetooth. Some wireless mice offer both options, some are just one or the other.
Radio-frequency (RF) mice tend to be a bit cheaper, provide good performance, and are very simple to use: you just plug a little dongle into one of your USB sockets. When it comes to travel, however, the dongle is also the biggest issue.
Lose the dongle, and your mouse is useless. That's it. It's exactly how most RF travel mice become useless, too, when the dongle accidentally slips out of your daypack or you forget to pull it out of a computer you were using.
Mice with a dongle "safe spot" behind the battery cover or in the base of the mouse are a good option once you've trained yourself to use it, but even so, these little receivers remain one of those things with a high chance of becoming a problem on the road.
Sure, you could just leave it permanently in your USB socket, but that's just swapping one potential problem for another. There's a non-zero chance of catching the protruding dongle on something solid like a table, or snapping it off on a rough travel day, and now you've got a bigger issue to deal with.
Bluetooth solves the dongle issue and lets you use your mouse with any compatible device, often even multiple simultaneously. Besides not relying on a dongle, Bluetooth connections are usually less "crowded", meaning less wireless interference from surrounding devices.
Ideally, if you're going wireless, look for a mouse that has both RF and Bluetooth connections, since it provides the most flexibility. Note too that some wireless mice can also be used in wired mode if you plug their charging cable into your computer, providing a third connection option if two just isn't enough.
Battery Life and Charging
For any portable device, battery life is crucial. It's the difference between a gadget that's useful and one that's just a frustration, and having extra batteries or power banks for your gadgets is always a smart idea if you plan to spend plenty of time away from an outlet.
That's just as true for wireless mice as anything else: a flat battery notification when you're in the middle of something important is extremely frustrating, and definitely one of my pet peeves.
When it comes to battery life, read the product descriptions and reviews carefully. It's not only about total battery capacity, but also how long the mouse lasts between charges or battery replacements.
If you're going down the replaceable battery path, picking a mouse that uses only one battery instead of two can reduce expenses, and often indicates that the mouse requires less juice to run.
While AA/AAA batteries are easy enough to come by, buying a mouse with a built-in rechargeable battery is generally more convenient. USB C charging is best: it's pretty fast, at least with the right charger, and many phones and laptops support it, so you don't have to carry two sets of cables.
Charging speed is also important. Some mice, like the MX Anywhere 3S discussed above, will deliver a quick boost in a minute or so that gives a few extra hours of use. That's ideal when you just need to finish a piece of work and don't have an hour or two to wait around for a full charge.
Performance and Extra Features
Travel mice typically aren't the greatest option when it comes to pure performance. Gamers know that the best and most precise gaming mouse is rarely the smallest, for instance. Larger, heavier models often also have extra buttons and options that you don't find on the travel-sized versions.
Still, there are some features that even a travel-friendly mouse can squeeze in that significantly improve how they operate:
Adjustable DPI: having a wide DPI range is useful at home or in the office, and even more so when traveling. You can adjust the mouse's sensitivity via a button, switch, or software configuration, letting you work effectively in cramped spaces when you need to.
Customizable buttons: besides the basic left/right/middle buttons you find everywhere, better mice have a range of other buttons you can program however you want. Creating presets like this are a real time saver if you often perform the same task(s), whether for work or gaming.
Extensive device support: most mice support most devices, but the devil is in the detail. If you're using Apple or Linux gear in particular, make sure the mouse you're considering includes support for it. 
---
Main image via Shutterstock, product images via author except for Microsoft mouse via Amazon