Phones, tablets, and laptops are getting thinner and lighter all the time. On the upside, that means they look great and are easy to carry. On the downside, it's unusual for any of them to last more than a day away from a power socket.
That's just about manageable in normal daily life, but the rest of the time? Not so much.
While there are a few smartphones out there with decent battery life, they're definitely rare. For everything else, you're stuck with carrying a portable charger around if you don't want to get caught with a dead device just when you need it most.
They're not all the same, though, with size, weight, and features varying a lot, even between devices that cost about the same. We've rounded up the best portable batteries on the market in 2021, no matter what your requirements are.
Just want something you can keep in your wallet for a quick emergency boost? Heading off the grid for a week but need to stay charged? Want to keep your laptop going, even when the power goes out?
We've got you covered for all that, and more.
Best for Keeping in Your Wallet: TravelCard Charger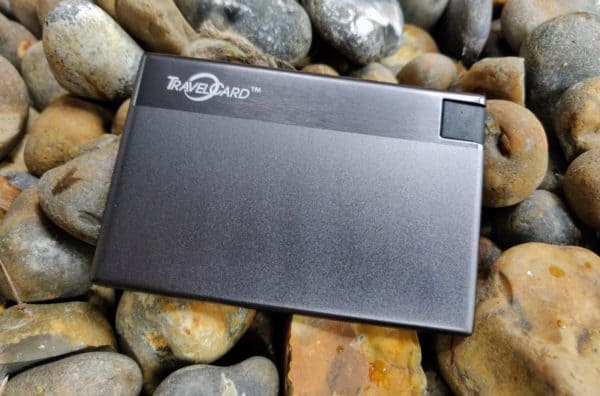 Want a battery you'll always have with you? The TravelCard Charger is one of the few that fits in your wallet. Combined with built-in cables, it means you can get a bit of extra life out of your phone in almost any situation.
The card is roughly the height and width of a credit card and three times thicker. There's a USB-C, micro-USB, or Lightning cable on one end, and a USB-A cable for charging the card itself on the other. We reviewed the latest USB-C model here.
The 1500mAh capacity isn't much to get excited about, but will give you up to an extra 40% charge depending on your phone. You can use it for other small USB-powered devices as well, but it'll make almost no impact on a tablet.
Specifications
1500 mAh
3.7 x 2.4 x 0.2 in (9.2 x 6.0 x 0.5 cm)
2 oz (59 g)
In: integrated micro-USB cable. Out: integrated USB-C, micro-USB, or Lightning cable
Max output: 5W (5v @ 1a)
There are very few companies selling reliable portable batteries in this size, and the TravelCard charger is the best of the bunch. It's relatively expensive for what you get, though, and with such limited capacity, you may still find yourself getting to the end of a long day with a dead phone.
As a result, this is our pick only for those who tend to forget to throw their charger in their bag before heading out for the day, and really want to keep a small battery in their wallet for emergencies.
If you're happy to remember and carry a slightly larger device, for the same money you'll get more use out of the Jackery Bolt below.
---
Best Small Portable Charger: Anker Astro E1
If you're after a portable battery that'll keep your phone going all day and don't want to carry a huge brick of a charger to do it, it's hard to go past Anker's Astro E1.
We've been using one of these little batteries for years, and it's hard to fault. Recently upgraded with extra capacity, it's a small, lightweight, and reliable device that does the basics well at a reasonable price. As a result, it's our pick for the best all-round small portable charger in 2021.
The 67000mAh battery is small enough to fit in your pocket, and can easily charge most recent smartphones at least once from empty. You'll likely get at least a partial second change as well, which means unless you're playing games continually from start to finish, you'll get through even the longest travel day without needing a power socket.
The E1 is a simple device, with a single USB-A socket that puts out up to 2 amps (10W) plus a micro-USB port for charging itself. That 10W output is enough to charge a smartphone or tablet fairly quickly, but there's no official fast-charging support for QC 3.0 or similar.
Specifications
6700 mAh
3.8 × 1.7 × 0.9 inches (9.7 x 4.3 x 2.3 cm)
4.4 oz (112 g)
In: micro-USB socket. Out: USB-A socket
Max output: 10W (5v @ 2a)
The battery itself takes several hours to charge up from the micro-USB port, since it has a maximum 5W input. That's fine if you just use the battery during the day and charge it up at night, but if you need one you can power up more quickly, check out the slightly-larger PowerCore II 6700 model instead.
The four small LED lights on the top give a rough estimate of how much juice is left, and it comes with a mesh carry case and short micro-USB cable for charging it back up. If you happen to have a phone or tablet with a micro-USB port, you can use the same cable to charge that as well.
Anker is the leading name in good-value, high-quality portable batteries and stands behind its gear, with an 18-month warranty in the event of any problems. The company also sells several other models, including the one listed below, so you can pick the right mix of capacity, size, and weight for your needs.
Buy on Amazon
Best Value: Anker PowerCore 13000
If you'll be out of range of a power socket for a few days and still want a working phone at the end of it, you need a portable battery with plenty of juice. The problem is that extra capacity usually brings a higher cost and bulkier device along with it.
Anker's PowerCore 13000 strikes the right balance, with enough capacity to charge an iPhone four times or iPad once, while still fitting in your pocket and leaving money in the bank.
The battery can deliver up to 15W across either or both of the USB ports, meaning fast charging for a single device, or slower charging for two at once. It doesn't support Qualcomm QuickCharge, however.
Specifications
13000 mAh
3.8 x 3.1 x 0.9 inches (9.7 x 7.9 x 2.3 cm)
8.5 oz (240 g)
In: Micro-USB socket. Out: 2 x USB-A socket
Max output: 15W (5v @ 3a)
When it gets low on juice, it's worth powering the battery back up with a wall charger rated at 10W or more (again, this is our recommended one for international travel) so it charges more quickly.
Not all portable batteries support this, but the Powercore 13000 does, going from empty to full in around eight hours if you use one. Charging from something else will take at least twice as long, which can be very inconvenient when you're in a hurry.
It ships with a lightweight travel pouch and a USB-A to micro-USB cable that can be used to charge the battery itself or any other micro-USB device. Unlike the Jackery mentioned above, however, it doesn't support pass-through charging.
Buy on Amazon
Best for Endless Battery Life: RAVPower Ace 32000
The other big name in portable batteries, RAVPower has long been a good option. This 32000mAh version is no exception, and while you'll need to accept the extra size and weight that come with a battery this size, you'll be smiling when your phone is still going over a week since it last saw a wall charger.
The three USB-A ports can each put out 2.4 amps (six amps total), meaning you can quickly charge a couple of phones or tablets at the same time, with enough capacity left over for your Kindle or headphones.
It supports pass-through charging so you can charge everything, including the battery itself, from a single socket.
Rated to charge the latest iPhones more than seven times, or even a power-hungry iPad over 2.5x, it's quite possible you'll get through an entire vacation or camping trip without needing to recharge the battery itself.
If you do, as you'd hope from a battery this huge, plugging into a high-speed wall charger will speed up the recharging process dramatically. It'll take 8-10 hours to get to full, but that's still manageable overnight. Use a lower-power charger, however, and it'll take almost 24 hours to do the same thing. No thanks.
Specifications
32000 mAh
7.1 x 3.1 x 1.1 in (18 x 8 x 3 cm)
17.6 oz (500 g)
In: micro-USB socket. Out: 3 x USB-A socket
Max output: 12W per port (5v @ 2.4a), 30W total
The sheer bulk of this battery means you'll be keeping it in a bag rather than your pocket. Note that it's over the 100 Wh (watt-hour) FAA limit for bringing onboard, which means you'll need specific permission from your airline to do so. If you're planning to fly with it, check with your airline(s) in advance, and get permission in writing if at all possible.
If you're heading out into the wilderness, however, or anywhere else where power sockets are in short supply, the RAVPower 32000 is a great, inexpensive way of making your devices last seemingly forever.
Best for Charging a Laptop: RAVPower AC Portable Charger
For many people who work remotely, keeping their laptop charged is just as important as powering their phone or tablet.
Laptops need a lot more juice, though, which means appropriate portable batteries are bigger, heavier, and more expensive than those for smaller devices. As a result, they're harder to justify for all but the most committed remote worker.
Since it's such a niche requirement and there are big differences in power requirements between laptops, few companies make portable outlets like these, and even fewer make good, reliable ones.
Of those that do, the best mix of capacity, compatibility, and weight is the RAVPower AC Portable Charger. Reasonably priced for what it does, it's the one most likely to satisfy a wide range of needs.
The battery has a capacity of 30000mAh, which is enough to give most laptops at least one full charge, often a bit more. As with the RAVPower Ace mentioned above, it's over the 100Wh (watt-hour) FAA limit for bringing onto a plane, which means you'll need permission from your airline to do so.
At around 2.2 pounds (1kg), you're not going to be keeping this battery in your pocket, but it's fine in a day bag or laptop bag. If you need a smaller and lighter, albeit lower capacity, version that you can take on a plane without asking permission, check out our review of the 20000mAh PD Pioneer instead.
Specifications
30000 mAh
5.4 x 6.7 x 1.4 in (13.8 x 17cm x 3.5 cm)
2.2 lbs (1 kg)
In: USB C socket. Out: 2 x USB-A socket, 1 x USB C socket, 1 x AC 110v socket
Max output: 100W 110v AC, 60W PD, 15W QC 3.0, 12W USB
The North American-style three-prong 110v socket can handle any device that draws 100W of power or less, which covers all current laptops. There are also two high-output USB-A sockets on the device , one with Qualcomm QC 3.0 support, plus a USB C Power Delivery (PD) socket that can output up to 60W.
That mix should let you fast charge pretty much any mobile device you're likely to be traveling with. You'll get up to half a dozen charges of a smartphone, or up to three for a tablet. Any or all of the USB sockets can be used simultaneously, but they'll shut off when the AC socket is in use.
The USB C socket is also used for charging the battery itself, at up to 45W from a good PD wall charger. If your laptop charges from USB C, you can use its charger to juice up the battery as well, otherwise it's worth investing in one like this.
A powerful wall charger like that will fully recharge the battery in about three hours, but lesser ones will take longer (sometimes, many times longer) to do the same thing.
The RAVPower AC Portable Charger isn't for everyone, but if you need to keep your laptop and other devices charged at all costs, it's an ideal way to do it.
---
Main image via jjur, Travelcard image via Travelcard, RAVPower images via RAVPower, others via Amazon