Jun

11
Tags
Related Posts
Gear We Like
Review: Droam mobile roaming internet (Europe)
While ranting about the ridiculously high price of international data roaming earlier this year, I mentioned Droam as one of the companies who are trying to make using mobile internet more affordable outside your home country.  For the last four weeks I have been using one of the company's devices as I've travelled throughout Western Europe.
In a cozy cafe in Amsterdam I sheltered from the cold, nursing a coffee as I checked my emails.  A blog post got published somewhere in northern Spain as my train flew along the rails towards San Sebastian.
I confirmed ferry timetables at Lake Como, train times from Ljubljana and how to get to the airport in Bilbao.  I've downloaded Wikitravel articles for each new city I've been to and checked my location on Google Maps in more places than I care to remember.
My girlfriend and I are currently sitting in an apartment in Vienna, surfing the web as a distraction from doing the writing that we should be.
And it's all due to this little device.
I was surprised at how small and light it was when I opened the package.  Not sure what to expect, the fact that it slipped easy into a jeans pocket impressed me.
Operation was simple- it took all of about thirty seconds to figure out how it worked.  The three buttons on the side control power, wi-fi and mobile data.  Hold each one down to turn the corresponding function on or off.
There are five icons on the screen to indicate various statuses.  The signal indicator is straightforward – green if it's good, amber or red if it isn't.  Wifi is even simpler – blue if it's turned on.  The battery image glows green when power is on and there is plenty of charge left, solid red when it's running low and a frenetic blinking red when it's definitely time for a charge.  Fortunately there are several ways of doing this – the package comes with a USB cable, and appropriate adapters to connect to both a wall socket and a car charger.
The data icon has a few more options.  If it's blinking slowly, there's a data connection available.  A fast blink indicates that a connection is being acquired, and a solid light means it's working.  Most importantly, if the icon is blue it's using 3G (fast everywhere I've been), and when it's green the connection is 2G (poor to abysmal).  Unless I've been desperate, a 2G connection has been too slow to be useful in most places.
The final indicator is a big red R in the middle of the screen.  If it's showing, you're using roaming data.  On any other device that would be a sign to turn it off as quickly as possible before the bill hit five figures, but due to the concept of negotiating fair rates for customers rather than just ripping them off mercilessly, this is where Droam comes into its own.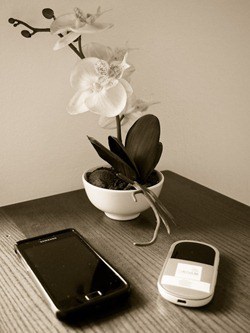 For a fixed fee one gigabyte of mobile data is yours to use in around 50 different countries, typically over the course of four weeks.  The roaming agreements cover much of Europe, as well as parts of the Middle East, Africa, USA, Asia, Australia and New Zealand.  Rates vary depending on where you're going, but most countries are included in the 'Droam 1000′ plan (50 euros for one week, 75 euros for two weeks, 100 euros up to 28 days).  The site has a handy calculator to work out the details.
Given that you can connect up to five wireless devices at once, and don't have to deal with the hassle of purchasing and topping up prepaid SIM cards in each country (assuming that your phone is unlocked in the first place, of course), this seems a pretty reasonable deal.  As a comparison, using 1Gb of data while roaming with certain Australian mobile providers would cost over $10,000.  No, that wasn't a typo.
The device isn't perfect – like any mobile device it doesn't deal particularly well with thick walls, poor signal or moving quickly (eg. on a train), and it'd be nice if the battery lasted a little longer than it does.  One gigabyte per month is plenty for basic tasks (email, web, social media etc), but you're not going to be streaming movies or downloading large files too often, and unfortunately there's no company-endorsed method of checking your usage to see if you're about to hit the limit.
Still, compared to the alternatives this is a fantastic solution, and I can only recommend it wholeheartedly.  To every telco on the planet: are you paying attention yet?
Note: the folks at Droam were kind enough to offer me a complimentary device for a month, but obviously all opinions are entirely my own.